2023 Udemy Review: Are Udemy Courses Worth It? [Free Guide]
If you are looking for a comprehensive Udemy review in 2023 from an actual user of the platform, you're in the right place!
As I am a paying customer of Udemy and have enrolled in multiple online courses, I will share with you my personal experiences, quality of the content, what I like/don't like, and tons more!
In the review, I will also cover some of the cheeky pricing strategies that Udemy uses to get students to pay inflated prices for their courses. P.S. I also share an easy trick on how not to fall into this trap. Let's get started!
Udemy Review – A Quick Overview In 2023
After using Udemy for several months, I have been quite impressed by their high-quality lessons, a wide range of courses (150,000+), and their cheap prices (see more below).
After taking a few of their online courses, I have also been able to apply what I have learned to my business and my daily life.
So if you are someone who wants to take an online course in IT, programming, business, economics, self-development, arts, design, plus more at a cheap price, I think Udemy is definitely worth a try!
Udemy Review 2023 – Are Udemy Courses Worth It?
What Is Udemy & How Does It Differ?
When someone thinks of online courses, Udemy is generally one of the first platforms that come to mind, and for good reason.
Since their inception in 2010, Udemy has knocked over some incredible milestones which include:
150,000+ online courses
57,000+ instructors
50 million students
Bilingual support for 65 languages
295 million course enrollments
This blistering growth is due to Udemy using a similar business model to Uber/Airbnb where they work as a middle man for connecting teachers to students. In return for their services, teachers earn 97% on sales and Udemy takes the rest.
Unlike Coursera, Edx, LinkedIn Learning, or MasterClass, Udemy takes full advantage of "UGC", or user-generated content much like YouTube. While this does drastically increase the number of courses available, the quality can suffer at times, more on that below!
Udemy Has a The BIGGEST Range Of Courses
From my research of analyzing over 50 online course providers, Udemy is dominating the competition when it comes to the number of courses they have on offer. Here is a quick overview:
Udemy: 150,000+ courses
Skillshare: 29,000+ courses
LinkedIn Learning: 15,000+ courses
Coursera: 3,500+ courses
Edx: 2,500+ courses
FutureLearn: 2,400+ courses
Khan Academy: 2,000+ courses
As you can see, Udemy is blowing the competition out of the water as for the number of online courses they have on their platform. And this is primarily due to the fact that Udemy was the first real big MOOC on the scene.
How Does The Quality Of Udemy Courses Stack Up?
From my own personal experience, I would say that the quality of Udemy courses is extremely high, but you do have to be aware of the "duds" that can also be found on the platform.
As mentioned above, Udemy is an open learning platform where anyone can upload courses. So as you can imagine, the quality of courses and instructors can vary from incredible to un-watchable.
At face value, it may seem that a few bad apples would spoil the entire fruit bowl, but Udemy has implemented some intelligent processes to weed out these "undesirable courses".
Some of the ways in which Udemy does this is by showing course ratings from past students, overall satisfaction, amount of students who have completed the course, previews of the course, last update, who teaches the course, and the course content outline.
Also, when searching for a course, Udemy uses its own algorithm to rank the most popular and top-rated courses, which works as another layer of protection from "dud courses".
By using this vetting process, I have been able to enroll in 7 Udemy courses which I have been very impressed by. So far, their vetting system has worked out in my favor. Below is an example of a bad course.
One thing I would note is that for brand new courses, I would be a bit cautious as there is of course no reviews, ratings, or recommendations, so I am generally trying to avoid these just to be on the safe side.
As a good rule of thumb, I also try to only enroll in courses that have a rating of 4.5 and above just to be safe.
What About The Instructors On Udemy?
Much like the quality of the course content on Udemy, the same applies to the instructors/teachers which go hand in hand.
From my experience of enrolling in 9 individual courses, I was taught by a professor, doctor, manager, influencer, educational institutes, and someone who had 30-years of experience in their field.
However, with an open platform like Udemy, there is nothing stopping say my Grandma making a course on C++ or Python.
To combat this, Udemy allows new users to view the instructor's credentials, bio, LinkedIn profile, website, twitter, amount of students, and reviews to ensure you are actually being taught by a professional.
There Are Very Few Limits To What You Can Learn On Udemy
While Udemy does have its shortcomings, where it really shines is in the types of courses they have on offer. Seriously, Udemy covers almost every topic under the sun you can imagine!
For myself personally, I have been able to learn:
How to manage remote teams
Logo design
WordPress development
Lightroom
ArchiCAD
Copywriting
SEO
Productivity
HTML
To show you just how many types of courses Udemy has on offer, below is a brief overview of their courses.
As you can see from the above list, Udemy covers every imaginable category which is great for programmers, business owners, creatives, productivity geeks, investors, and more!
All Udemy Courses (Paid Ones) Include Certificates
Another benefit I found when using Udemy was that they provide a certificate of completion on all of their paid courses.
This was a really nice add-on as many other platforms like Skillshare, MasterClass, Khan Academy, and CreativeLive don't provide this service.
However, none of the Udemy courses are accredited in any way, which is unfortunate. But in saying that, I find a printable certificate does give you a sense of accomplishment and it wouldn't hurt to include on a CV or resume.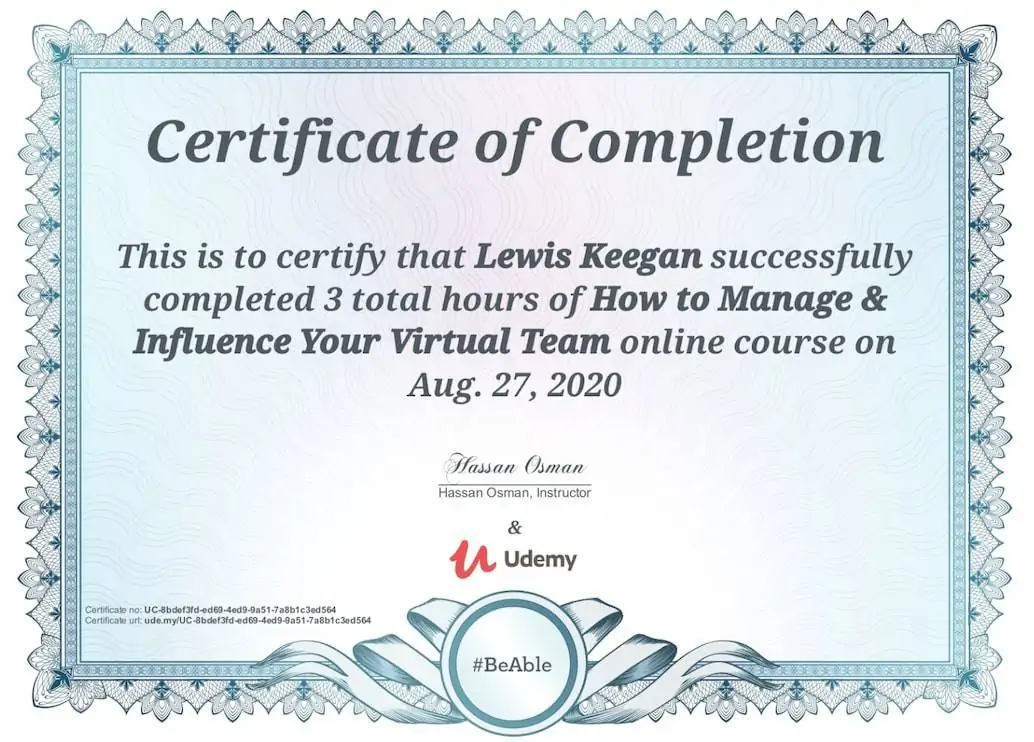 For those looking to enroll in CPE training, some educational intuitions do accept Udemy as CPE credits which can range from 1 credit per viewable hour.
Side note: While Udemy does have 1,000's of free courses to choose from, these, unfortunately, don't include any certificates. But if you complete the course, they are available for a small fee, generally between $10-$15.
What's Included In a Udemy Course?
When it comes to the value that Udemy courses deliver, I would say you get really good bang for your buck (see more below).
In all paid Udemy courses, students get access to:
All on-demand video lessons
Supporting lesson articles
Downloadable resources
Course exercises
Full lifetime access
Access on mobile and TV
Certificate of completion
IMPORTANT: How Much Does Udemy "Actually" Cost?
Upon enrolling in Udemy courses myself, I was incredibly confused about the pricing they offer on the courses.
When visiting the website the first time, I saw massive 80%-90% discounts on a majority of the courses which were around $9-$20 each.
As it was the first time visiting the website, I just browsed to see what they had on offer. So after coming back 2-days later, I was shocked to see that ALL of the courses were now at full price! ($100-$200).
After a bit of digging, it seems that Udemy is using "urgency marketing" to get customers to pull the trigger when visiting the platform for the first. And if they don't, then they will have to pay the "full price".
Since I didn't want to pay $100+ for a course that I could get for $10, all I had to do was open my browser in Incognito mode. By using this simple trick, I was able to revert the price back down to its "original cost".
For a further guide on how to do this, check out my step by step process here.
So in short, Udemy courses are ALWAYS around $10-$20 (the normal price) and you should NEVER pay the inflated "penalty" price which they add on when missing out on the so called "sale".
While I understand why Udemy does this, I do wish they were more transparent about the pricing, or remove this strategy completely.
Side note: For large enterprises and businesses, Udemy also does offer an "Enterprise" and "Team" plan which gives access to the top 5,000+ Udemy courses.
With these plans, businesses can also host their own internal training, create customized learning paths, and use a branded dashboard. These business plans start from $360/yr per user.
User Interface & Experience Of Taking a Class
The next thing I looked into in with this Udemy review was my experience of actually taking a course and interacting with the platform. Overall, I would say that it was enjoyable and provided all the bells and whistles you would expect to see. These include:
On-demand video lessons which load fast and are high quality (1080p & 720p)
View the duration of each lesson
Ability to view attached resources/quizzes for a specific module
Easily navigate through course content
Can check off once a lesson is complete and see progress
Q&A and notes section for support and keeping track of lessons
Ability to speed up view playback for faster learning
Transcripts of all lessons
View video lessons in full screen
Keyboard shortcuts for pausing, skipping, volume, etc
Ability to view subtitles
Can view bilingual subtitles for French, Italian, Indian, German, Spanish, Portuguese, Indonesian, and more
While I would say the experience of learning Udemy courses was very enjoyable and gives you a lot of control. I would love to see an update on the UI/UX as it does seem a little outdated, especially when compared to MasterClass, Skillshare, and PluralSight.
So, Is Udemy Worth The Money?
After using Udemy myself for several months, taking multiple courses, and weighing up the pros and cons. I would have to say that Udemy definitely is worth the money, especially when taking advantage of the cheap prices.
From taking Udemy courses myself and speaking to others who have, it seems that Udemy is best suited for those interested in professional or personal development.
Also, when you combine this with their huge range of courses and actionable video lessons, I would say that Udemy is definitely worth the investment.
Just make you don't pay the inflated price tag so you can get the best bang for your buck!
Udemy F.A.Q.
Below are some of the most common questions that I get asked on my website, so I thought I would cover these to answer any potential queries about the platform.
Can You Take Udemy Courses For Free?
Yes! Surprisingly, Udemy actually does have 1,000's of free courses that can be taken with no credit card or payment! To find these, click the "free" option when searching for a particular course which will show all the free Udemy courses in the search results.
One thing to note about free Udemy courses however is that they typically are out of date, or not as relevant to the topic. Hence why the instructor may have opted for the course to be free as is may no longer be selling.
Also, free Udemy courses lack many of the paid features such as the ability to download lessons and get a certificate. But for free online education, you really can't complain!
Do Udemy Courses Expire?
No. Once you purchase a Udemy course, you have all of the course contents, resources, quizzes, and on-demand videos for life. Just be sure not to lose your login password!
Can You Download or Print Udemy Certificates?
Yes. When enrolling in a paid Udemy course, all users get access to download their certificate via PDF, print it off, share it to their networks, add it to their CV/resume, or add it to a job profile like LinkedIn.
Does Udemy Provide a Refund?
Yes. Udemy offers a 30-day refund on all of their courses. If for whatever reason you are not happy with the platform, course, or instructor, users can get a full refund which will typically be paid via their original payment method.
Is Udemy Accredited?
No. Unfortunately, none of the Udemy courses are accredited in any way. However, some educational institutions do take Udemy courses as CPE credits for continued learning.
How To Download Udemy Courses?
Udemy courses can be downloaded for offline viewing with the iOS and Android app only. To do this, click on view course > download course. Unfortunately, this functionality is not available on Windows or Mac.
What Languages Doe Udemy Support?
Udemy supports up to 65 languages across all of its 150,000+ online course. Some of the most notable bilingual languages they support are Thai, Indonesian, Chinese, Polish, English, Spanish, French, Italian, Japanese, Korean, Portuguese, Romanian, Russian, Turkish, and Dutch.
Conclusion Of My Udemy Review
To conclude my review of Udemy, I am overall impressed by their easy to use platform, 150,000+ online courses, actionable lessons, and affordable price point. While their pricing is confusing, if you can look past this, Udemy is a great investment and comes highly recommended.