Skill Success Review 2023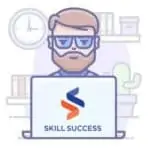 If you are looking for a Skill Success review in 2023 from an actual user, you're in the right place!
In this review, I will dive deep into whether or not I think Skill Success is worth it. I'll also provide a comparison of Skill Success to some of its top competitors and highlight my favorite features.
I will also show you how you can save some money if you decide to sign up for the service. Let's begin!
Skill Success overview: In short, Skill Success is a well rounded online course provider at an affordable price with over 2,500+ online video based courses.
For those looking to learn new skills on an easy to use platform, Skill Success is a great place to start!
Overall, Skill Success is a great all-round online course provider!
Skill Success Review 2023
---
What Is Skillsuccess?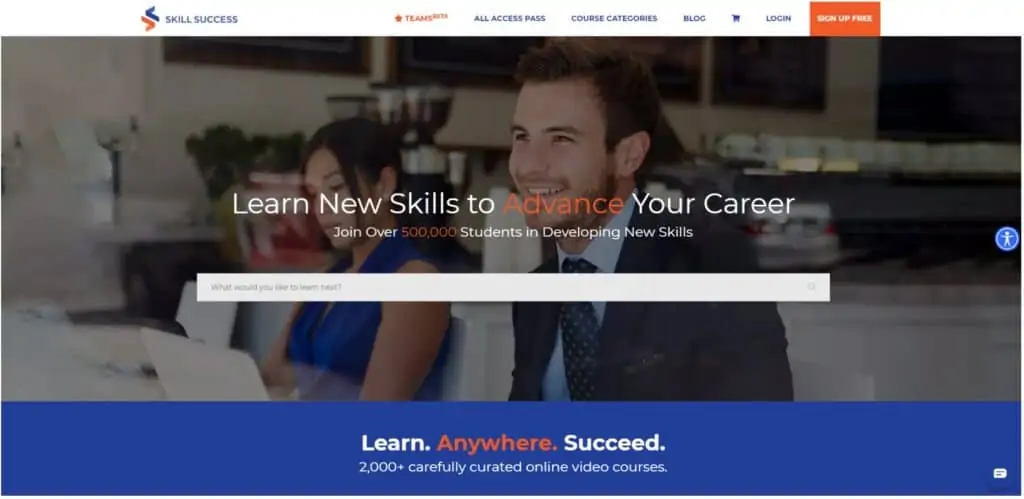 In short, Skill Success is a MOOC, also known as a "Massive Online Open Course", which is just a fancy word for the online course provider. They have been around since mid-2015. Since then, they have attracted over 500,000 students from across the globe to their 2,500+ online video-based courses.
Skill Success Has a Good Range Of Courses
Skill Success has a comparable course catalog compared to other course providers. Their course offerings span over 100,000 video lessons in their course library.
The most popular categories in Professional Development include business, marketing, technology, project management, career development, design, software tutorials, accounting and bookkeeping, and soft skills training.
The most popular categories in Personal Development include languages, music, emotional intelligence, leadership, learning skills, stress management, productivity, time management, health and wellness, and much more.
Quality Of Skill Success Courses
As for the quality of Skill Success courses, I would have to say they are very in-depth and easy to follow.
Each course has an instructor profile next to it with a short bio about them. It seems that there is a level of curation and instructors have to apply and be screened before their courses can be published.
Pricing Of Skill Success
One of the major advantages of using Skill Success would definitely have to be their pricing which is $7/mo which gives access to all courses, modules, and classes. It appears that they add new classes every week, which is good to see that they are up to date on the newest trends and content.
Skill Success Includes Certificates On All Classes
When compared to their competitors like SkillShare, Skill Success does provide Certificates of Completion for all of its courses, which is a huge advantage.
Below is a sample of their Certificates. They will have your name printed on each one.
So if you plan on printing out a certificate after completion for a job interview or to add to a resume, then this is a big bonus.
Just note that some of the courses are accredited while others are not, which is quite normal for online course providers.
I have seen some people add the certificate to their LinkedIn profile to improve their qualifications. Might be a good idea to do if you are looking for a job.
Skill Success Vs Udemy Vs Skillshare
For a comparison of Skill Success to other providers to see how they stack up, below is a head-to-head with two of the top course providers in the market right now.
Skill Success
2,500+ courses
Certificate of Completion included
No mobile app
Unable to download courses but has supplemental materials that can be downloaded.
Udemy
32,000+ courses
Certificate of completion supplied
Mobile app
Able to download courses
SkillShare
27,000+ courses
No certificate of completion supplied
Mobile app
Able to download courses
What I Like About Skill Success
Respectable range of courses: While Skill Success does have a smaller offering of courses, their range is still quite good.
They include certificates: For those in the job market and looking for certificates, this is an awesome bonus that can't be overlooked!
Cheap pricing: Skill Success is definitely one of the cheapest online course providers out there which is great for those on a tight budget.
30-day money-back guarantee: They offer a 30-day money-back guarantee so you can try it out and get a refund if it doesn't work for you.
What I Dislike About Skill Success
No mobile apps: If you want to learn on the go, you'll have to access the site through your mobile device's browser. Videos can be watched that way.
Limited range of courses compared to the competition: When compared to the competition, Skill Success has a limited range of courses but at over 2,500 courses and over 100,000 videos, there's still a ton of content to watch.
No course preview for potential users: There are no video previews of the courses which makes it harder for new users to assess whether or not it is a right fit for them.
Would I Recommend Them?
Overall, I did have an enjoyable time using Skill Success and feel confident recommending them to those looking to learn new skills online.
Final Thoughts
Hopefully, this Skill Success review has helped you to make an informed decision for choosing your online education path. If you would like to see more reviews, you can check out more here.