Learn How To Write Beautifully With The 11+ Best Online Calligraphy Classes 2023
You might think that it will take years of practice to be able to write beautiful and elegant calligraphy, but that's not the case!
In this guide, I have rounded up some of the best free online calligraphy courses in 2023 so you can create stunning calligraphy in no time at all.
Also, If you are just starting out, you'll find many practice exercises, supply guides, writing templates, and detailed demonstrations to perfect the techniques needed. Let's get started!
Top 11+ Best Online Calligraphy Classes, Courses + Training 2023
---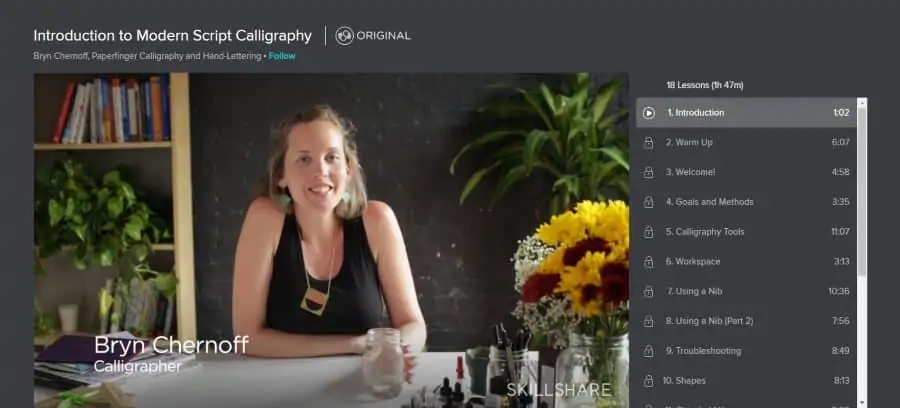 First on my list is an outstanding calligraphy course taught by Bryn Chernoff, who is a professional calligrapher at the Paperfinger studio. In total, 27,000 students have taken this course and it has a 4.7-star rating, so you'll be in good hands!
In this class, Bryn Chernoff will introduce Modern script calligraphy that looks beautiful and is lots of fun to write! While this can be a challenging type of calligraphy to start with, you will be guided through what materials and techniques you'll need in order to emulate those perfect lines without wavering.
Other topics covered in this class are how to set goals, how to use calligraphy tools, how to set up your workspace for success, how to use a nib and a chiseled nib, how to clean a nib, how to construct letterforms and shapes, how to write a script, and how to go about practicing script.
Overall, this is a great calligraphy course for beginners who don't mind a bit of a challenge and want to learn from one of the best. Highly recommended.
Strengths:
Very popular: 26,618 students
Suitable for beginners
268 student projects have been posted to the course page – great inspiration
A good amount of content: 18 lessons, 1h47m
Activate FREE Skillshare Trial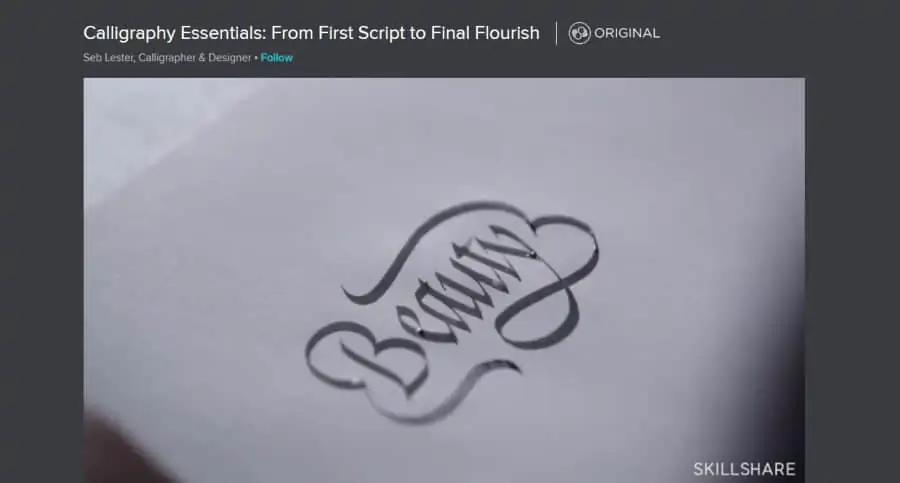 You'll be in good (and steady) hands with instructor and calligraphy icon, Seb Lester, who is a highly accomplished calligrapher and graphic designer who has worked for high profile companies such as NASA, NIKE, the New York Times, and Apple.
In this course, Seb will teach you how to create flawless italic letterforms using a broad nib pen. His lessons involve step-by-step instructions and highly detailed, up-close demonstrations, which makes it incredibly easy to follow along with. You'll also gain access to a printable workbook that will be an asset when practicing what you've learned.
Some of the topics covered in this course's 15 lessons are materials, understanding proportions, holding the broad nib pen, warm-up exercises, lowercase letterforms, writing words, capital letterforms, flourishing techniques, writing your name, and more!
Overall, this is a great class that covers the foundations of calligraphy without being too complicated.
Strengths:
Low time commitment: 15 lessons, 1h34m
Popular: 6,693 students
Highly skilled instructor
Suitable for all levels
Activate FREE Skillshare Trial
Are you under the impression that you need to have innate artistic abilities in order to write calligraphy? Hopefully, this course can help convince you otherwise! Instead of using old fashioned pen and ink, this course will teach you how to work with a brush pen – a great option for beginners.
Brush pens are quite a bit cheaper than calligraphy pens so this is one of the best online calligraphy courses to take if you are new to the hobby and aren't ready to spend a bunch of money on supplies.
Topics covered include the a-z lowercase alphabet, how to join letters together, upstroke and downstroke, entrance and exit stroke, overturn and under turn stroke, ascending and descending loop, creating fabulous uppercase letters, uppercase alphabet, writing happy birthday, thank you, and congratulations.
In total, this class is 3 1/2 hours of on-demand video lessons, so for those looking for a thorough calligraphy course, this is a great place to start.
Strengths:
Bestseller on Udemy!
High rating! 4.5 stars
Popular: 1,032 students
Lots of content: 52 lectures, 3h21m
Lifetime access to course content
Comes with a course completion certificate
In this course, you'll be learning how to create beautiful handwritten italics letters using a parallel pen. Instructor and calligrapher Mary-Jane Roussel will start by teaching you some important calligraphy terms, how to position your paper correctly, and how to do pencil practice.
The course will then cover the following: lowercase letters, uppercase letters from A to Z, practice writing proper names, numbers and punctuation, pangrams, flourishes, thank you note project, certificate of achievement project, and guidelines for different nib sizes from 1.5 to 6.0 mm.
Also included with this course are practice sheets that will keep you stay on the right track when you are first learning and give you the confidence and skills you need to produce flawless letters!
Strengths:
4.5-star rating
Low time commitment: 43 lectures, 1h43m
Includes lots of great practice material
Lifetime access to course content
Comes with a course completion certificate
For this class, you'll need to gather some calligraphy supplies: a pen holder, nibs, ink, and paper. Once you have everything you need, instructor and artist, Laura Lavender, will give you an enlightening overview of modern calligraphy and hand lettering.
This course is geared towards beginners who want to learn the basics such as tools and setup, essential exercises, minuscules, variations, majuscules, and numbers.
After completing the course you'll be able to use what you've learned to write letters, words, and symbols. Keep practicing the essential exercises outlined in the course and you'll be amazed by the beautiful things your pen can do!
Strengths:
You can access this course for free with a Bluprint free trial
Good amount of content: 4 episodes, 2h26m
Beginner friendly!
Next on my list is a course that focuses only on the pilot parallel calligraphy pen. Instructor, calligrapher, and graphic designer, Alice Young, will teach you a series of exercises that will help you master the pilot parallel pen with ease.
This great course will take less than an hour to work though so it is one of the best online calligraphy courses for someone who is short on time. And this course also includes a great project that will let you put your new-found skills to the test in a creative way.
The class project for this course is to design a calligraphy stroke tattoo. Alice will provide you with the guidance you'll need to undertake the project and who knows, you might love the result so much you'll actually consider getting it as a tattoo!
Strengths:
First course in a 3-part course series
48 class projects on the course page – view them for inspiration!
Low time commitment: 13 lessons, 43m
Activate FREE Skillshare Trial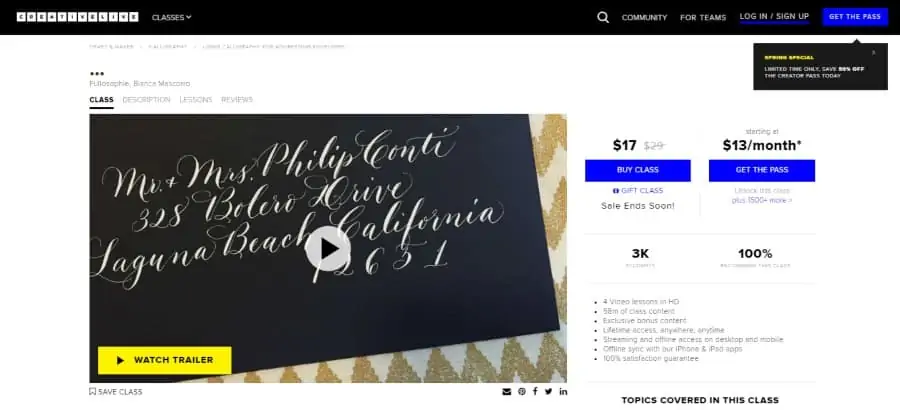 You might be wondering what you'll actually be able to do with your hard-earned calligraphy skills. The answer is lots of things! But this course will focus on one of those things in particular: addressing envelopes.
In just four lessons you'll learn how to beautifully address a white envelope and a colored envelope using black ink or colored ink. You'll also get an overview of the required materials and tips on creating artwork and signage that makes your calligraphy stand out.
This course also comes with some great bonus material: an introductory calligraphy guide and a calligraphy supply list. Soon you'll be looking everywhere for an excuse to address envelopes!
Strengths:
Popular: 3K students
Low time commitment: 4 lectures (shortest 7m, longest 20m)
Specific focus: addressing envelopes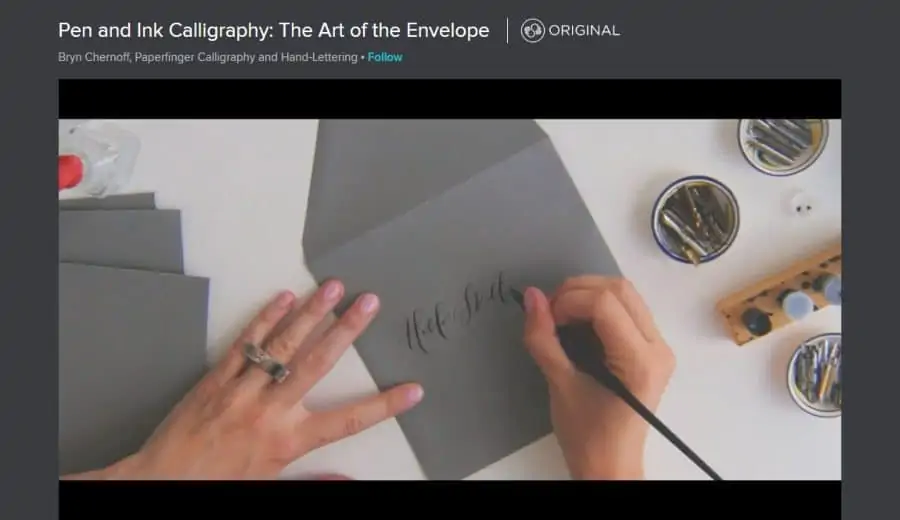 Instructor Bryn Chernoff uses her calligraphy skills to bring joy to others, and she is here to teach you how to do the same. Imagine how special it makes someone feel when they receive mail and they see that an envelope has been painstakingly addressed to them!
Bryn will help you choose the papers and ink that will create the most eye-catching effect and then she'll walk you through the skills needed to address an envelope to perfection. The lessons in this class are: quick calligraphy lesson; getting started; the envelopes; ink; the list; style; setup; client work; and more.
This is also one of the best online courses for people who are looking for advice on how to get started with professional calligraphy. Calligraphy can be much more than a hobby and this course will give you some tips for putting your skills out there!
Strengths:
Low time commitment: 14 lessons, 59m
Popular: 5,501 students
Intermediate level – for dedicated learners
Activate FREE Skillshare Trial
This is one of the best online calligraphy courses you can take if you want to get a really good idea of what supplies you'll need to get started with calligraphy. You'll even get a free bonus supply list cheat sheet when you sign up for the course!
Some of the things you'll learn as a calligraphy.org student are: how to letter envelopes; how to write out invitations and save-the-dates, how to pen a perfect love letter; and how to use calligraphy to enhance your scrapbook layouts.
Before jumping into all of that, the beginner course will provide you with custom practice guides and tracing exercises using a pencil until you are ready to progress to the calligraphy pen. Calligraphy.org courses also give you the opportunity to get one-on-one feedback from an instructor!
Strengths:
Popular: 8,537 students
Optional one-on-one input from instructors
You can get started with the course for free, payment will occur once you have decided that you like it and want to continue with it
This course takes a bit of a different approach to calligraphy. You'll learn how to spruce up regular cursive writing so that it looks like calligraphy. It's not really faking; it's just using an alternate method!
The 7 lessons in this 21m course will teach you about spacing and contrasts, choosing your phrase, and sprucing up your letters. Alphabet practice samples will also be included in the course material so you can conquer those letters you find a little extra tricky!
The course project is to simply write your name in fauxligraphy. The method outlined by the instructor is to sketch out your name and then go over the sketch using ink. You can post your final result to the course webpage so that other students can get inspired by your work as well!
Strengths:
Popular: 4,884 students
Beginner friendly
48 student projects have been posted to the webpage
Very low time commitment: 7 lessons, 21m
Activate FREE Skillshare Trial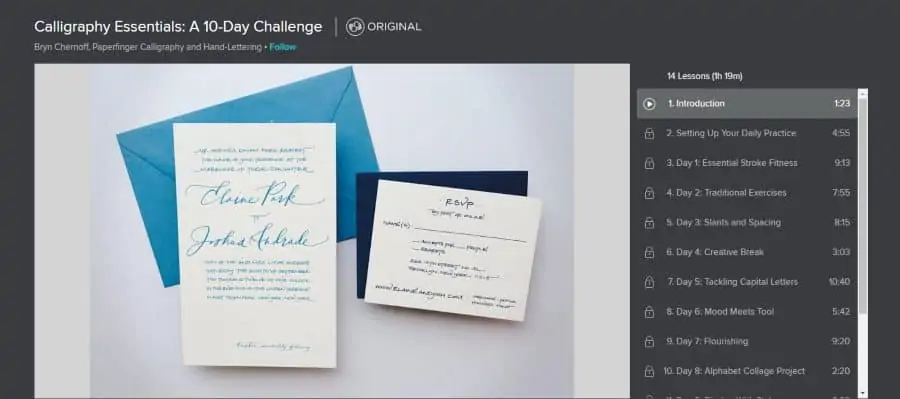 The key to perfecting any skill is consistent and dedicated practice. But it's not always easy to motivate yourself to practice every day. This course will give you the boost of enthusiasm and guidance that you need to build a daily calligraphy practice.
Instructor and professional calligrapher, Bryn Chernoff, will teach you how you can jumpstart your calligraphy skills with just 10 minutes of practice per day. For starters, she'll teach you how to set up your daily practice by gathering materials and setting aside the time you'll need.
Other topics covered are traditional exercises; slants and spacing; creative break; tackling capital letters; mood meets tool; flourishing; alphabet collage project; playing with style; and breaking habits.
The class project will ask you to self-reflect on your progress throughout the course and upload some of your writing to the course webpage. To learn more, you can also see my post on the top arts and crafts courses to further your skills!
Strengths:
Suitable for all levels
Specific focus: building a consistent daily practice
Good amount of material: 14 lessons, 1h19m
Comes with a huge amount of helpful downloadable resources: all class files, daily calendar, guide sheet downloads, worksheet downloads, and list of Bryn's favorite supplies and kits
Activate FREE Skillshare Trial
Hire A Seasoned Calligrapher
You may have read this thinking you pickup calligraphy before your wedding or next party and are now just wishing you could get the project done cheap and easy. Good news – you can!
I've had great experiences working with Pros on Fiverr who have taken my novice stress and turn it into something beautiful. And much better than I could have done.
I've included a few top notch calligraphers below to inspire you.