How To Start Creating With 2023's Top 11 Best Online Arts And Crafts Courses & Classes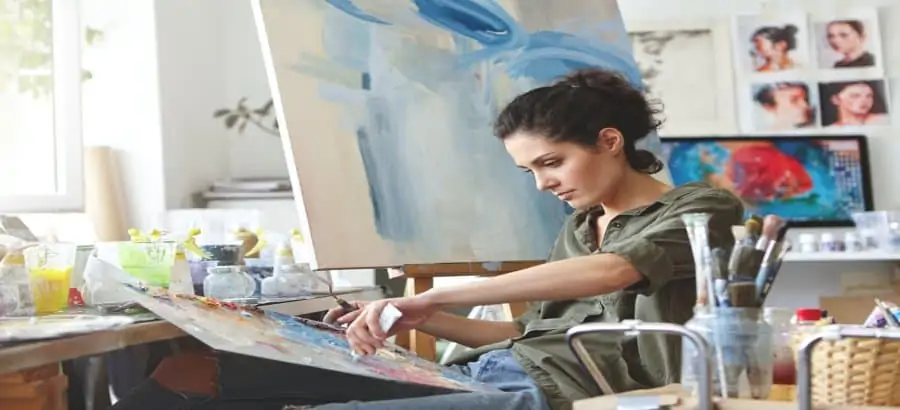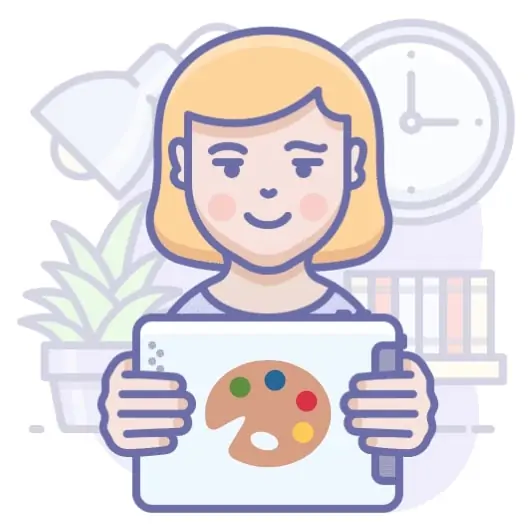 I have rounded up some of the top online arts and crafts courses in 2023 in this comprehensive guide. We'll introduce you to various crafts such as knitting, pottery, watercolor, and tons more!
These courses are perfect for someone looking to discover their first creative outlet of the seasoned creator who wants a new medium. Most of these courses are inexpensive (some are even free) so you have no excuse not to give them a try.
As a bonus, most classes involve a project that will leave you with a beautiful souvenir of your creative time. Let's get started!
Top 11 Best Online Arts And Crafts Courses & Classes 2023
---
Davina Choy, founder of Sheep & Stitch (a website that teaches people to knit) is here to lead this quick, beginner-level course. If you want to learn how to knit, look no further! This is easily one of the best online arts & crafts courses for people who have an itch to stitch.
This course starts with a video lesson that introduces you to the knitting process and another lesson that prepares you for which materials, needles, and yarn you will need for a knitting project. You'll learn how to "cast-on" (put the yarn on one of the needles to start with) so that you can start creating a cool scarf!
Davina will focus on the simple purl stitch in this course and will give you some good emergency techniques for you if you accidentally make a mistake or drop a stitch. Dropped stitches are a common knitting mistake and there is a quick fix if you know what to do!
Lastly, you'll learn how to "cast off" (take the project off the needles) and you'll even learn how to create a fun and funky fringe for your scarf if you want! This class is part 1 of a 4-class series, so if you enjoy the teacher and class format you can continue learning from Davina!
Being hosted on Skillshare, users can try this class and the below ones for free on their 1-month FREE trial ????.
Strengths:
Perfect for beginners
Course includes a fun project: knit a comfy garter stitch scarf with an optional fringe
There are over 25 student projects that have been shared to the course page that you can use for inspiration!
Short time commitment: 11 lessons, 46 minutes – less than an hour!
The video lessons zoom in on the example project so you can see exactly what is going on – no confusion
Popular! 4,052 students
Activate FREE Skillshare Trial
If you want to learn how to create a modern watercolor painting, you'll want to try this course taught by successful professional artist, Cat Coquillette. She has her own illustration and design brand and she refers to her painting style as "modern and on-trend."
Cat's paintings are often "whimsical", and you'll discover that there is no right or wrong way when it comes to creating with watercolor. You'll learn which art supplies you should have and how to sketch a motif of what you want to see on the page.
Throughout the rest of the 14 video lessons, Cat will teach you about color palettes, brush control, whitespace, blending colors on paper, ombre gradient washes, adding details, metallic accents, and fixing mistakes (because let's face it, mistakes happen, especially when you're just learning).
One really useful lesson is about using wet vs dry paper when painting. And if you want to learn an amazing technique that you can use to make flowers, clouds, trees, and more, you will love the "making watercolor blooms" lesson. It's a great technique that you can apply in so many fun, creative ways!
Overall, one of the best online arts & crafts courses!
Strengths:
The course is listed as a "Staff Pick" on Skillshare and the instructor is rated as a "Top Teacher"
Low time commitment: 1h20m
Very popular course! 15k students
Over 290 class projects shared online
Activate FREE Skillshare Trial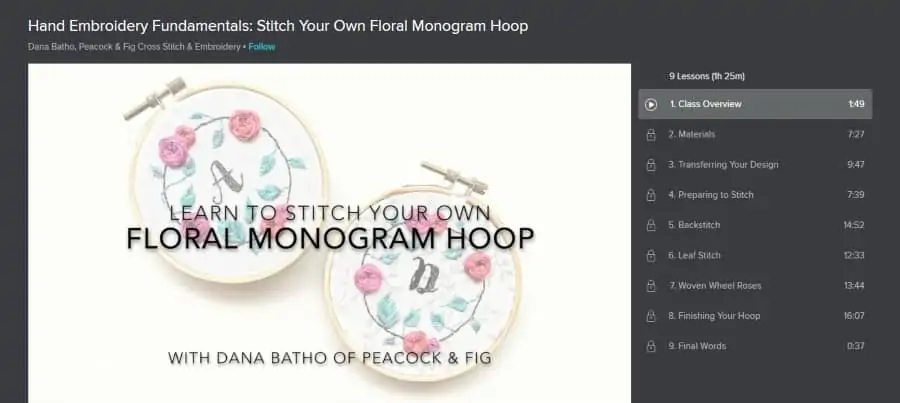 Embroidery is an enjoyable creative hobby and you might find that you happily lose yourself in a project for hours on end! You can also consider giving your embroidery projects away as gifts. You can be sure that the recipients of your gifts will be excited to get such a thoughtful and creative present.
When you first start out with embroidery, it's nice to have some guidance, and instructor Dana Batho is here to teach you the basics. In just 9 video lessons you'll learn what materials you need for an embroidery project as well as some essential embroidery techniques.
Dana will teach you about transferring your design to your embroidery fabric. You'll probably want to start with something simple and then work up to more complicated designs as you become more skilled. Dana will also teach you the backstitch, the leaf stitch, and how to make woven wheel roses.
With those skills, you will be able to create beautiful floral designs. The class project for this course is to create a wreath of roses with a monogram in the center. Dana will teach you everything you need to know to successfully complete the project as well as how finish your hoop nicely.
Strength:
Beginner-friendly
Low time commitment – 1h25m
Great class project that incorporates all the skills learned in the class
Activate FREE Skillshare Trial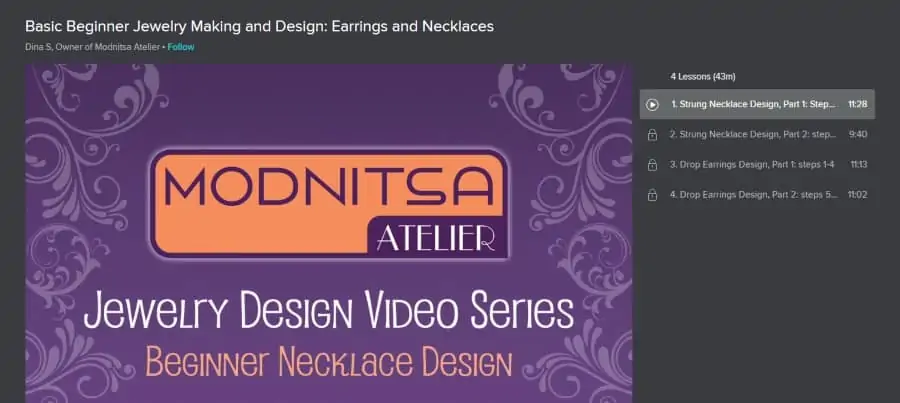 Once you get started with the basics of jewelry making, there is no limit to what you can create! This course focuses on two jewelry design projects: making a strung necklace design and making a drop earrings design. That means once you complete the course, you'll have 2 great pieces of jewelry!
The course is taught by Dina, who is an absolute expert in the field of jewelry design. She owns a boutique jewelry design and jewelry instruction studio in NYC and has taught literally thousands of students how to make beautiful and creative pieces of jewelry.
Dina will teach you which materials you will need for both projects, and you'll learn important jewelry design techniques that you can apply to future projects as well. Some of the skills covered in this course are how to create a headpin out of wire and how to attach ear wires.
In terms of the necklace project, you'll learn proper stringing techniques and finishing techniques such as how to attach a clasp and extender chain to give your necklace a finished look. Dina also introduces you to basic color theory so you can learn which colors to use to really make your jewelry pop!
Strengths:
Two great projects that allow you to learn hands on as you go through the course material
Low time commitment: 4 lessons, 43 minutes
Suitable for beginners
Activate FREE Skillshare Trial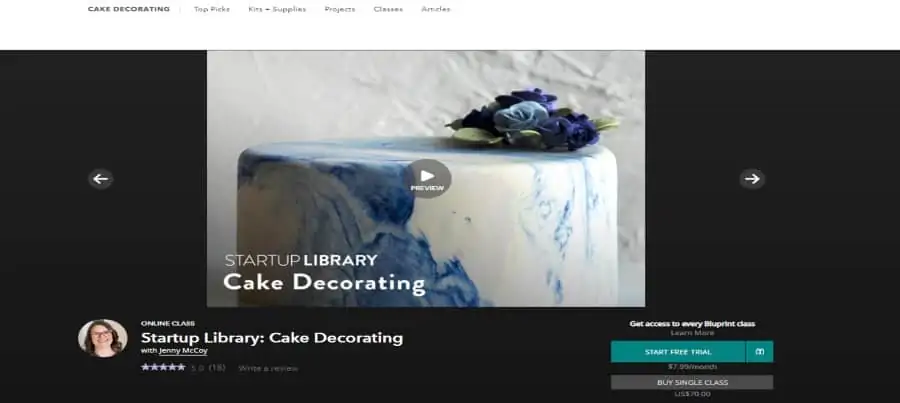 This beginner-level course focuses on the delicious art of cake decorating! This 5-hour course will provide you with some amazing tips and tricks that will take your cake decorating skills to the next level. With some practice, your cakes will look like they came straight from a fancy bakery!
First things first, you will get an introduction to cake decorating and then the next video lesson will cover how to bake a cake. You'll also learn how to construct a single-tier cake later in the course. The rest of the lessons in the course focus on using buttercream and fondant for decoration.
The buttercream topics include making swiss meringue buttercream; creating textured finishes, simple designs, and borders with buttercream; using buttercream to pipe; and the thing that will make you feel like a professional pastry chef, creating beautiful piped roses and leaves with buttercream.
When it comes to fondant this course will teach you how to handle and color fondant, how to work with fondant cutouts and how to create lovely 3-D roses using fondant. The last lesson is called "Design Ideas & Inspiration" and it will teach you some creative ways you can apply the skills learned in the course!
Strengths:
Anytime access on any device
Extensive course content: 5 hours of learning material, 13 video lessons
You can access Bluprint courses for free for a limited time with a free trial
Have you ever wondered what it would be like to make something out of leather? Well, this course is your chance to find out! In just 12 lessons, you'll learn everything you need to know in order to create your own custom leather wallet.
Anyone can try this awesome course taught by leather enthusiast and BFA, Robin Fitzsimons. You don't need to have any artistic skills whatsoever. Just follow along with the 12 video lessons that will take less than an hour to work through and you'll find your self building a cool wallet.
The topics covered in this course are chrome tan vs veg tan; parts of the hide; what do I need? Tools; what do I need? Materials; transferring the pattern; cutting the leather; setting the hardware; and sewing time.
Strengths:
Beginner level, no skills required
Low time commitment: 12 lessons, 49 minutes
Popular course: 1,889 students
Activate FREE Skillshare Trial
Calligraphy is a great way to add a personal and fancy touch to any of your handwritten projects. It's a great skill to have if you want to make your cards or letter stand out and make your recipients feel just a little bit extra special! This course is meant for beginners and will cover calligraphy basics.
The instructor is an experienced calligrapher, letterer, and designer, Bianca Mascorro. She will teach you the basic calligraphy alphabet and give you practice techniques that will help you to improve your skills. You will also learn which materials you need and how the calligraphy pen works.
The other topics covered in the course are the basic strokes; forming lowercase letters; forming uppercase letters; and forming numbers. The only other thing you need to create great calligraphy is some patience and the willingness to practice, practice, practice!
Strengths:
17k students
100% recommended by students
Access anytime on any device!
Bonus instructional material included with the class
DIY projects have become really popular recently. More and more people seem to like the way it feels to have something in their home that they've made with their own hands. In this course, you'll learn how to make a great coffee table that you can proudly show off to guests and enjoy for years to come!
This is an intermediate level course as you will need to do some actual woodworking in order to create your coffee table. You will also need access to woodworking tools. What you won't need to do is spend a lot of time working through tedious instructions and boring tutorials.
There are just 7 video lessons in the course, and it will take you less than three hours to watch them all. The topics covered include planning the mockup; milling & joinery; shaping the legs; dry-fitting the table base; building the top; assembling the base; and attaching the top & finishing. There is also a certificate of completion included!
Strengths:
Intermediate level – for those looking for a more challenging course
Can access the class for free for a limited time with a free trial!
Access the course at any time on any device, including mobile
You might be one of those people that thinks that crocheting is for grandmas. But you're wrong! Crocheting can be super fun, especially when you get creative with it. There are so many fun colors and patterns that you can work with, and it's easy to get started, even if you've never tried it before.
In this course you'll learn how to make 3 different styles of dishcloth. Instructor Khara Plicanic specializes in teaching beginners, and in this 1h30m-long course, she gives you a highly comprehensive introduction to the art of crocheting.
She'll teach you which supplies you need and how to create a construction plan. Then you'll learn how to hold your yarn efficiently and how to make your first-ever crochet knot: the slip knot. The next lesson will teach you how to create a starting chain.
The video lessons take you step-by-step through the process of making the 3 dishcloths and answer some crucial questions like, what if you run out of yarn? (Not to worry, there is a solution!)
Strengths:
Beginner friendly! Suitable for those with no prior experience
Low time commitment – 1h30m
3 great projects that give you a hands-on learning experience!
Activate FREE Skillshare Trial
Have you ever heard of the idea of "drawing your day"? Think of it as a type of journal – an artsy journal. The practice involves making a daily sketch that is inspired by what you did that day. Making the commitment to draw every day is sure to increase your artistic skill and creativity.
Illustrator and graphic designer, Samantha Baker, made this commitment and found a huge amount of success. In this course, she teaches you how to get started with your sketch journal and gives you ideas for 3 different layouts you can use for your sketching: the hero image, the roadmap, and the collage.
There are only 8 quick video lessons in this 40m course. But that is more than enough time for Samantha to share her tricks of the trade with you. This is one of the best online arts and crafts courses you can take if you want to make a commitment to doing something artistic every single day!
Strengths:
Very popular course: 10,145 students
Beginner level
Low time commitment: less than 1 hour!
Activate FREE Skillshare Trial
This Bluprint course is taught by sewing expert, Nicole Vasbinder. In this course, Nicole will encourage you to let loose and get comfortable working without a pattern! In case you run into some problems, you'll also get tips on how to troubleshoot common issues that people come across when sewing.
This course is meant for all levels, and you don't need to have any special sewing skills. In this course, your goal will be to learn how to sew two different types of simple bags: a foldover tote and a zippered clutch.
Nicole will teach you how to work your machine with confidence including how to thread and change the bobbin and getting comfortable with the presser foot and needle. She'll teach you how to sew seams, backstitch, and pivot.
Take your time working through this 2-hour course and hope you can enjoy your cool new bags for a long time to come!
Strengths:
Beginner friendly
Two great class projects
Low time commitment: 7 episodes, 2h23m
Specific Online Arts & Crafts Courses
While we tried to surface some of the best courses across the arts & crafts spectrum to spark your curiosity, perhaps you'd like to go deeper with one of our in-depth guides. Check them out below.
Needlework: Sewing, Crochet, Embroidery, Quilting, Knitting
Visual: Oil Painting, Watercolors, Drawing, Illustration, Calligraphy