Brilliant.org Review 2023 | A Better Way To Learn Math, Science & Coding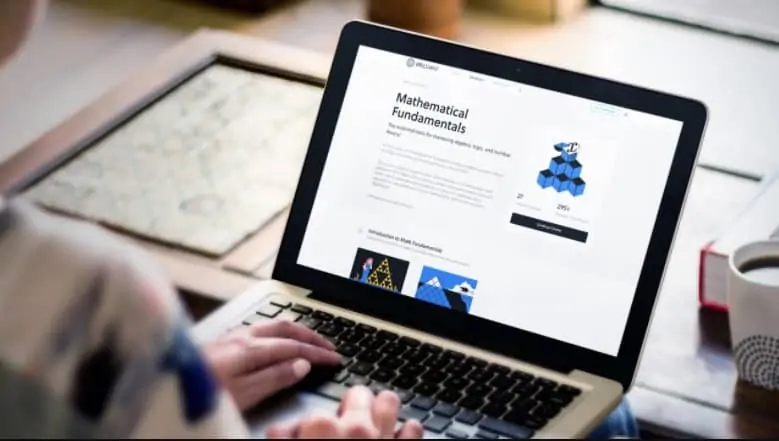 In my 2021 Brilliant review, I focus on how this highly visual online platform and app can help you or your students learn new problem-solving skills in math, science and coding. Brilliant.org is an excellent supplement to classroom learning, especially since you can access much of the content for free.
With daily puzzles and games to explain complicated concepts with easy-to-understand animations, they'll move all the way from fundamentals for beginners to challenging problems for advanced learners.
Brilliant.org's learning platform's stated goal is to help students see math and science in a new way. Lectures are replaced by hands-on-keys problem-solving activities and games, allowing each of us to learn through play. Brilliant.org aims to help its community develop STEM intuition and learning through mastery instead of simple memorization.
On a personal note, our family loves the daily puzzles. Our 12-year-old enjoys the immediate feedback on her rank vs others who dared to solve today's challenge.
Let's dive in!
Brilliant Review 2023 | What Is Brilliant.org?
Brilliant is an online learning platform. Users can learn various STEM-based subjects through their interactive courses, which focus on concept mastery and comprehension. Brilliant is built upon the idea that everyone is a learner, and through encouraging curiosity, everyone can learn about science, math, and technology. It's especially well known for turning complex concepts into fun, entertaining, and approachable concepts for the average learner.
Brilliant has been rapidly gaining in popularity in recent years. In 2020, more than 9 million registered Brilliant users were on the site, with its companion mobile app reaching 2 million uses each month.
With so much buzz about the product, many people wonder whether it's worth it to jump in and start learning with Brilliant.
What Can You Learn On Brilliant.org?
Brilliant courses offered are exclusively STEM-related – no literature, history, or art here. However, they offer a wide breadth of STEM learning. The site offers seven different "learning paths," educating users on Math, Science, Computer Science, Logic, Statistics & Finance, Software Development, Data Science, and Calculus & Advanced Maths.
Each learning path is comprised of several different courses which users can work through at their own pace. Popular courses include subjects like Quantum Computing, Special Relativity, Programming with Python, Computational Biology, and Artificial Neural Networks.
The course material covers a surprisingly advanced level of study. For example, in math, the courses range from basic high school math fundamentals to the most advanced levels of linear algebra and differential equations. Here are a few more in each of focus just to give you a feel for their library of courses.
Brilliant Math Sample Courses
Brilliant Science Sample Courses
Brilliant Computer Science Sample Courses
What Skill Levels Or Grade Levels Are On Brilliant.org?
The most basic levels of learning are approximately on par with a middle school level of math skills, depending on the student, and gradually progress through upper collegiate levels. While the platform isn't appropriate for elementary children or younger, teens and adults alike will find the proper level of high quality STEM challenge for them.
Because of Brilliant's technique of visual learning and whole-concept instruction, Brilliant may be an excellent resource for those who have struggled most of their life with scientific and mathematical learning.
How Can Brilliant.org Help Me?
Brilliant is an invaluable tool for students who need extra help with understanding their classwork. Many teens and college students report finding a lot of help on Brilliant with understanding concepts that they struggled to grasp with their college study alone or who used Brilliant as a way to brush up on subjects before returning to school in the fall. However, Brilliant isn't just for students.
Perhaps like us, you're parents of a middle schooler trying to help with challenging problems, but your explanations are only leading to more frustration? The animations and engaging problems will give you new ways to explain your thinking or give you a break while your student gets a tutorial on new concepts from Brilliant directly.
Maybe you're an adult who teaches mathematical or scientific concepts daily. You will likely find Brilliant an invaluable resource. Teachers, professors, as well as professional engineers, and computer scientists will find inspiration in the online courses from Brilliant.org. And their daily puzzles tend to keep up with trending topics too.
Even an adult learner who is simply curious about mathematical, scientific, or programming concepts you're not familiar with will enjoy Brilliant. You'll have lots of fun learning and engaging with new information, as no scientific or educational background is required to participate. Everyone is welcome.
This range of student needs highlights an essential feature of Brilliant, which is its self-paced nature. It allows those who are brushing up on old math skills or scientific concepts to quickly fly through the courses, while first-time learners can take their time to carefully master each skill before moving on to the next lesson.
How Much Does Brilliant.org Cost?
There are several features on Brilliant that are available for free. While the full courses and mobile app are only available to Brilliant Premium subscribers, much of the site is accessible for free users, like partial courses, daily challenges, portions of their wiki and practice questions.
The price for a Brilliant premium subscription is $24.99/month, which is on the higher end of the spectrum for a product of this type. However, there is a free 7-day trial, so you can take it for a test drive and see how you like it. For those looking to save a bit of money, you can also sign up for the annual subscription, which is one payment of $149 annually, that locks in just over 50% savings. Even better, if you know someone who is a subscriber, they can gift you a yearly subscription for $120 for the first year!
There are bulk order options too. If you're hoping to sign up your whole family or your whole staff of employees, you can save even more by getting an annual group subscription for three or more people, starting at $299.88 per year. Or, if you can't imagine going through middle school and high school without access to Brilliant.org, they even offer a lifetime subscription for one flat fee!
Does Brilliant Have A Free Trial?
Yes, while they don't go out of their way to advertise it, Brilliant offers a free 7-day trial for new learners. If you have questions about the specific policy, they talk more about it on their helpful FAQ page.
Is Brilliant Fun?
Of all the online learning tools, Brilliant is one of the best at making the learning process engaging and interesting by gamifying many concepts and work. Rather than sitting through boring lectures, Brilliant feels more akin to playing puzzle games and active learning. Learners on Brilliant can use various educational tools, like quizzes, readings, and games, to never feel disengaged.
Brilliant even offers a mobile app (available for IOS in the App Store as well as for Android on Google Play) with games and activities, so it's easy to take the learning on the road and keep practicing your new skills or picking up new ones while you're on the go as well.
What Are People Saying?
Reviews for Brilliant are mainly positive, with people praising their fun puzzles, engaging learning experiences, and the fun they have when using the site. However, the primary criticisms target the site's in-depth instruction, which users report is sometimes lacking. Suppose you're aiming to study the highest level of theoretical math and science. In that case, you might find some of the instruction lacking and need to use supplemental materials to grasp the concepts fully.
How Does Brilliant Compare To Its Competitors?
Review of Brilliant vs Skillshare?
Skillshare and Brilliant do share a lot in common, as they are online learning platforms with unique courses that users can take. However, the two diverge significantly.
As far as content, Skillshare focuses much more on the humanities and the arts, with few STEM courses. The computer skills courses they offer concentrate more on design and development than coding and programming, and the courses in math and science are minimal. Skillshare also has less of an interactive element. Most of their learning is in a series of videos for users to watch rather than using interactive games and activities for education and practice.
In terms of price, there is little to no difference comparing Skillshare vs Brilliant. While Brilliant costs $24.99 per month, Skillshare starts at just $15. But remember, you can use the gift-giving trick to get your monthly fee for Brilliant down $10, well below that of Skillshare.
Review of Brilliant vs Khan Academy?
Khan Academy, while similar to Brilliant in content coverage, is very different in format. Khan Academy offers math and science courses, as well as courses in reading, humanities, economics, computing, and even life skills. The material is largely more appropriate for school children, but math and science extend to the college level.
However, the structure of Khan Academy is a lot less gamified, with the learning content primarily focused around videos, demonstrations, and lectures, with students being offered quizzes and practice problems. Khan Academy feels a lot more like a school learning model, whereas Brilliant makes learning fun, engaging, and accessible.
While Khan Academy is a great resource, it's ultimately not as fun or engaging as Brilliant. However, Khan's primary advantage over Brilliant is that Khan Academy is 100% free to use with no premium subscription required.
Review of Brilliant vs Coursera
We tend to think of Brilliant and Coursera as complements as opposed to competitors, as each serves a specific niche in the overall online learning space. So use Coursera to get access to college courses for credit and let Brilliants online puzzles and animations provide you alternative explanations when you're confused.
Summary Brilliant Review: Is Brilliant.org Worth It?
Hopefully, you found this Brilliant.org review helpful.
Suppose you are a beginner student with a focus in STEM, a rusty parent trying to assist their teenager with homework, or just someone interested in honing your mathematical or scientific skills. In that case, Brilliant is worth checking out.
Or if your kids want to supercharge their online learning, pair up Brilliant with the problem-solving techniques of Elon Musk's Synthesis School.
And with a price tag less than Netflix, its fun games and thought-provoking puzzles will help you keep sharp and keep up on your work, study, or interests.