2023's Masterclass Review With The 43 Most Popular Courses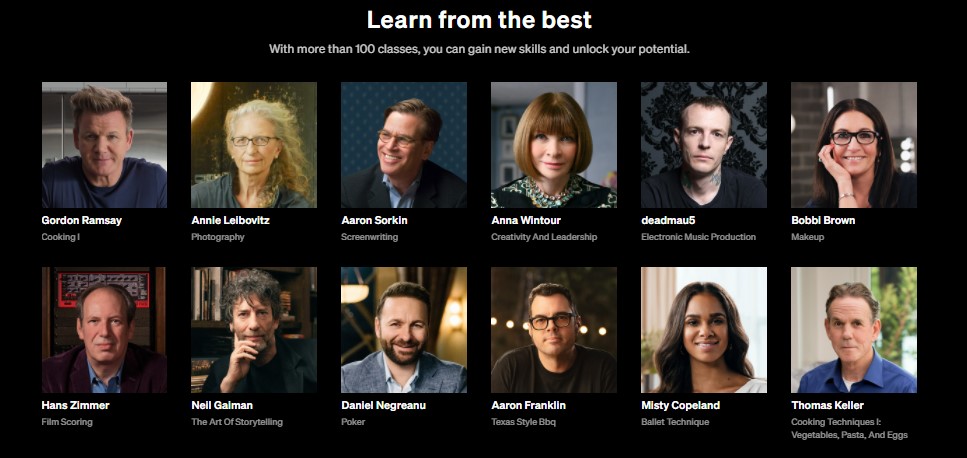 MasterClass has become a widely popular online learning platform. Its prime draw is that beloved celebrity instructors teach its high-quality online courses. It features classic writers such as Margaret Atwood and Neil Gaiman, celebrity chefs such as Gordon Ramsay and Alice Waters, famous athletes such as Serena Williams and Simone Biles, and world-renowned scientists such as Dr. Jane Goodall and Chris Hadfield.
However, the biggest question remains; is this star-studded lineup nothing more than clever marketing or does MasterClass deliver valuable insights and meaningful lessons? We share our personal learning experiences in this in-depth MasterClass review.
What Is MasterClass?
MasterClass is a premium online learning platform targeted towards personal development. Starting with just 3 courses in 2015, MasterClass now boasts more than 1.5 million subscribers with the ambition to "rebuild the Library of Alexandria in digital form."
MasterClass is an incredible resource for the curious. We find the courses to be informative and are continually impressed that the content provides inspiration and entertainment.
Its focus is on "edutainment," where users are both entertained and educated by the instruction provided, focusing on motivational content and exciting celebrity instructors. This online education platform offers a unique opportunity to learn from your idols.
Instruction is primarily delivered through video modules and audio-only podcasts, although select classes offer interactive workbooks, assignments, and activities. However, the lessons and activities are optional, and students rarely receive grading or feedback on their work. Each class is a series of videos with a different "instructor," ranging in length from one and a half to five hours, with each video typically clocking in under five minutes.
Who Is MasterClass For?
David Rogier, the founder of MasterClass, was inspired by a passion for education and the idea to make the world a little better by offering everyone an opportunity to learn from the best. The company isn't focused on how many courses each person completes but aims to change members' lives. Admittedly an aggressive goal, but in their market research, they share that 25% of their members report that their engagement with the platform has had a profound impact.
The experience may sing to an avid reader or a learner who would value hearing the world's most inspiring keynote speakers in person. Part of the value here is to learn and experience these lectures at your own pace in a way that fits your life. That means learning is possible from the comfort of your couch, as an inspiring listen while driving or thoughtful companion on a walk around the block.
This experience is similar to life on a college campus, where you can drop in and audit a lecture on a whim. On this digital "campus," celebrity instructors share insights on their craft and process through beautifully produced segments.
Members may be drawn to MasterClass to learn new skills in a single class from a specific teacher, perhaps the chance to learn from someone you idolize. Users will find the most value here by exploring a range of MasterClass classes.
After only a few minutes of Gordon Ramsey's Cooking I course, his passion for food inspired me. I may not aspire to attain a Michelin star, but I had his voice in my head when I selected produce that week. And since taking his course, I have been more committed to adding fresh herbs to our families' meals; his genuine enthusiasm on this topic jumps through the screen.
Our Experience With Masterclass
Sometimes we will choose to watch a MasterClass instead of picking up a book or scrolling through AppleTV in our house. MasterClass videos are genuinely entertaining.
A particular instructor may be the reason that you looked into MasterClass. Perhaps you are a huge Shonda Rhimes fan or you have seen every Samuel L. Jackson film.
For us, the first class we chose is still paying dividends: Aaron Franklin's tips on Texas-style bbq elevated our dabbling with a new electric smoker to friends asking if we could bring "those" ribs to a party. The class was engaging and we came away with a few tips that proved to be game-changing, even without an expensive smoker.
Similarly, one small tip from Serena Williams is to practice pretending you are serving down by a score of 15-30. Stepping into that mindset during practice is a small change that has helped me acquire more hours of playing calmly from behind.
My most recent 5-star experience was devouring Robin Arzon's upbeat class on mental toughness. I first "met" Robin through her endorphin-inducing Peloton rides. While I naturally gravitate to her coaching style on the bike, my time spent with this course inspired me to focus on themes outside of exercise. For example, she proposes frameworks for goal-setting that build to asking, "why NOT me?" My ROI for these 75 minutes was incredibly high. And I have returned to a few of these segments repeatedly.
We want to highlight that there is a 30-day money-back guarantee with MasterClass. I make it a practice to note this in my calendar at the 25 and 29-day mark to ensure that I get real value from any new subscription or membership. With such a range of online classes and hours of video lessons, 30 days is plenty of time to explore the platform.
Imagine what you could learn in a month:
Commit to that writing class.
Set aside 30 minutes a day to focus on filmmaking.
Try ten new recipes.
What classes are available on MasterClass?
MasterClass organizes its content into 11 themes: Arts & Entertainment, Home & Lifestyle, Business, Writing, Food, Music, Design & Style, Sports & Gaming, Wellness, Community & Government, and Science & Tech. Within those categories, class topics vary widely. And they introduce 1-2 new classes per week, so the course catalog is constantly growing.
The platform's most popular content includes an introductory home cooking class from Gordon Ramsey and a Cooking Techniques class from Thomas Keller, both of which are great for leveling up your home cooking skills. Chris Voss, a well-known FBI hostage negotiator, offers a popular class on the art of negotiation. Beauty mogul Bobbi Brown offers a top-rated class on Makeup & Beauty.
For those interested in furthering their scientific knowledge, astrophysicist Neil deGrasse Tyson provides a course on Scientific Thinking. James Patterson's course on writing connects with inspiring writers and suggests that avid readers will read books in a new way after learning from him. Dr. Cornel West recently released a Philosophy course. The categories are broad-reaching yet specific enough to remain unique and exciting.
We love how MasterClass built a feature that creates a playlist, or as they call it, a Quick List of related modules from various instructors who touch on a theme.
Here's a Quick List on Insecurity, Vulnerability and Letting Go:
The next day, you could invest a few minutes focusing on risk-taking with insights from an astronaut, a writer, and a chef.
And similar to Netflix, when I log in to the platform, I can also see which courses are trending.
Will I Get To Interact With My Instructor?
In the vast majority of cases, the answer is no. While you might occasionally have a class where you receive feedback on an assignment, in most courses, you complete your work independently without feedback or interaction with your instructor.
There are exceptions to this rule. MasterClass Community offers a forum where members can interact with other classmates and receive feedback on their work, sometimes from the instructors. They also run contests to encourage class participants to try their hand at what they learned and submit the results.
MasterClass also experimented with a feature called DirectLine in September 2021, allowing students to speak 1:1 with select instructors. We'll see if they offer this again in the future.
Finally, we would encourage you to check out the extension offered by MasterClass Live. This platform features live follow-up interviews with course instructors, creating another opportunity to further your learning and hear questions answered in a live segment.
What Are The Best Masterclass Courses?
We've included links to some of our favorite courses as well as those that are popular with the MasterClass community. Click through any of the links for a course preview and description.
Arts & Entertainment
Food
Business
Sports & Gaming
Writing
Home & Lifestyle
Design & Style
Science & Tech
Wellness
How Much Does MasterClass Cost?
Membership with MasterClass is available in several different all-access pass levels, all of which include access to all available classes, bonus workbooks and content, pus members-only community and discussion.
The difference between Standard, Plus, and Premium is that Standard only allows viewing on one device at a time, whereas Plus enables two viewers and adds offline viewing on iOS. Premium increases the number of simultaneous devices to 6, but we imagine that's a pretty rare use case.
The Standard membership is the least expensive, at $15 per month, or $180 when billed annually.
The Plus membership is advertised as the best-valued tier at $20 per month, or $240 when billed annually.
The Premium package is only slightly more expensive than the Plus at $23 per month, or $276 when billed annually.
MasterClass bills all subscriptions annually. They used to offer a monthly option but have recently stopped.
That commitment might make you nervous, but it is important to remember that MasterClass offers a 30-day moneyback guarantee. This policy provides new members comfort that their investment will meet their expectations.
How Do I Gift MasterClass To Someone?
I often struggle with trying to find a friend or colleague an excellent gift. I aim to find something personal, unique, and valuable. At best, this often lands as a book or membership to a book club. At the last minute, this usually ends with a gift card. We wanted to highlight a new option as the ability to gift a year of MasterClass membership may not be well known.
Compared to almost every other online learning platform, Masterclass made this the easiest. All you need to do is use this gifting link, enter the recipient's email address, and then checkout as you normally would.
Pro tip: be sure to check if they're running their "Buy One Gift One" program. This promotion happens 3-4 times each year, and one of those times is right around the holidays.
There are many parallels between gifting a Book of Month experience and a MasterClass membership for a friend. Both gifts encourage the recipient to find something they genuinely enjoy. And just as I believe you take a little something away from each book you read, I have found inspiration in each MasterClass course I have taken.
We've even taken the time to separately highlight which MasterClass courses might appeal as gifts for him and her, as well gifts for teens, couples, and grandparents.
Similarly, I would research and spend a considerable amount of time hunting an end-of-year gift for my team, clients, and colleagues. As many of us love to give recommendations of our favorite books, podcasts, recipes, and workouts, a Masterclass subscription creates an easy way to give the gift of learning.
Some may not want to "email a present." We find joy in the presentation here as well. We often pair the gift of membership with a hand-wrapped journal and a note to say, "I can't wait to hear about what you learn this year and how it inspires you!" Further, we like to mention a few favorite courses we love and think the recipient may enjoy.
We know that committing to any new practice with a friend will greatly increase your joy in this activity and your likelihood to complete a task or make a new habit a hobby. The idea of "let's explore this together" is a unique gift to you as well as the lucky recipient.
Whether it's a new graduate, an old friend, or perhaps a colleague recovering from surgery, the gift of MasterClass can resonate and be appreciated by many.
Is There Financial Assistance Available To Get MasterClass?
If you work with an accredited charitable organization, you may qualify for a grant through the MasterClass Grants Program. This program seeks to extend learning opportunities to help organizations professionally develop their team.
Are Any Discounts Available For MasterClass?
If you're looking to get MasterClass memberships for a larger group of people, you may be able to get a more attractive rate through MasterClass for Business. If you purchase five or more memberships at once, you can get a steep discount. The exact rate you're able to get varies based on the number of memberships you purchase at once but can extend up to 35% off. This discount program is popular with businesses looking to support the leadership, business, storytelling, or design skills of their employees.
If you have a bit of patience, you can also wait until MasterClass runs a sale. Each year so far, they have offered a BOGO deal where you can Buy One membership for yourself and Gift One for someone else. This sale is a great chance to get half off by signing up with a friend or gift a membership to a friend for the holidays while getting a membership for yourself.
If I Don't Like MasterClass, Is It Easy To Get A Refund?
MasterClass offers a 30-day money-back guarantee, but beyond that, there are no refunds.
Those who lose interest in MasterClass should also note that the default setting is for your annual membership to renew automatically. If you don't want a surprise charge showing up on your bank statement, make sure to cancel the automatic renewal ahead of time.
What Are The Pros Of Using MasterClass?
The primary benefit of using MasterClass instead of a similar digital learning platform is its value as "edutainment," simultaneously being educational and entertaining. The content's production quality is high, and the tone is engaging, with recognizable and respected instructors. It's easy to find the classes just as fun as they are educational.
For those interested in taking a lot of classes, MasterClass' model is also very appealing. You get unlimited access to the classes for a relatively reasonable monthly rate, making it an excellent investment.
What Are The Cons Of Using MasterClass?
The biggest argument against using MasterClass is the lack of feedback or grading that students receive. If you are serious about pursuing any of the subjects taught, having consistent expert feedback on your work will be critical to your growth. While hearing Aaron Sorkin or David Mamet pontificate on the finer points of their art might be helpful for an aspiring writer, it's unlikely to have the same educational value as receiving careful, detailed feedback on your writing.
MasterClass is also not great for those whose interest only extends to one or two classes. Because there is no "a la carte" option and the only option is to pay upfront for a full year, it's only a good investment if you intend to take many classes.
Masterclass vs Skillshare: A Comparison
Skillshare is an e-learning platform with a more extensive catalog of 29,000 video classes vs. just over 100 for MasterClass. Skillshare excels at offering niche instruction across a wide range of topics if that's what you need. You can learn everything from python to piano on Skillshare for a comparable $15/month cost.
Skillshare doesn't offer the same level of talent quality from their instructors, especially in popular fields like Arts, Music, Entertainment, Sports, and Writing.
MasterClass vs Udemy: A Comparison
Udemy is another popular learning platform with an impressive list of 150,000 available courses.
While MasterClass offers a subscription to attend a range of lectures from famous instructors, many seek to use Udemy to learn a specific new skill by taking one great course. In the Udemy model, students pay for each separate class. Udemy also allows anyone to submit a course on their platform, so you should expect the quality range to be stark compared to MasterClass's production quality.
How Can I Get The Most Out Of MasterClass?
The best way to get the most out of MasterClass is, primarily, to be open-minded and take as many classes as you can.
A technologist might find inspiration from Es Devlin's process to transform something from a nebulous idea to a concrete form.
A business executive may see their perceived limits differently after listening to Alex Honnold & Tommy Caldwell talk about their climbing careers.
While I enjoy the occasional trip to a rock climbing gym, I didn't watch this course for climbing tips. I loved watching Free Solo and was inspired to learn more. This week, the chance to start my day with a cup of coffee, scenes from climbing El Capitan, and insights from professional climbers inspired me to what is possible.
MasterClass Review – Is It Worth The Cost?
We absolutely get value from MasterClass. For the exact monthly cost of our Netflix subscription, MasterClass provides a springboard for learning new concepts.
MasterClass offers the opportunity to learn from top instructors in their fields and be inspired by their stories. These course modules can help learners think differently about a topic or further their understanding of something that has piqued a curiosity. The company hopes that an opportunity to hear from the world's best can accelerate anyone's learning on a topic, and we have experienced this value first hand.
The 30-day money-back guarantee provides a generous window to test-drive this platform and watch a range of courses. Much like investing in a gym membership signals physical health as a priority, a MasterClass subscription is a commitment to continued learning and inspiration from new ideas.
If we can provide any further insights, please drop us a question in the comments section.