25 Amazing Winter Hobbies in 2023 When Stuck Inside!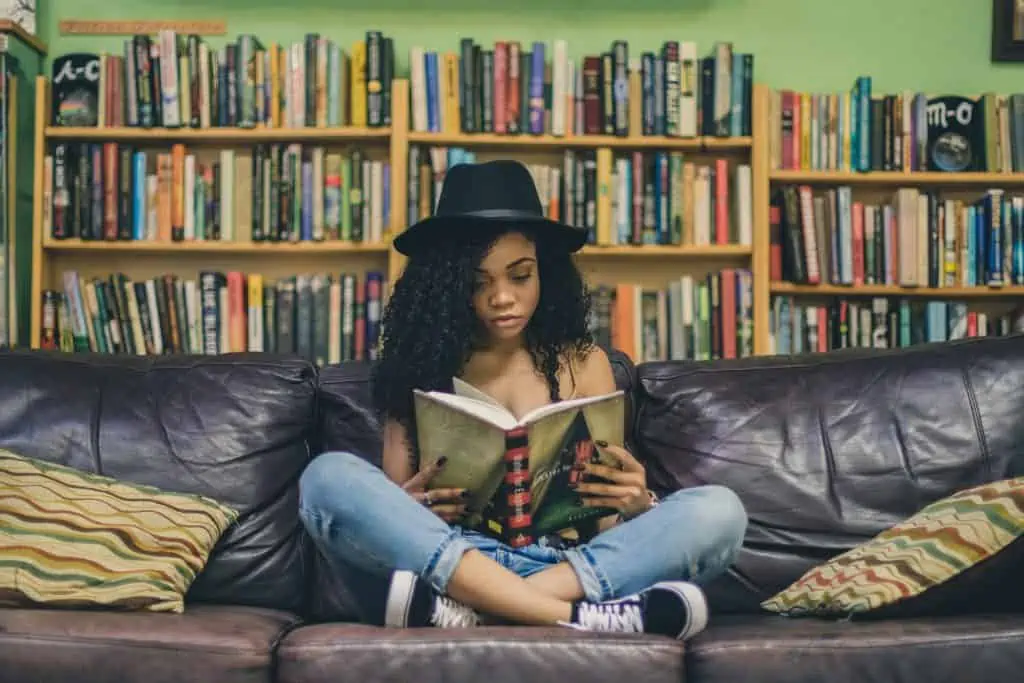 Taking up amazing winter hobbies in the winter months can add some spark to colder days! Finding a fun indoor hobby to explore with a loved one can immediately change your outlook on the winter season. We love the classic t outdoor hobbies such as bundling up to build an igloo, a trip to the rink to ice skate or finally taking a snowboarding lesson.
But, if you are craving something different, we suggest a range of ideas for winter activities that make the most of spending time inside. 
Many of these are great hobbies that don't require a lot of money to get started and allow you to get the creative juices flowing with some DIY projects.
Lets make the most of your free time. Below is our guide to 25 popular hobbies and creative outlets:
Creative Winter Hobbies
Knitting
As the first of our creative winter hobbies, Knitting is the ultimate winter past-time. Cozy-up on your lounge and knit a scarf as it rains or snows outside. And this certainly pairs well with netflix and hot chocolate.
You can knit lots of different things, like clothing, art, homewares. Generally, people start with a basic pattern like a scarf, blanket, or socks.
Take an online knitting class to learn the basic technique and grab some needles and yarn and you'll be ready to start your knitting hobby.
Crochet
Similar to knitting, crochet uses yarn and thread, with special hooks a little different from the needles used in knitting.
You can make clothing, art, and homewares and decorate your house or give your creations away as gifts. Once you've been crocheting for a while, you might even make a side-income from it from markets or selling online.
To learn how to crochet, there are lots of tutorials online and articles to read. This blog post gives a good explanation of how to crochet.
Cross-stitch
As a form of embroidery, cross-stitching is the art of decorating fabrics with needle and thread. You can add extras like beads and sequins to your creations as well.
Many people start cross-stitch as a guided-embroidery technique where they can follow a set pattern and relax as they stitch, It's a super comforting winter-day hobby.
Buy a cross-stitch package that contains all the tools you need and some beginner patterns to get started. You can choose from packages like these.
Baking
Make desserts and snacks from the comfort of your own home. The beauty of baking is that you have all these yummy creations to enjoy at the end! Baking for loved ones is always a great idea.
You'll need an oven and some basic baking tools in your kitchen, and then simply follow a recipe to make your first creation. There's a good range of baking recipes on this site.
Try your hand at a dessert or snack that you love to eat, and then set yourself a goal of making a new recipe every weekend or in the evenings throughout the week to master this skill. After a quick trip to the grocery store, you can dive into this rewarding and fun hobby. Need some help? Check out our piece on the BEST baking classes online!
Cooking
This new skill will always come in handy, not only cooking for yourself but preparing meals for family and friends.
If you've not cooked much, start with simple vegetable stir-fries and bakes, and then progress to pasta and oven-bakes. Try a few sheet pan dinners.
Learning to love your time in the kitchen is huge for your mental health, and your physical health as you include more homemade meals in your week.
There are a lot of cooking resources online. This site has a huge range of recipes that are suitable for all levels. Invite a friend over for dinner and plan your menu.
Scrapbooking
Creative winter hobbies are best when you have something to show and look back on, like a memory album that you have crafted. Not to mention, it is a perfect way to save money when gift-giving.
That's what a scrapbook is – using paper crafts and photos to turn memories into works of art. You can do it your own way – there are no set 'rules' to scrapbook.
Let your imagination run wild and learn about all the different tools you can use in this helpful scrapbooking blog.
Creative Writing
There are many ways to write creatively. You can create short stories, spoken word, poetry, and even write music lyrics. When you improve your writing, it can be an entirely new language!
If you love expressing yourself and putting pen to paper, you've likely already written stories and poetry in your time.
Start small. Make it a hobby by committing to 10 minutes a day of writing, and see how much you enjoy it. Perhaps treat yourself to buying a new writing journal. You can also enter online competitions to motivate you to complete your creations.
Paper Quilling
The beautiful paper spiraled artworks you've seen on cards and framed pictures is a technique called paper quilling.
You can make things like bookmarks, cards, ornaments, and gifts for friends and family. You only need the quilling tools (easy to find at a. Local art store) and some paper to start.
Paper quilling is a relaxing and mindful creative hobby. Once you get your materials, take an online paper quilling class to get started. 
Origami
Origami is the art of paper-folding. It's about creating amazing designs, objects, cards, and geometric shapes from one or many pieces of paper, often small squares.
To start an origami hobby, you can begin with very simple designs. It's easy to find instructions online to get the hand of measuring and folding with your hands in a detailed way.
Eventually, you'll develop the skills to go a little further with it and try complex designs with multiple pieces of paper. Check out this site for tons of origami inspiration, or this link to Amazon for a great starter set!
Sketching
Sketching is a drawing technique that is often based on capturing real-life imagery and moments with a pencil, charcoal, or pen.
You don't have to sketch realistic images if you choose not to – there's also artistic, abstract skating to explore as well.
For some inspiration on the types of sketching you can do, check out this gallery of amazing sketches.
Painting
Painting is a great way to express yourself. There's nothing like painting indoors on a cold winter's day and bringing some color to your day.
Painting, like sketching, can be realistic or abstract, with many different forms of abstract painting free for you to explore.
You can start with acrylic paints as they're easier to use than watercolor and oil-based paints. Also, consider a short painting course online to learn more about basic techniques.
Tea Making
If you love sipping warm tea in the cold weather, you might love to learn how to make your own herbal tea blends.
It's quite easy – all you need is to find herbs that you like that blend well together for their taste and their purpose, and then mix them in a jar and drink your tea!
You can give the tea a gift as well, which is a bonus. To learn more about blending herbs together, read this blog on tea making.
Candle Making
Making your own candles is a super satisfying hobby. You can make them any size you like, add decorations, and different scents with essential oils.
There's plenty of information online for candle making, and you may even find a candle-making beginners pack in your local art store.
Start by reading up on the different techniques you can use to make candles to choose which one feels most doable for you. This blog helps with that.
Active Winter Hobbies
Strength Training
Just because it's cold and dreary outside doesn't mean you can't work-out and build your strength and fitness.
Whether you're stuck at home or go to an indoor local gym, you can start a strength-training hobby by lifting weights.
If you are starting from home, follow online strength training workouts on YouTube. This channel has some great content.
Pilates
Creating a strong core is essential for supporting the health of your body, especially your back. Pilates not only gets you toned and strong but also gives you great posture.
It's not as easy as it looks (if you're someone who thinks pilates might not be a strong workout). Start with beginner classes and progress from there.
Online pilates videos are easy to find, and many local gyms will have pilates classes, or your city might have a dedicated pilates studio.
Dancing
Though you likely already know how to dance socially and on your own to great music, taking up dancing as a hobby is a level up.
It's about learning specific techniques of dance styles and sometimes learning fun routines. You'll boost your memory and your fitness by taking dance classes.
Dancing is one of the fun winter hobbies to do at a local studio and meet new people, or in the comfort of your own home. Explore the many styles of dance and online classes available on this popular virtual dance platform.
Yoga
Starting a yoga practice is a spiritual hobby that also has many physical benefits. You'll get stronger, more flexible, soothe your nervous system, and clear your mind.
Many people start yoga to combat stress and to get healthier without having to do high-impact exercise. We have a list of the best 12 online classes as well!
You can begin by reading about the different yoga styles so you have some knowledge of the different styles you'll find when you go to do a class in-studio or online.
Gymnastics
You can start gymnastics at any age, and it's amazing to get more fit, strong, and flexible.
Start at home, if the weather is keeping you indoors, by taking online classes. If you can venture out, join a local gymnasium for beginner classes.
Gymnastics is suited to the type of person who loves to be challenged and who isn't afraid of falling over – because this will totally happen at the start!
Technology-Based Winter Hobbies
Graphic Design
If you love being creative and have a good understanding of technology, you can learn graphic design and art.
It's simple to begin when you take an expert-led beginners course, like this one on Udemy.
You will need to download the right applications – like Adobe Illustrator – which will come at a small fee, and then you can get going right away!
Photography
Starting this hobby has never been so easy when you can take your images on a smartphone. There's no need to buy expensive camera equipment.
Focus on things that you find interesting and beautiful – nature, people, objects, etc. Play around with how the photos can be edited as well with some editing software.
To understand the techniques of lighting and composition, it's a good idea to take a short photography course. 
Gaming
Gaming is another fun one on our list of winter hobbies that any tech-loving person can start. If you like problem-solving and being challenged, then there's a game for you.
You don't have to only choose super action-packed games, you can also choose online board games and relaxing puzzles as well.
Online gaming is one of those winter hobbies where you can really lose track of time and spend the whole day playing.
Watch Documentaries
This hobby is great for rainy and snowing days, where you can cuddle up and watch a documentary about something you're interested in.
There are always new documentaries released about nature, politics, history, human development, and more. Choose your topic and you'll find plenty of options.
To make it a full-on hobby, create a list of documentaries you want to watch, or have a regular meet-up with friends and watch them together. Here's a list of popular documentaries.
Listening to Podcasts
If you want to relax and learn about something interesting or valuable to your personal or professional development, get on the podcast train!
All you need is to download the podcasts for free with a wi-fi connection, and you can sit back, relax, and enjoy your podcasting-listening hobby.
Make it fun by committing to a certain number of podcast episodes a week – like 5 – and see how much you can learn! Here's a list of top-ranked podcasts on iTunes.
Start a YouTube Channel
Do you have something to share with the world? Any expertise you love to talk about? Or perhaps you're an entrepreneur and want to expand your audience.
Creating a YouTube Channel is a great way to market yourself, or share your insights with the world. If you have a camera, you can record on your phone, camera, or use your laptop.
Learn about editing techniques and how to get found on YouTube search through reading this helpful article on how to succeed as a new YouTuber.
Create an Online Reading Club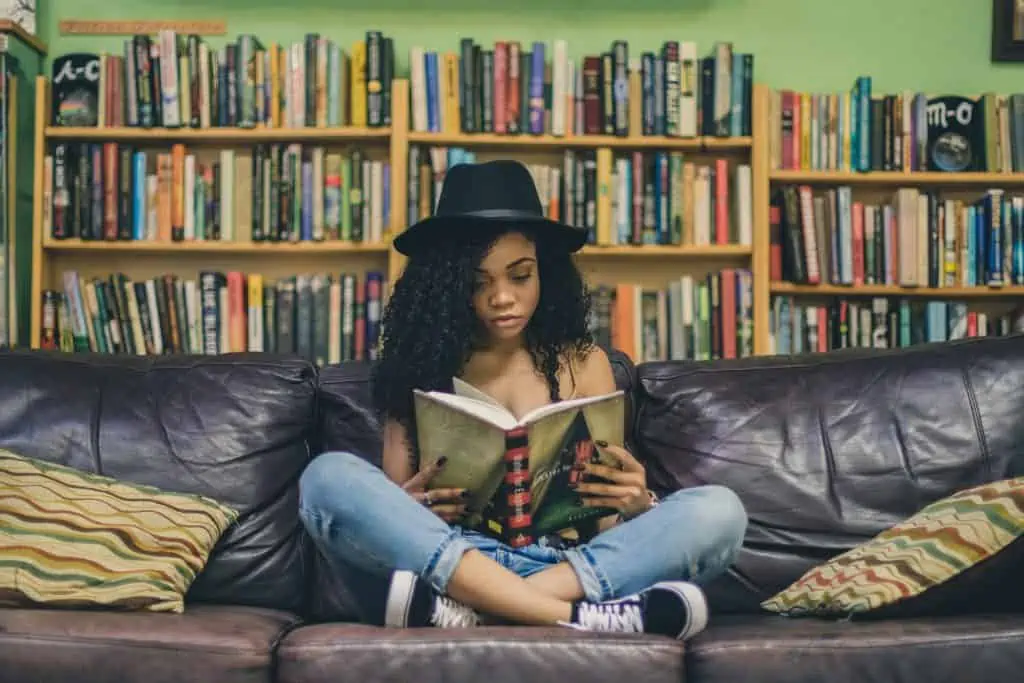 Book clubs have been around for a long time. Now that so much of the world has gone online, so too has this concept.
A reading club is where a group of people get together, read the same book, and then meet up to talk about the story, answer questions, and share their opinion.
It's a way to make new friends in the comfort of your own home, and it also doubles as a reading hobby as well!