How To Get Hired With 17 Security Guard Interview Questions + Answers
If you're looking to land the next security guard role, you need to be prepared to answer interview questions in a confident and direct way. We've listed here the top 17 common security guard interview questions and answers to help you know what to expect. After reviewing the job description details for a security industry role, take the time to focus on your interview.
Our sample answers provide examples to highlight how your previous experience is related to being an excellent security guard. For instance, in the job interview, you can address ways in which you are well suited to handle dangerous situations, security threats, long-hour shifts, remain focused during downtime, and use problem-solving skills and teamwork to help maintain a safe environment for everyone. You might talk about being a team player or ways in which you have a competency in conflict resolution.
Job seekers, read on so that you can be the most prepared to explain to a hiring manager why you are the right person for this security guard job.
17 Security Guard Interview Questions + Answers
1. Why are you applying for this security guard position?
This is your chance to explain your motivation to apply to be a security guard and the way this supports your sense of doing important work and pursuing your career goals.
I enjoy working as a security guard as it is a dynamic role that allows me to feel that I am offering my services in doing something that matters and helps others.
2. What do you feel are the main responsibilities of a security guard?
These answers could be found by looking at the job description and listing those skills to the interviewer. Make it clear that you understand the role of a security guard.
Patrolling and assessing areas to ensure calm, safety, and order are kept.
To provide a stable and strong presence to ensure clientele feel supported and safe in the environment.
To remove potential risks from a situation, including aggressive people, to keep harmony in the space.
3. What is your relevant experience?
This is a great opportunity for you to highlight previous security experience and events in your personal life that demonstrate your ability to fulfill the job description requirements.
Reference your experience in previous jobs, giving information about certain scenarios you were faced with and how you performed.
This could include condominium security, bouncing, bodyguarding, executive protection agency, armed security, money transfer, personal security, and more.
Recommended Course: Crisis Communication (LinkedIn Learning)
4. How do you handle long-hour shifts?
Security guard interview questions may also reference the fact that general guard shifts are very long.
I have experience working longer than 24-hour shifts and know how to manage my energy when that is needed.
I keep my physical condition in a healthy state and am sure to get plenty of rest before and after long shifts.
5. What is your availability?
Whether you are looking for full or part-time work, be sure to be clear in your availability to the interviewer.
Part-time: I have flexibility within the structure of part-time work and am happy to work long-hour shifts.
Full-time: I am looking to work as much as possible and have open availability for this role entirely.
6. What is your experience in carrying weapons?
This may or may not be relevant to your particular role, though here are some examples if this question shows up.
I have experience carrying a gun and understand how to use it, though I have not ever had to pull it out.
I would never use any weapon to threaten people and only have it on my person to use if it was a situation to defend the livelihood of myself or another person. This would only be as a last resort.
7. What is your greatest strength as a security guard?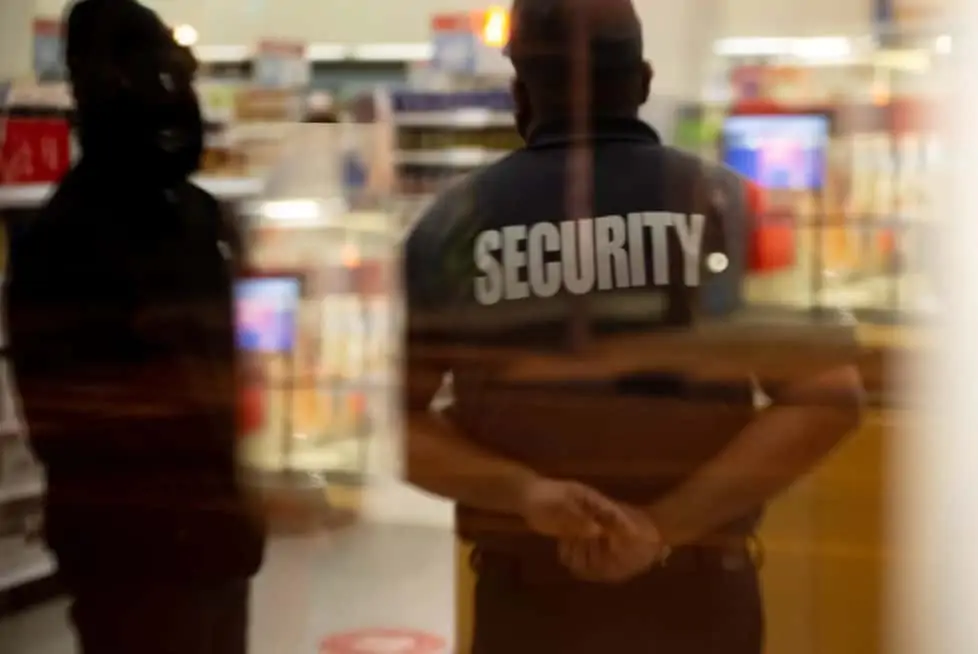 This is a valuable question for employers to understand how you view your ability to be a strong employee.
I feel that I have the capacity to be a non-threatening presence in a space that allows the environment to stay calm and positive while also exuding authority so that people understand I can step up into the strong energy that may be needed.
I can keep the balance of being calm and collected while also conveying a protective manner that shows I am in control of the situation and can deal with any potential threats.
Top Instructor: Modern Leadership: Give & Get Honest Feedback at Work (Skillshare)
8. How do you deal with dangerous situations?
Being a security guard can be a dangerous role, as you are dealing with potential threats in every shift.
I understand that there may be situations where aggressive people, crowds, or circumstances may threaten my or others' safety. This is why I have completed the necessary courses (self-defense) to feel confident that I can protect myself from danger.
I make sure to analyze the situation carefully before taking action so that I can choose the safest method of dealing with the situation.
Highly Rated Course: Decision-Making In High-Stress Situations (LinkedIn Learning)
9. Do you feel comfortable controlling large crowds?
Potentially, one of your security guard interview questions might be about how you can work in a busy environment such as an event or festival.
I have experience working in high-volume, busy events that require me to pay close attention to scanning crowds and changing circumstances.
I believe that I can stay aware of a large space and assess crowds for potential risks, without being overwhelmed.
I enjoy the dynamic nature of working with large crowds and working with teams to maintain order and safety.
10. How do you assess the potential danger level in people's appearances?
Your attention to detail is necessary when analyzing social situations.
I have strong observation skills and know how to read body language.
I do not jump to conclusions and make strong judgments on anyone based purely on their physical appearance; instead, I assess all aspects of their body language, actions, and words.
I maintain a close, yet subtle, distance to the person to continue to assess any danger levels if I feel that their presence seems to be less than friendly.
Recommended Course: Reading Non-Verbal Communication (LinkedIn Learning)
11. Are you familiar with surveillance equipment and other electronic tools?
As a security guard, you may have a role that requires you to review electronic footage or use other equipment.
I am well-versed in the use of CCTV and other equipment.
I can effectively view, record, assess and respond to recorded footage that includes splitting my attention between multiple cameras.
I have strong computer literacy and have used spreadsheets and other software to document and store data relevant to my role.
Bestselling Course: Microsoft Excel Masterclass (Skill Success)
12. How do you work in a team?
Security guard interview questions will most likely inquire about your skills related to teamwork.
I enjoy the dynamic energy of a team-based environment and feel that we can achieve great outcomes when we work together.
I have strong communication skills to stay in contact with all team members so we are running smoothly in our operations.
Recommended Course: Emotional Intelligence (Skill Success)
13. How have you successfully dealt with assault?
If you have not dealt with assault in your professional experience, you can also refer to any personal experience if it feels relevant.
I encountered a physical assault (insert situation) and managed to stay calm in the situation without retaliating.
Include any other details here that show how you managed the situations and how it was solved.
14. How do you deal with angry and aggressive people?
As a security guard, this will be inevitable, so demonstrate your capacity to handle conflict in these answers.
I can encounter anger without becoming emotionally triggered in the situation.
I have a calm energy that allows me to respond to situations, rather than react.
I keep an objective viewpoint and realize that the anger is never personal me, and my role is to purely ensure safety and restore harmony in the environment.
Recommended Course: Dealing With Difficult People (Skill Success)
15. What relevant certifications do you have?
Demonstrate that you have the technical expertise here to handle a variety of situations if you are asked this in your security guard interview questions.
I have a current driver's license and a clean driving record.
I am trained in self-defense.
I am CPR and First Aid certified.
I have completed my high school diploma.
16. Why should we hire you?
This is where you can show that you are confident in your value as a security officer.
With my experience in many security roles, as well as my strength that I've described in this interview, I feel that I'd be a valuable asset to your team.
I enjoy being a security guard, and this makes me perform at a high standard on every shift as I care about what I do.
Recommended Course: Do Things, Tell People: The Power of Personal Branding (Skillshare)
17. What questions do you have for us?
Finally, to end this list of security guard interview questions, here are some questions you could ask the interviewer.
Would you like additional references from my past roles?
When do you expect to decide this role?
What do you believe are the best qualities of a great security guard?
Bestseller: Mastering Common Interview Questions(LinkedIn Learning)
The Job Search Process Beyond Security Guard Interview Questions
For more information on landing a security guard job, check out my guide on security guard skills to add to your CV!
If a job as a security guard doesn't seem quite right, we have job lists for people who want the stability of a weekly paycheck and for those looking for jobs where they can work alone.
Finally, we have other interviewing guides for jobs with similar characteristics. We'd suggest looking into warehouse roles with a company like Amazon. Alternatively, Whole Foods and Costco have been expanding like crazy and are almost always looking for organized and reliable workers.
References