Learn How To Sell Like A Pro With 2023's Top 11 Best Online Sales Training Courses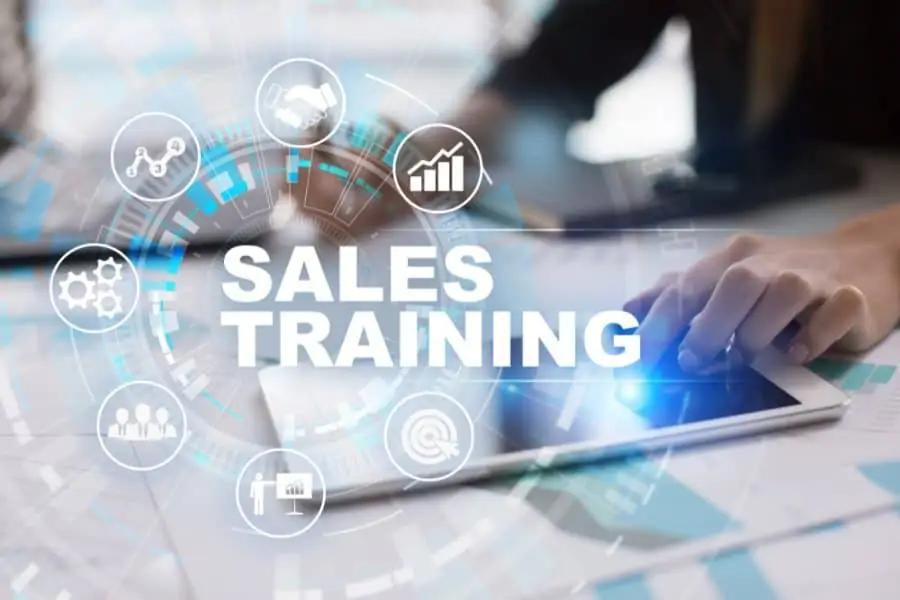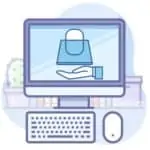 If you are searching for the best online sales training courses so you can close deals, learn how to sell, and meet KPI targets, you're in the right place!
In this guide, I cover some of the top free sales training classes that will get you selling like a pro in no time!
Even if you are a complete beginner, there are many classes below that will take you through the sales process, step-by-step. Let's begin!
Top 11 Free Best Online Sales Training Courses & Certificates 2023
---
First on my list is a great introductory sales training course that will teach you how to take the guesswork out of the sales process and achieve a successful sales career.
As for your teacher, you will be led by Derek Shebby, who the founder of Modern Sales Training and has taught employees at Fortune 500 companies. So if you are looking to learn from one of the best, this is an outstanding resource!
In total, there are 12 lessons packed full of invaluable tips and tricks which include creating your sales list, prospecting on foot, prospecting over the phone, the first appointment, the proposal, objections, negotiating, closing, and making winning predictable.
As this sales training class is hosted on Skillshare, new users can enroll for free by activating their 1-month free trial. Overall, a fantastic course for mastering the art of sales!
Low time commitment: 12 lessons, less than an hour
Accessible for free with the Skillshare 1-month free trial
Suitable for all levels, no prior experience necessary
Highly experienced instructor
Activate FREE Skillshare Trial
It can definitely be intimidating to think about trying to start your own business. In many ways, you're taking a big risk by becoming an entrepreneur, but if you go about it the right way, that risk is sure to pay off!
Your instructor for this sales training class is Patrick Dang, who is a professional sales/ lead generation trainer, YouTube host, and was one of the top-performing salesmen in North America. Patrick has also worked with many large Silicon Valley companies.
Some of the lessons taught include setting your goals, the success pyramid, elements of communication, building rapport, softening statements, mirroring and matching, setting expectations, DIQ and transitioning, active listening, countering, and negotiating price.
In total, this course runs for 3.45 hours and includes on-demand video lessons, downloadable resources, a community page, and the ability to view on iPhone/ Android. Overall, a well-rounded sales training course for beginners!
Extensive content, but can still be completed in less than a day: 38 lessons, 3h45m
Accessible for free with a Skillshare 1-month free trial
Suitable for all levels
Taught by a successful sales trainer
Activate FREE Skillshare Trial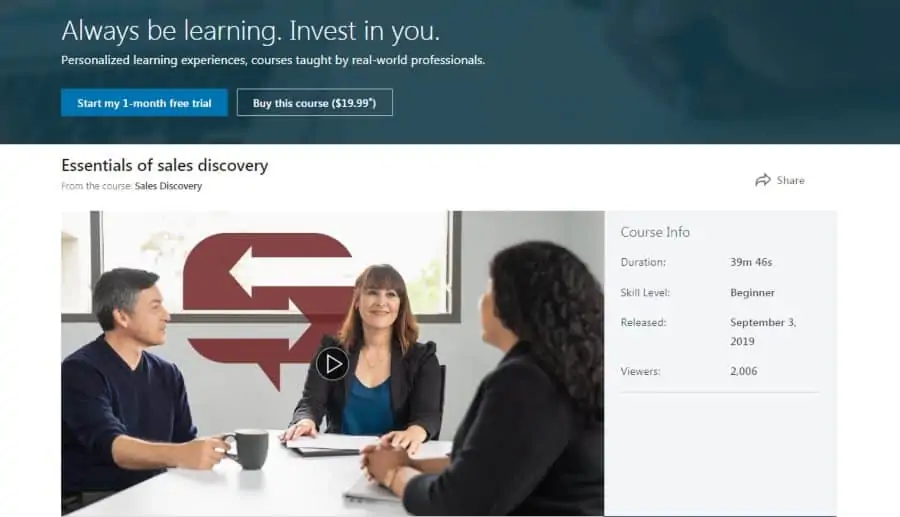 Next on my list is a LinkedIn Learning (previously Lynda) course that will give you a detailed overview of sales discovery. Students will learn about the role that sales discovery plays in terms of the big picture, and how to start things off on the right foot with potential leads and new customers.
Some of the many lessons taught in this on-demand video courses include topics on sales discovery, terminology, re-call preparation, how to create engaging discussions, learn about your leads, decision making, approval process, solution mapping, recapping goals, and priorities.
Once complete, this course should help you feel confident in your role as a sales professional and teach you to trust your gut when it comes to prospecting new leads!
Also, being hosted on LinkedIn Learning, new users can access all class materials, a 1-month free trial, and a certificate of completion!
Specific focus: sales discovery
Popular: 1,935 viewers
Certificate of completion
Can access this course for free with a 1-month free trial
Mobile viewing
If you are looking to increase your sales skills and apply these same principles into your daily life, then this might be the course for you!
Your instructor for this class is Justin Quinton, who is a world-class sales trainer and who has helped 1,0000's students better their sales abilities.
Some of the lessons taught by Justin in this course include an introduction to sales action, how to love sales, reprogramming for better sales, and to take action. There are also two extra class projects where you can implement these new skills.
As this class is hosted on Skillshare, new students can take this class, plus all the others mentioned in this list when activating the 1-month free trial. Overall, one of the best online sales training courses for those who are complete beginners.
The course includes a helpful exercise that will let you put your new-found knowledge into practice
Low time commitment: 8 lessons, 1h2m
Can be accessed for free with a 1-month free trial on Skillshare
Activate FREE Skillshare Trial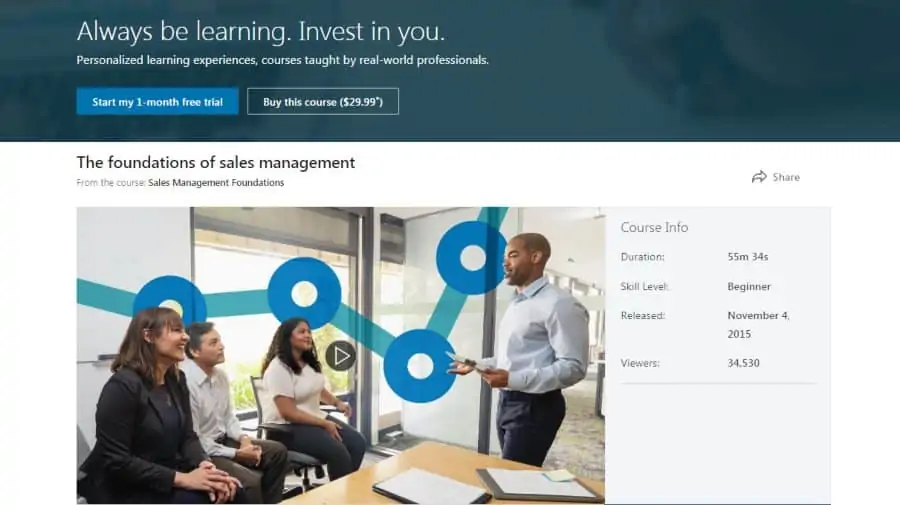 The focus of this class is to teach you all about sales management and how to lead a successful sales team. You'll also learn how to set quotas and compensate your team accordingly for their hard work!
Included in the first section of this course is how to define the sales task clearly so that everyone is on the same page about what needs to happen.
Other lessons in this course cover recruiting salespeople, conducting sales training, and motivating salespeople, creating a sales structure, forecasting sales performance, creating sales territories, and setting sales quotas.
While this is a short 55-minute course, it does uncover many valuable sales training fundamentals that all beginners/ managers should know. Overall, a great pick!
Very low time commitment: 1h2m
Specific focus: sales management
Suitable for all levels, no pre-requisites
Best choice for someone who is in a management role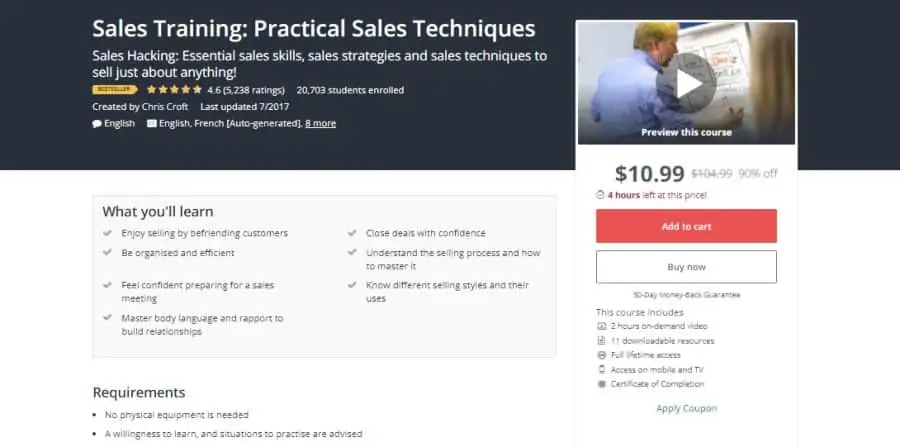 Moving onto my next pick is a great option for those who are looking for practical and actionable sales techniques that you can start trying immediately.
As for your teacher, you will be taught by Chris Croft, who is a leading sales manager for many multimillion-dollar companies and has also taught 100,000s students throughout his career.
Some of the many lessons covered in this sales training course include topics on how to build emotional connections, first impressions, body language, being a great listener, the sales questioning funnel, four types of people, and the delight factor to name a few.
Additionally, there are also some bonus lessons on how to close sales successfully and how to tackle the statement of "It's too expensive!".
"Bestseller" on Udemy!
Very high 4.6-star rating
Very popular: 20,620 students
Extensive content but still a low time commitment: 30 lectures, 1h50m
The course includes exercises/quizzes
Next on my list is a compact Udemy course that will offer you a quick overview of sales training. It doesn't matter what stage of the sales process you're involved in, this course is sure to give you some useful insights and helpful tips and tricks that you can apply professionally!
It's also one of the best sales training courses for people just getting involved in the field because it includes introductory lessons that outline what sales involve including the four different selling styles and the USP (unique selling point).
Other topics you'll learn about in this course are the strategies of the sales process, sales tactics, sales techniques, and sales closing and upselling.
Being hosted on Udemy, there is a certificate of completion, lifetime access to all course materials, and student discussion boards.
High 4.6 star rating
No pre-requisites or materials required
Low time commitment: 5 lectures, 1h6m
The course includes very short quizzes that will help you retain what you've learned
Next on my list is a comprehensive 8-hour course delivered by Coursera and Hubspot which is catered for those looking to pursue a career in sales training.
The course is broken up into two modules (building your sales career and selling with a consultative mindset) and will take about six and four hours to work through respectively. In the first module, you will learn about why you should consider a career in sales and how to proceed once you get a sales job.
Module two focuses heavily on inbound sales/adopting while also covering how to define a "good fit" prospect, how to start and end exploratory calls, how to create a personalized presentation, how to help the buyer make a decision, and much more!
Being hosted on Coursera, you will be taught by leading professionals in their own fields while also receiving a certificate of completion. Overall, one of the best sales training courses in 2023!
The first course in a four-course series
Beginner-friendly
Extensive course content: approx. 8 hours to complete
Comes with a Course Certificate that you can share directly to your LinkedIn profile or include on your resume/CV
Great reviews: 4.6 stars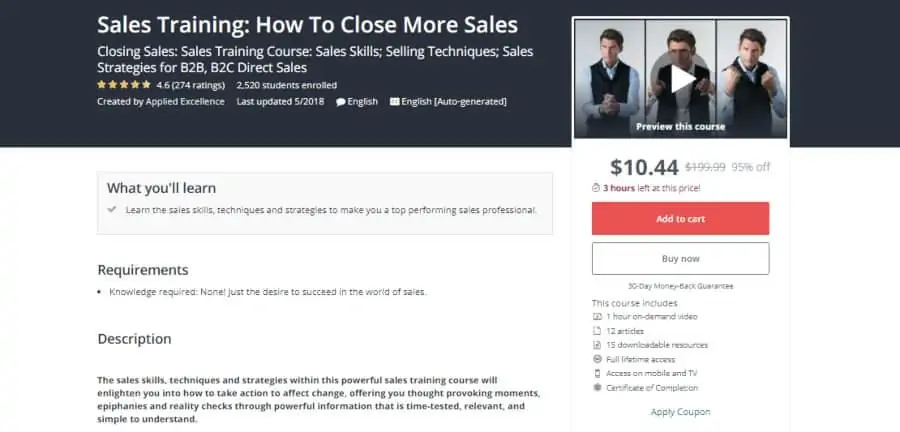 Closing a sale is arguably the most important part of the entire sales process! But it is not always easy to get the customer/buyer to give you that elusive "yes", which is exactly what this course aims to achieve!
In this class, students will learn the difference between selling results and selling value and how to should approach the two. Additionally, there are also lessons on belief, authenticity, and building trust which are all integral to closing more sales.
The lessons in this course are also accompanied by quizzes and exercises so that you can start to train your brain to apply what you are learning. And not to worry, this course is totally suitable for beginners who are just getting started in the field – in fact, it's an excellent place to start learning about sales!
Low time commitment: 1h25m, 29 lectures
Specific focus: closing
The course includes supplemental material and brief quizzes
This is a course series that is made up of four classes that will take about four months to work through with a weekly three-hour time commitment. By putting in the effort to become a savvier and smarter salesperson you'll be setting yourself up for a successful career in the field!
The four courses in the series are customer segmentation and prospecting; connecting with sales prospects; sales pitch and closing, and building a toolkit for your sales process.
As for your instructors, you will be expertly led by teachers from the prestigious Northwestern University in conjunction with Coursera. Also, new users of Coursera can audit this class for free!
All of the courses in this series have a rating of 4.7 stars or above
Self-paced course, flexible schedules
Beginner-friendly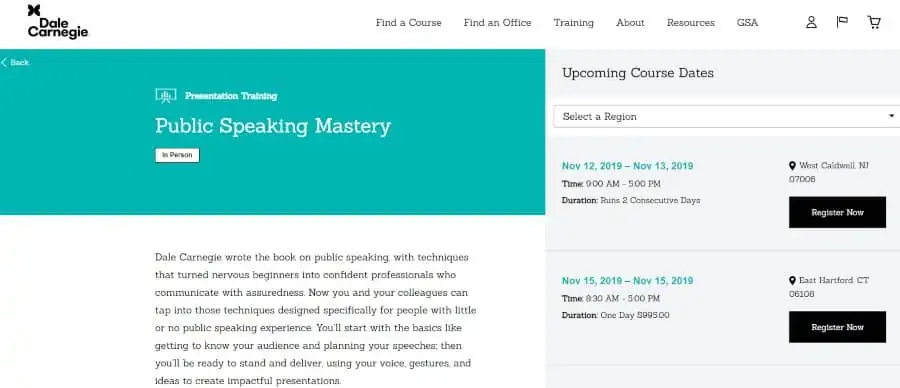 Dale Carnegie is a highly influential figure, and he found his success by learning how to get his point across succinctly and convincingly. Anyone working in any capacity can benefit from learning how to communicate effectively, and that sometimes involves public speaking.
As a salesperson, you must have a well-rounded set of skills and you don't want to be one of those people that sees public speaking as their kryptonite. On those occasions that require you to make a presentation to potential clients or a supervisor, you want to feel calm, cool, and collected.
This course will teach you how to prepare for your presentation by thinking about your audience and planning out what you're going to say. You'll also get tips on how to use your voice and gestures to really make an impact and present with style!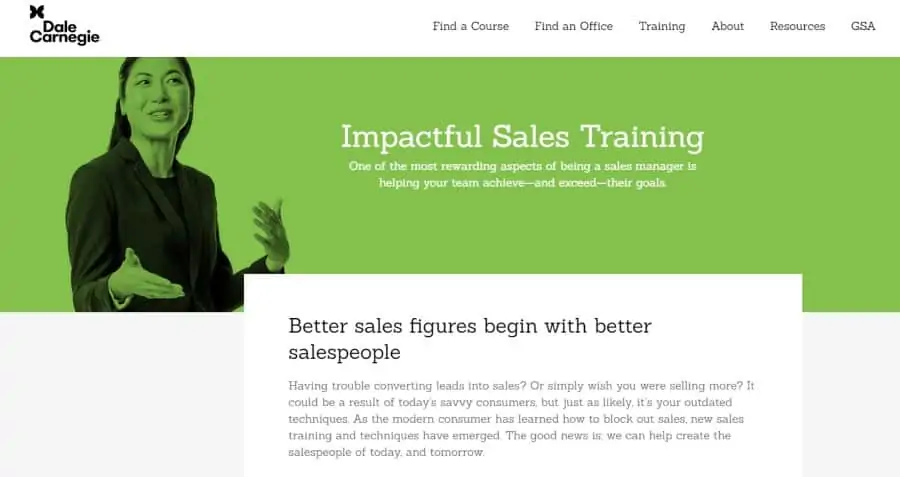 Dale Carnegie sales courses will teach you how to accomplish four crucial aspects of sales: building better relationships with leads; creating loyalty with your existing customers; identifying a prospect's unmet needs; and better converting leads and prospects to sales.
The courses are designed to teach you to adopt the confidence and principles of Dale Carnegie himself. By adopting Mr. Carnegie's ethos, you can catapult yourself to success. For example, you'll learn how to build enduring relationships that lead to successful partnerships and sales.
These courses will help you re-discover the importance of human interaction in the digital age we live in when most purchases occur online. You'll learn about sales techniques that are still grounded in the time before the internet when human to human contact was all we had.
To learn more, check out my guide on public speaking and free online courses with included certificates!