Learn How To Negotiate Like An Expert With 2023's Top 11 Best Online Negotiation Courses
If you are seeking out the best online negotiation courses to sharpen your persuasion skills, you're in the right place!
In this guide, I have uncovered some of the top negotiation classes that will teach you all of the key secrets and strategies for negotiating a great deal.
Also, many of these online courses are led by industry experts, delving into the cognitive processes of decision-making, understanding how human nature affects our decisions, and how you can put your best foot forward.
Have I convinced you yet? ???? Let's begin!
Top 11 Best Online Negotiation Courses & Classes 2023
---
First on my list is a top-tier negotiation course that will teach you the strategies, tactics, and methods used by one of the best negotiators in the world. After completing this beginner-level course, you will know how the FBI trains its special forces to win in extremely high-stakes situations.
For this class, you will be taught by nonother than Chris Voss, an FBI agent who is a specialist in hostage negotiation. During his work, he has successfully negotiated with dangerous groups like kidnappers, terrorists, bank robbers, and convinced them to see things his way.
Spanning 3 hours of video lessons, Chris will take his students on a journey through the mental models and methods he uses to strengthen his negotiations, learning about tactical empathy, mirroring, labeling, body language, the importance of mastering delivery, the value of 'no', and much more!
Currently, this course is hosted on MasterClass, which has quickly become the gold standard for online classes taught by world-renown professionals. While this class is on the more expensive side, for what you can learn, it's well worth the price and is one of the best online negotiation courses in 2023!
Beginner level
3 hours long
Taught by expert FBI hostage negotiator
PDF workbooks and audio-only lessons
Negotiators who can win arguments in multi-million dollar deals are rare and very highly paid people. If this sounds of some interest to you, then this online negotiation course will help you get started on that journey by giving you the necessary framework.
As for your instructor, you will be led by Alex Kouramanis, a full-time real estate investor who uses his academic background in philosophy and cognitive science to understand the psychology of the people he negotiates with. Not to mention how to use their pressure points to win them over.
Throughout this 1 ½ hour-long class, students will start off by learning about the cognitive foundations that influence how both sides in a negotiation behave based on cues, before diving deeper into the different pressure points like time, information, psychological, and financial pressure, as well as tactics such as bracketing, silent close, and much more.
This online negotiation course is an excellent bundle deal because you can sign up for 1 free month of Skillshare Premium in which you can access hundreds of other courses of your choice!
Beginner level
1 ½ hour-long
Taught by real estate investor and experienced negotiator
Free 1-month trial of Skillshare Premium
Join collaborative student community

Activate FREE Skillshare Trial
LinkedIn Learning has put together this excellent online negotiation course that teaches all the foundations of negotiation in under 1 hour. This makes it a perfect option for those who want a quick dive into the world of negotiation while also learning some actionable skills!
As for your instructor, you will be taught by Lisa Gates, an expert negotiator who is the founder of Story Happens Here, a leadership and coaching business through which helps people build and achieve their desired career paths.
In this hour-long negotiation course, students learn about the different types of negotiations, the difference between asking and negotiating, using anchoring and framing to their advantage, understanding tactical empathy, practice strategies to influence, and much more.
The best part of this online course is that you will receive a certificate of completion, 2 Continuing Professional Education (CPE) credits, and 1 Project Management Institute (PMI) contact hour. Overall, a brilliant course for beginners to pick up fundamental negotiation skills!
Beginner level
1 hour long
Taught by negotiation consultant and founder of Story Happens Here
Certificate of completion
2 CPE credits
1 PMI contact hour
Having the ability to sell anything – a product, a service, or an idea – is much like a superpower. So if you're looking to get better at sales and business development, this free negotiation class from Skillshare is an excellent choice!
Your instructor will be Mark Timberlake, founder of a marketing company named SME Heroes, who has over 15 years' experience in running online businesses and offering guidance in the arena of business and sales development.
In this extensive 12 ¼ hours video courses, students learn to master the sales process by teaching you how to build a sales strategy, manage their emotions while negotiating, handle objections, bring negotiation talks to an end, create win-win situations, and much more.
With Skillshare, you can sign up for a free 1-month trial of Skillshare Premium during which you can access hundreds of courses along with this one and ramp up your personal and professional development!
Beginner level
12 ¼ hours long
Taught by a businessman with 15+ years of experience
Free 1-month trial of Skillshare Premium
Activate FREE Skillshare Trial
Next on my list is a comprehensive online negotiation course on Coursera that takes a very methodical approach to teaching negotiation skills. So no matter what the situation, this class will arm you with the skills for becoming a persuasive negotiator.
You will be taught in this online negotiation course by Barry Nalebuff, a Milton Steinbach Professor at Yale's School of Management. Barry is also a top instructor on Coursera who has taught more than 290,000 students and earned himself a high average rating of 4.95 stars, so you will be in great hands!
Throughout the 32 hours of lessons, students will acquire a set of rules and principles that they can use to analyze every negotiation scenario that they may encounter. Barry takes his pupils through game theory to better understand the motivations of people, teaches them about collaboration and principled negotiation, and much more.
Towards the end, you will get to put your skills to test by doing some negotiations yourself with your peers in this online course, and earn a certificate of completion once you're done with it! Overall, a highly comprehensive course to really dive deep into the skills needed for a successful negotiation!
Beginner level
32 hours long
Taught by Yale professor
Certificate of completion
Hands-on practice
Financial aid available
Personal finances is one area of life where having good negotiation skills can really help you save money in a big way. So whether you are buying a house, car, or even getting a deal on your next TV, this course will teach you how to negotiate in real-world situations.
For this online negotiation class, you will be taught by Chris Croft, a leading trainer, speaker, and author who has been teaching negotiation skills to companies for the last 20 years and has taught over 179,000 students on Udemy through 21 courses.
Through 2 hours of video lessons, Chris will teach students a wide range of topics including the negotiation 'toolkit', walk-away point, making a solid opening offer, tradeable, simple negotiation phrases, coming across as confident, and much more.
This value-packed online course includes full lifetime access, a certificate of completion, and a 30-day money-back guarantee in case you did not like the course at all! (Although I doubt that will be the case)
Beginner level
2 hours long
Taught by negotiation trainer with 20+ years of experience
Full lifetime access
Certificate of completion
30-day money back guarantee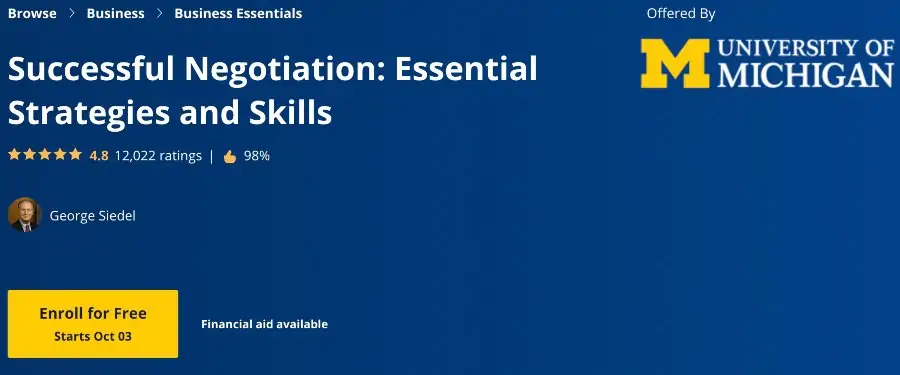 One of the most popular online negotiation courses in the world, this Coursera offering will give you an easy-to-understand four-step framework to drastically improve your negotiation skills. Join the 877,000+ students who are already taking this online course with an average rating of 4.8 stars.
George Siedel, the Williamson Family Professor of Business Administration and Thurnau Professor of Business Law at the University of Michigan, will be teaching you in this online negotiation course.
George has a long list of accomplishments and received the 2018 'Executive Program Professor of the Year Award' for his excellence in teaching.
Across 16 hours of beginner-level lessons, students learn the four key steps needed to ace every negotiation including preparation, negotiation, contract-closing, and performing and evaluation. Using this framework, students have the opportunity to practice real-life negotiation before putting it to the test in an exam.
If you are unable to afford the full fees for this course, you can apply for financial aid (and get it in no time). What is more, you will also get a certificate of completion at the end!
Beginner level
16 hours long
Taught by the teacher of some of the most famous negotiation classes
Certificate of completion
Financial aid available
Negotiation is not just a means to get what you want. If done properly, it can help you build strong, lasting relationships. So, if you'd like to learn how to do just that, this online negotiation course is a great choice!
Mike Figliuolo will be teaching you in this online course who is the founder of the professional services training company thoughtLEADERS, LLC. Mike has also served as a combat arms officer in the US Army and worked as a consultant at globally-renowned McKinsey & Company.
In just 45 minutes of high-quality instruction, students are introduced to various foundational concepts of negotiation, including methods for defining options, conceding ground where appropriate, figuring out the best negotiation style, building on top of an anchor position, tracking negotiation points, and much more.
By completing this online course, you will get a certificate of completion along with 1.8 Continuing Professional Education (CPE) credits to add to your CV and stand out in front of recruiters! Overall, one of the best online negotiation courses for those who want to learn the absolute fundamentals in a short amount of time.
Beginner level
¾ hours long
Taught by ex-McKinsey consultant
Certificate of completion
1.8 CPE credits
Knowing how to negotiate, mediate conflicts, and reach favorable outcomes is a key responsibility of every manager. So if you're looking to add this important skill to your arsenal, this online negotiation specialization from Coursera can't be missed.
You will be taught in this online negotiation course by three instructors from the ESSEC Business School in France: Aurélien Colson, a political science professor; Alan Jenkins, a professor of management; and Joseph Maila, a lecturer. Together, this trio has taught more than 70,000 students on Coursera so you know you are in for some expert teaching.
During the 5 months it takes to complete this course, students start with the basics of negotiation and understanding the theory before learning how to apply these skills in a cross-cultural and international context, as well as having the opportunity to lead a mediation and work on practical cases to test their skills.
Coursera is where you can access this online negotiation course. This is accessible education at its best because you can apply for financial aid if you are unable to pay the full fees for all the courses in the specialization.
Beginner level
5 months long with 3 effort hours/week
Taught by faculty from ESSEC Business School
Certificate of completion
Financial aid available
Next on my list is a short yet comprehensive online negotiation class that will equip you with all of the skills you need to negotiate effectively.
Alex Kouramanis will be teaching you in this course that is produced in collaboration with the Life Progression Project. Alex is a real estate investor who has a background in philosophy and cognitive sciences which has enabled him to understand human psychology and benefit in his negotiations.
Through 1 ½ hour of video lessons, students will learn about a wide range of foundational topics including the relation of human cognition to negotiation, the win-win mentality, gambits to start the process, those to use in the middle and at the end, and much more.
You can get full lifetime access to this online course for a limited-time discount of 85%, along with a certificate of completion once you're done with it!
Beginner level
1 ½ hour long
Taught by philosophy and cognitive science major
Certificate of completion
Full lifetime access
Salary negotiation is something that scares most people as it generally results in an awkward or confrontational situation. Fortunately, this Skillshare class will teach you the right way to enter a salary negotiation that will result in a beneficial outcome for both you and your boss, not to mention more money in your pocket!
Your instructor for this course will be TJ Walker, the founder of Media Training Worldwide. Through his company, Walker has been conducting training sessions for aspirant public speakers for more than 30 years now. His glistening clientele includes the likes of Prime Ministers and Presidents of various countries.
Packed into half an hour of content, students learn all of the important aspects that go into successfully getting a raise at work, including the right time to ask, how to strike up the topic in a conversation, how to frame the request statement in a way that plays to their boss perspective, and much more.
Like all Skillshare classes on this list, new users can sign up for this one, and 29,000+ others when taking advantage of their free cancel any time trial!
To learn more, check out some of my other guides on HR management and public speaking!
Beginner level
½ hour long
Taught by renowned global expert in public speaking
Free 1-month trial of Skillshare Premium
Access to hundreds of other courses