How To Enroll/Audit 1000's Of Coursera Courses For Free
If you are looking to enroll or take Coursera courses for free in 2023 you're in the right place!
What is Coursera? It is an online platform that offers 1000's MOOCs (Massive Open Online Courses.) This massive course catalog can help students further their learning on a range of topics, including financial markets, data science, social media, web development, public health, and many more.
Coursera partners with over 200 companies and universities to bring online learning opportunities to students hungry for new skills. Deeply engaging content creates an excellent learning experience for students.
Many of Coursera's courses offer learners an opportunity to audit the course for free
So if you follow along with this guide, I will show you how to enroll/audit in Coursera courses for no cost at all. This is a game-changer for beginners and advanced students looking to take online courses.
For those looking for specialty courses (these consist of multiple courses in one place) and certificates, I also have you covered! Let's get started!
Popular Free Courses
Sometimes when we hear that something is offered for "free" we worry that we get what we pay for. Great news, at Coursera, that is not the case. Coursera offers a range of great courses from top universities… all for free.
Just a few examples:
How To Take Coursera Courses For Free In 2023
---
1. Go To Coursera.org & Create An Account
First things first is to head over to Coursera.org and create a free account. This is an essential step as this will allow us to start enrolling in courses for free.
Surprisingly, the signup process is incredibly simple and only takes about 30 seconds. All you need to insert is your name, email address, and password.
There are also options to create an account with Facebook, Google, or Apple.
2. Search For Your Desired Course
Now that we have our free account and are signed in, we can now go and search 1,000's of courses that are available on Coursera.
What are you interested in learning? Deep learning? Project management? Chances are you will find what you are looking for to improve your personal development!
For this example, I am interested in learning PHP fundamentals, so I will simply search for this query and see what courses are available.
From this search along, there are over 80 courses relating to PHP, which can all be taken for free! Interested in something else like python or something else? You will find what you are interested in anything computer science-related. Coursera contains classes in our Top 17 Free Best Online PHP Courses & Certificates, so it is worth looking into!
Using the Coursera search algorithm, you will also be able to see the recommended skill level, amount of students, star rating, amount of reviews, the university/college, and the type of course.
Now, depending on the type of course you want to enroll in (see below), there are two different methods of enrolling in free online courses.
"Course" (Keep following along)
"Specialization" (Skip to step 6)
"Professional Certificate" (Skip to step 6)
In short, a "Course" is just a single Course, while both "Specialization" and "Professional certificates" consist of multiple courses taught together.
If you want to enroll in a single course, pick your desired option. For those who want to take the other options, skip to step 6.
3. Click "Enroll For Free"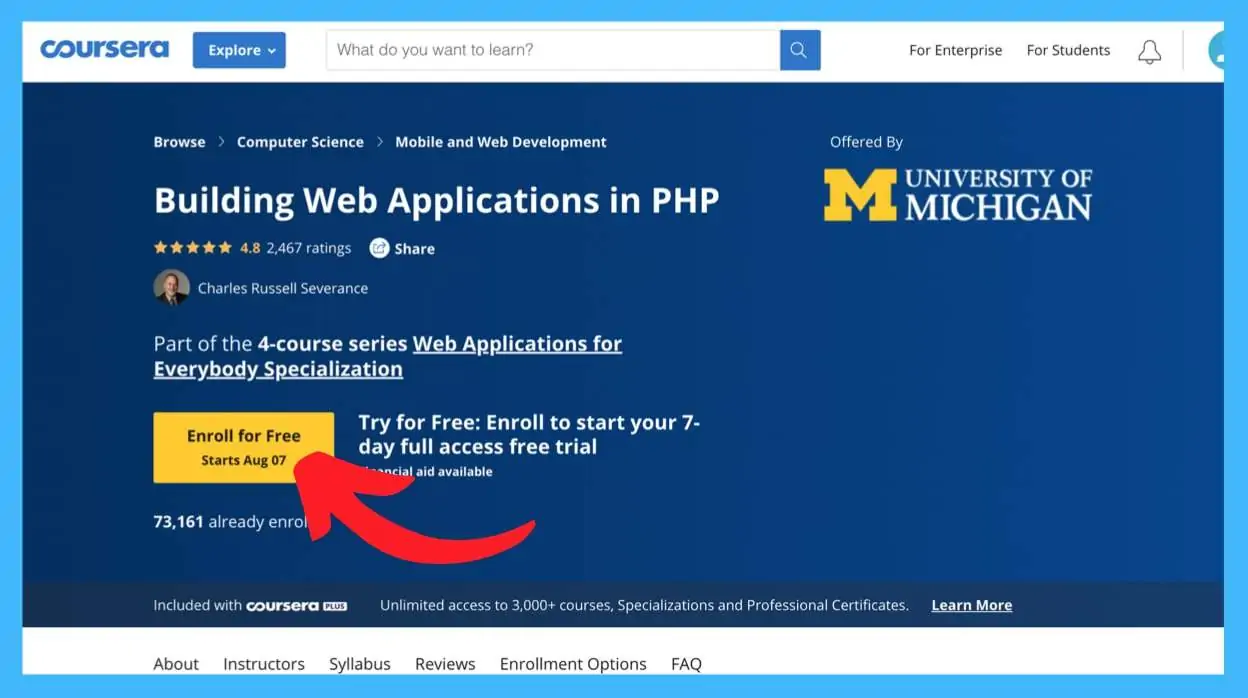 Once you have selected a course, you will then be directed to the landing page where you can learn more information about the selected course.
If you are happy to continue with your pick, simply click on "Enroll For Free".
4. Click "Audit The Single Course"
Once you have clicked on "Enroll For Free", you will then be directed to a 7-day free trial which Coursera will want you to choose.
However…. Completely ignore this!
If you look just below that section, there will be a small blue link which will be labeled "Audit This Single Course", which is another way of saying "Take This Course For Free".
So to start any of these popular free courses, simply click on this link!
Another thing to note is that Coursera does like to change the placement of these frequently, so you may have to keep your eyes out for it as its position changes from month to month.
Above are some other examples of where you may be able to find the "Audit This Single Course" link when on this page.
5. Welcome To Your Free Coursera Course!
If all has gone well, you will now have full access to the Coursera course, including all videos, syllabus, course resources, and discussion forums.
One thing to note is that when auditing a course, you, unfortunately, won't receive a certificate of completion or have access to the tests.
But as this course is completely free, this is a small price (or in this case, no price ????) to pay. As long as you learn the course content and can apply it, that is all that matters. You can also still insert this to a resume and CV once you have completed all the lessons.
6. How To Get Specialization/Professional Certificates Courses For Free
Ok, so if you are wanting to enroll in either the Specialization or Professional Certificates courses, I also have you covered!
Once you have picked your desired option, you will be welcomed to the course information page. From here, you DON'T want to click on "Enroll For Free" as this will not allow you to audit/view the course for free.
Instead, hover your mouse over the section that says "Course Series," which is located above the button (this is better to do on desktop).
Once you have done this, you will see all the individual courses that are included in either the Specialization or Professional Certificates courses.
Now, take note of these courses as you can actually enroll in each of those courses separately and for free.
So all you have to do now is go and search for each of those classes and follow steps 3 and 4 to audit/enroll in each course separately.
The only downside to this is that there is no certificate of completion or access to the grading system. However, you still do get access to all individual courses, videos, resources, and community for free!
7. How To Get a Free Certificate With Coursera
If you are adamant about receiving a free certificate of completion with your Coursera courses, there really is only one way to do this, and that is to apply for financial aid.
So if you can not afford to pay for the certificate or are unemployed, then this is a worthwhile option to try for your well-being.
To start this process, you will have to click on the desired course you want a certificate in. From there, click on "Financial aid available" > "Continue to the application".
From here, you will be prompted to accept the below terms and conditions and also write "I agree to the terms above".
Once you are on to the application form, you will have to fill out various areas, including your educational background, annual income, employment status, and how much you can afford to pay.
Below this, you will be asked various other questions on why you are applying, how this financial aid can help you, and your personal situation.
For more information on this, I would recommend watching this video as it has some great tips from someone who has been successfully accepted for financial aid from Coursera.
For more information, you can also see my guide on getting Udemy courses for free.
F.A.Q.
Below are some frequently asked questions that students ask when enrolling in or pursuing a Coursera course.
What Is Audit Course On Coursera?
Essentially, auditing a course on Coursera gives students the benefit of viewing all course materials, including videos, resources, and access to the community for free. However, the audit option does not provide access to the grading system or a certificate of completion.
Can You Still Audit Courses On Coursera?
Yes. Coursera still does provide the option for students to audit their courses. This option can be found on the enrollment page > Enroll in this Course > Audit this course. Following these prompts will give complete access to the course minus the grading and certificate.
Can I Coursera For Free?
Yes. Coursera provides an "audit" that allows users to enroll in courses for free and get access to all course material, videos, and access to the student discussion board. Unfortunately, this option does not include a free certificate or access to grades.
Do I Have To Pay For Each Course On Coursera?
If you want a certificate of completion and grading from the tests on Coursera, users will have to pay a monthly or one-time fee. However, users can also "audit" courses that unlock all class material that can be accessed for free, which comes without a certificate.
Conclusion
Enrolling in Coursera courses for free is surprisingly straightforward and unlocks 1,000s of courses. With courses offered by Stanford University, John Hopkins University, University of Edinburgh, and University of London, Coursera is an amazing tool to further your learning! Whether you are interested in classes on Google Cloud fundamentals, Amazon Web Services, Healthcare Analytics, or something else… Coursera has you covered!
Simply create a Coursera.org account > search for your desired course > select "Enroll in the course" > and select "Audit this course". By following these steps, users can enroll in Coursera courses free of charge.