Learn How To Command Your Audience With 2023's 11 Best Online Public Speaking Courses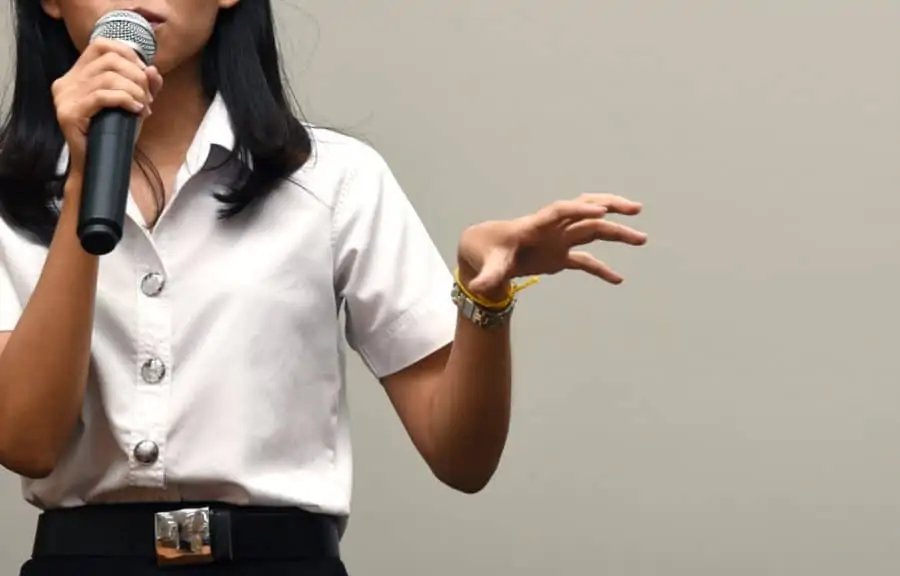 When most people think about public speaking, feelings of anxiety, and nervousness come straight to mind. You might be wondering if an online public speaking class can really help you to feel more comfortable delivering a talk… be it in front of a live audience, on Zoom, or in a small group.
Like anything, being a successful public speaker takes practice and this list of the best online public speaking courses can help you work on several fundamentals, build confidence, and become a more effective communicator.
Many of us could benefit from slowing down to focus on improving our communication skills or building more effective presentations. We are all unique learners and we have included a range of courses to help you learn at your own pace with the goal of becoming a skilled, impactful public speaker.
From these online classes, you'll learn how to become an engaging and memorable speaker, and hopefully, you'll also learn to feel comfortable and confident while doing it! Let's get started on the path to helping you be the best public speaker you can be.
Top 11 Best Online Public Speaking Courses & Classes 2023!
---
First impressions and last impressions can frame a presentation for success. This Skillshare course taught by Alex Lyon will teach you how to make the most of the first and last moments of your presentation. You'll learn techniques that will give you an edge in front of an audience time and time again.
This course is made up of 13 video lessons that will take an hour to work through. You'll start off by learning about the qualities of strong openings and closings as well as how to open and close with a story. Your story is the metaphorical bread that holds the sandwich (presentation) together.
Other topics you'll cover in this course include: open & close with quotations; open & close with questions; open & close with statistics; open & close with illustrations; open & close with humor; stacking: pro tips; and fine-tuning: pro tips.
Overall, this is a fantastic public speaking course for beginners and even those with experience under their belts. No prerequisites required – highly recommended!
Strengths:
Low time commitment: 13 lessons, 1h1m
Specific focus: impactful opening and closing statements
100% approval level
Popular: 2,160 students
Suitable for all levels
Great class project: schedule a presentation and apply the techniques learned in this course
Activate FREE Skillshare Trial
Up next on my list is a stand-out course that is taught by Alex Glod, a three-time TEDx speaker. You'll be in good hands as Alex has led public speaking training all over the world. He focused on how to use storytelling to capture your audience's attention.
Telling a story is an excellent way to draw your audience in and keep them engaged. But it only works if done correctly. This course will teach you all about the elements of a good story and what the audience really needs in order to remain interested and invested in what you are saying.
Lessons in this course will cover the following topics: the storyteller's wheel; the ideas you stand for; the story of your tribe; the empathy map of the tribe; classical story structure; the credibility story by Brendon Buchard; vocal warm-ups; body language; the Stanislavsky method; and more!
Overall, an outstanding public speaking course with an interesting spin!
Strengths:
Popular: 9,786 students
Highly rated: 4.6 stars
Certificate of completion
Suitable for all levels
Specific focus: storytelling
Next on my list is a LinkedIn Learning course that will provide you with some invaluable basic strategies that will make you a confident public speaker. You'll learn the key steps you need to take when preparing a speech as well as how to give a lively speech and properly respond to audience feedback and questions.
The first section is all about preparing your speech which will show you how to identify your audience, outline your speech, and find your story. Following this module are lessons on preparing for your speech including warmups, research, using a microphone, pre-performance anxiety, and rehearsal.
The final three sections of the course will teach you how to open, deliver, and close your speech. Topics covered in these sections include: developing credibility; avoiding common opening mistakes; reducing the use of crutch words; using props and visual aids; handling Q&A; strong ways to close.
This course allows you to earn Continuing Professional Education Credits (CPE) from the National Association of State Boards of the Accountancy (NASBA). Further LinkedIn Learning has been reviewed and approved by the Project Management Institute (PMI) Authorized Training Partner Program. Therefore this course qualifies for professional development units (PDUs).
This is a great 1-hour course to improve your public speaking skills.
Strengths:
Low time commitment: 1h3m
Beginner level, no prior training required
LinkedIn Learning Certificate
Very popular! 198,932 learners
One of the hardest parts about public speaking is winning over the audience. No matter how interesting your topic is, if you can't engage your audience, the speech/presentation will fall flat. Fortunately, this LinkedIn Learning (previously Lynda) addresses this exact issue.
This course's introductory lesson will help you understand what it takes to be an engaging presenter with some great actionable tips. Other lessons covered will be on the topic of energizing and engaging your audience, why it is important to do your research, and also how to better understand your audience.
As an added bonus, students will also learn how to open strongly; be a dynamic presenter; be an inspiring presenter; close with impact and carry on the conversation. By applying what you've learned in this course you'll find your audience listening raptly to your next speech! Overall, a great class!
P.S. There's also a printable certificate of completion once done! LinkedIn Learning also has hundreds of other courses that can be taken on their platform, you can see some of their most popular offerings here.
Strengths:
Popular course: 33,063 learners
Specific focus: engaging your audience
LinkedIn Learning Certificate
Very low time commitment: 37m
Suitable for all levels
This Udemy course has a ton of content – 16 hours worth to be exact – and it will teach you how to take your public speaking and presentation skills to the next level. After watching 206 video lectures on the topic you will be well on your way to becoming an expert speaker that gives consistently great speeches!
You'll learn how to identify with your audience and how to make the purpose of your speech come across immediately. There are a whole 14 lectures that teach you how to start your presentation and 12 lectures on what to include in the presentation and how to structure content.
Other topics covered include: beating writer's block; ending your presentation; getting feedback; slides and presentation software; adding videos/animation; the fear of public speaking; body language; reading the audience; transition words & words not to use; Q&A strategies; and much more!
With all Udemy courses, you will also get a certificate of completion once done!
Strengths:
Highly popular: #1 Best Selling Presentation Skills Course on Udemy with 180,760 students
Certificate of completion
High rating: 4.4 stars
Extremely comprehensive: 206 lectures, 16 hours
This course comes with amazing supplemental material such as presentation guides and templates

This course is a great choice for a professional because it is actually part of HarvardX's Leadership and Communication Professional Certificate. You will need to commit some time as this course will require about 2-3 hours per week for 3 months. But the knowledge and confidence you gain from this course will be worth the time invested!
Your instructors, or should we say, you professors are Harvard University professors James Engell & Ronald Heifetz. Some of the topics that will be covered in detail in this course are principles of effective communication techniques; strategies for leadership to thrive in periods of change; the role of formal and informal authority for effective interpersonal communication; how to employ a variety of communication styles in writing and speaking; crafting presentations to compel and persuade an audience.
This is one of the highest value online public speaking courses – where else can you earn a certificate from Harvard University to highlight on your CV for less than $300. Not only will you learn from arguably the best university in the world, but that credential will also give you an edge professionally!
Strengths:
Very popular: 77,421 students enrolled
HarvardX Leadership & Communication Professional Certificate
It is possible to audit sections of the course for free
Since this course series is offered by the University of Washington you can rest assured that it is going to be one of the highest quality courses on this list. It's a self-paced program with flexible deadlines that will take about 7 months to complete and in the neighborhood of 3 hours of work per week.
The four courses in the specialization are Introduction to Public Speaking; Speaking to inform: Discussing complex ideas with clear explanations and dynamic slides; Speaking to persuade: Motivating audiences with solid arguments and moving language; and Speaking to Inspire: Ceremonial and Motivational Speeches.
This course series is designed to help you hone specific public speaking and speechwriting techniques. You'll learn how to use storytelling, argument, style, topic framing, and evidence to get your point across effectively. You'll also learn about engaging vocal, movement, and gesture techniques!
Try this course for free with a 7-day free trial on Coursera.
Strengths:
You can enroll in this course for free along with the 52,263 people who are already enrolled
Comes with a shareable Course Certificate that you can add to your LinkedIn profile or resume/CV
The course includes great hands-on projects
This course is a step-by-step formula to help move you from nervous to poised with the ability to confidently deliver a 5-minute speech. As you progress through the course, you will choose a topic, learn to outline your talk, understand the steps for preparation, and the best method to build your slide deck to help deliver your message.
Many credit instructor Nick Armstrong with helping to get over a fear of public speaking. He thoughtfully guides students through their preparations. Practice is key – he suggests roughly one hour of preparation for each minute of your planned talk. Speaking of time, in less than one hour, you can complete these modules and be on the path to becoming a more polished public speaker.
And don't forget, not only can you try Skillshare free for one month, but that subscription gets you to access to all 29,000 courses. It's no wonder they're referred to as the Netflix of online learning.
Strengths:
Highly rated: 95% approval rating
Efficient: 47 minutes in length
Step-by-step project to nail your first presentation
This is one of the best online public speaking courses if you want a course that will encourage you to practice your speaking out loud while you are working your way through the course. There is a massive amount of material in this course that is delivered in a down-to-earth and effective manner.
Instructor TJ Walker has created many high-quality, bestselling Udemy courses and this one is no exception! Although this course is highly comprehensive, it is also suitable for total beginners. There are also many unique topics covered in this course that aren't covered in other courses on this list.
You'll see lessons on learning to like the sound of your own voice and be taught a trick that is 1000 times more effective than practicing your speech in front of a mirror. This course also has an extensive section on public speaking on conference calls – which is a bit different than speaking in front of an audience.
In this course, you'll learn an extensive list of tips and tricks that will prepare you for any public speaking scenario you can imagine! It even has a section on public speaking for kids!
Strengths:
"Bestseller" on Udemy
High 4.4-star rating
Very popular: 89,743 students
Huge amount of content: 31 hours of on-demand video
This is a great introductory course and one of the best online public speaking courses you can take if you want to become an expert on the topic. You'll learn how to craft a speech or presentation that is sure to win your audience over – you may even earn yourself a standing ovation!
The course is spread out over five weeks and you'll need to set aside enough time (between 2-3 hours) to work on the course each week.
The course is split into the following five sections: understanding speech; making ideas compelling and memorable; illustrating and delivering your ideas; overcoming your fear of public speaking and developing great delivery, and course conclusion and your final speech.
Examples of lesson topics include the canons of rhetoric; don't treat speaking as writing; the components of a memorable point; outlining and flowing; transitions; practicing and remembering your speech; breath control; projection; pitch; rates and pauses; gestures; and movement.
Strengths:
Very high 4.8 star rating
Very popular: 196,779 students
25% percent of people taking this course found that they got a tangible career benefit
The course includes readings, practice exercises, and quizzes
Comprehensive content: approx. 17 hours to complete
This awesome course is your chance to become a Harvard student! And the best part is that you'll get to do it for free – or for a reasonable price if you want to get a verified course certificate. This course is highly focused on rhetoric and how to craft a persuasive argument that gets through to your audience.
You'll learn all sorts of valuable skills that you can apply to your public speaking. You'll learn how to construct and defend compelling arguments, as well as make note of fallacies that you should avoid.
This course will use notable historical speeches as examples of what works well in terms of style.
You'll get to study selected speeches from historical figures such as Martin Luther King Jr., John F. Kennedy, Margaret Chase Smith, and Ronald Reagen. These people's words will never be forgotten, and nor will the way that they said those words – delivery matters!
To learn more about personal development, check out my list of the best online time management courses!
Strengths:
Introductory level course
Can take this course for free
Extremely popular: 480,041 students
Possible to get a verified course certificate for your LinkedIn profile, resume, or CV
Specific focus: persuasive writing/speaking
Medium-level time commitment: 2-3 hours per week for 8 weeks
Bonus: New Online Pubic Speaking Courses
We don't always have time to review every course in detail as soon as they come out, but that doesn't mean we shouldn't share them with you!
Here are a few bonus courses that caught our attention that you may want to look into:
FAQ About Public Speaking Courses
What do you do in a public speaking class?
A public speaking course is an excellent way to improve your presentation skills and get over your fear of public speaking. All of us could benefit from focusing on our communication skills.
The instructor will lead you through specific tips, tricks, and best practices to deliver your message clearly. Some courses will help you build slides to support your speech. In many cases, you build a presentation as you go so that you can apply these principles and then present to your class, via zoom, or in person.

What class can I take for public speaking?
Hopefully, you found a good match in our review of the top 11 online public speaking courses above so you can start online from the privacy of your own home.
Once you're starting to feel more comfortable, we'd recommend finding a class available locally to help improve your public speaking skills. Toastmasters is a great starting point with a strong reputation and supportive community that allows for practice in a safe, public environment.
What is the best way to learn public speaking?
The best way to learn public speaking is to devote your attention to taking a class. An expert will help to break down the process into steps so that you can build your own presentation, learn to be aware of your body language and be an effective communicator. A course will help you to practice and also appreciate and adopt the habits and techniques of other great speakers.
Is it good to take a public speaking class?
It is a very good idea to take a public speaking class. Every day we are conveying our ideas to other people, whether it is an audience of one person or 100 people on zoom. Taking the time to focus on your communication skills, body language and delivery is hugely helpful in becoming a more confident, effective speaker.