Learn How To Make Stunning Presentations With 2023's Top 11 Best Online PowerPoint Courses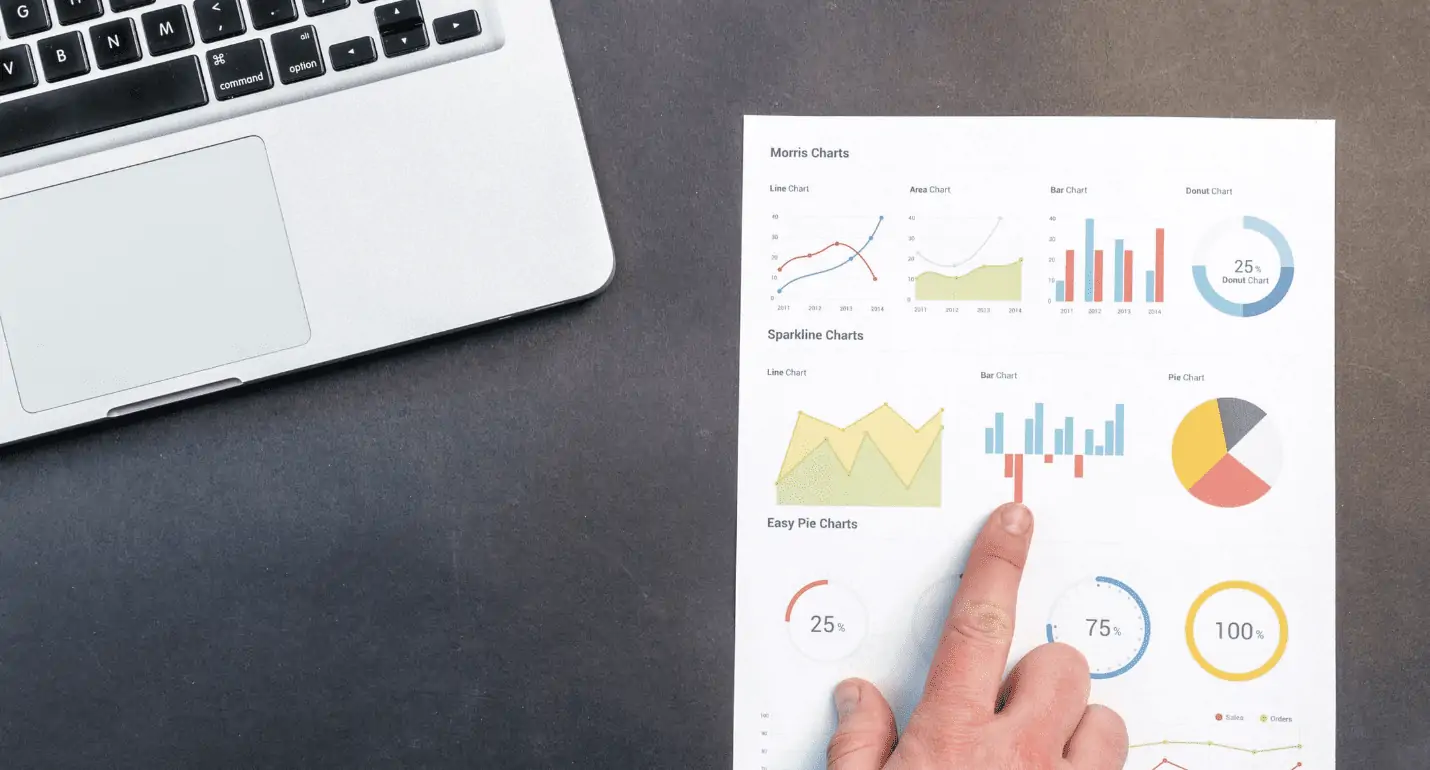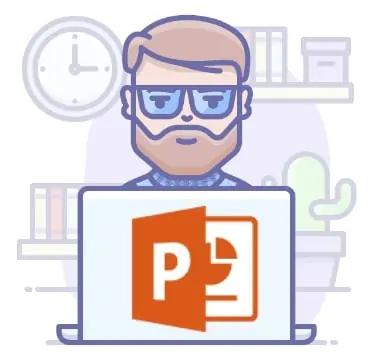 If you are looking to crush your next presentation, then understanding how to use PowerPoint is essential!
Because of this, I have rounded up some of the best online PowerPoint courses in 2023 so you can take your skills to the next level.
Below, you will find my hand-picked courses for all levels of experience that include certificates and in some cases are also free to learn. Let's begin!
Top 11+ FREE Best Online PowerPoint Courses, Certifications & Training 2023
---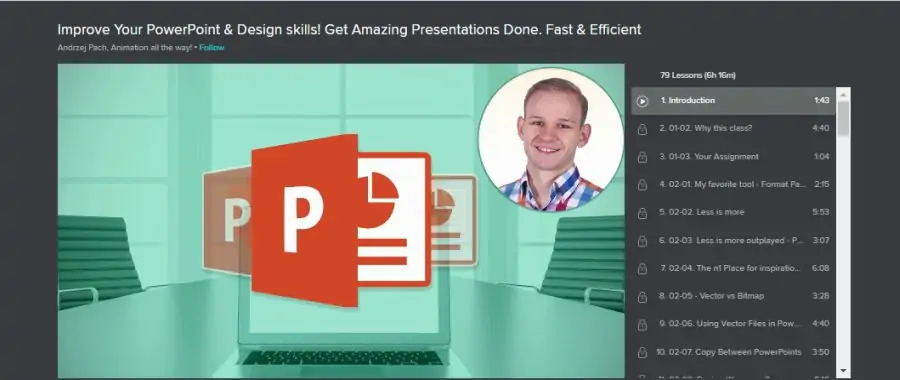 Up first on my list is hands down one of the top PowerPoint courses for beginners. Unlike other courses out there, this class goes into how to create well designed and stimulating presentations that won't be a snore-fest!
This 6-hour online course is divided into two chapters. One chapter deals with basic presentation and PowerPoint practices/ hints and then goes into what makes a good presentation, how to avoid common pitfalls, and how to use the tool efficiently.
Chapter 2 then focuses on the preparation of each slide and how to portray data in an engaging manner. Learning this way will allow you to adapt and adjust to your own particular needs also.
Your instructor for this course is Andrzej Pach, who is a long-time PowerPoint user and instructor and runs the YouTube channel for PowerPoint.
Overall, this is a fantastic beginner-level course that also includes 7 real-world projects that students can work on. Users can also take this course for FREE when activating the Skillshare 1-month trial ????.
Beginner level
Expert instructor
Over 6 hours of on-demand video
Divided into two chapters covering overall skills and slide by slide preparation
Includes 7 projects
Downloadable resources
Activate FREE Skillshare Trial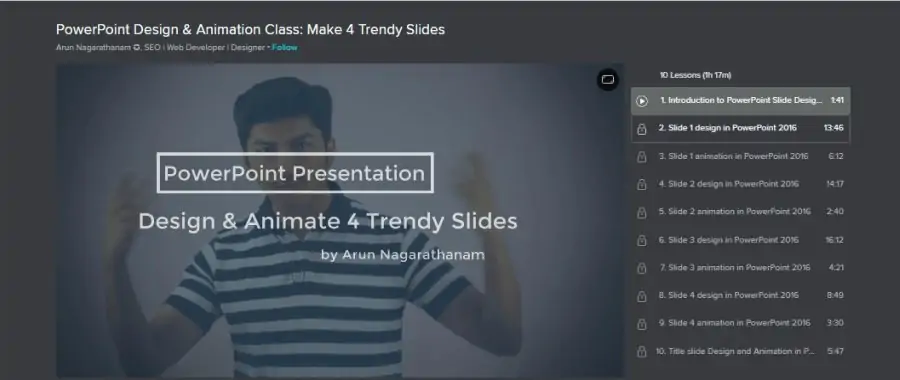 Web designer and software developer Arun Nagarathanam is the instructor for this intermediate-level course which looks at how to add animation to your PowerPoint slides. All up, this course is a compact 1 hour 17 minutes of on-demand video and also includes a project that students can undertake.
While the above course covers the basics and fundamentals of PowerPoint, this class goes to the next level in creating modern and sleek animations for your presentations. So ideally, some experience is needed to undertake this course.
Another bonus of this course is that it can be consumed via the desktop or on Skillshares iOS or Android app. Course content can also be downloaded for offline viewing.
As this class is hosted on Skillshare, students can get access to the above course plus this one on their 1-month FREE trial. No to mention their 29,000+ other courses! Overall a great course!
Intermediate level
Expert instructor
Teaches slide animation
Class project of 4 slides to animate
1 hour 17 minutes on-demand video
Prerequisite of being familiar with PowerPoint presentations
Activate FREE Skillshare Trial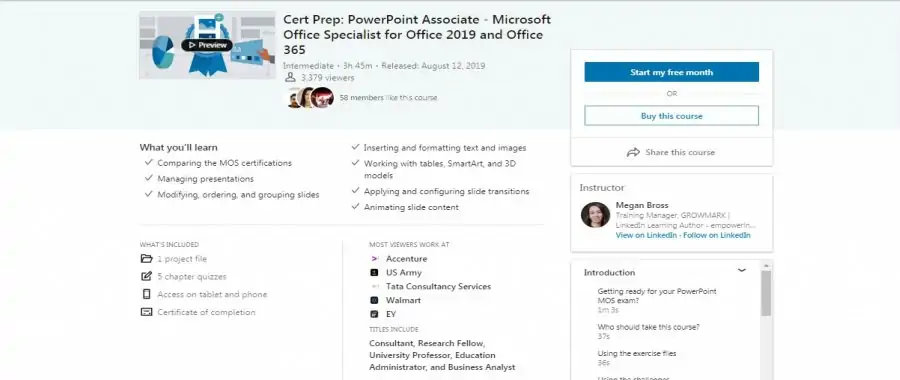 If you are desiring to become a Microsoft Office Specialist for PowerPoint, this course is great preparation for the certification process. It covers everything most users need to know about using the program and Office 365 in general.
Megan Moss is the trainer who is a Certified Microsoft Master Instructor and also has over 40 Microsoft Office Specialist (MOS) certifications. So students will be receiving high-quality content from an industry leader.
This 3-hour 45-minute course specifically prepares you for the MO-300, MOS PowerPoint Associate exam and also includes project files and has quizzes for you to test your progress. At the end of the course is a full-length practice exam that is just like the real test, along with solutions to the problems brought up in the test.
Over 3,200 have taken this prep course and it comes with its own certificate of completion. As an added bonus, students can take this course for FREE when taking advantage of LinkedIn Learning's (previously Lynda) 1-month trial.
Intermediate to advanced level (MOS prep)
3 hours 45 minutes
Practice exam included
Trainer is a Certified Microsoft Master Instructor
Downloadable resources
Certificate of completion
Do you want to learn the secrets of how large Silicon Valley tech companies make their presentation for such events as keynotes? Well, look no further!
Revealing the secrets of this course is instructor Jole Simmons, who is a professional presentation designer who has assisted companies such as Facebook, Google, Skype, YouTube, Gap, and even Microsoft to make outstanding PowerPoint presentations.
Some of the topics covered in this course are using 3D graphics, morphing, photorealism, and how students learn to make a show-stopping moment within their PowerPoint presentations.
Over 13,000 people have taken this 1-hour intermediate-level course and is adored by students. As this course is on LinkedIn Learning, users can take this course for free when using the 1-month trial.
P.S. There is also a certificate of completion is provided!
Intermediate level
1-hour on-demand video
Expert instructor, professional presentation designer
Includes project files and several quizzes
Certificate of completion
Continuing education units available
Up next on my list is a very comprehensive 9-hour course which will take you from beginner level to intermediate and have confidence in your next presentation. This course will also teach you how to be proficient in design and template creation.
The course kicks off with how to make master slide templates that can be optimized for specific clients as needed. Finally, you'll see some advanced tricks of the trade such as adding video backgrounds, music, and what goes into global changes.
Trainer Andrzej Pach is also available online to answer student questions, usually with about two days, and several resources and quizzes are included also. For those who complete this course will also receive a certificate of completion.
Beginner to intermediate level
Expert instructor
Split into four main chapters of study
9 hours of on-demand self-paced video
Quizzes and assignments
Certificate of completion
Do you want to jump into Powerpoint but don't know how or where to start? Join Matt Carey, a CCNA certified Cisco instructor in this short (less than 1 hour) class that will jump-start your PowerPoint presentation creation.
It is step by step instruction in using the tools in PowerPoint to build a presentation. Using the instruction, you will make your first PowerPoint presentation on a topic you choose. It's beginner level, but you can take it as far as you wish.
Being hosted on Skillshare, new users can take this PowerPoint courses for free when activating their free-trial! Overall, a great pick!
Beginner level
Less than 1 hour
Certified Cisco instructor
Covers basic skills and tools
Create a presentation class project
11 lessons of on-demand video
Activate FREE Skillshare Trial
Making infographics to add to your presentations is one of the primary strengths of Microsoft PowerPoint. An infographic is a mix of design elements that combine words, pictures, and shapes to make a point. A picture is worth a thousand words, as they say.
This course is just under 2 hours in length and will teach how to add infographics to your presentations. Included in the instruction is importing from other programs like Adobe Illustrator, drawing shapes and lines, resizing, adding text, and using charts.
Heather Ackmann, a Microsoft Certified Trainer, teaches this intermediate-level course, adding her skills as a professional designer to the instruction. The course has been taken by over 40,000 students.
Intermediate level
Microsoft Certified Trainer as instructor
1 hour 42 minutes on-demand video
Class project with supplied files
Certificate of completion
Continuing education units available
A complete course that takes you from no previous knowledge of PowerPoint all the way to being the go-to person for PowerPoint in your office. It accomplishes this by means of the 76 downloadable resources provided to supplement the 4 ½ hours of on-demand self-paced video instruction.
Taught by expert instructors form 365 Careers, you will learn the basic tools of the program, how to add in material from other programs, and more advanced tools and techniques. The class will help you work faster and better creating PowerPoint presentations.
Over 15,000 students have taken the class and it comes with a certificate of completion. Easily one of the best online PowerPoint courses available!
Beginner to intermediate level
Expert professional instructors
4 ½ hours
76 resources
Certificate of completion
Lifetime access
Direct from the developers of the program, there is also a version for Mac users. Taught by experts from Microsoft, this self-paced set of help desk style instructional videos includes lots of supplemental material for you to try out what you've learned.
The subjects covered are an introduction to the program and its features, slides and layouts, text and tables, pictures and graphics, slideshows, animation, using audio and video, 3D models, and sharing production. To learn more, you can see more free Microsoft courses here.
Beginner to advanced levels
Taught by Microsoft trainers
Covers all aspects of the program
Versions for Mac and Windows
Self-paced
Lots of extras
For PowerPoint users wanting to learn how to speed up their workflow and do everything in the program better, this is the course to take.
You should already be familiar with the program before taking this course, because it will show you things that won't make sense otherwise. Hidden keyboard commands for common and unusual tasks, targeted exercises, and time-saving shortcuts.
Instructor Taylor Croonquist is an expert PowerPoint user and trainer and a pioneer in speed training techniques. He has worked for companies in consulting, investment banking, public relations, and communications.
It is 7 ½ hours of intensive instruction and comes with multiple downloadable resources to assist your learning curve.
Advanced level
7 ½ hours self-paced on-demand video
Multiple extra resources
Professional PowerPoint user instructor
Goes deep into hidden tools and capabilities
Certificate of completion
A beginner-level course with a lot of information, this class will give you the confidence to begin using PowerPoint for your own business or educational presentations.
Taught by Garrick Chow, a senior instructor at LinkedIn Learning, you will learn all the basics of the program and more. An instructor with a complete familiarity with Mac OS, he will help you with both and Windows.
About 1 ½ hours long, this on-demand video course is designed for beginners. In addition to the program instruction, you will also learn some basic rules for presentations in general plus many helpful tips. Quizzes and online resources are part of the package. Hands down one of the top online PowerPoint courses!
Beginner level
Expert instructor with advanced Mac experience
1 ½ hours
Downloadable resources
Certificate of completion
Continuing education units available
Learning The Microsoft Office Suite of Tools
While PowerPoint alone can help you up you game at the office learning the entire Microsoft Office suite of products is even better. Given their interconnectedness and global adoption, you want to be at least proficient in all he basic tools:
Summary Overview
PowerPoint has become one of the most used presentation programs in business. The best online PowerPoint courses will enable you to be able to use this great software to its full potential. By doing so, your presentations will become easier to watch and more effective.
Sometimes in business, you simply have to show people what you're talking about for them to sufficiently understand it. You could make print outs to hand to everyone, but sometimes that just isn't practical. Printed material also has an issue with last-minute changes.
A projected presentation, on a screen or a large monitor or TV, has a lot of advantages. The presentation is easy to update for needed changes, it's controlled by you so no one skips ahead or lags behind, it requires minimal hardware.
Thankfully, the days of transparencies on an overhead projector are long gone, but some PowerPoint presenters could use a little help to make the presentations interesting and informative. That's where the best free online PowerPoint courses come in.
By the way, PowerPoint isn't limited to only business or educational applications. Anyone can create a PowerPoint presentation to show others something of interest.