Freelance Statistics 2023 (All You Need To Know!)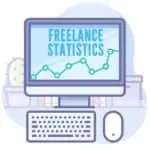 With the growing demand for freelance work and escaping the 9-5, these staggering freelance statistics reveal how much this industry is growing, and where it may go.
Below, I detail the current trends of freelance work including earnings, the top freelance platforms, work-life balance, trends, and more.
If you aren't already a freelancer yourself, these stats may just convince you to make the switch!
Freelance Statistics 2023 (79+ Staggering Stats Revealed)
Key Online Freelancer Statistics
Below are some key freelance statistics which give an overview of this large, and still growing, industry.
28% of freelancers call themselves 'self-employed consultants'. 14% refer to themselves as 'side hustlers', 12% as 'founders with no employees', 6% as 'founders with employees', and the last 4% as 'something else.'

In 2019, the freelancing industry contributed approximately $1 trillion USD to the United States economy.
There are about 57 million freelance workers in the United States.
About one-third of the workforce in the United States has done freelance work at some point in their lives.
An estimated 30 million freelancers are in it for the long-term.
31% of freelance workers are earning more than $75,000 USD a year.
If they need to, a quarter of freelancers could find work within 24 hours.
Working from home can actually improve work performance by 13%.
Men make more money freelancing than women (in some cases, up to 4 times more).
Growth Of Freelancing
More workers are ditching their 9-5 and job status of working for others in favor of taking up the freelance lifestyle. Though already a very big industry, the following freelance statistics reveal that it will continue to grow in the coming years.
As the number of freelance platforms grows, the number of jobs and workers available to fill those jobs also grows. Similarly, the more freelancers there are, the more platforms are being created to serve them.

There are 4 million more freelance workers currently than 6 years ago, in 2014.
Experts estimate that by 2027, the majority of the workforce in the United States will be freelancers.
In the United Kingdom, the amount of workers freelancing has grown by 14% in the past decade.
Over half of the freelance working pool says that they wouldn't return to a traditional job structure.
The United States is the top rising freelance economy at 78% of year-on-year revenue growth.

The United Kingdom and Brazil follow the U.S in this growth, with 59% and 48% respective increases in freelance earnings.
Most Popular Freelancer Jobs
Freelance jobs are branching out to almost every industry now. No longer is it only the key plays of writers and IT developers, but also industries like customer service and medical jobs becoming part of the freelance economy.
Read more in these freelance statistics on the top freelancer jobs by type and earnings.
Most of the workers in the art and design industry are freelancers, at 75%.
The field of entertainment also has 55% of its workers in the United States as freelancers.
Construction is another field that has a majority pool of its workforce in the freelance category, at 55%.
On the freelance platform Upwork, average content writers earn anywhere from $10 to $80 USD per hour.
Some copywriters can earn up to $250 USD an hour, though this is rarer.
Graphic designers can earn up to $150 USD per hour on Upwork as an average, making design more lucrative than standard content writers.

Software developers and coders also have the potential to earn up to $1,000 USD per hour, revealing that the more specialized the role, the more potential earnings.
Other popular freelancer jobs include sales and marketing, teaching/tutoring, creative design, mobile app development, branding, and social media management, game development, translation, transcription, legal services, photography, data entry, and architecture.
The most wanted skills currently for freelance jobs are Instagram marketing, brand strategy and AI (development)
Freelancer Platforms Market Share
The three key players in freelancer platforms, by the number of total users (clients and freelancers), are Fiverr, Upwork and Freelancer.com. Below are key statistics and facts of each of these freelancer platforms.
Fiverr
Fiverr has more than 7 million registered users.

This unique format is where every job costs $5.
Writers, video creators, marketers, photographers, and web developers make up many of the regular freelancers on the site.
It was founded in 2010.
Anyone can become a seller on Fiverr, making it accessible for new workers to begin selling their services or products.
That the jobs are low-cost and anyone can sell does make Fiverr more 'risky' in terms of the work quality than the other platforms.
Upwork
Upwork has more than 17 million registered users.
This platform was formerly known as oDesk.
Both Elance and oDesk came together to create Upwork in 2015.
Upwork's workers have been individually verified by the admin working for Upwork, making it more reputable in terms of the selection criteria for jobs.
Similar to the different types of freelancers available on Fiverr, most workers are experts or certified in their fields, and therefore, charge their own hourly or project rates based on their own decision, not as a fixed rate like Fiverr.
Freelancer.com
This freelance platform has more than 31 million users.
It's the world's largest freelance platform.
It's established itself as an outsources market for experts.
It's an Australian company founded in 2009.
Freelancer Earning Statistics
Freelancing can be a very lucrative career, especially when specializing in a field that requires desired skill sets in the modern world – like web development, social media marketing, and high-quality SEO content writing.
These freelance statistics reveal facts and figures of freelancer earrings in a range of industries.
The average freelance hourly rate globally is $19
69% of freelancers will make less than $75000 annually.
This percentage above is less than in the past, with more freelancers now earning more compared to 2014 (which was 84%).
31% of freelancers will make $75000 or more a year.
The range of average hourly income for content writers is from $15-$80, though this can vary to as low as $4 an hour to $250 an hour.
On Upwork, the average hourly rate for graphic designers is $45
It's not all abundance, however, as 63% of freelancers have reported to withdraw from their savings at least once a month – this points to the potentiality of not earning enough to support their lifestyles.
60% of freelancers who left their job to start freelancing are earning more than they did when they worked for an employer.

Following from above, 24% of those freelancers who earned more took less than 6 months to start earning more, while 33% started earning more instantly.
Freelance Education Statistics
Though there are some people who kickstart their freelance career with no formal education, it is more likely that freelancers will have qualifications specific to their roles.
As mentioned previously, some more reputable platforms will check the freelancer's credentials to ensure that there are skilled workers on their site offering their services. The following freelance statistics reveal more information about key trends of freelancer's education.
45% of freelances that work full-time report that they are taking part in more education and training than during their time as a full-time traditional employee.

53% of college-educated freelance workers claim that skill-related education is very useful for their roles
The above percentage is compared with 43% of freelancers who cite that their actual college education is valuable for their freelance work.

66% of full-time freelance workers update their skills regularly to ensure that they stay competitive with their peers as the markets evolve and advance.

70% of freelancers working full-time took skill-training in the past 6 months, compared with only 49% of full-time workers who are not freelancers.

53% of freelancers claim that cost can be a barrier for them accessing education, as they are more likely to pay for their own training than traditional workers.
Still, there are 27% of freelancers who report that a client has covered the cost of recent skill-related training.
Additionally, 21% of freelancers say that their training was offered for free.
Work-Life Balance For Freelancers
What comes along with non-traditional jobs is a non-traditional work-life balance. The majority of freelancers will work from home, and therefore will have potentially more challenges when it comes to scheduling a working day, compared with having set times and workdays.
There is a rise in co-working freelance spaces for independent workers to share and utilize to boost productivity. Below are some more interesting facts in these recent work-life balance freelance statistics.
72% of freelancers agree that their work-life gives them the lifestyle that they want.
In fact, 84% of freelancers working full-time claim that they are living the lifestyle that they want.
42% of freelancers claim that this lifestyle offers them the necessary flexibility that they need due to personal conditions which would limit their availability for regular work schedules.
70% of freelancers working full-time report that freelancing is less stressful than traditional work.
The average freelancer in the United States reports being satisfied 63% of the time.
84% of freelancers who work full-time claim to be satisfied with the current position that they hold.

64% of people who freelance have reported a health improvement since quitting their traditional job.
87% of millennials reported that they would prefer to be a freelancer on their own schedule.

70% of freelancer workers handle up to 4 projects at one time.
A small 4% of freelancers will work more than 10 projects at a time.
25% of freelancers claim that their preferred workspace is their home.
For 20% of freelancers, coworking spaces are the ideal place to work.
2% of freelancers prefer to work in coffee shops.
The Future Of Freelancing
As mentioned above in the freelance statistics on the growth of the industry, there is an upward trend of workers switching to the freelance lifestyle.
The projections for this industry look promising, though there are a few caveats in that the rise of any industry can also lead to saturation. Additionally, with technology advancements come more automation, which may very well impact freelancers in the future.
More than half of freelancers surveyed (64%) state that no amount of money will take them back to traditional 9-5 work.
It's predicted that by the end of 2020, half of the workers in the United Kingdom will be freelancers.

Over half of the United States population is predicted to take up freelance work in the next 5 years.
Compared to 57.3 million United States freelancers in 2017, the number is set to rise above 90 million by 2028.
An overwhelming majority of freelance workers (91%) believe that the future of freelance work is positive.
67% of freelancers working full time expect their income to rise in the next year.
48% of freelancers see this work style as long-term.
Freelancers are aware that automation presents a challenge for their future, with more than half of the freelancers surveyed about automation are concerned about the impact it will have on securing jobs.
To learn more, you can also see my posts on working at home statistics and my comprehensive list of digital nomad jobs for those looking to work and travel. You can also see my guide on the benefits of eLearning to see if online education can help to boost your skills.
References