Top 8 Best Online Transcription Courses & Classes [Free + Paid]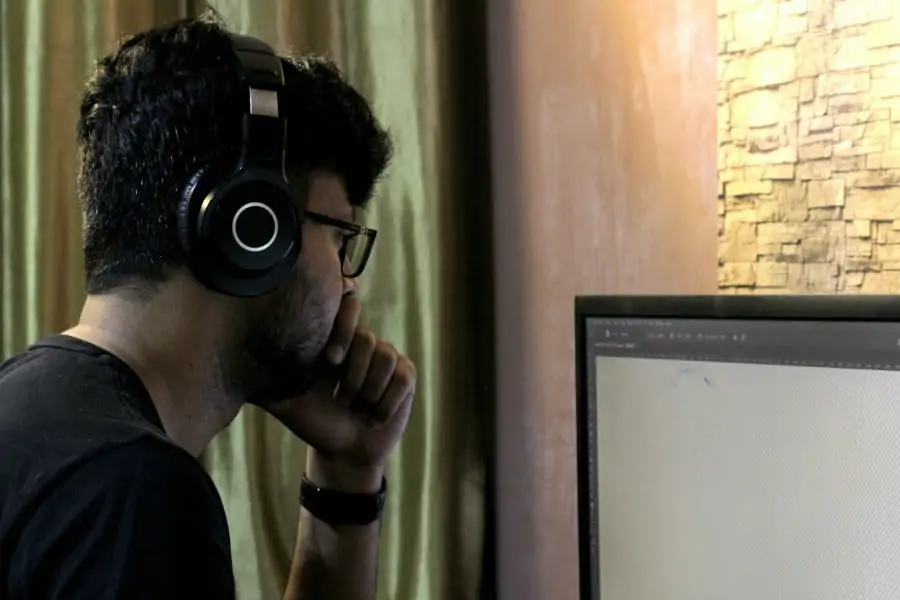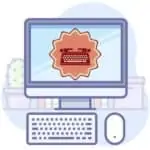 If you seek the best online transcription courses in 2021, you're in the right place!
Below, you will find a wide range of courses that will teach you how to take dictation from audio files and transcribe quickly while also being grammatically correct. Some of these transcription training course options are even available to you for free.
Students will also learn how to use tools like Express Scribe (a transcription software), text expanders, clean up hard-to-hear audio, and much more.
With any of these online course providers, you'll learn the fundamentals at your own pace. Shortly, you will be well-positioned to land a transcription job and start earning as a general transcriptionist.
In this article, we review the best transcription courses to help you unlock a new skill. Learn to convert your typing skills into completed transcription work and a new form of income. Many transcriptionists can find jobs on platforms such as Upwork and can work from home.
Let's get started!
Top 8 Best Online Transcription Courses & Classes 2023 [Free + Paid]
---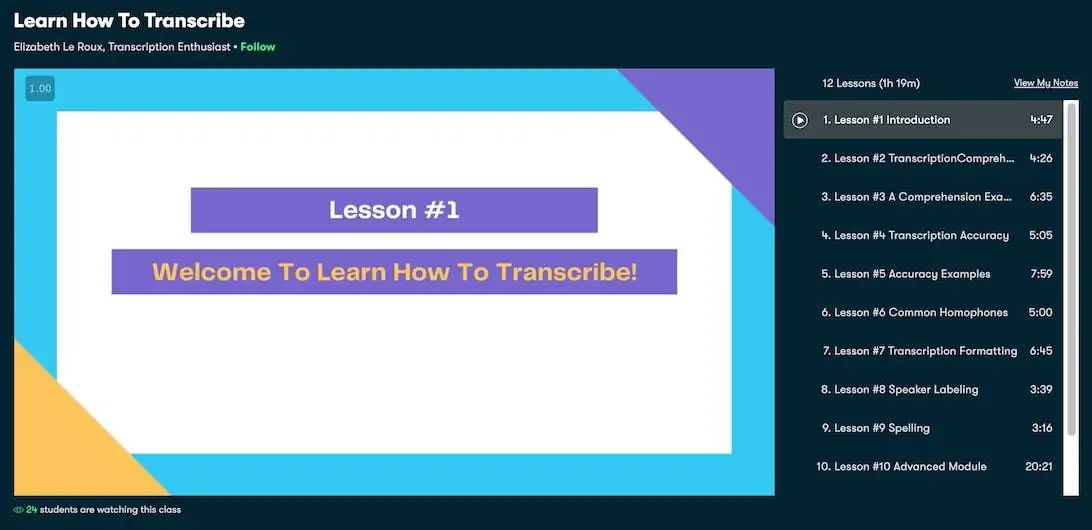 First on my list is an excellent online transcription class giving you the confidence to correctly transcribe even the longest and most complex audio clips. More than 1,100 students have enrolled in this beginner-level course, so this comes highly recommended!
Your instructor for this class will be Elizabeth Le Roux, a transcription enthusiast who runs her own transcription business under the name 'Overflowing Oil'.
In this 45-minute online course, students will learn about each aspect of transcription, including how to comprehend audio clips accurately, what techniques to use, transcription accuracy, how to format a transcription so that it is coherent, common homophones to look out for, spelling, speaker labeling, and tons more.
Being hosted on Skillshare, you can join a thriving student community, share your projects with everyone else, an
Beginner level
¾ hour long
Taught by a transcription enthusiast
Free 1-month trial of Skillshare Premium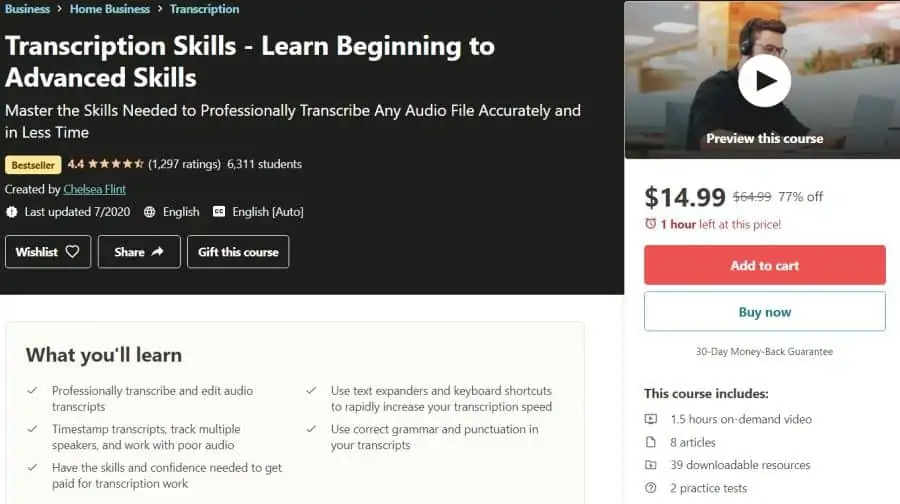 If you are after a comprehensive transcription course to quickly progress from beginner to advanced level, this class might be for you! More than 10,000 students have taken this bestseller course and given it an average rating of 4.4 stars, which speaks to the quality.
You will be taught in this online transcription course by Chelsea Flint, a professional transcriptionist who has worked for companies like Verbal Ink and KMS Transcription Services. Chelsea also has over 8,000 students on Udemy and a 4.5-star rating.
In this 1 ½ hour-long, self-paced beginner class, Chelsea will take students through a wide range of topics, including using Express Scribe, properly editing and proofreading what they've written, techniques for getting the grammar and spelling right, cleaning up noisy audio, time-stamping, using text-expanders and keyboard shortcuts, and tons more.
Besides getting 2 practice tests, you will also get full lifetime access to this online Udemy course and a certificate of completion!
Beginner level
1 ½ hour long
Taught by a professional transcriptionist
Full lifetime access
Certificate of completion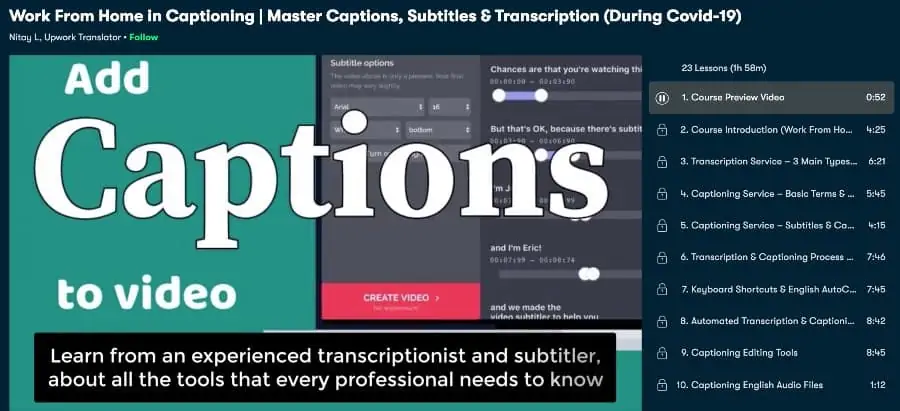 You must be wondering what a course with a title that starts with 'video editing course' is doing in a list of transcription classes. Fear not! Because this course is really about making you an expert at transcribing, specifically making subtitles for videos, which is an in-demand skill in 2022.
As for your instructor, you will be taught by Nitay L, a professional English and Hebrew translator who has several years of experience working with leading companies to help them transcribe videos and create subtitles.
Over the span of 1 hour, Nitay will teach students how to make transcribing a part-time job before diving into topics on how to utilize paid and free transcription tools, implementing the 'process' of subtitling videos, proofreading to remove errors, and much more.
The best part is that you get 1 month of free access to Skillshare Premium, so you can practically complete this course for free if you are quick enough!
Beginner level
1 hour long
Taught by experienced subtitle-writer
1 free month of Skillshare Premium
Are you looking to make a career pivot and launch a new business venture in transcription? If so, this beginner Udemy course will teach you everything you need to start finding clients, setting prices, and learning transcribing skills!
Amanda Fichter, a self-employed transcriptionist, will teach you in this online transcription class. Amanda has over 17 years of experience and currently runs her own business from home.
Through 2 hours of video lessons, Amanda offers students a helpful overview of what goes into setting up a proper transcription business from your home, covering topics such as transcribing in various styles, work-life balance, sourcing transcription clients, evaluating niches like legal transcription or medical transcription, and much more.
After completing this online course, you will get a certificate of completion to share with your network, so what are you waiting for? Overall, this is one of the best online tra
Beginner level
2 hours long
Taught by a transcriptionist with 17 years of experience
Certificate of completion
Full lifetime access
Next on my list is a well-rounded transcription class focused on helping you build your transcription business and improve your skills. With more than 4,300 students enrolled, the course has an average rating of 4.4 stars and comes highly recommended.
Chelsea Flint, a professional transcriptionist, is back again to teach you this online transcription course. Chelsea's transcription portfolio includes hundreds of interviews, forums, podcasts, speeches, and companies like KMS Transcription services and Verbal Ink.
In 1-hour of condensed lessons, Chelsea will not only give students ample practice with transcription but also teaches them how not to fall into the trap of working for very low-paying clients. She also helps them build a transcription-focused CV and find subcontracting transcription companies to get them started in this niche.
Students will need the free version of Express Scribe, a transcription software program. This program is also sold a foot pedal.
With Udemy, you will get full lifetime access to this online course along with a certificate of completion once you're done with it!
Beginner level
1 hour long
Taught by a professional transcriptionist
Full lifetime access
Certificate of completion
Our next transcription training program focuses specifically on the medical transcription field, one of the highest-demand and best-paying niches in transcription. And with the growth of telemedicine, you can expect to have a long transcription career if you master this field.
This course is taught by Cody Lee, an MBA with several highly rated courses in the medical records administration field.
This course includes 8 practice modules that you can use as quizzes for your new medical terminology, a detailed checklist, FAQs, and 15 real-life employment opportunities at companies with medical transcription needs. And because this course is on Udemy, it comes with a certificate of completion.
If, once you've completed this course, you believe medical transcription is your path, it is probably worth joining the Association for Healthcare Documentation Integrity (AHDI). It's free to join, they offer a wide range of free resources, and you can join their certificate program by taking their medical transcription certification exam and unlocking access to roles throughout the industry.
Beginner level
Less than 1 hour long
Taught by a professional transcriptionist
Focused on Medical Transcription Training
Certificate of completion
This course is great if you're interested in learning all the essential best practices needed to become a professional transcriptionist!
For this online course, students will be taught by an instructor from the Transcription Certification Institute (TCI), an agency founded by a group of experienced transcriptionists who saw the need for a body to define a standard for skills and accredit professionals based on that.
Unlike other courses on this list, there is a 3-week time commitment that will teach students grammar and punctuation, transcribe multi-speaker files, handle unique accents, make judgment calls, format like transcriptionists from top companies, and much more.
To help ensure each learner is grasping the material, there are quizzes at the end of each section and a final exam. The final exam requires students to transcribe seven different audio files. Once you pass the exam, you'll earn a certificate of completion.
Successful completion of this course can help accelerate your transcription career. TCI guarantees an internship for you to help you further hone your skills with real-world experience.
Beginner level
3 weeks to complete
Taught by veteran transcriptionists from TCI
Get well-renowned accreditation
Guarantee of internship after completion
Rounding out my guide is an online transcription course that promises to transform you into an expert transcriber and teach you the necessary business skills for building a successful transcription business.
As for your instructor, you will be taught by Janet Shaughnessy, a professional transcriptionist who has honed her skill for more than 10 years through her Zoom Transcription Services business.
Over a course of 2-4 months, Janet teaches students several transcription and business-related topics, including using text expanders and shortcut keys, style guides, screencast tutorial videos, finding higher-paying work while working independently, finding the right equipment, and much more.
By enrolling in this online Transcription course, you will get full lifetime access to all the course materials and lifetime access to Janet's student support forum on Facebook to help you with your queries and questions!
To learn more, you can also check out my other guide on online copywriting classes.
Beginner level
2-4 months long
Taught by a transcriptionist with 10+ years of experience
Full lifetime access to course contents
Lifetime access to student support forum
Frequently Asksed Questions about Transcription Courses
How much do transcribers get paid?
Generally, you can earn $13-23 per hour. While this might not sound like a premium over minimum wage, you can do this job from the comfort of your home and on your schedule. So stacked against a similar administrative position at an office that requires a commute, this could mean much lower expenses and, therefore, more money than it appears.
What qualifications do you need to be a transcription?
You only need three things:
Proficiency in typing at 50-60 words per minute (WPM)
Good command of the language you're transcribing in
Working computer with access to high-speed internet
If you want to go deeper on what to expect from a transcription role and how to get your first job, we recommend this comprehensive video:
How do I become a certified transcriptionist?
There is no governing body for transcriptionists, so there's no one certificate you need. It helps if you show that you can type at high rates with low error rates. A secondary benefit is showing some understanding of the specific subject matter. So if you want to get into medical transcription, look for training courses that align specifically with this area.
 This post was proofread by Grammarly