27+ Best Digital Nomad Jobs & How To Get One! [Full Guide]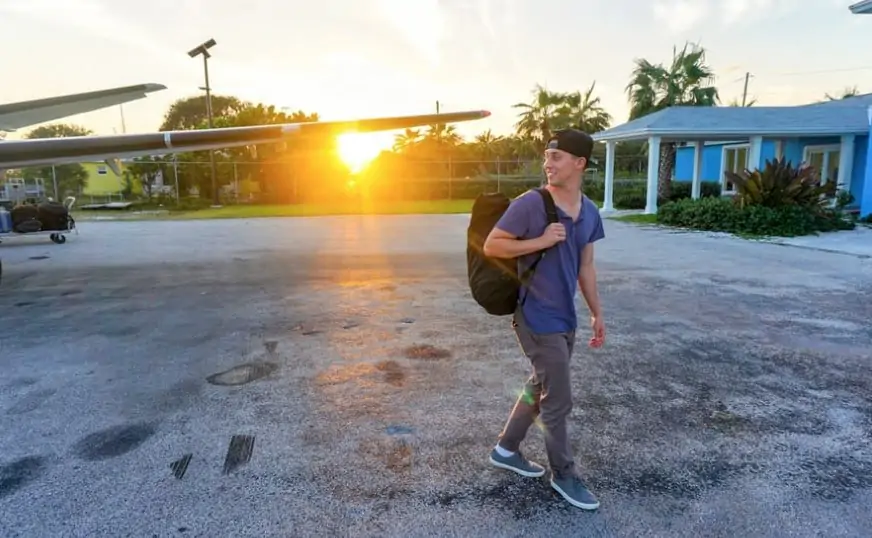 It's predicted that by 2035, the number of people holding remote work/ digital nomad jobs will be approximately 1 billion… ????
So if you want to kickstart your dream of becoming a digital nomad and become location independent, you're in the right place!
Being a digital nomad myself, I have created this ultimate guide on the best digital nomad jobs of 2023, where to find them, places to work, and also some business ideas.
Let's get started!
27+ Best Digital Nomad Jobs/ Business Ideas & How To Get One 2023!
1. Writing
Creating content for marketing, advertising, and blogs/ websites is one of the most common digital nomad jobs at the moment. Whether for pure content writing, or copywriting for marketing purposes, writers are always needed for publications, blogs, and websites of all kinds.
Digital nomad writers can earn anywhere from a few dollars an hour for entry-level jobs, to $200+ an hour if they are working for big companies and have the relevant portfolio experience.
Check out this guide on how to get started with becoming a freelancer and this list of writing courses.
Bestseller: Copywriting Basics for Successful Sales: Time-Tested Tactics that Prompt Action (Skillshare)
Free One Month Trial Of Skillshare Premium
2. Self-Published Author
Another digital nomad job that is similar, though less common than content and copywriting, is being a self-published author. Writers can actually bypass the regular publishing system when they self-publish on websites like Amazon Self Publishing.
These websites will take a small cut of each sale, so it's important for authors to have sound knowledge of pricing and marketing.
But if you are familiar with a topic and want to write about it, this can actually create a nice passive income stream or great freelancing opportunity.
Check out this guide on how to self-publish on Amazon.
3. Blogging (My Favourite)
Another great digital nomad job, or in this case business, is blogging. While many think blogging is about food and travel, it can really be about anything you are interested in.
This blog, for example, is about online education in which I am very passionate about.
While blogging can be very passive and easy to monetize, it is a slow game as bloggers have to rely on SEO and Google for their blog posts to get traffic. So if you have time on your side and have patience, blogging is one of the best digital nomad jobs!
Check out this guide on how to become a successful blogger and my roundup of the top free WordPress classes!
Top Course: Blog Content Strategy (Learn From Fiverr)
4. Transcribing
As one of the less creative digital nomad jobs, it can be a straightforward place for freelancers to begin working, being able to be done from anywhere in the world.
The only requirement is the ability to type and to understand whatever language is needed to be transcribed. If you're not the fastest typer or get bored with repetitive jobs, this one won't be well suited to you.
But if you have a stable internet connection, this will allow you to work anywhere in the world. You can see this post on how to become a transcriber and work remotely.
Highly Rated Course: Step-by-Step Transcription from Home - Start A New Career (Skillshare)
Free One Month Trial Of Skillshare Premium
5. Complete Surveys
Next on my list is another great digital nomad job for beginners to test the waters of the remote working world.
Websites like SurveyJunkie.com will pay people to share their opinions on various software, applications, services, and products, assisting brands or companies with their customer research.
You'll create a profile and receive surveys based on your experiences, knowledge, hobbies, and other topics that match you best. It will require you to take a lot of surveys to sustain yourself on this income, so be prepared to put in a lot of time. Usually, they pay $2-$10 for each survey.
6. Translation
If you know more than one language, with English being one of them, then you can try your hand at being a translator!
This could mean translating audio content to written content in another language, or written documents in multiple languages. Another growth area is also transcribing English YouTube videos to subtitles in a different language to show up on YouTube searches.
There are hundreds of translator jobs on freelancing platforms like Upwork to test the water with. This guide is also a handy place to start on how to get started as a translator.
Bestseller: How to be a Successful Freelance Translator (Udemy)
7. Teaching Languages
Another common digital nomad job, especially for young people who love to travel, is teaching languages online. If you're a native English, German or Spanish speaker, chances are you'll find it quite easy to land a language teaching job.
There's plenty of online platforms looking for teachers, as it's super simple to get certified (in TEFL, for example) online or in-person as part of your travels.
Bestseller: Fast Track: 120 Hour Advanced TEFL Course (TEFL Institute)
18% OFF on All Courses with code ENROL18
8. Audio Producer
Though it's not one of the most common digital nomad jobs, this one can work for people who have a knack for audio software/ producing music, voice-overs, and video.
You'll need to know your way around audio software for sound design, mixing, and mastering. This job is ideal for those familiar with audio production and who are looking to take their working life 'on the road.'
To learn more about audio production, check out my guides on Ableton Live, Logix Pro X, and FL Studio!
Top Instructor: deadmau5 Teaches Electronic Music Production (Masterclass)
Try Masterclass Free With 30-Day Money Back Guarantee
9. Voice Talent
This can be another great remote working job to land, as it's sometimes as simple as recording a narration of audio content and sending the file to the client. What's required is a good audio recording setup, like a microphone, and an ability to communicate clearly.
If you can use your voice in interesting ways or have a specific accent that is desired, you could potentially make it a sustainable role. Also, if you can build up a good list of clients, this can sustain your digital nomad lifestyle.
Check out this awesome guide on becoming a voice actor!
Recommended Course: Voice-Over for Video and Animation (LinkedIn Learning) 
Free One Month Trial Of LinkedIn Learning
10. Data Entry
While this may be seen as one of the more boring digital nomad jobs, data entry is, in fact, a high-demand job that requires little to no experience.
So for those don't mind using Excel, Google Sheets, and other data entry software, this is one of the best remote working jobs for beginners.
To learn more, see this post on how to get a remote/ work from home data entry job.
Beginner Course: Data Entry Course for Beginners (Udemy)
11. Virtual Assistant
As more people are creating and conducting business online, there is more need for extra help in many different areas of that business. Virtual assistant roles are going to be varied, depending on the company and person and their specific needs.
Similar to a regular assistant, you'll be handling a bunch of different responsibilities and generally have more flexible, or obscure hours to stay in communication with your employer.
Being proficient with Slack, Google Suite, Excel, Trello, social media, keyword research, and WordPress is also beneficial.
For an ultimate guide on becoming a VA, check out this awesome guide!
Top Rated Course: Work From Home As A Virtual Assistant (Udemy) 
12. Website Flipping
Have you heard this term before? It's a unique process of building/ buying websites and selling them for a 25-40 multiple of their monthly profits. The term is from the real estate phrase 'flipping houses', which is where an individual buys a fixer-upper house, updates it, and sells it for a profit.
Typical websites that digital nomads can buy/ build then flip are eCommerce stores, affiliate websites, ad websites, dropshipping stores, SaaS, kindle publishing, and Amazon FBA to name a few.
A good place to start is to check out website marketplaces (yes these are a thing) like Empire Flippers, Flippa, and FE International.
13. Strategic Consultant
This kind of consultant works with high-level concepts of businesses with companies to solve issues that arise in a rational and objective way.
To enter into this digital nomad job, you would need to be well-versed in business, or niche down for a specific industry. You'll also need to demonstrate your expertise to see that you have the talent to give this high-level advice.
For those that have the experience, this is a great option to move your skills into a location that's independent of your role.
Here is a great post on how Marc Roden went from consultant to digital nomad.
14. Social Media Manager
Social media marketing is fast becoming a high-demand role, with online marketing being the main advertising realm for companies and individuals.
You could work as part of a marketing agency as a digital nomad, or work freelance yourself, helping businesses promote their products and services and create an integrated brand on social media platforms.
Other key services of a social media manager include communicating/managing accounts entirely, creating new posts, scheduling content, re-branding and designing social media pages and content, and analyzing performance.
Also knowing your way around Instagram, TikTok, Pinterest, Facebook, YouTube, Snapchat, and LinkedIn is helpful. To learn more here is a helpful guide on digital nomads becoming social media managers.
Top Rated Course: Social Media Marketing Masterclass (Skill Success)  
50% Off All Courses At Checkout With Code SCOUT50
15. Affiliate Marketing
This is where you promote the products or services of another company and you'll receive a percentage of sales that come through to their websites. Ways in which you can earn affiliate income are blogging, YouTube videos, running ads, and also funnels.
For those that get affiliate marketing right, this can be a very lucrative and passive income that will allow any digital nomad to live the lifestyle they want.
There are 1,000's of affiliate programs such as Amazon Associates, ShareASale, and Awin to name a few. This is also an in-depth guide on how to get started.
Bestseller: ClickBank Success – Affiliate Marketing Without A Website (Udemy)
16. E-Commerce
Shopping seems to just keep moving online at a steady pace, as many stores not only have their own online options to purchase products, but some businesses make the switch to completely online e-commerce.
While many think e-commerce can't be done remotely, in today's age, it's easier than ever with platforms like Shopify, Amazon FBA, and dropshipping. E-commerce also encompasses digital products which require less leg work.
Here's a good place to start for learning how to start a dropshipping store.
Bestseller: ECommerce Fundamentals - Dropshipping (LinkedIn Learning) 
Free One Month Trial Of LinkedIn Learning 
17. Graphic Design
With so much visual content being consumed online, there is consequently an incredibly high demand for online visual content creators.
A graphic designer has many work options, from creating advertising materials for social media, logos, creating content for books, information materials for companies, and even being a creative graphic illustrator artistic and selling your personal work.
For more information, check out my guide on how to upskill with Adobe Dreamweaver and Procreate.
Learning Path: Become A Graphic Designer (LinkedIn Learning)
Free One Month Trial Of LinkedIn Learning  
18. SEO Specialist
Next on my list is one of the most in-demand digital nomad jobs at the moment. With complex algorithms ruling what content gets seen in the world, it's vital for companies and individuals who are promoting their products and services to be in the line of sight of potential customers.
Having knowledge in SEO, content creation, link building, CRO, and WordPress is extremely beneficial. But in saying that, SEO can be self-taught and requires no degree. Also with SEO, you can implement it with your own business or sell your services.
Neil Patel and Backlinko are both really great SEO resources to refine your internet marketing skills.
Top Course: SEO - Website Technical Audit Fundamentals (Learn from Fiverr) 
19. PPC Marketer
PPC refers to a subset of performance marketing where advertising and marketing companies are paid when actions have been taken on their promotions – like making a sale, getting a lead, or clicking on a link.
PPC marketing is a little different, as it is solely based on pay-per-click, where advertisers pay a certain fee each time their ads are clicked.
The role of a PPC marketer is to work with online ads and create, test, and work with strategies for how these online ads are performing, to get these advertisers a better return of investment (ROI).
To learn more, this is a great place to start.
Highly Rated Course: Amazon PPC Masterclass - The Ultimate PPC Guide (Udemy)
20. Programming
If you are a programmer of a specific web language such as Java, JavaScript, Ruby, or Python, then you can enter this field almost immediately as this is an extremely in-demand skill.
Otherwise, consider training in one or more programming languages as an investment into your digital nomad lifestyle, as you ultimately won't find it difficult to get jobs in the future once you've got the skill.
Check out this blog about a programmer who turned digital nomad which includes helpful courses and guides.
Free Course: Introduction to JavaScript (Udacity) 
Use code UPSKILL21 to get 50% off online tech courses at Udacity!
21. UI/UX Designer
UX stands for User Experience, whereas UI means User Interface. Both are generally grouped together as they are focused on assessing how users interact with design and technology.
UX is more focused on the end user's behavior surrounding a business's product or service, whereas the UI aspect is about the design elements that make up software/hardware. As a specialized field, if you have these skills, you could secure a well-paid and consistent job.
This is a handy little guide to help UX designers get started.
Certificate Course: Become A UX Designer (Udacity)  
Use code UPSKILL21 to get 50% off online tech courses at Udacity! 
22. WordPress Developer
Being a WordPress developer is considered one of the best digital nomad jobs as many developers already work from home or remotely. So packing your laptop and moving overseas to continue your work is as seamless as it gets.
While it is beneficial to know HTML and CSS to make WordPress websites, it is not necessary. With many great website builders built on WordPress, it is now easy to teach yourself and start charging for your skills.
To learn more, check out my guide on the best free online WordPress classes to further your education.
Learning Path: Become An Advanced WordPress Developer (LinkedIn Learning) 
Free One Month Trial Of LinkedIn Learning   
23. Shopify Developer
Similar to WordPress, Shopify is another popular platform for businesses, and being able to work the backend of this e-commerce platform is a handy skill to have to lead a digital nomad lifestyle.
You could land a long-term job working for companies that have large-scale businesses, or get small jobs regularly to help people set up their stores. There is also the possibility of creating your own dropshipping or print on demand using the platform.
You can see this resource on how to make a Shopify website.
Best Selling Course: How To Become A Shopify Expert (From Zero To Hero!) (Udemy)    
24. App Developer
Mobile app developers are in high demand right now, so if this is something you can do, or are willing to learn to do, you won't have a problem finding a job.
More companies are taking their services to mobile apps, as well as influences and individuals, to broaden the way they interact with their following. So if you know your way around Android and iOS, being an app developer is a great job that will allow you to work anywhere in the world!
This is a helpful guide to steer you in the right direction.
Free Course: Advanced Android App Development By Google  (Udacity)
Use code UPSKILL21 to get 50% off online tech courses at Udacity!
25. Conversion Rate Optimization
Also referred to as a CRO, working as an optimizer for conversion rates can bring in a good income for digital nomads, so long as you have a great knowledge base for this.
You'll need the skills of analyzing marketing and data, heatmaps, and A/B testing to help websites increase their traffic and take the desired actions (sales, leads, clicks).
To learn more, check out this CRO guide so you can start freelancing your new skills!
Best Selling Course: Landing Page Design & Conversion Rate Optimization 2018 (Udemy)
26. Accountant
If you have the existing skillset or being an accountant, then transitioning your job online is easier than it seems. The only downside to this digital nomad job is finding clients.
Many brick-and-mortar businesses are still hesitant to outsource their accounting/ bookkeeping online, but if you can find consistent work, this can pay off big time!
For those looking to pursue this field, I have an awesome guide on how to learn bookkeeping online for free.
Learning Path: Develop Your Finance and Accounting Skills (LinkedIn Learning)  Free One Month Trial Of LinkedIn Learning   
27. Photographer
Travel and influencer photography come to mind here, but you can also offer your photography services to businesses in the area that you are visiting. This one is more creative and a little harder to find work, requiring you to market yourself and often reach out to individuals and businesses constantly to secure the roles in the area you are traveling.
Rather than working online, you're traveling and working in that particular place. But the nomadic lifestyle can still one secured in this way, which is why we've included photography on this list.
This is a great guide on how to become a photographer being a digital nomad and get clients.
Recommended Course: iPhone Photography: How to Take Pro Photos On Your iPhone (Skillshare)
Free One Month Trial Of Skillshare Premium    
General Digital Nomad Statistics
The following digital nomad jobs statistics give a brief overview of the rising world of the digital nomad. It seems that this way of life will continue to grow for the foreseeable future.
It's predicted that by 2035, the number of people holding digital nomad jobs will be approximately 1 billion.

In 2020, the number of traditional workers working as digital nomads grew 96 percent, from
3.2 million to 6.3 million. The same research that found this figure also reports that 45 million aspire to be nomadic in their working lifestyle over the next 2-3 years.
A Stanford University study reports that remote workers are on average 13% more productive than in-office employees, and they take fewer sick days.

Research suggests that 23% of remote workers are more willing to put in extra time to complete projects when needed.
The sentiment towards remote work continues to improve with 83% of employers now supporting remote for their employees in 2021, compared to 73% in 2020.
In 2019, 57 million people from the United States identified as freelancers. This was a 4 million increase from the year 2014.
The majority of digital nomad jobs available are those for developers and programmers, holding 20% of the pool of open roles.

Consultant jobs were the second-most available roles, at 8% of the open jobs for this type of worker.
Data entry is also a common role requested, with 6%, and sales managers were at 4% of the open roles.
Digital Nomad Locations Around the World
Below are some of the best locations for digital nomad jobs. Not all places in the world are well suited to digital nomads. There are certain characteristics of places that will definitely make them more desirable for nomads to travel through and often spend a few months at a time.
For instance, lots of cafes with great internet, which allow customers to hang for a long stretch of time. Low-cost living for food and accommodation is definitely a plus, and of course, having a community of like-minded nomads is desirable.
Traveling to these hotspots for remote work, you'll surely meet people who hold one of the jobs above in cafes or the many coworking spaces available there. We've added a little info for each location for you to get a sense of why this particular place has become a digital nomad hotspot.
Bali's cost of living is very low, and the living standard can be quite high. Great villas to rent, cheap food (but also high-quality healthy food in particular), and an incredibly large digital nomad and ex-pat community. It's especially suited to those who like to balance their nomad work-life with things like yoga and fitness, surfing, or even some nightlife.
Similar to Bali, there's an abundance of cafes and great internet, as well as adventurous activities to take part in when you aren't working. It's great for people who like hiking and getting out in nature, in particular. The cost of living here is also super affordable.
Surrounded by historic architecture, the city is beautiful and suited to nomads who enjoy the city life and access to western world luxuries. Plus, apartments in Budapest aren't that expensive for a European city.
This location is a growing digital nomad hotspot. Again, sightseeing is something nomads can take advantage of, with monasteries and ancient castles to be found easily. There are tones of parks, the weather is nice, the buildings are colorful, and the pace of life is not like a busy city, but more leisurely and slow-paced.
The Realities of Being a Digital Nomad
Yes, it can be awesome to live the life of a digital nomad. Traveling the world, sampling different cultures, meeting lots of people, setting (mostly) your own work schedule… it seems like a fantasy, right?
Well, although there are definitely many advantages to this lifestyle, there are also some challenges. To paint a more clear picture of what people with digital nomad jobs go through, here are some realities of this lifestyle.
Health
Traveling has an impact on the immune system – think all those hotel rooms, airports, and planes – and that's a recipe for catching an illness more easily. If nomads aren't taking good care of their health with good food, exercise, and rest, they can experience less than vibrant health. Sleep patterns can also be hard to set with all of the interruptions in shifting time zones if nomads are moving areas regularly.
Life Admin
Handling life administration as a nomad can actually be a little confusing. How to handle taxes? Visa requirements? Staying up to date with your home countries current policies and systems?
Since nomads aren't really about going to another country and basing themselves there with another citizenship, generally they stay citizens of their home country. They, therefore, need to stay up to date with what's happening there and how it relates to them, even as they travel and work.
Creating Connections
This is a double-edged sword. Though you can make friends from around the world, connecting with like-minded people, this doesn't mean those are going to be consistent and long-standing friendships. If you're moving around a lot, it can get lonely. For people who value connection, it's going to be a challenge to hold close relationships with this fluid lifestyle.
(Not so nice) Surprises
When surprises are happy, great! But when we are hit with unexpected challenges, it can be even harder to deal with them in a foreign country, without the support of family or other people close by.
Things are much more uncertain when you're on the move and taking jobs that also may not be so consistent, so it's essential for nomads to have some contingency plans in place. This means having some savings – enough to support you if you need to sustain yourself in a different country for longer than you thought with no work.
Where To Find Freelance Work As a Digital Nomad
Below are some examples of freelance job marketplaces. We'll share two top platforms and one that's currently growing in popularity and usage, for digital nomads to secure work.
Fiverr is a top pick amongst freelancers and digital nomads just starting out given their ease of onboarding and strong demand for services. Projects, or gigs as they call them, range from easy beginner-level work to advanced. Buyers have one-click functionality to order gigs on a recurring basis and leave a tip for each gig, both of which mean higher commissions for you.
Pros:
You can register for free and promote your gigs immediately.
Lots of variety in the gigs being sought by buyers.
They make it easy to tip so you'll see an increase in commisons.
Cons:
Need to maintain higher level seller status by taking on steady flow of gigs
Fiverr takes up to 20% of your earnings.
As one of the market leaders in freelance job transactions, Upwork connects businesses and workers, or individuals with other freelancers. The roles range from visual and written content creation work, to design, transcribing, audio services, assistant roles, and many more. You could potentially find all of the roles listed above on Upwork.
Pros:
You can register for free.
There are new roles updated every minute –

a big pool of open jobs.
Lots of variety for the job type.
Starting from entry-level jobs to technical expert roles.
Cons:
Some applications to create a profile can be refused entry to the platform.
Upwork takes a cut of your earnings, from 20% down to 5% (if it's a long-term client).
As the biggest online job marketplace, this basically works in the same way as Upwork, just on a larger scale.
Pros:
Creating a profile as a worker is free and simple.
Once you build up great reviews and ratings from past jobs, you're more likely to land higher-paying roles.
There's a wide range of jobs updated every minute.
Cons:
After withdrawing your funds, it can take up to 2 weeks to receive them.
The project fees are steep, with Freelancer.com taking a cut varying from 10-20%.
Though the platform Hubstaff is actually suited to companies and teams to use the time-tracking feature, you can also secure jobs when you go to the Hubstaff Talent marketplace, which has open roles posted regularly.
Pros:
Free for clients to post jobs and for freelancers to sign up.
Finding positions is easy as you can browse open roles by skill type.

Open jobs range from hourly and fixed-price, to once-off or full-time work.
Cons:
There's a lack of a review system like Freelancer.com and Upwork for clients and workers to be transparent about the quality of each party.
It's not as large or established as other platforms, so the job pool is currently smaller.
Best Tools For Digital Nomads
To live this life with more ease, it's important to get organized with some key tools that support digital nomad jobs. Here's a list of apps that enhance productivity and allow nomads to navigate this lifestyle.
Digital Nomad Jobs: The Bottom Line
Working as a digital nomad is a decision not to make light-heartedly. There's a lot to consider when you are transitioning to remote work as you travel, and for those who love adventure and travel, can self-motivate, and keep organized, it might be the perfect lifestyle for you.
Maybe it's not something you'll do always, but it's worth trying out as the life of a digital nomad is an exciting one indeed! So if you are making the change, take into account our tips above to get the most out of this working lifestyle.
References & Sources