Top 12 Best Free Online Embroidery Classes & Courses
Have you ever looked at a piece of embroidered artwork and thought you would like to do the same? Well, you are in the right place!
In this guide, I have gathered some of the best free online embroidery classes in 2023 that will take you from complete novice to pro in no time.
Below, you will also find a wide range of free and paid courses for all skill levels and across multiple platforms such as Skillshare, Bluprint, Udemy, and Creativebug. Let's get started!
Top 12+ Best Free Online Embroidery Classes & Courses 2023
---
First on my list is a great class that explores the art of embroidery in a fun and playful way. Students will also learn the basics of how to start this crafty hobby and even be guided to create your own floral embroidery project.
Your instructor for this course is Danielle Clough, an avid embroiderer and creative designer in the digital media world. Her love for all things art shines through with her inspired and energetic teaching in this course. So you will be in capable hands!
Specific techniques that will be taught are how to understand embroidery tools, set up the hoop and needle, learning to stitch and color blend, finishing and framing, and other expert embroidery tips.
Skillshare hosts this embroidery course, which is a well-known subscription-based online learning platform. Choose any lifestyle topic you can think of and there will be a course in the library of close to 30,000 different online courses on Skillshare. There is also a free 1-month trial to take advantage of!
14 video lessons
1 hour and 29 minutes of content
4,284 students have taken the course
For all levels – great for beginner students.
Activate FREE Skillshare Trial
In this beginner-level course, you will learn how to create a beautiful cherry blossom embroidered art piece step-by-step. Students also don't need any prior experience to create this stunning design, so it's ideal for absolute beginners!
Charlotte Kan is your teacher for this course, who is also a trained fashion and embroidery pattern designer who loves all things crafts and especially teaching beginners the tricks of her trade.
In 11 lessons, you will learn about the specific material and tools to get started with embroidery, as well as transferring patterns to fabric, threading and weaving skills, stem stitches, French knots, and more.
Again, being hosted on Skillshare, new users of the platform can take this embroidery class, plus all others mentioned on this list for free with the 1-month trial. Overall, a great starting point for beginners.
11 video lessons
32 minutes of content
1,244 students have taken the course
Bonus blossom embroidery pattern included.
Activate FREE Skillshare Trial
Next on my list is another beginner class that will teach you how to create the above embroidery design. This colorful design is possible for even pure beginners to create as you learn the steps in this short course.
Your teacher for this class is Lauren Holton, who runs the embroidery craft pattern website Lark Rising Embroidery. With running her own website, Laura is a passionate embroiderer who takes her inspiration from nature, and her passion really does come through in this class.
The specific skills that you will gain are how to transfer a design for embroidery projects, how to use satin stitch, and how to finish with the edges of an embroidery hoop. Not to mention steps on how to complete the marbled pattern above.
You'll find this course on the learning platform Creativebug, which features craft-based courses from illustration, design, sewing, and of course, embroidery. There are also dozens of other embroidery lessons that can be taken on the Creativebug platform. Overall, a great course!
Perfect for beginners
49 minutes of content
5-part video series containing 7 lessons
Supply list and PDF templates included.
If you've always wanted to try embroidery, but not sure how to start, let yourself be guided through this 3.5-hours beginner's course that covers all the basic information and skills you need to create finished projects like a pro.
Your instructor for this class is Kat McTee, who is a specialist in embroidery, surface design, silkscreening and all-round textile art specialist, and shares her skills in an easy-to-understand format. This is also one of the two courses that she offers on the Bluprint platform.
After understanding all the tools you need (fabric, floss, needles, and hoops), you will learn how to transfer designs, get started on the hoop, use spot stitching and French knots, utilize stencils, as well as exploring letters and numbers in your designs.
Formally known as 'craftsy', Bluprint is the place where you'll find this course, which has been in operation for over a decade and focuses on craft-based courses.
4.8/5 course rating from past participants
Great for beginners
13 video lessons
3 hours and 21 minutes of content
Have you seen embroidery art on photos and wondered how it's done? Now you can learn how to do it yourself, without any prior experience needed. In this course, you will learn the basic embroidery stitches you need to know to create your own photo-embroidery design.
This course is led by Peggy Dean, a long-time craft lover that has a multitude of skill sets with artistic forms, including her passion for embroidery.
Covered in this course is how to combine colors, the top 10 stitches you need to know for the project, different styles like mark-making, color fill and unusual object additions for the photo designs, and more.
Skillshare is the platform where you'll find this embroidery short course. Not only will you learn new skills through many different free courses available on the platform, but you can also find more than 27,000 premium paid courses on Skillshare.
14 video lessons
1 hour and 49 minutes of content
1,266 students have taken the course
Great for beginner level students.
Activate FREE Skillshare Trial
Next on my list is a condensed course that shows you how to make a beautiful tropical flower design with hand embroidery techniques, suited for pure beginners.
The teacher for this short course is Floor Giebels, a Dutch artist who loves to share her skills online, just in the same way that she also learned the art of embroidery.
To reach the final product of a flower design using a 6-strand threading method, you'll learn how to use basic hand stitching to blend the colors, outlines and fill in the petals, and eventually create a final project of a completed flower artwork.
Udemy is the course host, which offers an online learning system where people from around the world (more than 190 countries) can connect and learn skills in these short courses that are offered in more than 65 different languages.
89 student shave enrolled in the course
9 video lessons
1 hour and 10 minutes of content
Great for pure beginners.
Begin your journey with embroidery with the basics of setting up a hoop and threading your needles, before learning more tips and techniques to take you on your way to a masterful embroidery hobby.
Taught by Rebecca Ringquist, a visual artist, and designer. Rebecca created the design company 'Dropcloth', which sells her hand-drawn embroidery designs and patterns, ready to use.
The course covers methods of choosing your thread, setting up the needle and hoop, using a variety of common stitches, and tying off your thread to finish.
The Creativebug platform is where you'll find this embroidery course, among many more that instruct beginner to advanced students in a variety of craft-based skills.
Great for beginners
1 hour of content
17 video lessons
HD video content for clear, high-quality instruction.
If you've wanted to learn the fundamental skills of hand embroidery, as well as a basic floral design to begin your embroidery hobby, this course is great for beginners looking for just that.
Your instructor is Dana Batho, the designer and founder of the Peacock & Fig brand. She offers many different online cross stitch and embroidery classes, as well as patterns and designs that have been featured in many well-known craft publications.
The key skills that you'll learn in this course include how to transfer your design, how to backstitch, and leaf stitch, as well as the methods of woven wheel roses and more.
Skillshare is where you'll find this embroidery course, along with many more hand-sewing, stitching, and various craft and art tutorials. Additionally, Skillshare features courses on a bigger range of lifestyle topics beyond arts and crafts.
1 hour and 25 minutes of content
9 video lessons
1,200 students have taken the course
Great for beginners.
Activate FREE Skillshare Trial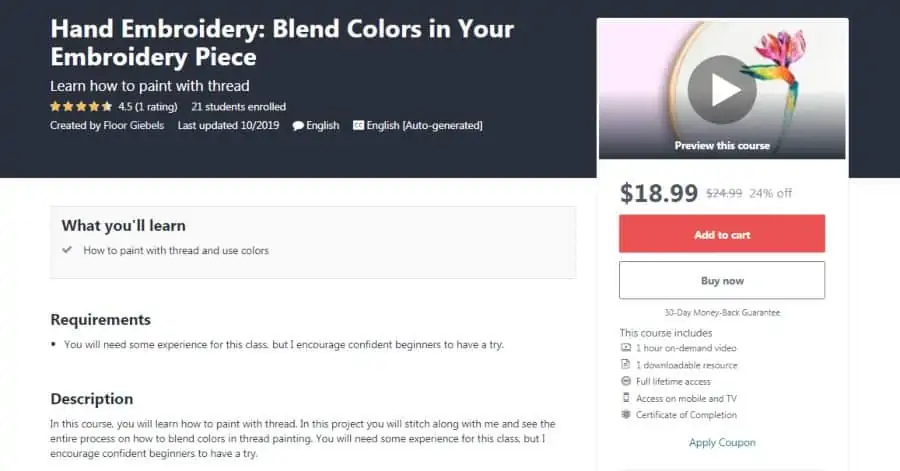 This is a unique embroidery course that focuses on the key skill of learning how to 'paint with thread' and understand the technique of blending colors in your designs.
Floor Giebels is your course instructor, who has 7 different craft courses available on Udemy. She's a Dutch embroidery artist who has been working with this art for close to 5 years now.
In just under 1 hour, you'll be guided through the Color-blending method of tracing a pattern, stitching your stem and the middle of the flower, and working with colors in the petals of your floral design.
Udemy is a global online learning platform that has courses on almost any topic you can think of, where 50 million students come to enhance their skills in technology, business, art, and different crafts, such as embroidery.
Rated 4.5/5 from past students
8 video lectures
57 minutes of content
Suited to beginner embroidery students with a little experience.
For avid embroidery artists who are looking to enhance their skills and create 2 intermediate projects. This short course is best taken after Jessica's 'Startup Library: Hand Embroidery' beginners course.
Jessica Long is your instructor for this intermediate course. She is the founder of Jessica Long Embroidery, which is a platform that shares tutorials, patterns, and jewelry, and hoop art.
Key methods explored in the course include transferring designs to different shades of fabric, stitching with shading and graduations, needle painting, and extra tips to complete the floral and bear cub projects.
Bluprint is a subscription-based online learning course platform that has been around for almost a decade. Previously known as craftsy, it has since branched out to offer more than just art-based courses, to more lifestyle topics as well.
● 4.8/5 rating from past participants
● 6 video lessons
● 2 hours and 13 minutes of content
● Best suited to intermediate embroidery students.
In just under an hour learn all you need to know to create embroidery patterns to share with other crafters – potentially even as a side-hustle on Etsy – to use in their own designs.
Floor Giebels is an avid self-taught embroidery artist that has been inspired to share this art form online ever since learning embroidery as a beginner through an online course.
Techniques and information that's shared in this course include different pattern types, creating the image for tracing, different fabric design methods, and stitching guidance.
Skillshare is the platform that hosts this short course, among close to 30,000 more short courses on a range of lifestyle and craft topics for all levels of students. To learn more, you can also see my mega guide on free online sewing classes.
9 video lessons
53 minutes of content
353 student shave taken the course
Recommended for beginner level students.
Activate FREE Skillshare Trial
If you've ever wanted to embellish your own sweater, now you can. This is a guided course that takes you through the steps of embroidering your clothes by hand.
Floor Giebels is your instructor, a self-taught Dutch embroidery artist who creates embroidery patterns for others to use, as well as these short online courses for beginners to get started in this art form.
Key methods you'll explore include how to start stitching each section of the design, how to cut and wash the fabric properly, and eventually how to complete the full floral design step-by-step.
Skillshare is one of the leaders in online learning. As the name suggests, this is where people from all over the world share their skills and passions with other people looking to enhance their knowledge in many different areas of interest or start a new hobby from scratch.
10 video lessons
1 hour and 19 minutes of content
748 students have taken the class
Great for beginners with a little experience.