Learn How To Get Into The Fashion Industry With 2023's Top 11+ Best Online Fashion Design Courses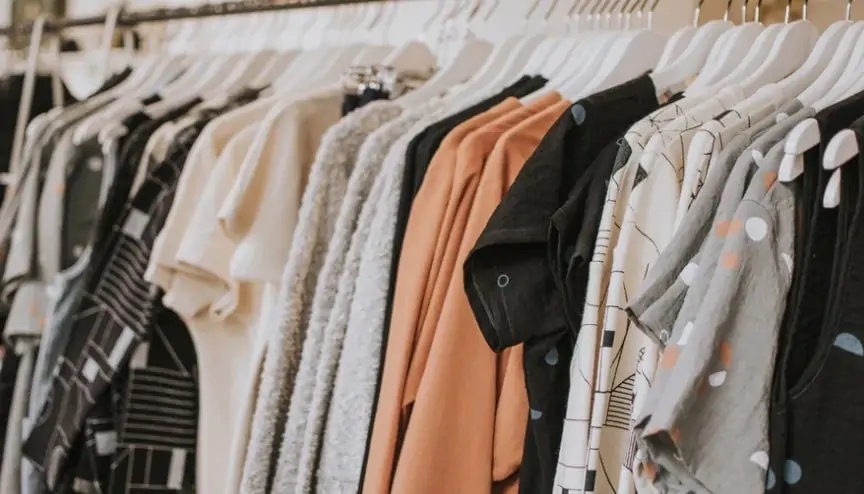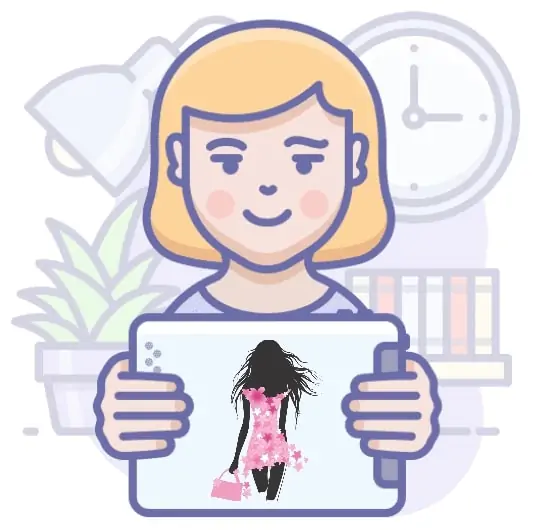 Fashion Design is an amazing and exciting field where you can let your creativity shine!
If you have an interest in fashion design, why not try out a fashion design course to see if it is something you would consider pursuing as a career?
The below list is made up of some of the best online fashion design courses in 2023 that you can learn from home, on the go, and whenever you have time.
If you've already decided that fashion design is your future, then any of the below courses are a great place to get inspired!
Top 11+ FREE Best Online Fashion Design Courses & Training 2023!
---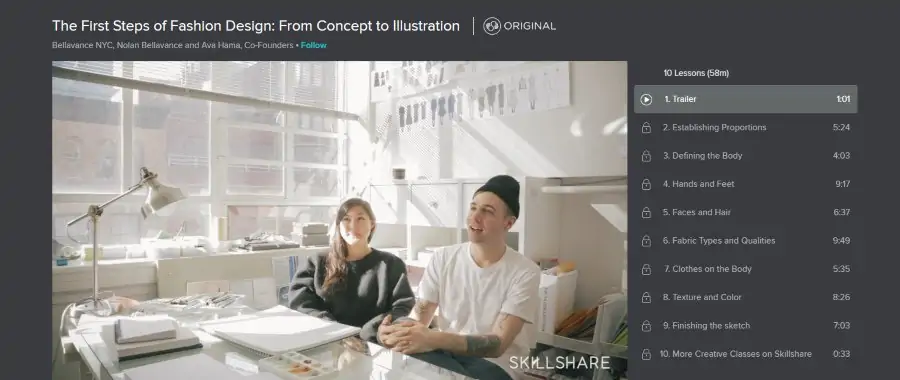 This Skillshare course is a great place to start for aspiring fashion designers. By the end of the course, you will be able to take your fashion ideas from the concept stage to a full-fledged illustration. All up, this course takes less than an hour to work through with 10 lessons taught by fashion designers Nolan Bellavance and Ava Hama.
Nolan and Ava cover topics like establishing proportions, defining the body, representing hands and feet, faces and hair, fabric types and qualities, clothes on the body, texture, and color, and finishing the sketch.
At the end of the course, you'll get to apply all of your new-found knowledge and design three original looks of your own. On top of that, there are also lots of student projects that have been shared on the website that will inspire you to share your own awesome sketches and designs!
As this fashion design course is hosted on Skillshare, students can try this course risk-free on their 1-month FREE trial that can be canceled at any time ????.
Popular course! 6,403 students
Lots of student projects for inspiration
Suitable for all levels
Accessible for free with the Skillshare 1-month free trial
Activate FREE Skillshare Trial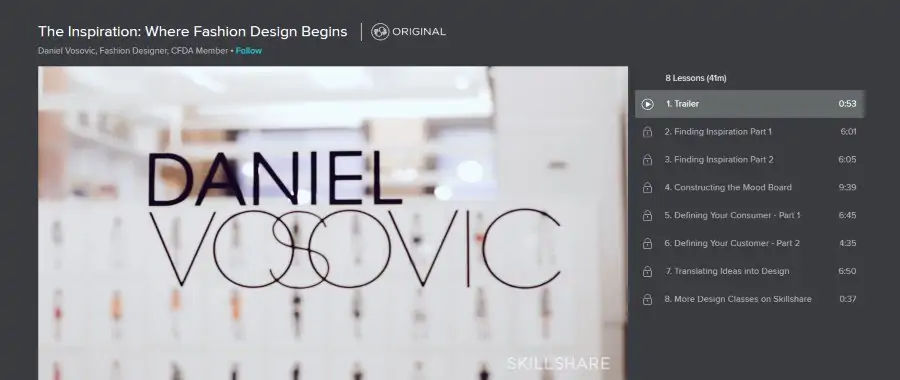 It's hard to fit learning a new skill into a busy schedule. But this quick 41-minute course is made up of just eight lessons and will take you hardly any time at all. This short yet dense course will teach you to find inspiration from and how to take action on your ideas.
Taught by fashion designer Daniel Vosovic, he includes a great project in which you'll create your own fashion design mood board. This mood board will become the main focus of this course and Daniel gives you great advice on what a successful fashion mood board should look like with included examples.
Other topics covered include finding inspiration, constructing the mood board including palette, images, creating a narrative, defining your customer, and translating ideas into design.
Being hosted on Skillshare, users can take this course and dozens of others relating to fashion design for FREE on their 1-month trial.
Suitable for all levels
Specific focus: mood boards
Low time commitment – less than 1 hour!
Activate FREE Skillshare Trial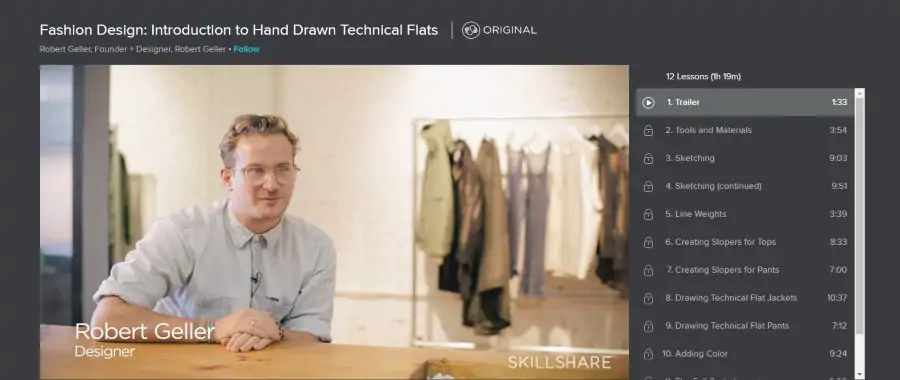 Technical flats are a crucial part of creating a design. But how the heck do you make technical flats? This course will break down the process into simple steps and help you master this important skill.
This Skillshare course is meant for all levels, but geared towards those that may have a background in or are interested in pursuing fashion design. Expert fashion designer Robert Geller, trained under Marc Jacobs, is highly qualified to teach you about how to make the best technical flats for your designs.
Topics he will cover in the course include the tools and materials you will need, line weights and sketching, creating slopers for tops and pants, drawing technical flat jackets and pants, adding color to your design, and assembling the full-scale layout.
You will also learn essential techniques like how to include the top stitch and detail to illustrate the construction of the garment and how to use various shades of grey to illustrate material breakdown for the garment.
After working through the 12 video lessons and 1 hour and 19 minutes of course material, you will take on a project in which you'll create three technical fashion flat sketches of your own!
Great project: create 3 technical fashion flat sketches
All levels
Specific focus: technical flats
Accessible for free with the Skillshare 1-month free trial
Activate FREE Skillshare Trial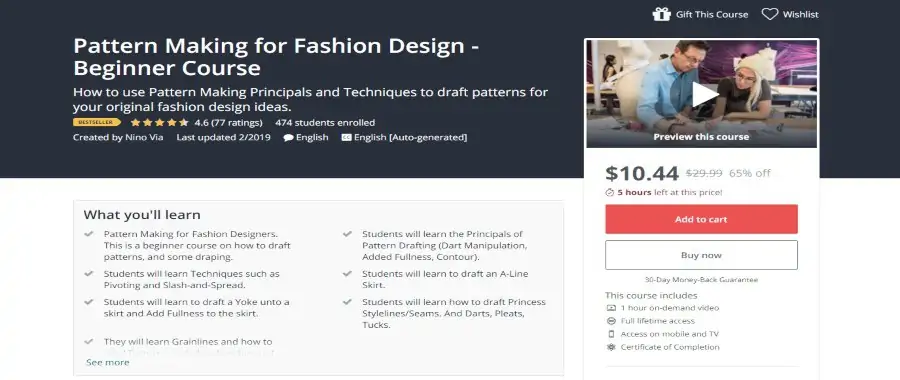 In just 8 lessons and 46 minutes of class material, this Udemy course will teach you a ton of skills that you'll need to know if you want to make it as a fashion designer. Grab your measuring tape and fabric markers and get ready to get creative!
Fashion design instructor, Nino Via, will teach you about all of the tools and materials that are necessary for drafting patterns (but you won't need them to follow along with the course). He will also cover topics such as the basic principles of pattern-making and essential industry terminology.
In this course, you'll learn how to transfer muslin draped on a dress form to dotted paper, how to use the principles of pivoting/ slash and spread to manipulate patterns, how to draft princess seams, A-line skirts, skirt yokes, and how to add fullness to the garment.
Overall a great course with an included certificate of completion!
High 4.5-star rating
Low time commitment – less than 1 hour
Suitable for all levels
Specific focus: pattern making
Certificate included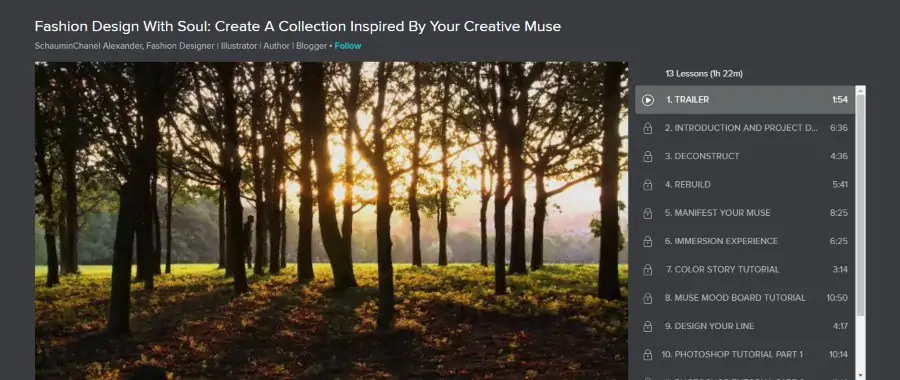 Up next on my list is one of the best online fashion design course for the people out there that have great ideas but struggle when it comes to translating them to paper. In this Skillshare course, you'll learn how to channel that creative muse of yours in an effective way!
Instructor Schaumin Alexander, fashion designer and illustrator, asks you to look deep within yourself for your source of inspiration. In the 13 lessons in this 1-hour-long course, she will cover topics like manifesting your muse, creating a color story and mood board, and designing your own line of clothes.
In the final project, you will sketch 3-5 fashion design looks that are inspired by your own creative muse. Some of the resources that come with the course are a free geometric grid adobe illustrator mood board template and two free fashion croquis templates.
Comes with resources: 40+ Page detailed Workbook to help as a guide throughout the class & more!
Popular course: 1,190 students
For all levels
Activate FREE Skillshare Trial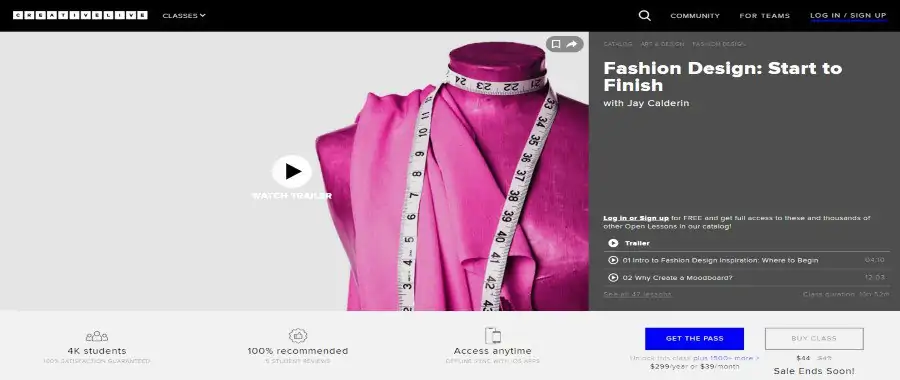 This is one of the more comprehensive courses on this list and it's the best option if you are looking for something that really takes an in-depth look at fashion design. It will require a time commitment of almost 11 hours to work through the 47 video lessons and step-by-step demos.
But this course is definitely well worth your time! It's taught by Jay Calderon: fashion guru, professional coach, and author. AND he has been the executive director of Boston Fashion Week since 1995. He has a lifetime of industry experience to share with you.
There are so, so many topics covered in this course but to name a few, you will learn about mood boards; fashion inspiration resources; how to find a specialty and craft a collection; how to draw, draft, and sew for fashion; drawing your muse and sketching a figure including rendering color and details.
He will also teach you about working with muslin; how to drape a basic form and experiment with style lines; how to create and true a pattern; and how to construct clothes. The course even covers fashion marketing and branding, building your business model, and fashion shows!
Strengths:
100% recommended by students
Comes with awesome bonus material: mood board checklist and other checklists; body measurements chart and other charts; sewing gear guide and other guides
Extensive course content
The fashion industry is an industry in which you can't forget about all of the little details. Details such as making an attention-catching label and a flashy tag that will tell the story of your brand in the blink of an eye!
In just 41 minutes you can work your way through 8 lessons that will teach you all about how to develop your brand, create amazing labels and more. This course is geared towards students of all levels but especially brand owners and product designers.
The topics you cover in this course will be invaluable when it comes to creating your own brand. You'll learn about the main label, secondary labels, trims, hangtags, stickers, creative packaging, and how to tell the story of your brand through brand collateral.
The design doesn't stop at the end of the hem! Make yourself into a well-rounded fashion designer by going the extra mile to make your brand more than just the clothes. This is the best online fashion design course for people looking to build a successful brand from the ground up! Hands down one of the best online fashion design courses!
Strengths:
Very popular: 6,463 students
Suitable for all levels
Lots of positive reviews
Specific focus: branding and labels
Activate FREE Skillshare Trial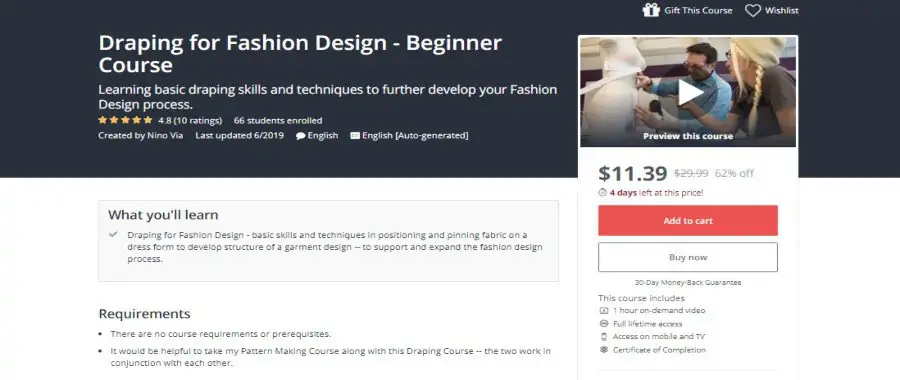 As there are so many aspects to fashion design, it's nice when a course narrows in on one specific topic. This Udemy course taught by Nino Via gives you a masterclass on one of the essential parts of fashion design: draping.
This course takes less than an hour to work through but you won't believe how many topics are covered in these 8 lessons! Nino starts by explaining how you can use draping techniques to create new fashion design ideas.
He then teaches you how to manipulate and mark muslin, how to create darts, and how to draft a pattern from the marked muslin. You will learn different draping techniques for different designs such as one and two-part bodices, basic skirts, circle skirts, and basic dresses.
Once you master draping, you will be well on your way to becoming a successful fashion designer!
Strengths:
4.9-star rating
Specific focus: draping
Low time commitment – less than an hour
Lifetime access to course materials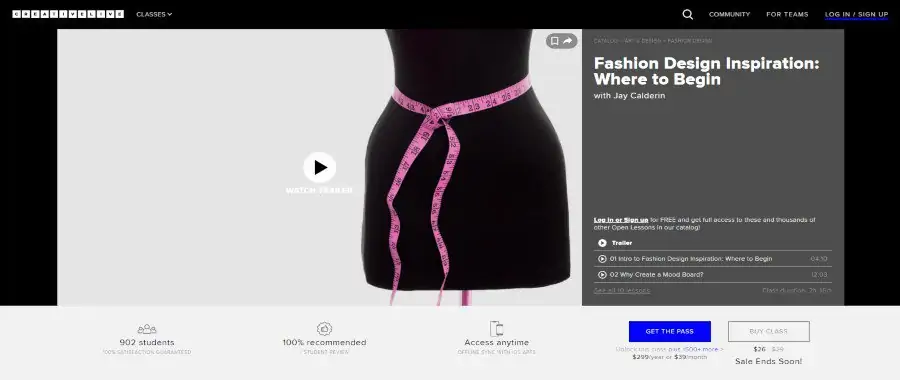 This is the perfect course to take if you have a passion for fashion design but you aren't sure where to start. In 10 informative lessons and two and a half hours of course material, you will get a great overview of what it takes to be a fashion designer.
This beginner-level course is taught by Jay Calderin, best selling author of three books on fashion design. See if fashion design lights a spark in you as Jay gives you the low down on the fashion design process. He teaches you about finding inspiration and creating mood boards that reflect your inspiration.
Then you will learn about the nuts and bolts of starting a fashion line; specializing in specific styles; and crafting a coherent collection. This is the best online fashion design course if you aspire to start your own fashion collection one day. Dream big, we all start somewhere! To learn more, you can check out my full CreativeLive review!
Strengths:
Popular: 901 students
Beginner level
Great all-around course
Reasonably priced – you can currently buy this class for less than $30!
This course looks at fashion design from a bit of a different perspective. Instructor and personal stylist, Caitlin P, invites you to discover your own personal sense of style. You will love learning about the best ways to incorporate your fashion preferences into your day to day life and design projects!
This Udemy course consists of 26 lectures and just over 1 hour of course material. And you will get access to some great resources including worksheets and shopping guides. The shopping guides cover different styles such as natural/boho, feminine/romantic, and classic.
Caitlin will teach you how to discover and feel confident in your style. She will teach you practical tips like how to create balance in your look and how to use vertical and horizontal proportions to your benefit, while also emphasizing and minimizing certain areas.
Other topics covered in the course will be how to use color; how to create outfits; how to mix and match colors or patterns; how to determine the best colors for your skin tone; and some resources you can use to find outfit inspiration.
This is easily one of the top online fashion design courses!
Strengths:
High 4.4-star rating
Resources: worksheets and shopping guides
Suitable for all levels
Lifetime access to course materials
Course completion certificate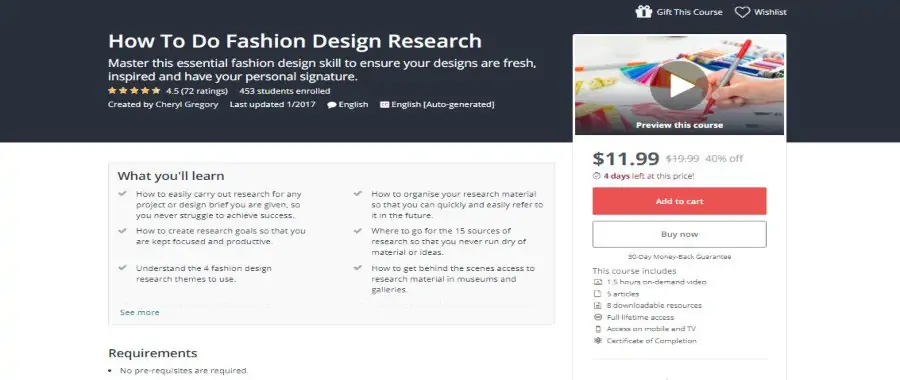 Inspiration can come from within, but it's also crucial to be able to draw on history when working with design. Over the course of 18 lectures and an hour and a half of course material, Cheryl Gregory will teach you how to carry out research for any project or design brief you are given.
You will learn how to effectively organize your research material for future reference; how to stay on track with your research goals; how to use a research planner to manage your projects; and how to get behind the scenes access to research material in museums and galleries.
Cheryl will let you in on her secret and share with you the 15 sources of research that will always deliver results. And the thing that makes this one of the best online fashion design courses is that you will learn how to become inspired when you feel stuck and can't get your creativity flowing. Easily one the stand out fashion design courses!
Strengths:
High 4.4-star rating
Suitable for all levels
Geared towards fashion designers and fashion design students
Teaches you how to find fabric, creative, historic, and trend themes
Resources: you will receive complimentary key learning point sheets, a research planner template, sheet as well as personal goal plans and action planner for use during and after you have completed the course.
End of course quiz (10 questions)