Learn How To Sew With 2023's Top 16 Best Free Online Sewing Classes & Courses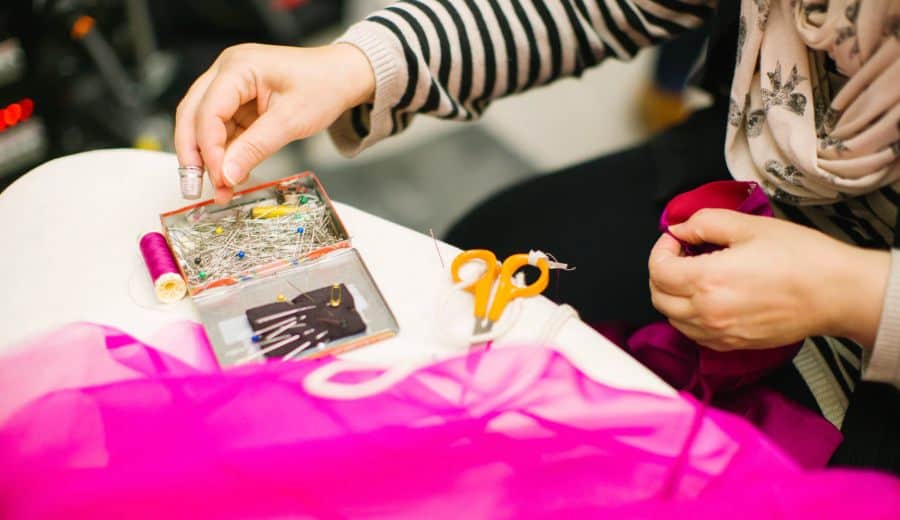 If you are looking to level up your sewing skills, learn how to repair a garment, or start sewing as a hobby. You are in the right place!
In this guide, I have rounded up some of the best free online sewing classes in 2023 so you can feel confident that you are learning from the best.
This guide also covers a wide range of online sewing classes for beginners, advanced sewers, and everything in between. Let's begin!
Top 16 Best Free Online Sewing Classes & Courses In 2023
---
First up on my list is an outstanding beginner online sewing class that walks students through step-by-step on how to get started.
Over 14 lessons, you'll be led by your teacher, Valeria, who is a textile and surface pattern designer who runs her own custom-made lingerie business. She also teaches classes and workshops on sewing techniques for beginners to advanced students, so you will be in great hands!
Some of the topics covered include learning how to understand fabric, how a sewing machine works, technical language like 'seam allowance', needle and stitch types, and also a bonus lecture on the direction of patterns.
As for the price of this course, there is none! Being hosted on Skillshare, new users can take advantage of their 1-month free trial (cancel anytime) and take all the sewing classes on the platform. Overall, this is one of the best online sewing classes perfect for those with no prior experience.
14 video lessons
1 hour and 5 minutes of content
653 people have taken this course
Perfect for absolute beginners with no sewing experience
Activate FREE Skillshare Trial
Next up is a top-rated sewing class from Juliet Uzor. You probably know her as the winner of the Great British Sewing Bee, the popular BBC show. She's now become a well-known craft and sewing blogger and Youtube personality.
In this course, you'll learn about why Juliet stopped buying clothes and started making them for herself. And she'll put you on a path to do the same.
You'll start by learning basic sewing machine techniques and how to expertly prepare the fabric for sewing. From there, use the final dress-making project to walk step-by-step through designing, sewing, and finishing a one-of-a-kind dress of your own design.
And to no one's surprise, this creative course is brought to you by Domestika. It's another example of their unique blend of high-quality production, top-notch instructors, and reasonable course fees. If you haven't heard of Domestika, check out our in-depth review on them.
Beginner-level course
Audio in English (subtitles in 6 additional languages)
In-depth course: 5+ hours of content across 26 lessons
Certificate of completion when you finish
USE CODE SKILLSCOUTER-10 FOR AN EXTRA 10% OFF ANY OF THE COURSES AVAILABLE.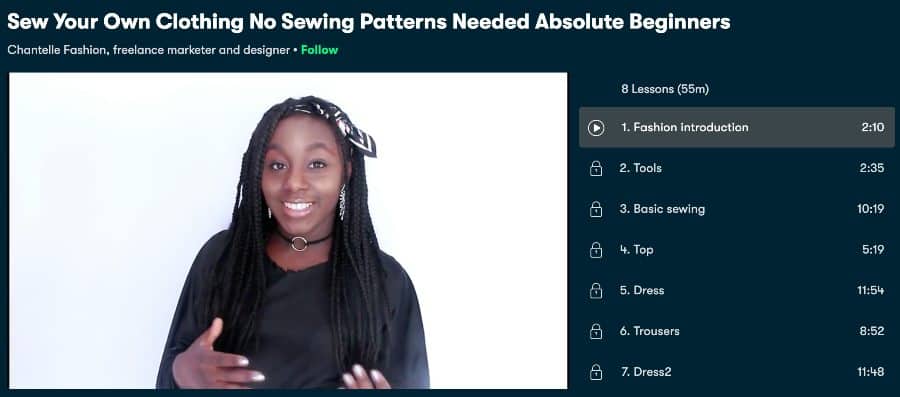 Without the need for complex sewing patterns, this online sewing class allows absolute beginners to explore creating clothes from a simple pattern-making method.
Your sewing teacher, Chantelle Fashion, holds a degree in honors fashion and has helped thousands of students to become better sewers.
Modules included in this course cover an introduction to fashion sewing, an explanation of beginner's tools and techniques, and how to create clothes patterns for tops, dresses, pants, and trousers. Students will also learn some sewing techniques such as standard stitches and how to seam curved and straight edges.
As this course is hosted on Skillshare, users can take this course plus Chantelle's 11 others on the platform for free when activating the 1-month free trial. Overall, this class is ideal for those looking to design and make their own garments.
Suited for complete beginners
No fancy sewing patterns are required
8 lessons in total
55 minutes of video content
1,175 students have taken this course
Requires a sewing machine, and general sewing tools such as pins, measures, thread, etc.
Activate FREE Skillshare Trial
This best-selling course teaches you the basics of using a sewing machine and also covers topics such as threading, pinning, sewing straight, and many more. You'll also get to create your own pillowcase and envelope pillow from the instructions offered.
As for your tutor, you'll be expertly guided through the basics by Margaret Smith, a self-proclaimed 'sewing addict' that has been teaching sewing skills for over a decade, as well as selling her own creations.
Some of the core basics that are covered in this online sewing course include threading your machine, making a 'bobbin', how to cut fabric, how to pin in properly for sewing, as well as stitch and seam finish techniques.
This course is one of 7 that Margaret offers on Udemy, which is a learning platform that caters to over 50 million students around the world as they learn basic to advanced skills on a range of subjects. For those looking for a more technical introduction to sewing, this is a great starting point!
Suited to absolute beginner level
4.5/5 from 591 past participant ratings
5,139 students have taken the course
55 lessons
Certificate of completion
2 hours and 24 minutes of content
Requires a sewing machine, iron and ironing boards, crafts/sewing tools such as pins, measures, thread, etc.
In this expert-guided 4 part course, you'll learn all the basic techniques you'll need to follow a pattern and create beautiful garments.
Your teacher, Deborah Kreiling, has been sewing for 35 years, creating sewing patterns with the Simplicity Pattern Company during this time. She currently works as a Design Development Director for that company and has 5 courses available online for sewing students.
In various chapters detailed in the four-part video course, you'll learn the specific ways of sewing a gathered skirt, as well as a top or dress with the princess seam technique as well as additional methods of adding pockets, zippers, and facings.
Creativebug is the host of this course which is dedicated to teaching art and crafts online and has 1,000's of HD instructional video classes. Overall, this one of the top online sewing classes for those who want to specifically focus on how to sew clothing.
3 hours and 46 minutes of content
Easy-to-follow 4 part course format
Led by a sewing master, Deborah Kreiling, with 35 years of sewing experience
Suited to beginner and intermediate sewers.
Next on my list is another free online sewing class that is designed for intermediate sewers who are looking to sell their creations in markets or even on Etsy. Students will also learn how to save time and fabric in a streamlined process of sewing to get the most out of your production. This course is one of two that she currently has on Skillshare.
Your instructor, Melanie Smith, is a surface pattern and sewing pattern designer who has her work featured in the popular sewing publication 'Stitch Magazine.'
In just under an hour, students will learn the intermediate skills of how to set up efficient processes of making specific cutting templates and how to cut and streamline the process of sewing. You will also learn extra tips for professional sewing and pressing of your final product.
If you already have some experience in sewing and would like to make some income from your passion, this is a great class that sheds some light on the process and quality standards. Overall, a great pick that has been taken by over 3,000 students!
10 video lessons
46 minutes of content
Suited for intermediate sewing students
3,116 students have taken this course.
Activate FREE Skillshare Trial
In under an hour, you'll develop more confidence to attempt simple sewing projects on your own after going through this short-course. You'll be guided through two simple, fun sewing projects in 8 video lectures.
Led by Christie Daughtery, this one of 11 courses that she has on offer. As an artisan and creative coach, she loves teaching students simple and basic skills that result in expert and professional-looking designs.
This online class covers sewing techniques for squaring fabric and understanding directional fabric, as well as guidance for how to sew a travel tissue pouch and a cinch bag.
Hosted on the online course platform, Udemy, this course is one of thousands of skill-based courses available for more than 50 million students.
78 students have enrolled in this course
Perfect for beginner to intermediate sewers
Requires basic familiarity of a sewing machine
8 video lectures
38 minutes of content.
This online sewing course is a unique stand-alone lesson that simply details how to thread your machine and wind a bobbin. Perfect for sewers looking to learn this skill in under 10 minutes.
Liesl Gibson is the instructor of this short video lesson. She's a designer based in Madrid, working for various labels and sewing pattern companies. She currently has 21 courses available on the Creativebug platform.
The course is a very quick structure of a 7-minute video that guides you through the basics of threading, winding, and sewing seams. You'll also get the opportunity to ask your instructor questions in the comments and interact with other students.
Creativebug is where this short course can be found, along with other arts and crafts courses of various lengths for beginners to advanced students. Learn skills such as knitting, painting, drawing, baking, and sewing, among others.
1 simple video lesson
Quick 7 minute instructional mini-course
Suited for beginners
Outlines two essential skills to understand your machine
Requires access to sewing machine and related tools.
In just over an hour, learn how to sew your own garment designs using block patterns. Also, gain insight into how to recognize quality construction on garments to become a more effective shopper.
This course is special as it is hosted by designer Joshua McKinley, who was featured on the Project Runway Season 9 show, as well as the All-Star Season 2. Educated in New York and Italy, Joshua continues to create his own collections and shares his skills and tips in some short courses online.
The course content covers block patterning technique, fabric cutting, how to create a flat felled, tailored edge, and French seam, and additional skills known as 'Hong Kong Binding.'
Hosted on the Skillshare website, it's one of the thousands of courses available on the learning platform that gives students the chance to learn new skills, or advance in their existing hobbies, such as crafts and sewing. Overall, this is one of the best online sewing classes for those who want to make their own clothing!
16 video lessons
1 hour and 10 minutes of content
Beginner to intermediate students
4,217 people have taken this course
Taught by famous designer Joshua McKinley from Project Runway.
Activate FREE Skillshare Trial
This is a unique offering for students because as part of this online sewing course you'll also get physical patterns mailed to you to use in your own designs.
Your instructor, Sara Alm, has been sewing since the age of 6. She's now a designer, pattern maker, author, and recently launched a line of women's activewear. Sara has also made many other online sewing classes, so this is just first of many!
Spanning over 5 hours, this is a more in-depth short course that covers how to prepare your tools, choose patterns, mark and cut fabric, and more. All of the essential garment-making skills you'll need to create your own designs are covered.
The course is featured on the learning platform Bluprint, which is an online course site specifically dedicated to arts and craft skills for all levels of artistic experience.
17 HD video lessons
4.8/5 from past participants
Over 5 hours content
Suited to beginner garment sewers
Receive a physical dress pattern in the mail.
In just under 15 minutes, you'll be taken through each step of the process of creating a sweet Boxy-style top. Additionally, get a free multisite pattern that you can download and keep for your future designs.
Led by sewing blogger and pattern designer, Laura Casey, this course offers guidance throughout the whole process of creating this garment. Laura runs the sewing website called 'Sew Different', where she shares patterns, tips, and tutorials for creating unique and high-quality garments.
The course will cover how to print a pattern, buy the necessary fabric, lay the pattern and cut the fabric, attach the sleeves, sewing up the front and sides, and adding finishing touches to the vents and neckline.
Skillshare hosts Laura's course, which is among 27,000 premium paid courses and over 2,000 paid courses that can be found on this online learning platform.
8 video lessons
14 minutes of content
Suited to beginner students
869 people have taken the course
Receive a free pattern as part of your participation.
Activate FREE Skillshare Trial
Next on my list of free online sewing classes is a well-rounded course that will guide you through the skills you need to eventually create your own clothes. As an introductory course for new sewers, it's a great place to start if your goal is to make clothes.
Taught by Joy Macdonell, Education Director at the company 'Simplicity Creative Grip, she teaches sewing skills online and has been featured multiple times on television channels such as the DIY Network, PBS, and the Home Shopping Network representing the Martha Stewart Crafts company.
In this comprehensive course, you'll learn all you need to know to establish the foundational knowledge of clothes making. The course covers how to set up your machine, the different threading, and stitching techniques, how to read and layout a pattern, the essential elements of attaching facings, zippers, and edging garments, and much more.
You'll find this course on Creativebug, a arts and crafts learning platform that features courses led by established designers and well-known names in the artistic world of illustration, design, and crafts such as sewing.
Suited for beginner sewers
1 hour of video content
9 video lessons
Sewing machine and all related sewing tools needed
Rated 4.8/5 from past participants.
As patterns are a big part of the design process for sewing, the ability to read patterns is essential. This course is specifically dedicated to teaching students how to read print, PDF, and vintage patterns.
Over 1,000 students have taken Ariana Bauer's course on Udemy. Ariana is a sewing teacher, pattern maker, and designer who has been sewing since the age of 6. She has created this pattern reading course to give new and experienced sewers insight into expert pattern reading and understanding skills.
Covered in the 11 lessons of the course are instructional videos on reading and understanding traditional printed patterns, as well as PDF patterns, and vintage and antique patterns.
The online learning platform Udemy is where you'll find this course, which is among thousands of skill-based courses available on a range of topics that range from less than 15 minutes to hours of guided content.
Suited to beginner and intermediate level sewers
11 video lessons
1 hour and 12 minutes of content
4.5/5 rating from past participants
1,106 people have taken his course.
In over 2 hours of comprehensive content, you'll learn all of the most essential sewing techniques you'll need to get started on your sewing journey. From understanding the machine to using specific sewing tools, you'll feel more confident to explore this wonderful hobby and advance in your skills.
Taught by Ashley Hough, a National Sewing Circle teacher, the course offers insight into what she describes as the most 'essential' sewing skills. Ashley's patterns have been featured on popular sewing publications, and she has also been on the show 'Sew It All TV.'
The core skills covered in this course include how to choose the correct thread, needles, cutting tools, and fabric. Additionally, explore the different brands and models of sewing machines to get an idea of what would be right for you to use.
Udemy is the platform host of this particular course, which is among 150 thousand courses featured on the site that have had close to 300 million course enrolments.
4.7/5 rating from past participants
Suited to beginner level sewers
9 video lectures
2 hours and 18 minutes of content
61 students have taken the course.
This short course guides you through the process of creating your own basic designs, focusing on 3 key projects: a napkin, a pillowcase, and a maxi skirt. Additionally, your instructor, Roxy Taghavian, finishes with offering tips that will help you continue with your sewing hobby.
Roxy Taghavian is your teacher for this course. She's been passionate about DIY crafting since she was a child, and creates content for the artistic online publication Brit & Co.
Key techniques you'll learn in this Sewing 101 course include how to select and handle fabric, the basics of using a sewing machine, and simple guidance in creating the napkin, pillowcase, and maxi shirt projects included in the course.
Bluprint is an online craft and arts platform where stunts of all experience levels come to learn new artistic hobbies or brush up on key skills. As a subscription-based online platform, you'll have access to hours of learning about topics that range of design and illustration, to sewing and even baking.
1 hour and 2 minutes of video content
5 lessons
Suited to beginner sewing students
You'll need access to a sewing machine and related tools.
With more than 24 million views, this blog is packed with free resources for any level of sewing enthusiast. The creator, Tilly Walnes, shares hours of content from written articles to video workshops for free, offering her expert insight into tips, techniques, and designing various sewing creations.
Courses and articles cover beginners topics such as how to start from scratch, with the tools and understanding you need to enter into the sewing world. She's got plenty of content for beginner projects, as well as skill-specific guidance for common sewing methods of topstitching, using digital patterns, creating linens, tracing patterns, finishing seams, and making adjustments to designs.
Additionally, there are lots of general sewing tips like how to be more accurate and common mistakes people make on the machine, which is great for more experienced sewers looking to refine their skills.
Tilly is also a Sunday Times Bestselling author – her first book for beginner dressmakers called 'Love at First Stitch' also winning the Best Book in the 2014 British Sewing Awards. She has two more sewing books and has also been featured in The Guardian and New York Times. Overall, one of the top online sewing classes for newbies! To learn more, you can also see my guide on online knitting classes.