Top 10+ Best Free Online Pottery Classes & Courses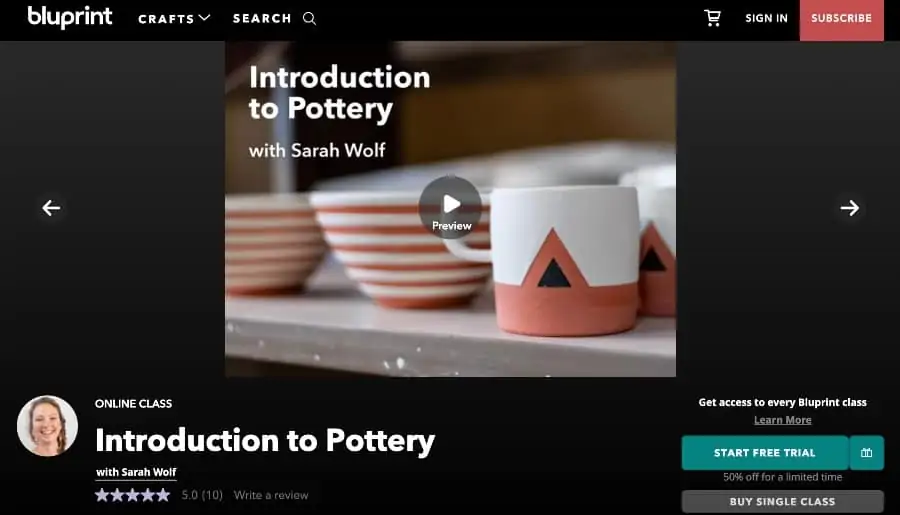 If you want to learn pottery so you can make your own ceramics, you're in the right place!
In this guide, I have rounded up some of the best online pottery classes in 2023 that you can take in your home.
As an added advantage, many of the below classes can be taken for free and are also great for beginners and those looking to use a pottery wheel like Patrick Swayze.
Let's begin!
Top 10+ Best Free Online Pottery Classes & Courses In 2023
---
First on my list is a great beginner class that guides you through the basics of creating free-form pottery dishes. You also won't need a pottery wheel or extra equipment, just your hands and an open mind!
Ceramic artist, Cindy Guajardo, will guide you through how to work with wet clay in these simple-to-follow hand-building clay techniques for beginners. Cindy has worked in clay-art for almost 20 years and has vast experience teaching children and adults, so you will be in capable hands.
Some of the video lessons taught include clay-crafting supplies and tools (suited for beginners), how to roll an even wet-clay slab, methods for texturizing clay, cutting shapes, and how to print and format designs on the clay. Additionally, you'll be guided to make a free-form pottery dish.
Currently, this class is hosted on Skillshare, which can be taken for free using their 1-month free trial! Overall, this is a great introductory pottery class for beginners who have minimal tools at their disposal.
Beginner level
24 minutes of content
11 Lessons in total
1092 students have taken this course
Led by creator of art and clay studio Ceramicscapes, Cindy Guaajardo.
Activate FREE Skillshare Trial
Next on my list is another great Skillshare course that will give beginners essential techniques for using a potter wheel. From start to finish, you'll learn your way around a pottery wheel in these guided videos from basic throwing of a clay pot to advanced design techniques to spice up your edges and finishes.
In 16 video lessons spanning over 1 hour, Steve McDonald will guide you through beginner and intermediate pottery wheel skills. Steve has been a ceramics pottery artist for more than 2 decades and shares most of his work on his website pottery-on-the-wheel.com, as well as his paperback 'Pottery on the Wheel for Beginners' book.
In this course, you will learn how to set the wheel up, methods of throwing, centering, pulling walls and shaping a pot, cutting it off the wheel, and trimming it. Beyond simple pot making, the course covers rim finishing methods, spouts, scalloped edges, and a 3-step process of creating your own pottery mug.
Being hosted on Skillshare, new users can take this class, and all the others mentioned on this list for free when using the 1-month free trial! Overall, a great class for those looking to master the pottery wheel.
Beginner to intermediate ceramics students
16 video lessons
1 hour and 4 mins of content
Pottery wheel access required, as well as basic ceramics tools
1214 students have taken this course
In this class, you'll be guided through the process of creating a clay mug from start to finish in this 35-minute beginner's pottery course. You will also learn expert ceramics tips of selecting the right clay, throwing it on the wheel, and how best to glaze the final piece for a professional finish.
Helen Christgau Levi will be your teacher for this beginner's course, who is a New York City-born and raised photographer and potter who owns her own ceramics studio and shop in Queens.
In 9 lessons, you'll cover the topics of preparing your clay, wheel throwing, trimming your mug, forming the handle, attaching the handle to the mug, glazing, and finishing your piece. Also included in a bonus lesson on Bisquing.
Overall, this is a great introductory class that really does cover a lot in a short amount of time. This course has also been taken by 5,000 other students!
Suited to beginner level pottery students
9 lessons
36 minutes of video content
5,168 students have taken the course
Requires access to pottery wheel (though could be taken without one) and clay.
If you have absolutely no experience working with clay, this course is for you. Not only will you learn practical clay-throwing wheel techniques, but you'll also get insight into clay-specific concepts to understand the art of ceramics in an intellectual way.
Created by ceramic professor Trent Berning, this course is one of 4 artistic courses that Trent offers. With more than 25 years of ceramic art experience, he has his own book on the subject of wheel-techniques, as well as a regular following of students for his workshops across America.
As for the course material, students will learn the technical concepts of pottery wheel art, as well as practical methods of creating clay-art on a wheel. Through a mixed media learning experience of video demonstrations, text, and skill-enhancing exercises, you'll learn the process of clay-studio set up to artistic details and textures in your design.
Overall, this is a great starting point for someone who is after a technical and in-depth introduction to pottery.
Suited to pure beginners
Over 3 hours of video content
4.5/5 (33 ratings)
30 lectures
Requires access to pottery wheel and clay
With no need to buy any professional pottery equipment, this course is great for budding potters who want to learn simple hand-building techniques for crafting pots and other objects with clay.
Mandar Marathe, a fine artist, illustrator, designer, and sculptor, has 35 courses on the Skillshare platform, teaching artistic techniques from painting and drawing to pottery arts. In 22 in-depth lessons spanning over an hour, Mandar will guide you through how to create four beautiful clay objects without needing fancy tools.
Begin with a simple pinch pot design and work your way up to eventually sculpting a tortoise and hare. Additionally, the content covers hand pottery techniques for scooping, slab, and coil construction and tips for creating a textured pot.
This course is found on Skillshare, an online learning platform that offers courses from technology, business, and lifestyle topics, with over 2,000 free classes available.
Suited to beginners or intermediate ceramics students
480 people have taken this course
22 lessons in Total
1 hour and 20 minutes of content
Videos delivered in HD format for best viewing.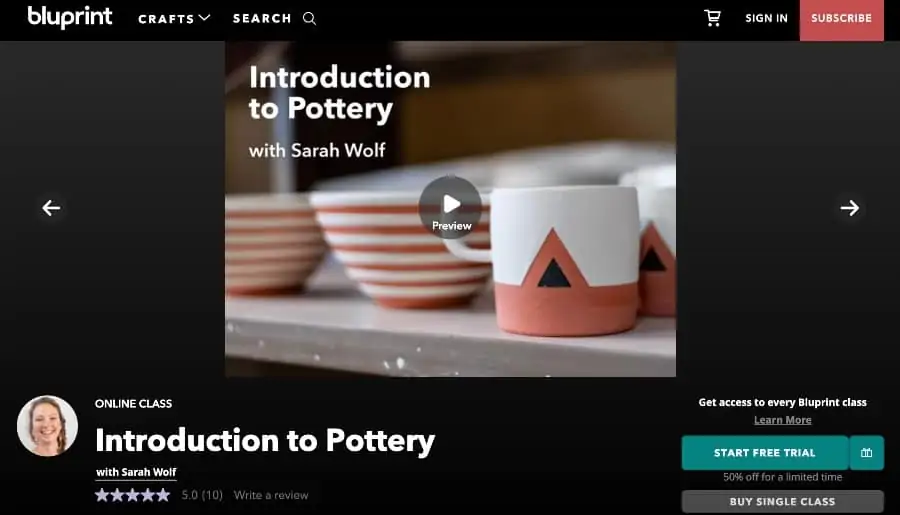 In just over an hour, learn the basics of pottery arts in 13 easy-to-follow lessons. Beyond the technical methods shared, the unique aspect of this beginner's pottery course is in the mindful guidance Sarah offers in tips of where to find inspiration for projects and how to think about pottery from aesthetic and practical purposes.
Sarah Wolf is the founder of Wolf Ceramic studio based in Oregon in the United States. Studying ceramics at the Oregon College of Art and Craft, she went on to share her home-crafted work to sell in her studio and now guides beginner students in this online pottery course.
You'll learn pottery-throwing methods to make your own mug. Topics range from how to set up the clay and studio space, as well as how to balance the clay on the wheel and use opening, pulling, and handle-crafting methods, as well as final glazing, to create your mug.
This course is hosted by Bluprint, a subscription-based online craft course platform that offers a vast range of artistic short courses for beginner to advanced levels of students in almost any artistic project.
5-star rating on the Blueprint community
Beginner level
13 lessons
1 hour and 17 minutes
Multiple clay crafting techniques covered
Requires clay, sculpting and cutting tools, a wedging table, wheel, and kiln.
As a short and simple stand-alone course, or ideally one to complete after Steve's first course we outlined in point #2, beginner ceramics students will learn the basic method of creating a plate on a pottery wheel.
In just 5 video lessons spanning 21 minutes, Steve McDonald shares his passion and love for pottery in this plate-creation course. Working with ceramics for more than 20 years has given Steve his expertise to lead students of all levels through ceramic art projects.
Step-by-step, you'll learn how to center and open the clay on the wheel to create a plate. Specific plate-methods of smearing and compression of the clay, as well as shaping, cutting, drying, and trimming the final product, are also covered in the course.
Skillshare is an interactive online learning platform that hosts over 2,000 free courses and more than 27,000 paid-subscription based courses. This is one of the free courses available through the platform.
Suited to all levels of students
5 short video lessons
A simple short course at 21 minutes long
572 students have taken this course
The second course led by Steve McDonald (as standalone or accompaniment to his first pottery wheel course – which is recommended).
Step-by-step, learn to create a pot and plate from start-to-finish in this beginner and intermediate ceramics pottery wheel based course.
This is one of the 15 courses that Steve McDonald has available on Udemy, where over 250,000 students have taken his courses, giving him a 4.4/5 instructor rating.
Within his 18 video lectures, students will learn methods of throwing, cutting, drying, and trimming your pot and plate design on the wheel. What's unique about this course is that Steve offers additional tips on the main mistakes beginners make on the wheel when creating pots and plates.
The course is featured on Udemy, a leading global online learning platform that connected millions of students to thousands of instructors in over 295 million courses.
1 hour and 23 minutes in total
18 video lectures
Bonus 15 page downloadable eBook
437 students have taken the course
Highly rated course at 4.8/5 from past participants
Suited to all student levels of ceramic arts.
The simplicity of this course is in the ability of any ceramics beginner (or experienced student) to create a clay piece without needing complex tools or a pottery wheel.
From her Kansas City studio, Emily Reinhardt shares expert tips for beginners to create their own ceramics art without the need for a pottery wheel. Emily is the founder of 'The Object Enthusiast', her online ceramics store featuring one-of-a-kind creations from her studio for sale.
In just under 30 minutes, Emily covers hand ceramic techniques of working with a slump mold, how to slab build, pinch and coil methods, how to prep your piece for the fire, plus glazing and design tips.
Skillshare is the online learning platform that hosts this course, which is among more than 27,000 courses available for students of all levels to enhance their skill sets in a vast range of areas.
4,365 students have taken this course.
Suited to all levels of ceramic students.
Short course, 29 minutes long.
8 detailed video lessons.
A kiln is needed to finish your product in the glazing phase (local studios general offer this service).
Learn 3 hand-building clay techniques in almost an hour and a half of guided content to craft objects and animals without needing expensive equipment.
Mandar Marathe has conducted multiple workshops and online courses for people around the world. As a fine artist, sculptor, and illustrator, his creative-courses cover many artistic fields, with over 2,800 students joining his 32 courses.
The course covers over 25 instructional videos, clay techniques of coiling, slabbing, scooping, texturing, and more, as well as specific animal sculptures being offered as example projects to try.
Udemy features over 57 thousand instructors sharing their courses from around the world in almost any topic you can think of. This is one of the 150 thousand courses available on the platform. If you are looking to learn more, also see my guide on some great online jewelry making classes.
25 video lectures
1 hour and 26 minutes of content
No need for expert pottery equipment, in this hand-building method
235 students have taken this course
Suited to all levels of students, particularly beginners.