Top 11 Best Free Online Jewelry Making Classes
Creating something you can wear is one of the most rewarding things one can do. So if you want to learn how to make jewelry from scratch, this is the place to be!
After many hours scouring around the web, I have rounded up some of the best online Jewelry classes in 2023 that you can take right now.
In these classes, you will learn how to make rings, necklaces, pendants, bangles, bracelets, beading, and the list goes on! Let's get dug in!
Top 11 Best Free Online Jewelry Making Classes 2023
---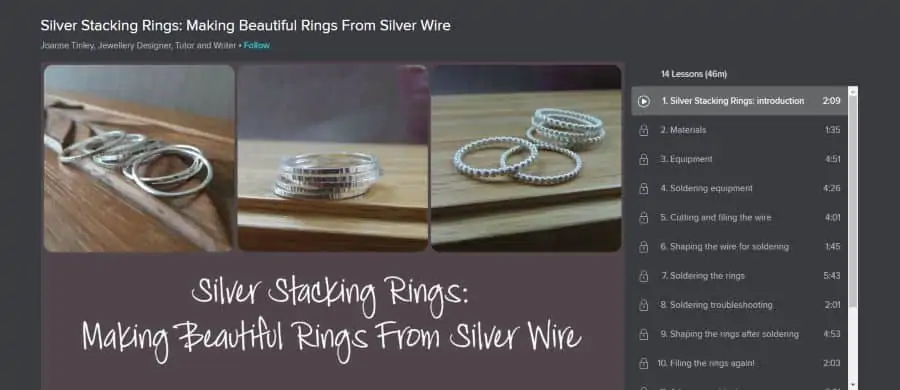 If you have some extra silver wire laying around and you want to make something really beautiful out of it, then this is the class for you.
Your instructor for this class is Joanne Tinley, a jewelry maker and long-time teacher of jewelry-making methods. In a little under an hour, she will show you some of the best techniques and methods to use as well as the tools necessary to make the rings.
Included in the instruction are several downloadable documents that highlight what tools to use, how to size rings and other actionable tips. This course also covers soldering, filing, and polishing which is part of an ongoing series of jewelry-making classes offered on SkillShare that are taught by Joanne. Check them all out!
While this is a beginner-level class, it may also be a great course for established jewelry makers as well, perhaps those wanting to delve into working in silver wire. Highly recommended!
Beginner level
46 minutes on-demand video
Taught by an established jewelry designer
Extra resources
Class projects
Part of a series of classes by the same instructor
Activate FREE Skillshare Trial
In just under 1 hour, jewelry designer Joanne Tinley will show you how to take simple silver wire and transform it into beautiful bangles in a few steps by using several silversmithing methods.
Instructor Joanne Tinley has been designing and making different styles of jewelry for years and has been teaching jewelry making for a long time as well. Her classes are easy to follow and you come away with real information to help you develop skills.
Following her guidance, you will take a silver wire, add to it by soldering, filing, hammering, polishing, and shaping, making it into bangles worthy of wearing, gifting, or selling. In addition, there is also a great module on stone setting!
Being hosted on Skillshare, users can take this course plus many others for free on Skillshare's 1-month trial!
Beginner level
57 minutes
Silversmithing
Teacher is a jewelry designer
Online resources
Class projects
Activate FREE Skillshare Trial
From popular jewelry designer and instructor Joanne Tinley comes another class teaching how to use a jewelry saw for intricate or simple designs and shapes.
If you are already making jewelry of any kind, this class will be an easy fit for your skills and knowledge. Even if you are brand new to jewelry making, this course may be useful, especially if this is the style of jewelry you plan to make.
What makes this course unique is that it covers techniques such as drilling, sawing, filing, and sanding which can apply to all jewelry making disciplines.
In total, this class is 9 lessons of 35 minutes of on-demand video which also includes some class projects that students can follow along with. Overall, a great pick!
Intermediate level
35 minutes
Taught by jewelry designer
Specifically covers jewelry saw techniques
Downloadable templates included
Class project
Activate FREE Skillshare Trial
Next on my list is a great course by Bluprint (an arts and crafts e-learning platform) that is going to teach you how to make a wire hoop necklace. Much like Skillshare, Bluprint also offers a subscription-based model of all of their jewelry making classes. They even have a free trial with no strings attached!
Taught by Heidi Boyd, she is an author of several crafting books and is also a jewelry designer who has had her jewelry featured on HGTV. This 38-minute beginner level class is taught in a similar style to her instructional books on crafting and jewelry design which are very easy to follow along with.
During this course, you will learn some of the basic techniques and skills of working with wire and then put those techniques to work in a practical project. Overall, one of my top online jewelry making classes!
Beginner level
38 minutes
Taught by jewelry designer and crafter
Hands-onn training
Class project
Phone and tablet app available
Wire links are a way to make a unique pattern in your jewelry, bracelets or neckwear. The tools and techniques are different than a DIY crafter may be used as opposed to stringing beads together. But it doesn't have to hard to master, which this class shows very well.
Jewelry designer Jessica Barst shows you how to design and create a bracelet for yourself in this 27 minute 7 lesson class. It's a beginner level but is useful information for all levels of crafters.
What you learn in the class are finding the right tools for the job, how to form loops from wire including tips and tricks for consistent repeatability, connecting your loops and finishing touches, and how to avoid the common mistakes.
At the end of this class, you'll have a new bracelet and the skills to make more.
Beginner level
27 minutes
Teacher is a jewelry designer
Specific about wire loops
Class project
Tips and tricks
Activate FREE Skillshare Trial
Another great class from Bluprint, this one is quite a bit longer than the previous courses reviewed at over 4 ½ hours, separated into 13 episodes. The reason it is so much longer is because it covers a lot of different methods, types, and techniques.
Taught by jewelry artist Max Goodman, you will take a deep look into four different techniques as listed in the course title. Beads, wrapping, chains, pearl knotting, photo etching, plus heaps more!
After this course, you'll be well versed in designing and making your own jewelry for fun and profit.
Beginner level
4 hours 40 minutes on-demand video
Professional artist class conductor
4 different jewelry types taught in 13 lessons
Class projects
Very highly rated class
Back to short classes, this one is only 17 minutes of on-demand video. That seems pretty limited, but it isn't. This class has all the information you need to make the class project, a dangling bead necklace.
Jennifer and Kitty O'Neil of Running With Sisters (great company name!) are your teachers. Professional jewelry designers and crafters, they have been featured on HGTV. They also write books for crafting and jewelry making.
In this course, you learn how to use the three basic tools used in most jewelry making, chain-nose pliers, round-nose pliers, and wire cutters. You make your own jewelry as a class project in this beginner to intermediate level class.
To learn more, you can see my guide on how to get Skillshare classes for free!
Beginner/Intermediate level
A very short 17 minutes of on demand video
Instructors are professional crafters and jewelry designers
Cover three basic tools used in crafting
Very fun approach
Class project
Activate FREE Skillshare Trial
You can't show off your work online if you don't know how to photograph it properly. Let's face it, only so many people will see your jewelry if you limit yourself to local craft shows or giving it away to friends. Nothing wrong with that, but if you want to sell, good images are vital.
It's not enough to have a good camera, the lighting is what makes or breaks small product photography. In fact, with good lighting technique, you can make good jewelry pics with your smartphone.
Professional photographer Konrad Eek takes you through the steps to get good images for websites. A couple of the problems in jewelry photography is that the items are often shiny or have a mix of shiny parts and less reflective bits and also that you need to highlight detail in the small pieces.
This 1 ½ hour intermediate level online jewelry making class covers all those concerns as well as styling and image placement and then post-processing to finish the image.
Intermediate level
1 ½ hours
Specifically about jewelry photography
Taught by pro photographer
Covers lighting and post-processing
Class projects
During this intermediate-level course you will make 8 complete projects, thus learning by doing as most crafting teachers feel is the best method.
Christi Friesen is the instructor, a jewelry designer with years of experience in making polymer clay pieces. The course is 1 hour 55 minutes separated into 15 different episodes. She primarily is interested in showing you how to work with polymer clay, adding it to other materials for mixed media.
There are a lot of tips and tricks shown along with the basic necessary techniques. It's a fascinating look at this media, even if you don't end up making it full time.
Intermediate level
1 hour 55 minutes
Specifically for polymer clay
Jewelry designer teacher
8 class projects
Highly rated class
A lot of crafters and jewelry makers like to repurpose older jewelry, damaged items, and even scraps left over form other projects. In this course, you will learn how to do that yourself, specifically for silver.
Taught by highly rated jewelry designer instructor Joanne Tinley, this online jewelry making class is good for all levels of expertise and is about 40 minutes of on demand video. It is the first in a series of classes for artistic jewelry design.
In addition to the online instruction, you receive several downloadable resources to help you learn.
During this course, you will make a pair of teardrop earrings out of scrap material.
All levels
40 minutes on demand video instruction
Repurposed materials
Highly rated trainer
Downloadable resources
Class project
Activate FREE Skillshare Trial
A great addition to the other Bluprint course from Christi Friesen about polymer clay jewelry, this class will walk you through making 10 different beads and charms for your jewelry-making projects.
It discusses how to bake the product as well as materials you can add to your polymer clay to enhance your creations.
It's beginner level instruction and is about 2 ½ hours on demand video. Extra resources are included to round out this online jewelry making class.
Beginner level
2 hours 21 minutes
Specifically for polymer clay
Downloadable resources
Jewelry designer instructor
10 different class projects
Final Thoughts
Jewelry making is loads of fun! It can also be quite profitable, either as a sideline or as a primary business. The best free online jewelry making classes teach techniques, methods, and sometimes even some insider tips and tricks for making beautiful jewelry for fun or for profit.
If you were to search online for jewelry to purchase, you would find pages with many different types of items. Metalworks such as rings, necklaces, earrings, and pendants, as well as ceramics or beads, wooden beads, pearls, feathers, and various other things.
As many types of jewelry that there are, there are also that many different courses for learning how to make that jewelry. Some courses cover multiple techniques, some may concentrate on one style. Pick and choose what you want to learn, what you want to make.
You may already be very involved in making jewelry. Some of these classes may help you to simplify your existing workflow or try something new. There are even courses covering small product photography for jewelry and marketing ideas.
Any way you look at it, if you like making jewelry, there is likely a great class for you online.