Top 13+ Free Best Online Cooking Courses Certifications & Training
If you are looking to improve your cooking skills, you're in the right place!
In this guide, I have rounded up some of the best online cooking courses in 2023 which are great for complete beginners or those who want to elevate their skills to the next level.
Below, you will find some standout online cooking classes with recipes for all types of cuisines and styles. Let's begin!
Top 13+ FREE Best Online Cooking Courses & Training 2023
---
Up first on my list is a great course that reminds you to keep it creative in the kitchen! Chef and restaurant owner, Paul Liebrandt, gets in touch with his inner artist and builds a dish inspired by Monet. You will get to follow along with his process and then get the chance to try it yourself!
The class project is to create a painting-inspired dish. Before you tackle that challenge, Paul will teach you how to find inspiration, discover ingredients, prep ingredients, and create the dish. He won't cover basic skills, so this course is best suited for cooks who already have some kitchen experience.
After just 7 quick lessons that will take you 30 minutes to work through, you will be able to cook a work of art that belongs in a museum! Once you've tapped into that vein of creativity, who knows where it will take you next?
Being hosted on Skillshare, students get access to this course and dozens of other cooking-related courses for free on their 1-month trial. Hands down one of the top online cooking classes!
Intermediate level course
Low time commitment
Accessible for free with 1-month Skillshare free trial
Access to 24,000+ courses
Offline viewing
Included learning modules
Activate FREE Skillshare Trial
If you're interested in cooking then there's a pretty good chance you already know who Gordon Ramsay is. And now he's here to teach you how to take your kitchen game to the next level. But don't worry, he won't be able to yell at you through the computer screen!
Over the course of 20 video lessons, 7-star Michelin chef, Gordon Ramsay, will share his expertise and genius. You'll learn a bit about Gordon's cooking journey and where his passion comes from. Then he will explain an effective kitchen layout and which pots, pans, and utensils you need.
You will learn technical skills like holding and sharpening knives; how to break down a whole chicken and a whole fish; and how to make and roll your own pasta dough. You'll also get to add several of Gordon's famous recipes to your repertoire.
Gordon will also teach you how to make poached eggs and mushrooms on brioche, elevated scrambled eggs with sea urchin and white truffle, chicken supreme with root vegetables, salmon with shellfish minestrone, lobster ravioli, and beef Wellington. Is your mouth watering yet?
For an in-depth dive into cooking from one of the best, you can't go wrong with this online cooking course from MasterClass. They offer more than 100 courses from A-list celebrities and a 30-day refund if you're not getting enough out of the subscription.
Bonus Resources: downloadable cookbook with lesson recaps, recipes, and supplemental material
Learn on mobile, desktop, Apple TV
Masterclass courses have a high 4.7-star rating
Extensive course content + recipes
Try MasterClass 30 Days Risk Free
Grilling is a fantastic skill that every well-rounded cook should know. Luckily for you, instructor Zakary Pelacciochef (who is a professional chef and restaurant owner) is a grilling expert. And after 11 lessons and 54 minutes of course material with Zakary, you will be well on your way to being an expert too!
This course kicks off with the foundation of grilling which is how to build a great fire in which to grill the meat on. There are even some class projects that you can try and follow along with. From there, the course focuses on grilling chicken and veggies, but you can apply the techniques you learn here to other red meats.
Lessons also included in this course are how to separate your chicken, how to season your chicken for the grill, timings, and techniques for grilling your chicken, and how to prepare a flame-kissed veggie salad on the side.
This is easily one of the best online cooking courses if you want to learn to grill over a live fire! You can also try this course for free using the Skillshare trial link below.
Accessible for free with the Skillshare free trial
Supplemental material: grilling guides for cook times per meat and chicken cooking time by parts
Low time commitment
Specific focus: grilling
Activate FREE Skillshare Trial
This MasterClass course is taught by Thomas Keller, the man who has won more Michelin stars than any other chef in America. You can rest assured that he is qualified to teach you everything you need to know about vegetables, pasta, and eggs!
Thomas will start by teaching you about kitchen setup and essential tools. Then he will discuss ingredients in detail, teaching you which ingredients are essential and how to source local, organic, and sustainable ingredients.
After that you will learn all about vegetables! Topics include blanching asparagus, glazing carrots, peeling tomatoes, braising artichokes, French purée-ing potatoes; making eggplant and garlic confit; roasting zucchini; and baking beets.
Eggs are a staple in any kitchen and Thomas will teach you all of the beautiful things you can make with them such as homemade mayonnaise; hollandaise sauce; meringue; scrambled, poached, and boiled eggs; and multiple varieties of homemade pasta.
This course will leave you with an infallible set of culinary skills brought to you by one of the best in the world! Easily one of the standout online cooking courses! And because it's on MasterClass, you get this course, the Gordon Ramsey course reviewed above and dozens more all for the same price as Netflix.
A downloadable cookbook with recaps, recipes, equipment lists, guides for essential tools and ingredients
The course can be accessed through any device: mobile, computer, or Apple TV
High 4.7-star rating
Extensive course content: 36 video lessons
Try MasterClass 30 Days Risk Free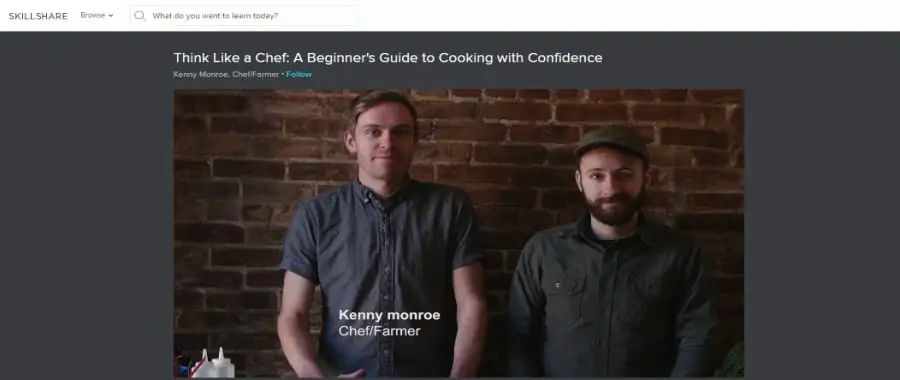 Who has 38 minutes to spare and wants to learn how to be a better cook? Hopefully, you answered, "me!" Because in just 15 lessons you will learn a new recipe and gain cooking skills that will increase your confidence in the kitchen!
This is a great fit for beginner to intermediate level home cooks who are interested in cooking with quality local ingredients. Chef and farmer, Kenny Monroe, is passionate about bringing local and seasonal ingredients into his dishes and he will teach you how to do it too.
He teaches you how to find ingredients at farmers' markets and how to stock your pantry with fresh and ethical ingredients. He also covers which essential cookware you need in your kitchen, coaches you on knife safety, and shares some useful knife skills.
The course project consists of going to the market, doing an inventory of your pantry, and recreating the dish that Kenny will teach in the course. He cooks roasted fingerling potatoes, sautéed kale, and pan-roasted chicken breast served with emulsified vinaigrette and seasonal grain and radish salad. Yum!
Overall a great course that takes a holistic approach to cooking.
Popular! 7,600 students
For beginner to intermediate level home cooks
Encourages cooking locally and with seasonal ingredients
Low time commitment
iOS and Android app
Activate FREE Skillshare Trial
This Udemy course will help you feel more comfortable in the kitchen by teaching you to whip up some classic comfort food recipes! Comprised of a very digestible 18 lectures and just over 1 hour of course material, this course is sure to go down easy.
Did you know there was a right and a wrong way to chop an onion? Well, there's definitely a more efficient way, and professional chef and cooking instructor, Viorel Copolovici, will show you. Learn how to chop onions, root veggies, and herbs and other staple kitchen skills like boiling pasta and rice.
You will learn how to blanch green vegetables and root vegetables as well as how to make vegetable, white chicken, and brown beef stock. On top of all that you will be taught classic recipes like vegetable cream soup, simple omelet, poached eggs, and delectable sauces like hollandaise and béchamel!
Bon Appetit!
High rating: 4.5 stars
Popular course! 3,759 students
Beginner-intermediate level
Some students found the material challenging as the instructor does not cover basic techniques
Comes with recipes
This is a course designed for beginner home cooks who want to improve their skills while learning how to be health-conscious in the kitchen. 43 jam-packed lessons and an hour and 17 minutes of learning material will have you feeling ready to tackle any recipe that comes your way!
Health-focused chef, Nic Demuth, will use video lessons and short quizzes to teach you valuable cooking skills using a green curry recipe as his model. The whole course is based around his three key skills for home cooks: mise en place, creating a flavor base using oil and salt, and building your meal in layers.
You will cover essential cooking skills like reading a recipe, food sanitation, washing raw ingredients, measuring ingredients, knife skills, why cutting ingredients consistently matters, understanding seasoning, building a flavor base, and essential kitchen equipment and plating.
You will also learn what happens when you turn up the heat! Nic teaches topics like deglazing a pan; when to stir your ingredients and what type of pan to use; using the whole pan to cook; how to reduce a sauce; how to avoid burning your dish; and tasting as you go.
Health-conscious
High rating! 4.5 stars
Very popular: 16,469 students
Lifetime access to course materials
Here we have the best online cooking course if you want to have some fun and learn to make meatballs on the side. In just 4 quick lessons, you will get the skills and inspiration you need to create your very own meatball and sauce recipe!
Co-founder and executive chef at The Meatball Shop, Dan Holzman, is eager to share his love of meatballs. He'll inspire you to create your own by taking you behind the scenes of his meatball-obsessed New York-based restaurant.
The class project for this course is to create your own meatball recipe. Over 60 student projects have been shared on the course webpage so you'll find yourself in good company and eager to share your own project! Hands down one of the best online cooking courses available!
Low time commitment: 32 minutes
Very popular! 4,472 students
69 student projects to look at for inspiration
Specific focus: meatballs
Activate FREE Skillshare Trial
The New York Times Cooking website is an amazing resource. The website is beautifully laid out, high quality, and easy to navigate. It is also full of fabulous recipes and tons of helpful cooking guides. Each guide gives you step-by-step instructions with photos and videos as well as ingredient lists.
The website is constantly being updated with new information so we can guarantee you'll always find something delicious and inspiring! Guides cover useful topics like how to make yogurt, baby food, jam, or ice cream. And those are just a few examples!
They also teach you how to work with common ingredients such as brussels sprouts, roast chicken, cauliflower, rice, pasta, asparagus, beans, eggs, and potatoes. And you'll find recipes for hearty and simple meals like mac and cheese, a sheet pan dinner, chili, fried chicken, salmon, burgers, and pizza.
Then if you want to wash down those great meals you can also find information on wine pairings and fun cocktail recipes. Last but not least there are tons of seasonal recipes and guides to help you tackle Christmas, Thanksgiving and more!
Suitable for all levels
Free access with a 4-week free trial
Countless recipes for novice and advanced chefs
Recipes are tagged with buzz words like "easy" and "healthy"
Constantly being updated with new material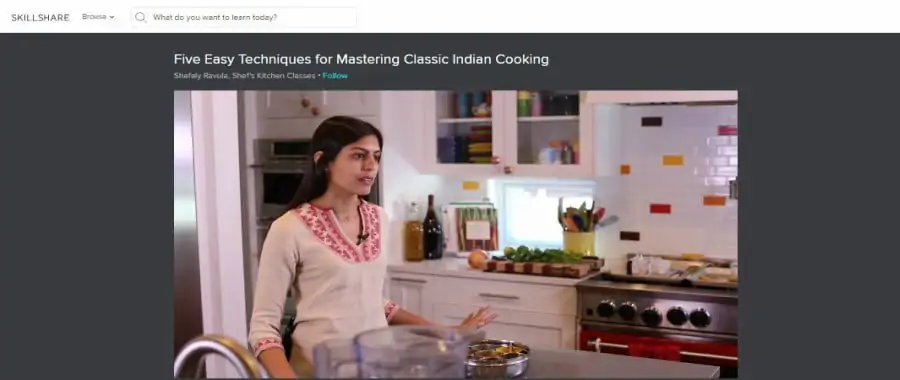 Indian cooking is full of flavor and richness. If you want to learn how to cook Indian-style meals like a pro, this course by the veteran cooking instructor, Shefaly Ravula, is a great place to start! This Skillshare course is designed for students of all levels who have an interest in Indian-style cooking.
You will learn about chutneys, and their uses in Indian cuisine; how to toast and grind spices; what masala means; how to make ginger garlic paste; what a curry is; Tarka/tempering spices; good gravy for a curry; and basic knife skills.
After completing the 8 lessons in this 46-minute course you will be tasked with recreating the five cooking techniques demonstrated in the course. This is one of the best online cooking courses if you're interested in Indian cuisine and looking for hands-on experience! To learn more about Skillshare, you can check out my post here on how to get it for free.
Specific focus: Indian cuisine
Popular: 1,678 students
Suitable for all levels
Low time commitment
Activate FREE Skillshare Trial
This class is for the cooking nerds! If you want to get familiar with the science behind cooking while cooking up some delicious recipes you will definitely enjoy this course put on by MIT.
The foods and recipes covered in the class will be: guacamole, salsa, homemade hot sauce, quesadillas, cookies, pancakes, bread, scones, coffee, meringue, jams and jellies, three-bean chili, cornbread, cheese, wacky cake, ice cream, pasta, meatballs, and crème brûlée.
Learn from experienced MIT instructors and discover how cooking is a form of chemistry. You'll come to this class for the scientific knowledge but you'll stay for the delicious recipes!
2h of class and 4h of reading/homework per week
Required textbook: McGee, Harold. On Food and Cooking, The Science and Lore of the Kitchen
Specific focus: chemistry through cooking
Includes a lot of recipes!
This course is for the Dads out there who are ready to step it up in the kitchen. Actually, it's for anyone who wants to discover the simplicity of cooking with a crockpot and make delicious meals that don't take up a lot of time. It's a win-win!
Instructor, Karen Breyer, is a health and wellness-focused home-cook. The recipes she teaches you have been tried and tested and they will not disappoint! In 27 lectures that will take 2 hours and 43 minutes to work through she teaches you the crockpot basics and gives you a great selection of healthy recipes.
Recipes include sweet potato burritos, Moroccan fiesta chicken, Parmesan potato wedges, salmon with Asian style vegetables, and many more!
4.5-star rating
1,544 students
All levels – even dads!
Health and wellness-focused
Video lessons, short quizzes, and supplemental resources
This Udemy course will help you deepen your knowledge of Indian cooking. You will learn to capture the amazing flavors of Indian cuisine in an authentic and mouth-watering way. It's suitable for all levels and you don't need any prior cooking experience.
Culinary instructor and cookbook author, Jyoti Sawant, provides you with 78 informative lectures and a whole 4 hours of course material. Some of the topics you will cover are the top spices and herbs that flavor Indian food and how to temper your ingredients.
You will learn how you can make hundreds of amazing Indian-inspired creations by following just 9 repeatable patterns and how to stock your pantry with essential items. You will also learn which cookware you'll need for cooking Indian food. Time to invite everyone over for a dinner party!
High 4.3-star rating
Popular course: 3,096 students
Specific focus: Indian cuisine
Lifetime access to course materials
Conclusion
One thing to take into account from the above cooking classes is that you don't have to follow them as gospel. Feel free to experiment and make mistakes along the way.
Because at the end of the day, cooking is an art form, not a science, so make the most of it and don't forget to enjoy yourself!
If you're looking for more kitchen inspiration check out our review of online baking courses. Or if you're thinking about pairing your new dicks with a craft cocktail or wine, we've got you covered as well.