Learn How To Edit Music With 2023's Top 10 Best Online Logic Pro X Courses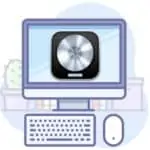 If you are seeking out the best online Logic X Pro courses to create professional-quality music on your Mac, you're in the right place!
In this guide, I uncover some of the top free Logic Pro X classes that will help you master this software while also opening the door to your audio creativity.
Below, you will find a wide range of courses with downloadable resources, on-demand video lessons, and in some cases a certificate of completion! Let's get started!
Top 10 Best Online Logic Pro X Courses & Training 2023
---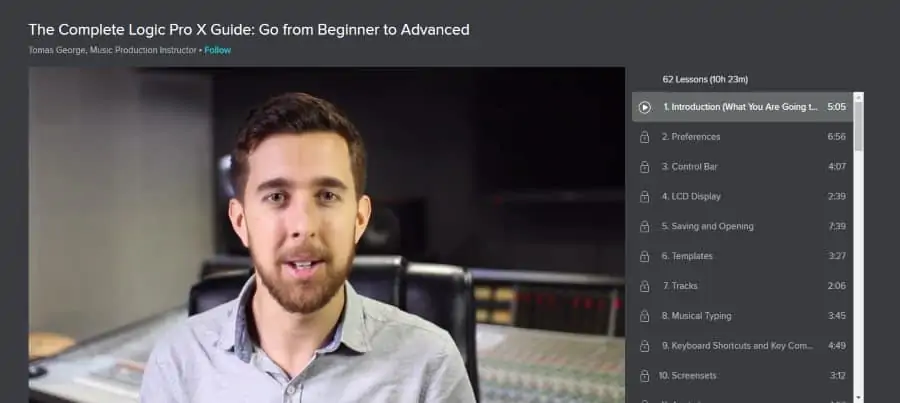 If you are a complete novice to Logic Pro X and are looking for a one-stop-shop to show you all the ins and outs of this powerful software, this might be the course for you!
Music producer, sound engineer, and composer, Tomas George, will provide a comprehensive overview of the software in an easy to follow manner, which makes this class great for beginners.
Some of the modules that Tomas covers include getting setting up Logic Pro X, making music with Apple loops, making music with MIDI/ software instruments, recording audio, mixing, and tons more!
After students are done with the 62 modules, they can then tackle a class project in which you make your own beat using drums, bass, and/or the keys or keyboards.
Being hosted on Skillshare, there is access to this class, plus 29,000 others when taking advantage of the 1-month free trial!
Course material includes several interviews with industry professionals
Popular: 1,762 students
Extensive course content – over 10 hours!
Beginner-friendly, with a fast learning curve
Activate FREE Skillshare Trial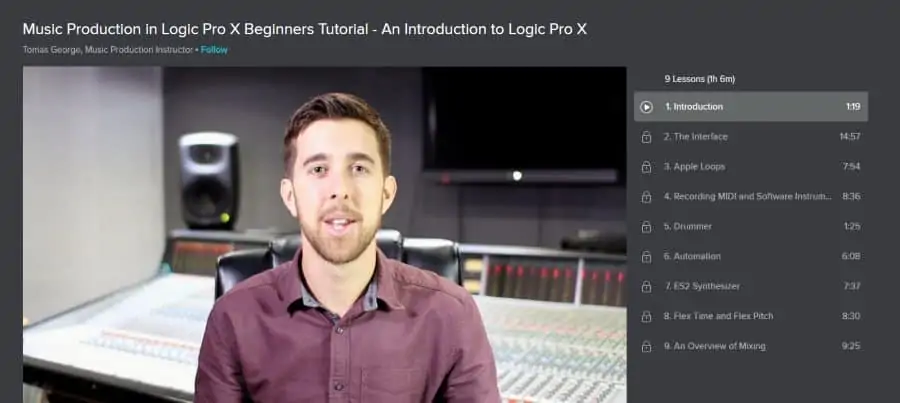 Up next on my list another great Skillshare course that is taught by experienced music producer and instructor, Tomas George. This is a much shorter introductory class than the above one that focuses on helping you to learn the basics of the Logic Pro X software.
Firstly, you'll learn about the interface then cover the essential aspects of Logic Pro X like Apple Loops, recording MIDI and software instruments, drummer automation, ES2 synthesizer, flex time and flex pitch, and an overview of mixing.
Again, being hosted on Skillshare, all students get access to all class materials, downloadable resources, the iOS/Android app, and all 29,000 other classes available on the platform!
Low time commitment: 9 lessons, 1h6m
Positive reviews from students
Awesome class project
Activate FREE Skillshare Trial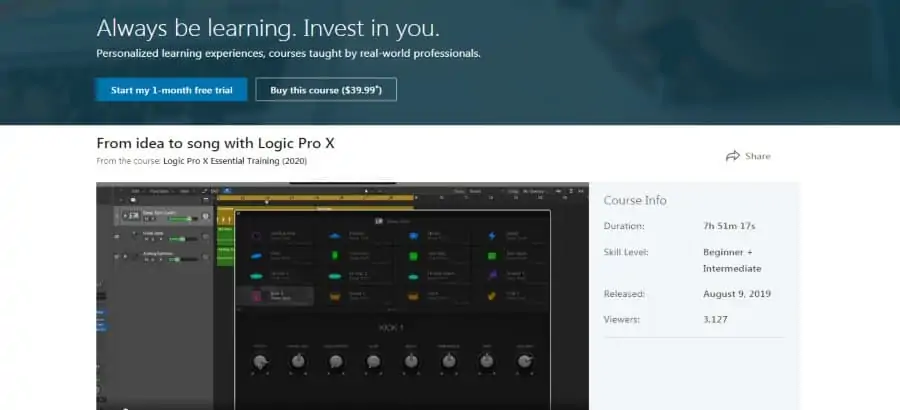 Next on my list is a comprehensive course hosted on LinkedIn Learning that will take you from beginner to pro in just 8-hours!
For this class, you will be taught by Scott Hirsch, who is a musician, audio engineer, producer, and sound designer who works in film and media postproduction.
During this course, Scott gives a deep dive into the ins and outs of Logic Pro X and covers the fundamentals such as composing, recording, editing, and mixing great soundtracks.
Some other topics covered in this course are mapping controls for hands-on mixing, exploring panning, mixing with patches, working with selection based processing, mixing with sub-mixes/ track stacks, giving your mix life with automation, and more!
On top of that, Scott also teaches you all about essential Logic Pro X applications such as Score Editor, Smart Tempo, the arpeggiator, Alchemy, etc. Overall, this is a well-rounded course that covers it all!
Fee trial for LinkedIn Learning
Extensive content: 7h51m
Beginner-intermediate level
Popular! 2,791 viewers
Certificate of completion
This awesome Udemy course is designed specifically for the absolute beginner and will introduce you to the tools and techniques that are available to you in Logic Pro X.
Some of the standout lessons in this course include using bass and drum, editing options for dialog, music, effects, and you'll even get to work through a sample MIDI project and a sample songwriter project!
Additionally, there are also some noteworthy lessons that cover music for picture, opening the movie, setting SMPTE markers, determining the tempo, building the sound palette, mixing, and audio files.
Spanning 6.5 hours and taken by 2,000 plus students with an average rating of 4.4-stars, this is a comprehensive course that covers some unique components of the Logic Pro X software.
High rating! 4.4 stars
Popular: 2,060 students
Extensive course content: 58 lectures, 6h25m
Certificate of completion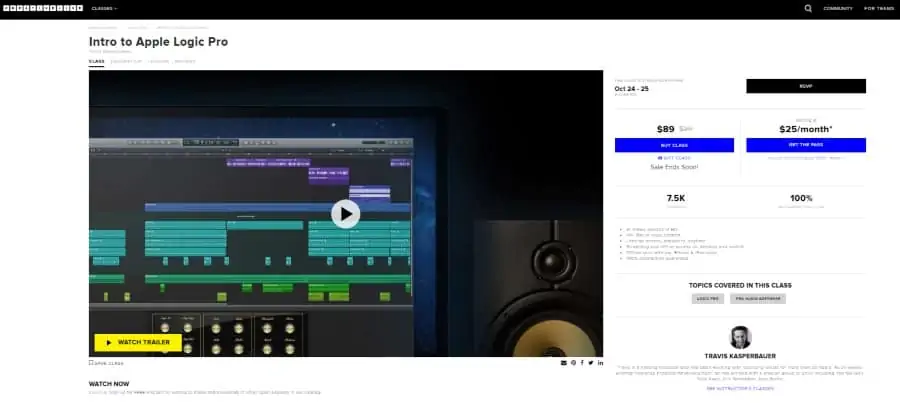 Moving onto my next pick is a CreativeLive course that focuses on the basics of navigating the Logic Pro interface while also showing students how to record a full song with vocals, guitar, and drums.
For this course, you will be taught by Travis Kasperbauer, who is a producer, mixer, engineer, and lifelong musician. Travis also has tons of experience and is here to walk you through a range of topics starting with Apple Logic Pro preferences, interface, and customizations.
Other lessons in the class cover topics such as Apple Loops, virtual instruments, MIDI recording/ editing, and programming drums. On top of that, you'll learn how to record digital audio, edit your composition, and export your composition to the final mix!
In total, this class is 15 hours in length and includes 31 lessons that are delivered via on-demand video format. Additionally, all CreativeLive students can get lifetime access to this course and offline viewing!
GET 20% OFF THE CREATOR PASS WITH CODE CREATIVELIVE20 THRU 10/31!
Lifetime access, anywhere, anytime
Streaming and offline access on desktop and mobile
Popular! 7.5k students
100% recommended by students
Extensive content: 31 lessons, 15h15m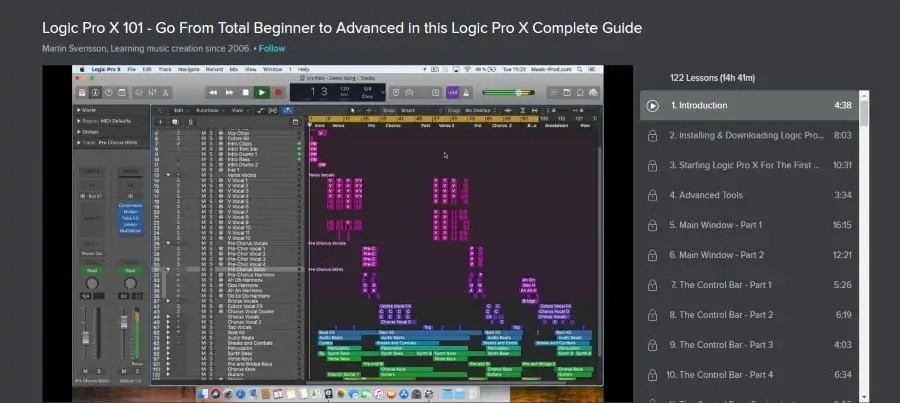 They aren't kidding when they call this course the complete guide! The focus of this course is to learn to use Logic Pro X from the ground up and apply the skills you'll learn in order to become a professional Logic Pro X music producer.
Your teacher for this class will be Martin Svensson., who is a music producer and professional musician who has years of experience working with various audio production tools.
Some of the many course lessons include topics such as installation and navigation, how to customize your control bar, editing tools, audio track editor, file editor, score editor, step editor, using third party plugins, and how to create a track with Logic's stock plugins.
Again, being hosted on Skillshare, new students can access this class, plus all others mentioned on this list with their 1-month free trial! Overall, this is one of the best online Logic Pro X courses in 2023!
Beginner-friendly
Extensive course content: 122 lessons, 14h41m
Can be accessed for free with a Skillshare 2-month free trial!
Activate FREE Skillshare Trial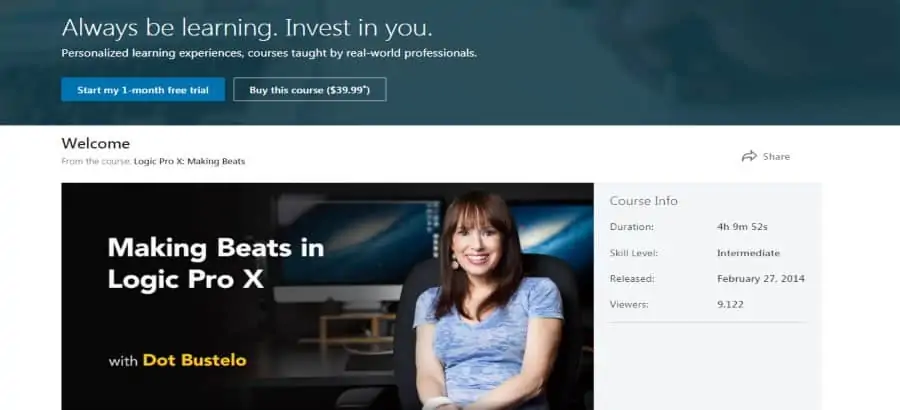 The focus of this LinkedIn course is to learn how to use basic drum programming and beat making in Logic Pro X. You will learn about the different features in Logic Pro X that allow you to create beats, and how to modify and elevate your beats.
Topics covered in the course include drum programming and choosing the drum kit; rehearsing the beat, cycling in logic, and recording the kick and snare; creating easy drum fills by MIDI time compressing; using capture recording; and separating your kick and snare by note, pitch, and output.
The course is taught by Dot Bustelo, creative technologies strategist who goes on to give a great overview of the rest of Logic Pro X's features and functions. However, she teaches for the intermediate student who is already somewhat familiar with the software.
You will get an in-depth overview of the following beat-making features: Drummer, Ultrabeat, Follow Rhythm, Space Designer, and the Arpeggiator. You'll also learn how to create beats for specific styles of music such as electronic, hip-hop, and retro!
Relatively low time commitment compared to other courses on this list: 4h9m
Intermediate level
Popular course! 9,121 viewers
Specific focus: beat making
Certificate of completion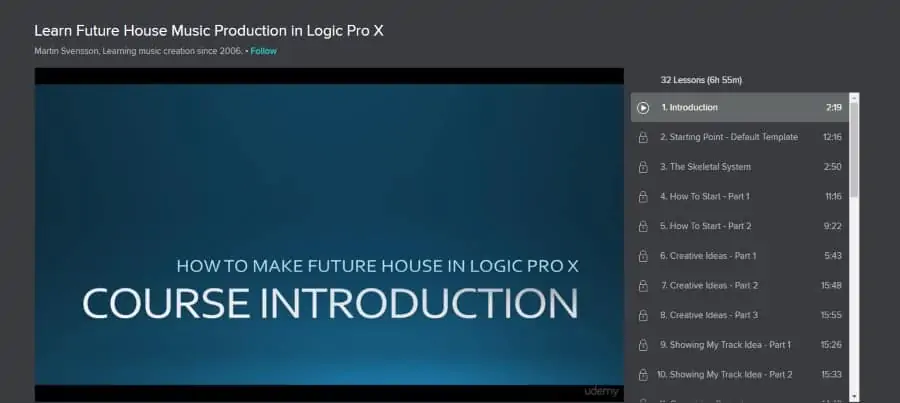 This is another course being taught by music producer and professional musician, Martin Svensson. The focus of this class is learning how to follow through with a project from the idea stage to a fully completed track.
The main topics Martin will cover in this Skillshare course are converting software instruments to audio; the simple arrangement; adding sounds; adding FX; mixdown; mastering the right way; and Logic Pro X quick start.
He covers each of those topics in great detail in the 32 video lessons in this course. In total there are almost 7 hours of learning material which will help increase your knowledge of Logic Pro X exponentially.
With this course, Martin wants to help you get in the habit of completing tracks, no matter how obscure the original idea is, and doing so both quickly and effectively!
Beginner level
Free trial
Extensive content: 32 lessons, 6h55m
Activate FREE Skillshare Trial
The focus of this course is learning how to use the virtual instruments that come with the Logic Pro X software. However, you should already have a pretty good understanding of Logic Pro X in order to fully grasp the topics covered in this course.
Instructor Evan Sutton will teach you all about the vintage instruments available in Logic Pro X. These include instruments like the B3 and Clav as well as many different synthesizers like the ES 1 Subtractive Synth, ES P Polyphonic Synth, ES 2 Hybrid Synth, and Retro Synth.
You'll notice that taking the time to study the various instruments makes a noticeable difference in the quality of your music production!
Extensive content: 7h22m
Intermediate level
Popular course: 7,395 viewers
Certificate of completion
The focus of this course is to develop your own skills and knowledge of Logic Pro X. You will learn how to compose music, record, edit, mix, and master audio using Logic Pro X. It's also one of the most comprehensive courses on this list with over 30 hours of learning material!
The course is suitable for absolute beginners, but some of the student reviews express that they had to go back and re-watch certain parts of the course in order to fully grasp the material. But, not to worry, you'll learn all the basics with helpful lessons on creating a song; recording basics; and editing.
If you are looking for a course that has a lot of material on MIDI and MIDI related topics you'll be happy to know that this course features lessons on recording MIDI and using MIDI devices; advanced MIDI recording; MIDI editing and processing; and advanced MIDI editing.
There are tons of other topics covered, and you'll see that this course really does function as a complete guide to Logic Pro X!
High rating! 4.5 stars
Very popular course: 31,182 students
Extensive course content: 179 lectures, 33h12m
Suitable for beginners (who are ready to apply themselves)
Certificate of completion
Go Even Deeper In Music Production
Beyond the best online Logic Pro X courses, we also have Ableton Live and FL Studio course reviews.
Check them out and let us know if you think we missed anything in the comments.