Learn How To Type Like A Pro With 2023's Top 9 Best Online Touch Typing Courses
Top 9 Best Free Online Touch Typing Courses, Classes & Certifications 2023
Typing skills are often taken for granted with auto-correct and dictation becoming part of our daily life. But touch typing is a time-saving method that can benefit many.
Because of this, I have rounded up some of the best free online touch typing courses in 2022, so you take control of your keyboard!
Below, you will find many beginner-friendly classes that will teach you to touch type step-by-step. As an added bonus, all of these courses are completely free! Let's begin!
---
If you are looking for a one-stop that covers touch typing in great detail, while also being easy to follow, this is the course for you!
Your instructor for this online course is Brennan Zimmer, who has helped 1,000's become capable touch typists through his on-demand video typing lessons.
For this 1 ½ hour class, Brennan covers 40 mini lessons which will allow you to practice the techniques while watching this typing program. Each lesson is also paired with defined keys and exercises so you can easily memorize certain keystrokes.
Some of the modules in this course cover home keys, number keys, QWERTY, F1 through F12 keys, shortcuts, keyboard layout, hand placement, and also several typing tests!
Overall, this is a great online course that is perfect for complete beginners or intermediate skill levels looking to speed up their typing and improve their keyboarding skills.
Beginner level
1 ½ hours
Enthusiastic instructor
40 separate lessons
Extra tips
Includes practice tests
Activate FREE Skillshare Trial
Next on my list is a condensed ½ hour course taught by instructor Maged Boutros, who will teach you how to type faster and more accurately. So for those in a rush, this is a great place to start.
Some of the mini-lessons and exercises taught in this course include the home row, G and H letters, top row, bottom row, hand placement, space key, shift key, and many other tips and tricks.
By the end of this course, students should be able to increase their speed to 60 WPM (words per minute), which is an achievable goal.
As one of the best online touch typing courses hosted on Skillshare, new users get access to all video lessons, downloadable resources, an online community of other students, and a 2-month free trial to all 25,000+ tutorial courses!
Beginner level
½ hour on-demand video in 20 lessons
Increase typing speed up to 60 WPM
Class project
Extra resources
Enthusiastic teacher
Activate FREE Skillshare Trial
For those looking for a more in-depth introduction into touch typing, this beginner level 2-hour course is a fantastic place to start. By the end of this class, students show have the ability to take their new skills and start implementing them into their workflow.
Some of the modules include an overview of QWERTY, how to use the home keys hand position, typing punctuation, how to place your fingers on the keyboard, typing various letter combinations, basic fundamentals, and many more.
There are also exercises after each lesson which are great for practicing speed and increasing your WPM speed. Overall, this is a fullfledged online touch typing course that is sure to increase your writing dexterity and speed.
Beginner level
24 lessons in 2 hours of on demand video
SkillShare teacher as instructor
Class project
Extra resources
Teaches speed with accuracy
Activate FREE Skillshare Trial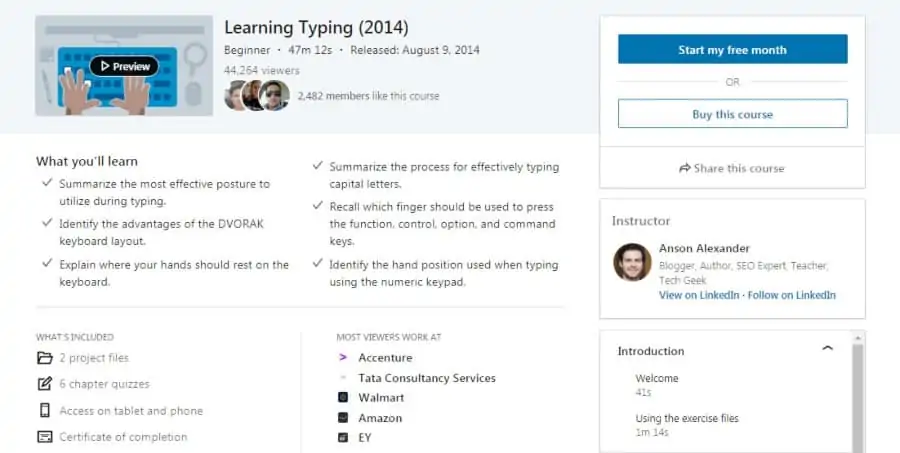 Next on my list is a great course from LinkedIn Learning that covers the virtues of the DVORAK layout keyboard. Your instructor for this beginner course, is author and computer expert, Anson Alexander.
Some of the class segments include QWERTY vs DVORAK, the home row, number keys, number pads, the function keys, how to use the numeric keys, and the 10-Key number pad.
Another benefit of this class is the unique camera angles that aid the presentation of the instruction. Each interactive lesson plays out like a game, making the lessons stick after learning.
Included in the course are project files, chapter quizzes, continuing education credits, and a certificate of completion. There is also a 1-month free trial available for new users!
Beginner level
¾ hour
Teaches number pad and DVORAK keyboard
Continuing education credit
Taught by computer expert
Certificate of completion
Moving on to my next pick is an excellent online course that helps shed the bad habits that we may have fallen into due autocorrect and incorrect keyboard position. By knowing where we have gone wrong, it will help to increase our typing speed and accuracy.
In total, there are 12 lessons that include the home row, the upper row, the bottom row, uppercase letters, numbers, and typing sentences. There are also extra notes to use during or after the video lesson for us to keep practicing.
As with most of the online touch typing courses of any type offered on the Udemy online learning platform, this class comes with lifetime access, extra resources, and a certificate of completion.
Beginner level
1 ½ hours
Taught by 3D animator with very useful graphics
Practice sessions
Downloadable resources
Certificate of completion
Another quality Udemy hosted course, this one is 1 hour of entry-level instruction and includes lessons in ergonomics to avoid developing carpal tunnel syndrome, a common affliction for heavy users of keyboards, mice, and other desktop devices.
The lectures include the subjects' proper habits, the home row, number pad, function keys, and punctuation among others.
Taught by the self-labeled Tech Geeks at Black Sheep Studios, a company that offers business and technical solutions and training. Black Sheep Studios also has training in website creation and maintenance.
The course can be learned individually or used for classroom exercises. It includes downloadable resources and a certificate of completion. Overall, this is one of the best free online touch typing courses in 2022!
Beginner level
1 hour
Taught by trainers from Black Sheep Studios
Helpful information on ergonomics
Usable for classroom instruction
Certificate of completion
Best selling author Brennan Zimmer teaches this course on Udemy and gives practical advice on why to take improving our typing skills seriously. Such as more efficient production on our job, being more attractive to prospective employers, and easing our frustration level.
The 1 ½ hour beginner course begins with an overview of a modern keyboard and what our hand position should be. With these basics sounded down, we can concentrate on improving speed and accuracy.
Lectures include getting familiar with the keyboard, shortcuts, proper habits, and increasing speed.
Class bonuses include extra downloadable worksheets for the course, priority customer support for students, and an eBook on ways to increase income or cut down expenses by typing well.
There are extra resources available for download, lifetime access, and a certificate of completion. To learn more, check out my guide on some great writing courses.
Beginner level
1 ½ hours
Taught by author and trainer
Lots of extra resources
Lifetime course access
Certificate of completion
First rule about Typing Club, no one talks about Typing Club. Actually, everyone's talking about Typing Club and their online training for touch typing.
The interactive style of training is virtually a game, making it enjoyable to do and engaging to be able to stick with it. The approach has been used successfully by over 23 million students. Yes, million, not thousand. It's a good system and it really works.
Besides being completely interactive, there is also a voiceover feature that will read aloud each word as you type it. This gives you instant feedback concerning typing accuracy in addition to the speed analysis.
It concentrates on the DVORAK keyboard, the most efficient design for computer keyboards. The interactive approach lets you get used to this keyboard in no time as opposed to constantly battling with QWERTY tendencies developed over years of use.
Topics covered include home row, top row, bottom row, number keys, number pad, don't look down, and many others. There really are a whole lot of lessons.
This online typing course is useful for teaching a classroom full of middle school students or an individual working in an office. There are multiple lessons, extra exercises and resources, and it comes with progress badges and a certificate of completion.
Beginner level
Multiple lessons
Teaches DVORAK
Suitable for school aged children or adult professionals
Interactive approach
Progress badges
---
Final Thoughts
You may be wondering why you should bother with a typing course since our computers have such useful tools such as autocorrect and style templates.
The answer to that is simple. If your computer already makes you faster and more accurate, imagine how well you could type with that capability and proficiency added on top of all that.
The best free online touch typing course will provide you skills and good habits that can last a lifetime.
And if you're looking for other personal development courses to make your work or studies more efficient, consider our proofreading or speed reading course reviews.