Learn How To Edit Like A Pro With 2023's 7+ FREE Best Online Proofreading Courses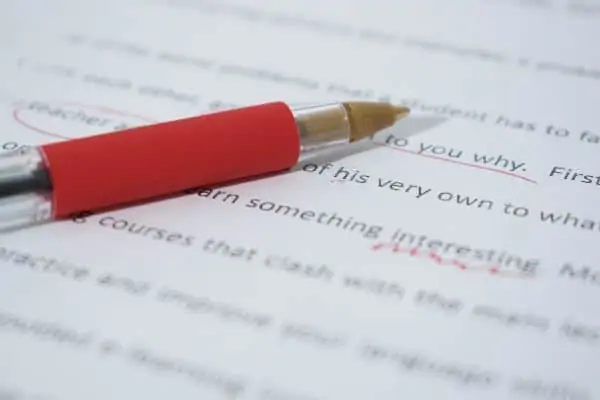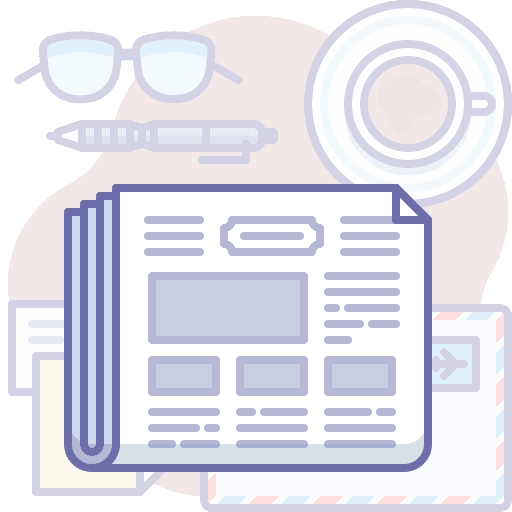 Working as a proofreader is a great way to find some part-time freelance work. But you want to make sure that you are delivering the quality that your clients are expecting!
Below are some of the best online proofreading courses that you can take in order to establish your skills and build good proofreading techniques and habits.
If you want to start a proofreading business and become a copyeditor, you can certainly benefit by honing your proofreading skills/copyediting to increase your overall abilities.
Take a look at this list of copyediting courses and see which of these awesome courses looks like the "write" fit for you!
TOP PICKS FOR FREE ONLINE PROOFREADING COURSES

Recommended

Skillshare: Writing Editing Masterclass

Beginner friendly
Good overview of the editing process in general
Low time commitment

Try This for Free →

Most Popular

LinkedIn Learning: Editing and Proofreading Made Simple

102,406 students have taken this course
40 minutes of videos across 3 chapters
Continuing Education Units available

Try This for Free →

Top Rated

CreativeLive: Proofreading Your Own Work

7,600 students have taken this course
100% of students recommend it
8 videos running just over 1 hour

Learn More →

Jumpstart

Udemy: Proofreading Power Basics

High 4.3-star rating
Lifetime access to course materials
Certificate of completion

Learn More →
Top 9+ FREE Best Online Proofreading Courses & Certifications 2023
---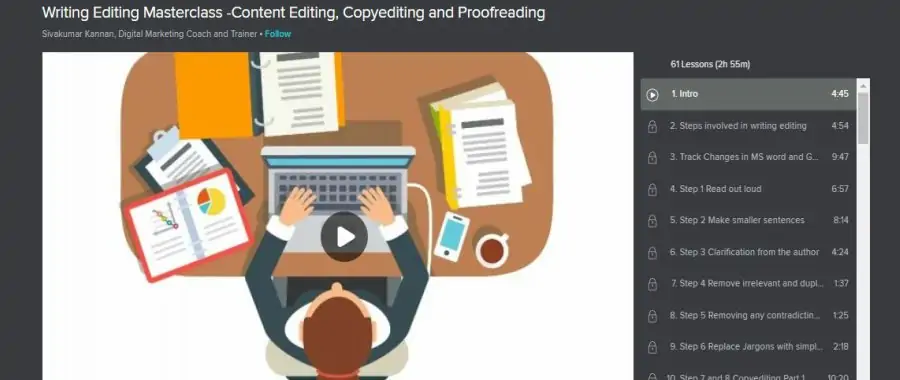 Up first on my list is a great all-around editing course with many modules that focus specifically on proofreading. On top of that, this free Skillshare course also dives deeper into the larger context of the editing process for copyediting and proofreading.
In this 3-hour-long course, you'll learn about the following proofreading topics: typos, proofreading strategies, spelling errors and homonyms, the comma, question marks and exclamation marks, colon and quotation marks, apostrophes, hyphens, and dashes, and parentheses.
Another great component of this training is that there is an optional final assignment that will test your skills and act as a great overview of what you have learned.
As this course is hosted on Skillshare, students get to take the classes at their own pace via the desktop portal or the smartphone app. Skillshare also offers a 1-month free trial, so there's no losing! Hands down one of the best online proofreading courses!
Can be accessed for free with the Skillshare free trial, making this a free course
Beginner friendly and suitable for all levels of freelance proofreaders
Good overview of fundamentals of the editing process in general for English grammar
Low time commitment
Activate FREE Skillshare Trial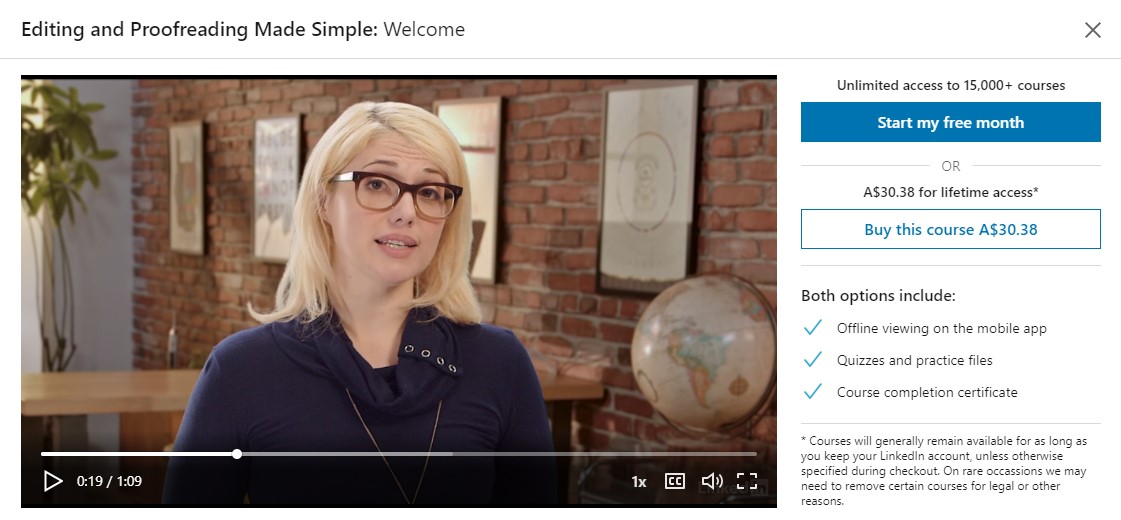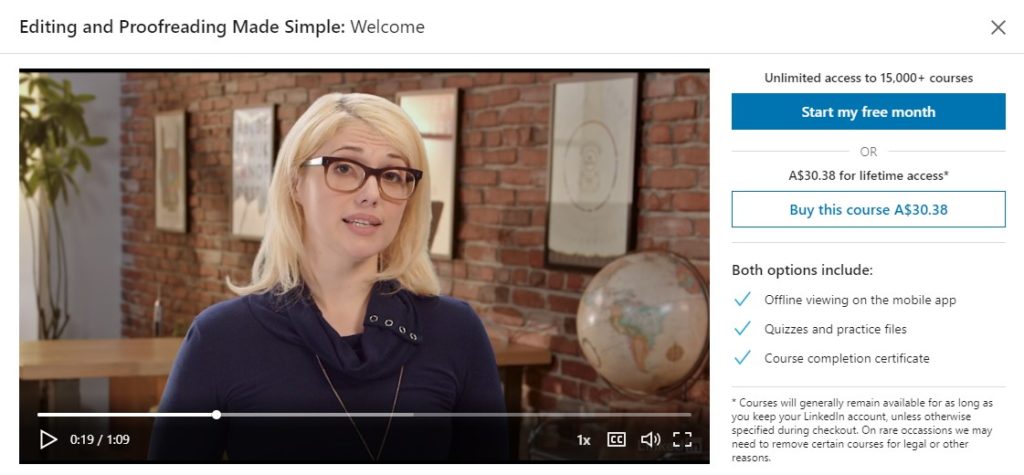 For beginners looking to quickly improve their proofreading skills, Erin Rickard's LinkedIn Learning course is a great place to start. As a longtime freelance copywriter, she's well-versed in what it takes to effectively communicate; as a professor, she's adept in connecting with her students and helping them improve their craft.
This efficient course packs a lot into 40 minutes. You'll learn how to develop personalized templates, tools, and tactics necessary for effective editing including checking content, spelling, and grammar as well as the proper use of formatting. You'll practice applying these skills and spotting errors across presentations, emails, and website articles.
This course is on LinkedIn Learning, a subscription platform that gives you access to a full catalog. So for one price, you can take this course as well as other highly-rated related courses: Grammar Foundations, Business Writing Principles, Social Media Marketing Foundations, and Writing Emails People Want To Read.
There's even a 1-month free trial. Even better, you earn a certificate for each course that appears on your LinkedIn profile and helps you rank higher in jobs searches.
102,406 students have taken this course
40 minutes of videos across 3 chapters
Continuing Education Units available
Certificate of completion appears on your LinkedIn profile
30-day free trial gets you access to full 15,000 course catalog
Next up is a proofreading course from Heather E. Saunders, owner of Just the Write Type Editing. She's been called on to edit everything from medical journals to fiction novels, so her techniques are timeliness and universal.
What I love about this course is how practical her advice is. She'll teach you how to come back to your own writing with the fresh eyes necessary to catch even your most common and easily overlooked mistakes. And while it may seem simple to read it aloud or take a break, applying her proofreading tricks can be the difference between a great submission that gets published or an embarrassment that gets set aside.
Once you've completed this class you'll know the common proofreading mistakes, your personal writing blind spots, how to create an ideal environment for editing, and how to fact check efficiently.
This course is available on CreativeLive, which frequently runs sales that put each course below $10. Even better, they have an all-access Creator Pass to 2000+ courses starting at $13/month. While they don't technically have a free trial, they do have a 7-day refund window.
GET 20% OFF THE CREATOR PASS WITH CODE CREATIVELIVE20 THRU 10/31!
7,600 students have taken this course
100% of students recommend it
8 videos running just over 1 hour
Lifetime access via desktop or mobile
Satisfaction guarantee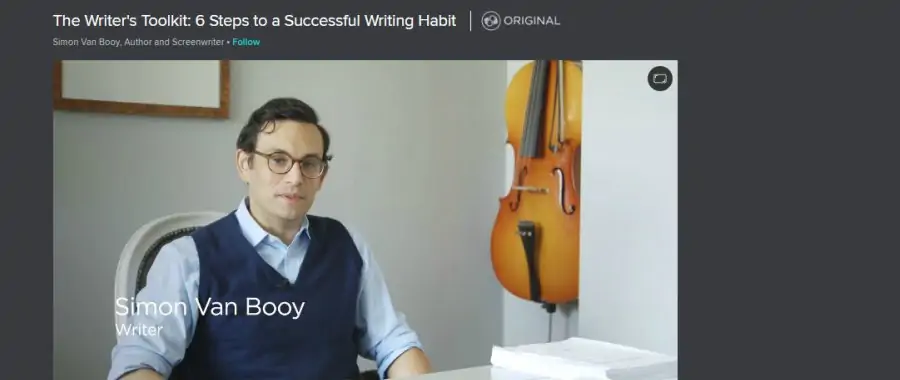 Hopefully, if you like proofreading, you like to read. And hopefully, if you like to read, you also like to write! Being a strong writer can help you to be a stronger proofreader. You get an eye for what good writing looks like and what makes sense on paper.
This course will help you to foster a healthy writing habit. By following the six steps laid out by award-winning author Simon Van Booy you will be able to increase the amount that you write and your level of writing ability.
He will discuss each of the steps in detail in this 38-minute-long course. The steps include making your own space, finding your medium, reading inspiring works, setting the conditions, sticking to a routine, and sketching to stay inspired.
This Skillshare course will also give you the possibility to view other students' projects and to submit your own project to the course webpage. Looking at what other people have done can inspire you and help to spark your creativity.
This course is for anyone who wants to learn how to be a better writer, beginners included. All you need is an open mind and a blank screen or notebook that you can fill with your own wonderful words!
Lots of student projects to view for inspiration
Very popular! 14,255 students
Low time commitment
Designed for students of all levels
Activate FREE Skillshare Trial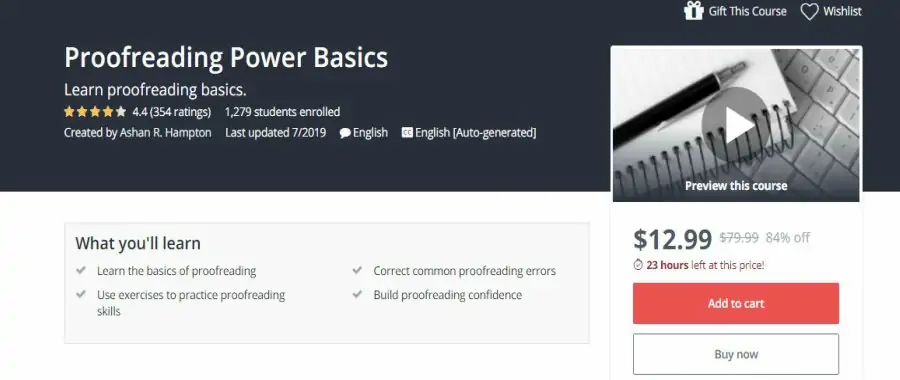 Up next on my list is great course hosted on Udemy, which is all about teaching the tricks of the trade and give students a new confidence in their proofreading skills. This course is also aimed towards beginners, but knowing intermediate grammar and writing skills will be extremely beneficial.
Taught by English professor Ashan Hampton, he provides students with helpful assessments, exercises, and quizzes that will keep students learning experience productive and keep them on the right track.
While the course is brief (1 hour long), it is jam-packed with information! Over the course of 23 video lessons, students will learn about topics like proofreader expectations, proofreading tips, strategies, marking, proofing for capitalization and numbers, and proofreader error hotspots.
Overall, this is a fantastic course that caters to those of all experience levels!
High 4.3-star rating
Popular course – 1,271 students!
Includes a module on proofreading marks
Lifetime access to course materials
10 downloadable resources + 9 articles
Certificate of completion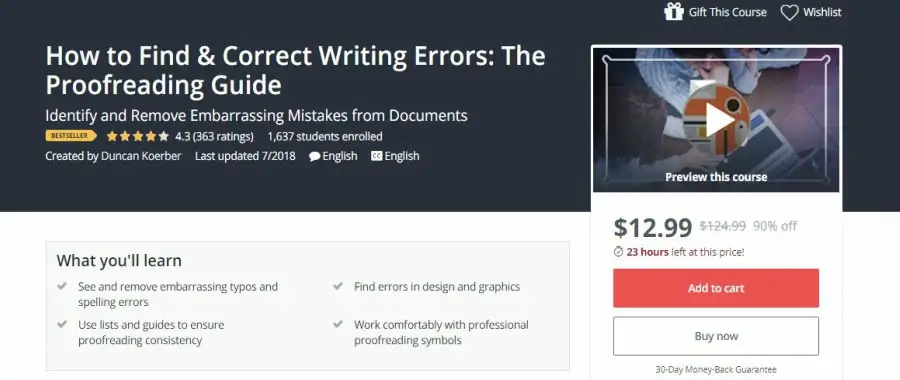 Moving on is another Udemy course taught by University professor Duncan Koerber. While the course is brief, coming in at only 50 minutes, the 19 video lessons are filled with a wealth of knowledge!
In this course, students learn about good habits for proofreading, practical proofreading tips, professional proofreading symbols, using lists and guides in the proofreading process, tips for proofreading the format, design, and graphics of a document.
Professor Koerber will also teach students about important final tasks that people forget to do when proofreading. The resources and techniques students will gain from this course truly make it one of the very best online proofreading courses.
Low time commitment
High 4.3-star rating
Popular! 1,631 students
Lifetime access to course materials
Suitable for all levels
Certificate of completion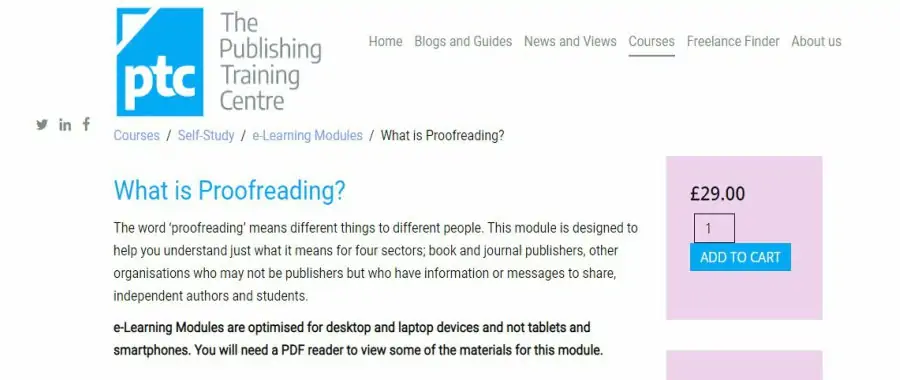 Are you new to editing and looking to find out if proofreading is something you might be good at? Then this entry-level course will prepare you for what you need to do as a proofreader, and give you the chance to test your skills to see if you have what it takes.
In this class, students learn how proofreading is applied in four different sectors: book and journal publishers, other organizations that have information or messages to share, independent authors, and students.
Divided into two sections, the first section will provide students with information on proofreading. The second section involves a practical exercise that will help you gauge your proofreading abilities.
After completing this course, students should have a strong sense of their skill level and an idea of what steps you should take next in order to keep progressing as a proofreader. Or you can pair this with an online journalism course and start writing for one of the millions of online publications.
One of the most extensive courses on this list: about 5-7 hours of course material
8 months of access to the course material
Course certificate awarded upon completion of the course
Suitable for beginners
Visit Publishingtrainingcentre.com
8. Udemy: Kickstart a Freelance Editor and Proofreader Career on Upwork (Udemy)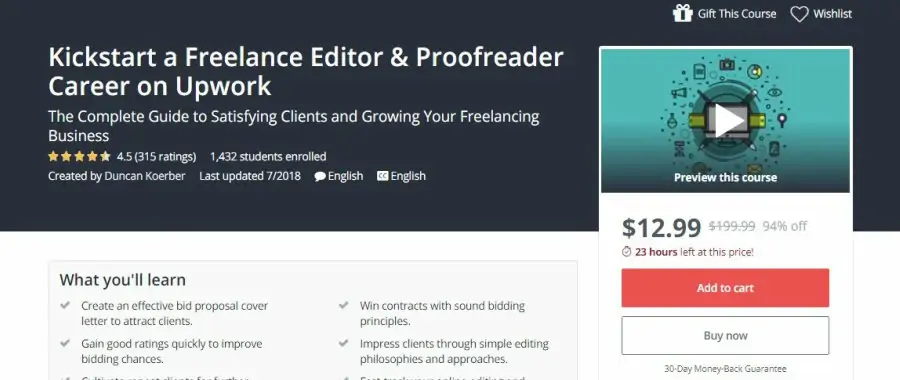 If you want to work as a proofreader, chances are your first paid jobs might be on a freelance basis. It's not always easy to find good jobs and many people will try to underpay you or even avoid paying you at all.
This course walks you through how to use the Upwork platform to find work as a proofreader. And to ensure that you get paid for your effort! Using Upwork might not seem like rocket science but there is a bit more to it than meets the eye.
Professor Duncan Koerber will share some great insight into this two-hour-long course. He covers topics such as getting started on Upwork; bidding for jobs; ratings and repeat clients; macro-level tips for doing a great job; and some practical concerns for an online editor or proofreader.
Throughout 25 lessons you will gain valuable knowledge that can help you to succeed as a freelancer. This course is for all levels and all you need to get started is Microsoft Word software and a keen eye that's ready to spot the best new job! You can also take your skills on the road and get a digital nomad job that will allow you to work from anywhere in the world!
This is easily one of the best online proofreading courses available!
Very high 4.5-star rating
Popular course! 1,430 students
Low time commitment
Lifetime access to course material
Certificate of completion
9. Skillshare: Proofreading Your Articles: Tools (Skillshare)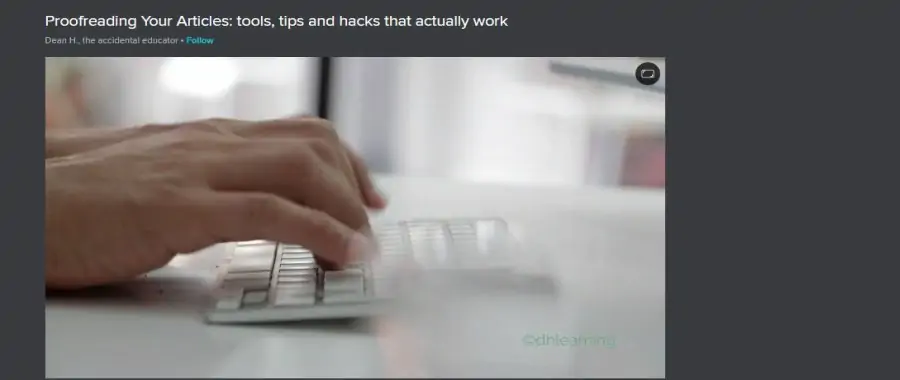 There are lots and lots of tools available that can help you to be a great proofreader. This Skillshare course will teach you some excellent tips and hacks that will make your proofreading process quicker and more accurate. This is a good course to take if you are just starting out as a proofreader.
In this course, you'll cover topics such as punctuation, word tips, and proofreading hacks. But the main focus of the course is how to use online grammar checkers like Grammarly, ProWritingAid, and other free auto-proofreaders to check your work.
These grammar checkers will basically do your proofreading for you. However, some (like Grammarly) aren't free so ideally, you can learn to proofread without relying on them. But it can be a good idea to use them to check your work while you are first starting out.
Nothing makes you lose clients faster than handing in an assignment filled with mistakes. This course will help you figure out how you can use online grammar checkers to improve your own skills. But you should never discount the effectiveness of good old fashioned paper and (red) pen!
If you want to learn more, you can read my comprehensive review of Skillshare.
Low time commitment: 48 minutes
Possible to access this course for free using a Skillshare free trial
Suitable for all levels
Positive student reviews – the course met or exceeded student expectations
Links to 2 helpful articles included with course content
Activate FREE Skillshare Trial
---
Final Thoughts
Hopefully, this guide on the best online proofreading courses helps you to better your skills or even land that next job! For more upskilling, you can see our guide on other online classes and training here.
Or if after reading this, you'd rather just hire a proofreader for your project or website, I've had great success with Fiverr. Check out the profiles below for pros who can start today!
This post was proofread by Grammarly