Top 10 Best Online Magic Classes & Training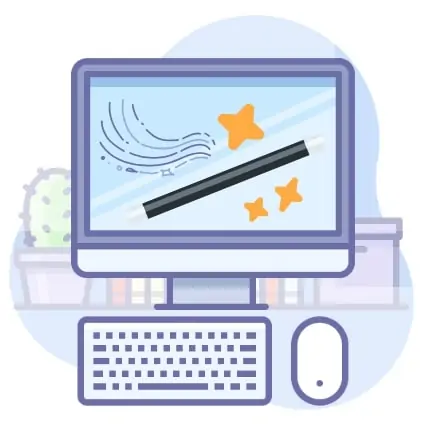 If you are inspired to learn, or even perform magic by the greats like Houdini, Pen & Teller, David Blaine, and Criss Angel, you are in the right place!
In this guide, I have rounded up some of the best online magic classes in 2023 that will take you from complete beginner to confident performer in no time.
While many of these courses are paid, you can also enroll in some of these for free. Let's begin!
Top 10 Best Online Magic Classes & Training In 2023
---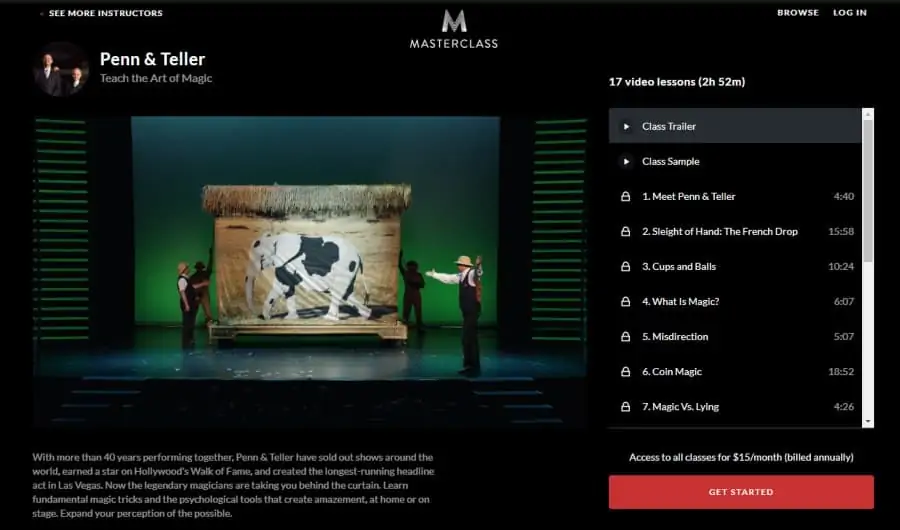 First on my list is an outstanding course that will take you behind the curtain, showing you what a performer needs to know, what to prepare for in a live show, and how to do it so it appears to be effortless. Geared towards beginners, the course is beneficial for any level of a performer in magic.
Your instructors are the fantastic duo of Penn & Teller, whose act has earned them a star on the Hollywood Walk of Fame and the longest-running headline act in Las Vegas. Their shows are consistently sold out worldwide and their TV shows receive outstandingly high reviews. So if you want to learn from the best, look no further.
In total, this class is 2 hours and 52 minutes of on-demand video instruction with modules covering sleight of hand, misdirection, card tricks, rope tricks, magic vs lying, and exploiting the vulnerabilities in the brain.
Being hosted on MasterClass, the learning experience is one of the best with beautifully made videos, easy-to-follow modules, and the ability to watch on smartphone devices. Overall, this magic class is the gold standard for aspiring magicians.
Beginner level
3 hours
Taught by successful professional magicians
Insider tips
Workbook included
Online community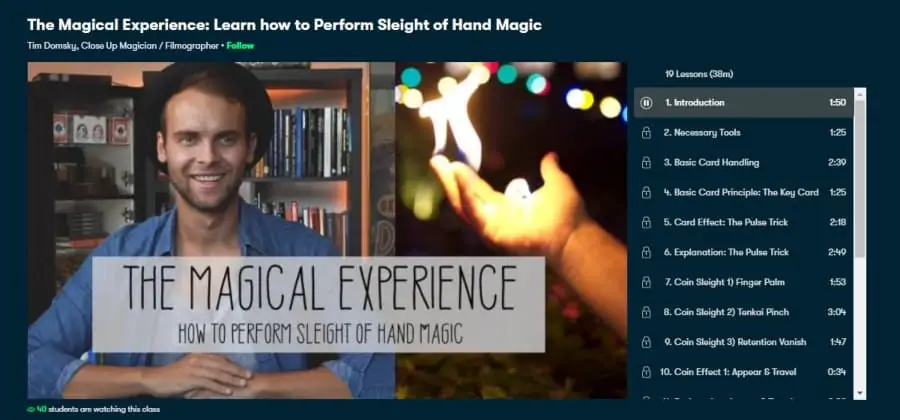 Next on my list is another great magic class that concentrates on the principles behind 5 different basic sleight of hand tricks that can be accomplished with everyday items. You can then use these ideas to practice on other items and variations to adapt them to your own style.
Your tutor for this class is Tim Domsky, a professional magician for over 10 years. He bills himself as a close-up magician, which is appropriate for the type of tricks he is teaching. Tim is also a cinematographer, so he also has insights into what looks good during performing tricks.
Topics covered include basic card handling, the pulse trick, the finger palm, the Tenkai push, the changing lighter, gypsy thread, and suggested continued instruction. Tim also has a second course where he dives deeper into more advanced magic.
As this course is hosted on Skillshare, new users can take this course plus 1,000's of others when taking advantage of the 1-month free trial. Overall, a great class for those looking to learn sleight of hand.
Beginner level
38 minutes
Taught by pro magician and cinematographer
Extra resources
Class project
Online discussion
Activate FREE Skillshare Trial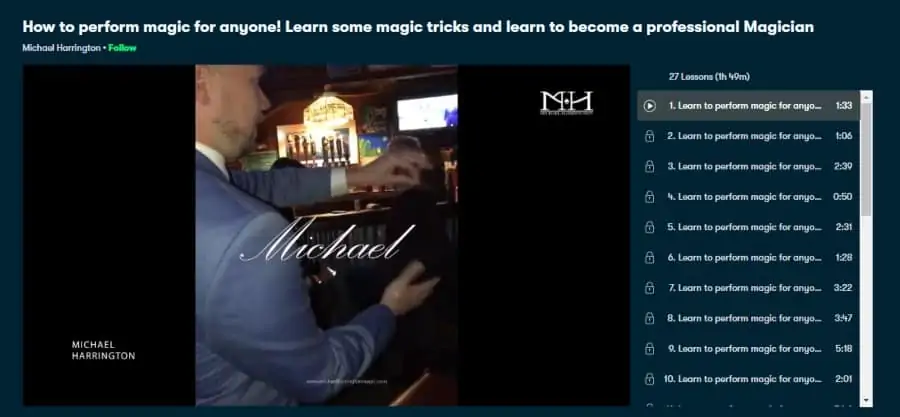 In this intermediate-level class, you will learn basic magic and also how to move into performing for larger crowds and turning professional. Students will also learn some tips on how to market yourself as a magician so you can be hired out for events and parties.
Michael Harrington is the instructor for this 2-hour class who is a working professional with 11 years of experience. Not only will he teach you magic, but also about the business side of being a paid performer.
Some of the topics covered in this class are magic card tricks, sleight of hand, revealing tricks, misdirection, plus many more! Like all the other Skillshare classes on this list, new users can enroll for free with their 1-month free trial.
Intermediate level
2 hours
Taught by professional magician
Class projects
Optional discussion boards
Downloadable resources
Activate FREE Skillshare Trial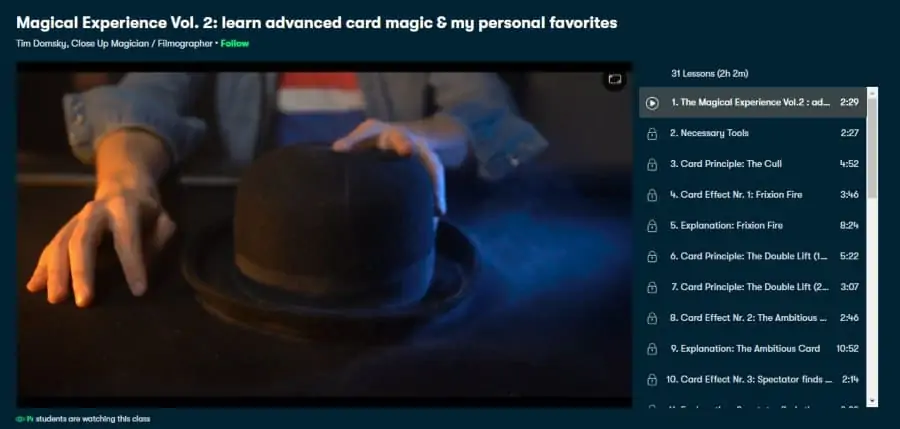 Next on my list is another standout course that takes a larger look at more sleight of hand tricks, mostly with cards, in this beginner-level 2-hour class. Tim Domsky is the instructor, who made part 1 to this course which you can see above.
Split up into 31 on-demand video lessons, this course covers such topics as the double lift, the ambitious card, the spectator finds aces, the classic palm, pen and coin, and crazy man handcuffs. You will also be introduced to sleight of hand theory which should aid you in picking up or developing other tricks.
As an added bonus, there are also slow-motion scenes used to show how the tricks are done, which is incredibly helpful. Not to mention an optional student project which involves you performing in front of others, filming it, and submitting it for peer review. Overall, a great class for those looking to learn card magic.
Beginner level
2 hours
Taught by a pro magician
Slow-motion trick reveals
Class project
Available optional discussions
Activate FREE Skillshare Trial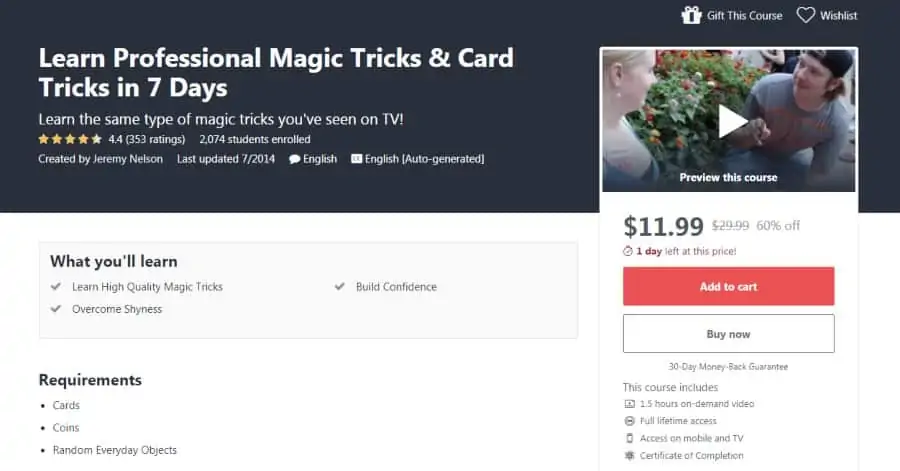 This 1.5-hour online class teaches you some fun party magic tricks and also how to overcome your own shyness about performing them in front of others.
Your instructor for this course is professional magician Jeremy Nelson, a performer with over 25 years of show business experience. He has also been teaching tricks online for 14 years and has developed a high rating and an outstanding reputation.
Some of the trick modules in this beginner-level course are the sloppy deck, the card and shoe, levitation, spoon bending, splitting coins, and the coin through table trick. Each trick is also shown twice, once as the audience sees it, and the backstage view which shows how it's done.
Hosted on the Udemy platform, you get lifetime access to course materials, access across various devices, and a certificate of completion. Overall, this is one of the top online magic classes in 2023.
Beginner level
1 ½ hour
Pro magician as teacher
Shows audience view and how to do it for each trick
Lifetime access
Certificate of completion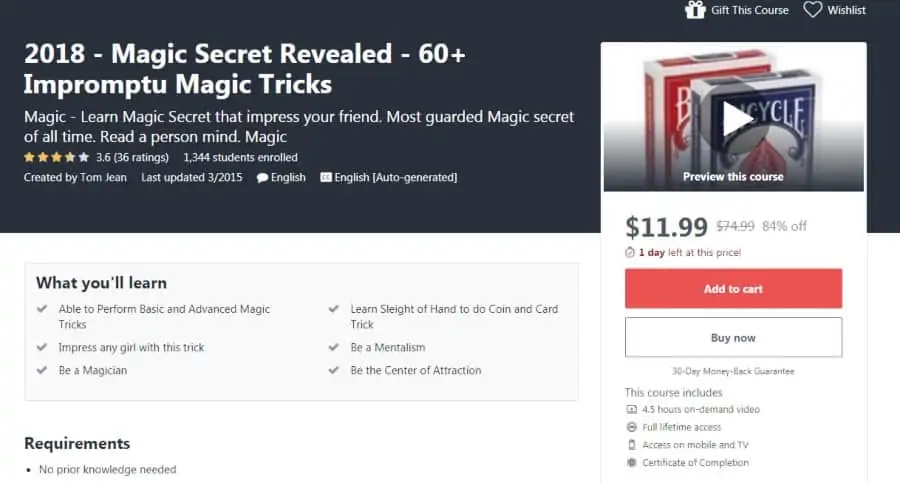 The line between being an illusionist and a magician is often blurred. This course shows you tricks that work by sleight of hand and others that are based on mentalism and illusion. Use them both to be the life of the party or to entertain like a pro.
It's taught by Tom Jean, a professional magician using the principles of Sleight of Mind, which combines sleight of hand with misdirection and mental tricks for a completely entertaining experience.
The course is updated regularly and includes 4 ½ hours of on-demand video showing tricks such as 4 questions, the card flick, tap tap vanish, cup and balls, toothpick tricks, money to burn, and teleporting a match. Warning: some tricks involve actual live flames, though small.
The course is updated regularly and you get lifetime access plus a certificate of completion.
Beginner level
4 ½ hours
Taught by an experienced pro
Covers sleight of hand and mentalism
Fire tricks
Certificate of completion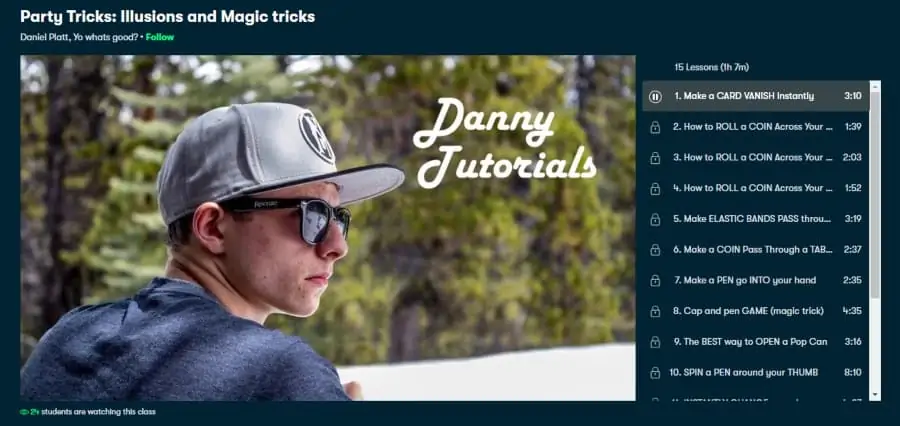 In this class, you will learn how to perform simple tricks with anything on hand so you can perform anywhere at a moment's notice.
It is taught by Daniel Platt, a magician with many years of experience and an engaging style of instruction. He is highly rated as an instructor and it is easy to follow his trick explanations.
This is a beginner-level course and is about 1 hour of on-demand video. Course modules include making a card vanish, rolling coins across your knuckles, making a coin pass through a table, making a pen go through your hand, and making cards disappear.
There are class projects, downloadable resources, and you can watch the instruction on any type of device. Overall, this is a great online magic class that is also free to undertake!
Beginner level
1 hour on-demand video
Pro magician as an instructor
Class projects
Viewable on any device
Extra resources
Activate FREE Skillshare Trial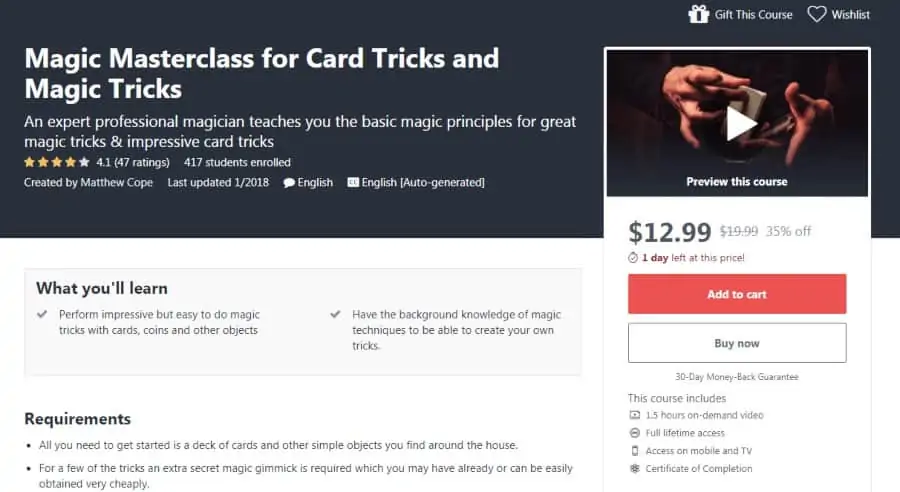 All you need is a deck of cards and some coins and you can start performing tricks to entertain your friends. You will also learn fundamentals that you can apply to create your own tricks. The instruction was tested on over 500 live in-person students before coming to online on-demand video.
It is taught by Matthew Cope of Letterbox Magic who has over 20 years of experience in performing magic and over 10 years of teaching experience. Matthew also frequently performs for corporate events, private parties, and shows.
Course modules in the beginner-level magic class include the tricks themselves and then a detailed explanation of how to perform them. It includes card tricks, utility moves, coin tricks, and specialty tricks such as the disappearing handkerchief and burnt napkin. To learn more, check out my guide on online acting classes that will help in your productions.
There are extra resources, lifetime access, and a certificate of completion.
Beginner level
1 ½ hours
Professional magician as teacher
Shows tricks and explanations
Lifetime access
Certificate of completion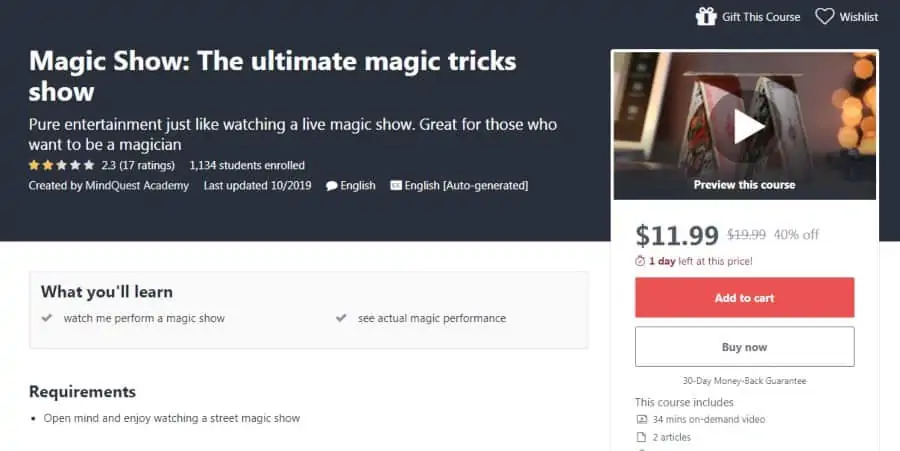 Telling a story is an essential part of performing magic for others. This course is an exercise in how to do that and how to make it completely entertaining.
It is presented by instructors at MindQuest Academy. The purpose of the instruction is to show students how to apply learned solutions and good practices to real-life scenarios.
Course modules in the beginner level 30 minute class are the tricks themselves, performed as live street performance. These are all tricks you can purchase yourself.
Included in the course are downloadable resources, lifetime access, and a certificate of completion.
Beginner level
30 minutes
Professional magician and life coach as the instructor
Downloadable resources
Lifetime access
Certificate of completion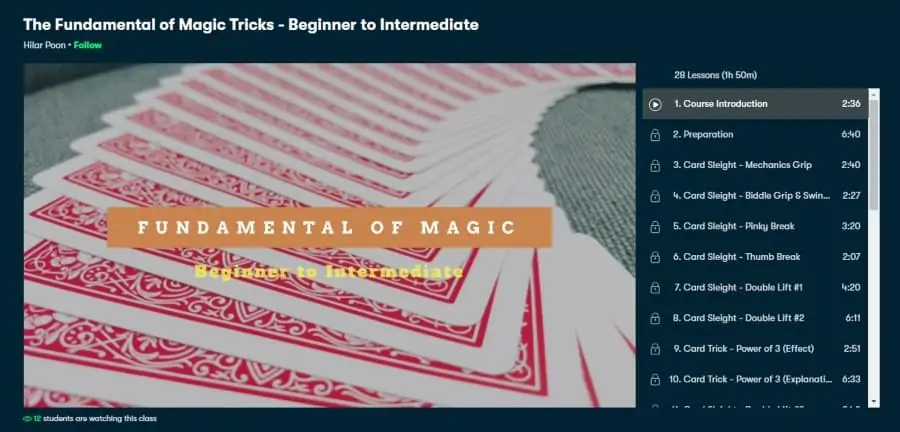 The purpose of this course is to give you the tools to become a performing magician, for fun or for profit. It is updated regularly with new tricks and ideas.
Hilar Poon is the teacher, a professional magician, and children's entertainer with years of quality entertainment experience. Hilar also shares tricks and tips about tools for entertaining magic performances.
Course modules in the 2-hour beginner level course include card magic, coin magic, money magic, mentalism, levitation, sponge magic, close-up magic.
Extra resources are included such a class project video performance that you share with other students. It's a great way to see how you can improve your level of performance and have fun doing so.
Beginner level
2 hours on-demand video
Taught by experienced professional magician
Extra resources
Class project
Updated regularly