Learn How To Act With 2023's Top 11 Best Online Acting Classes, Courses & Training
A career as an actor is what many people dream of – but it takes hard work, dedication, and talent to achieve that dream.
While many may think you need to live in New York or Los Angeles to connect with this community, there are a number of online courses to assist you with your acting training and fundamentals without traveling to an acting studio.
There is a broad range of acting programs to consider. This collection of the best online acting classes in 2023 will benefit you in many ways from gaining confidence, learning acting exercises and techniques, and understanding the industry. Let's get started!
Top 11+ Best Online Acting Classes, Courses + Training 2023
---
You probably already know of Samuel L. Jackson, maybe you're even a big fan of his work. But in this course, you'll get to meet "Sam" the acting coach who has years worth of industry experience, acting expertise, and personal anecdotes to share with his students.
Sam will break down his acting methodology and nuances of his characterization process using scenes from The Caveman's Valentine as a case study. He will also teach you how to break down a script in the same detailed way, this time using the iconic diner scene from Pulp Fiction as an example.
Other topics covered in this acting Masterclass are voice & character, plumbing your emotional depths, using your body, working with directors, on-set collaboration, making bold choices, enriching your acting practice, auditioning, growing your acting career, Hollywood lessons, and more!
MasterClass does not have a free trial, but they do offer a 30-day refund which gives you plenty of time to try this and the other MasterClass courses listed. So if you are looking to learn from one of the best actors of the 20th and 21st century, this is the acting class for you!
Strengths:
Comprehensive course content: 21 detailed 12-minute video lectures
Suitable for all levels
High rating: 4.5 stars
Course comes with a downloadable class workbook that includes lesson recaps, assignments, and supplemental material
Try MasterClass 30 Dasy Risk Free
Natalie Portman is here to share her impressive repertoire of acting techniques that have made her the actress that she is today. Learn how she propelled herself to the top and joined the select few who can call themselves Oscar winners!
Making it in Hollywood is tough, and Natalie will teach you how to handle feelings of vulnerability and self-consciousness so that you can truly shine in the acting industry. Using "Black Swan" and "Jackie" as case studies, Natalie will reveal her preparation process and give you tips on how to research your role.
The lessons in this course will also cover working on set, performing on camera, working with directors, playing a real character/historical figure, improvisation, working with the set, props, and camera, green screen acting, advice for actors, active empathy, and much more.
For a truly in-depth acting class from an Oscar-winning actress, you can't go past this MasterClass course.
Strengths:
Comprehensive course content: 20 detailed 12-minute video lectures
Suitable for all levels
High rating: 4.5 stars
Comes with a great class workbook
Try MasterClass 30 Days Risk Free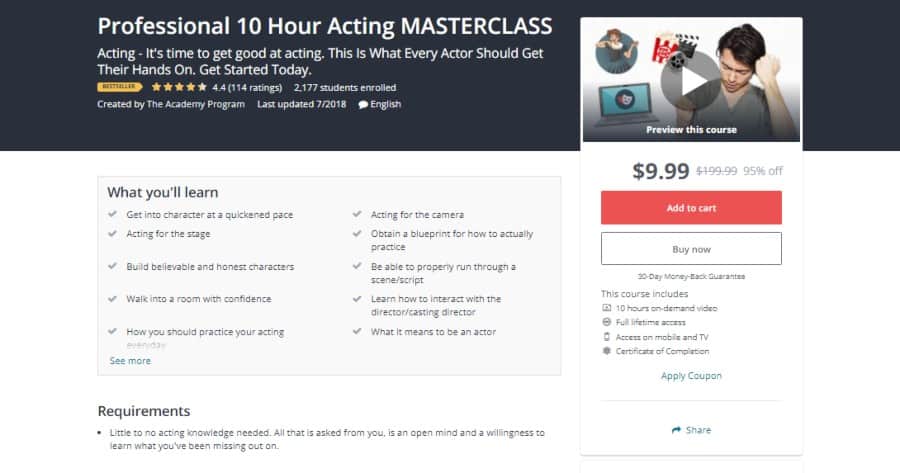 This highly comprehensive Udemy course will teach you how to act on the stage and for the screen. You'll learn to diversify your skillset so that you can adapt yourself to any role while still bringing your own creative interpretation to your characters.
Some of the many lessons covered in this acting class are analyzing a scene/script and knowing what you're trying to say, acting with confidence, speaking aloud, making the camera your ally, memorization, using your personal skillset/toolbox, your acting goals, and headshots.
You'll also get great advice about the audition process and how to deal with the casting directors. Not to mention how to use the director to your advantage and how to cope with the never-ending hustle. Overall, one of the best online acting classes on this list!
Strengths:
Bestseller on Udemy!
High rating: 4.5 stars
Comprehensive content: 10h13m, 32 lectures
Lifetime access to course content
Comes with a course completion certificate
Next on my list is another standout Udemy course that will give you a great overview of the entire acting process including familiarizing yourself with the acting industry. You'll also learn how to market yourself and how to put your best foot forward when it comes to auditioning.
The 17 lectures in this course will cover topics such as your acting toolbox, agents and managers, knowing your type and marketability, audition preparation, commercial auditioning, basic slating, preparing a monologue, casting, and what to do once you get an acting job. There are also some great lessons which would be ideal for kids too!
With all Udemy classes, once completed, students will get a certificate of completion and lifetime access to learning materials.
Strengths:
Another Bestseller on Udemy!
4.4-star rating
Lots of content: 17 lectures, 6h52m
Lifetime access to course content
Comes with a course completion certificate
Acting is not just about being able to stand in front of a camera and project confidence. It takes a lot of hard work and practice to make it as an actor and it helps to know some reliable acting techniques that you can count on throughout your career.
Just some of the 9 techniques covered in this online class are the Stanislavski Technique, Strasberg Method, Adler Technique, Meisner Technique, and the Uta Hagen Technique to name a few!
Overall, this is one of the best online acting courses you can take if you want to learn tried and true acting techniques that really work. Any casting director is sure to be impressed by your depth of knowledge and your versatile acting abilities!
Strengths:
Low time commitment: 13 lessons, 40m
Beginner friendly – suitable for any aspiring actor!
Great class project that will give you the chance to practice the Meisner technique
Activate FREE Skillshare Trial
What do you think the hardest part about being an actor is? The auditions? The crazy schedule? Well according to Helen Mirren, one of the hardest things for an actor to do is walk naturally while acting. Luckily Helen can give you some walking tips, and much more in this Masterclass!
First, Helen will tell you about how her career in theatre began and how her time as a theatre actress taught her valuable lessons about voice training, physicality, and control. You'll also get Helen's advice on the auditioning process and how to choose and assess a role.
Other topics covered in the class are breaking down a script; Shakespeare; finding your character; research: fictional and real characters; creating characters: costume and hair & makeup; preparation and rehearsal; human behavior; film acting technique; acting on a film set; and more!
Strengths:
High 4.5-star rating and highly positive student reviews
Lots of content: 28 lessons
Comes with a downloadable class workbook that includes supplemental materials
Try MasterClass 30 Days Risk Free
Being a child actor is a challenging undertaking! This course can help teach you how to cope with industry expectations and hone your skills so that you can shine like a star at auditions.
The 15 lectures in this course will cover tools of the industry; branding; audition preparation and character analysis; preparing commercially for an audition; audition process; agents and managers; unions; picking a monologue; giving a monologue; and more!
It's a great course for parents of child actors to take so they can learn what they need to do to help their child succeed. It also teaches you how to deal with the business of acting when it comes to agents, managers, and unions. It's not all show tunes and rainbows!
Strengths:
Extensive content: 15 lectures, 7h49m
Geared specifically towards child actors or parents of child actors
High rating: 4.5 stars
Lifetime access to course content
Comes with a course completion certificate
This is a comprehensive 8-week program that will give you vigorous coaching, tons of learning material, and invaluable insight into the world of acting. Even though it is an online course you will still receive personal feedback from instructors who are absolutely invested in your success. This is an interactive course where students have personalized zoom calls.
The course is divided into eight modules (one per week) on the following topics: week 1 – discovery week, week 2 – voice, week 3 – movement, week 4 – Shakespeare, week 5 – plays, week 6 – script work, week 7 – screen, and week 8 – landing roles.
What makes this one of the best online acting classes is that you won't have just one teacher. Instead, you'll be taught by a variety of experts who each specialize in a specific aspect of acting such as agents, movement and voice coaches, showreel producers, Shakespeare experts, casting directors, and more!
Strengths:
Get to know other like-minded actors who are also enrolled in the course
User-friendly course platform
Highly positive student feedback
The first 6 courses offered by Stage Milk Drama School completely sold out (there is now a waitlist) which speaks to the quality of the course
Visit Stagemilkdramaschool.com
One crucial part of becoming an actor is actually booking the job. Although there is some luck involved, there are also a lot of techniques you can apply to give yourself a better chance at success. In this course instructor, actor, and director, Amy Lyndon, will outline some of those techniques.
She lays out her 15 Guideline Map to Booking Technique over the course of 35 informative video lectures. The course is broken up into the following sections: introduction – booking is a separate beast; how to book acting jobs; the application; and assignments.
The assignments section includes five awesome exercises that you can use to take your acting skills to the next level. Amy ends the course by leaving you with the 5 basic principles of booking and an article on how to leave a lasting impression on casting directors.
Strengths:
Lots of content: 35 lectures, 3h10m
Instructor Amy Lyndon has a 5-star rating!
Bestseller on Udemy
Lifetime access to course content
Comes with a course completion certificate
This course takes a bit of a different approach- taking you beyond an acting school. Instructor Brennan Taylor Is not here to teach you how to act, he is here to teach actors how to book performing arts jobs successfully and with consistency. If you are tired of sporadic bouts of work, this course might be able to help you get on a roll when it comes to getting gigs.
Brennan will share his own personal journey with you and explain how he came to develop his sure-fire techniques for success. Sometimes it can be really helpful to hear from someone who has insight into the workings of the industry.
The lessons in Brennan's class will cover the following: the key to an excellent headshot; your resume; your demo reel; online image; agents and managers; what to do and what not to do in the audition room; taking direction; using the camera; creating your network; and more!
Strengths:
Very high 4.6-star rating
Popular: 1,665 students
Good amount of content: 15 lectures, 2h
Lifetime access to course content
Comes with a course completion certificate
This is a great all-around acting course that is suitable for all levels. Even experienced actors can pick up some helpful hints! You'll learn how to channel your uniqueness and creativity when acting in a believable and compelling way.
This course is packed full of tips and tricks that you can apply to any role. Examples of lesson titles are: Stop Pretending And Do Something; What Do I Need?; It's Not About The Words; Who Is Your Character Really?; Provocative Statements; and How Do You See The World?
You'll be taught by a professional actor, Keven Cox, who has received highly positive reviews on the course page. He is an involved instructor that takes the time to engage with students and reply to comments left on the page. To learn more, you can check out my other guides on public speaking and writing to further your acting and performance skills!
Strengths:
Good rating: 4.3 stars
Low time commitment: 10 lectures, 1h14m
Lifetime access to course materials
Comes with a certificate of completion