Complete List More Than 60 Inspirational Reading Quotes For Kids
If you are looking for reading quotes for kids that are sure to motivate and inspire, you're in the right place!
Below, you will find some of the best reading quotes for kids from some of the most famous authors, leaders, and minds of our time.
Hopefully, these inspirational quotes, sayings, and proverbs will help to motivate and continue to develop the minds of children. Also feel free to copy, screenshot, or download any of the images!
60+ Inspirational Reading Quotes For Kids 2023
1. "There is more treasure in books than in all the pirates loot on treasure island." – Walt Disney
2. "Children who love reading have everything within their reach." – Unknown
3. "A book is a gift you can open again and again." – Garrison Keillor
4. "There is no friend as loyal as a book." – Ernest Hemingway
5. "Reading is a passport to countless adventures." – Mary Pope Osbourne
6. "Books train your imagination to think big." – Taylor Swift
7. "Don't give up reading, the more you practice, the easier it will get." – Unknown
8. "Reading is the gateway for children that makes all other learning possible." – Barack Obama
9. "If you don't like to read, you haven't found the right book." – J.K. Rowling
10. "Kids lose themselves in books, they find themselves there too." – Lewis Keegan
11. "There is no such thing as a child who hates to read. There are only children who have not found the right book." – Frank Serafini
12. "A book is a magical thing that lets you travel to far-away places without ever leaving your chair." – Katrina Mayer
13. "No book is really worth reading at the age of ten which is not equally – and often far more – worth reading at the age of fifty and beyond." – C.S. Lewis
14. "Today a reader, tomorrow a leader." – Margaret Fuller
15. "The more you read, the more thing you will know. The more that you learn, the more places you'll go." – Dr. Seuss
16. "Kids will remember the books you read, not the stuff you bought them. Kids outgrow stuff, they never outgrow adventures." – Unknown
17. "I am part of everything that I have ever read." – Theodore Roosevelt
18. "There are many little ways to enlarge a child's world. Love of books is the best of all." – Jacqueline Kennedy
19. Remake the world, a little at a time, each in your own corner of the world." – Rick Riordan
20. "A book is like a garden, carried in the pocket." – Chinese Proverb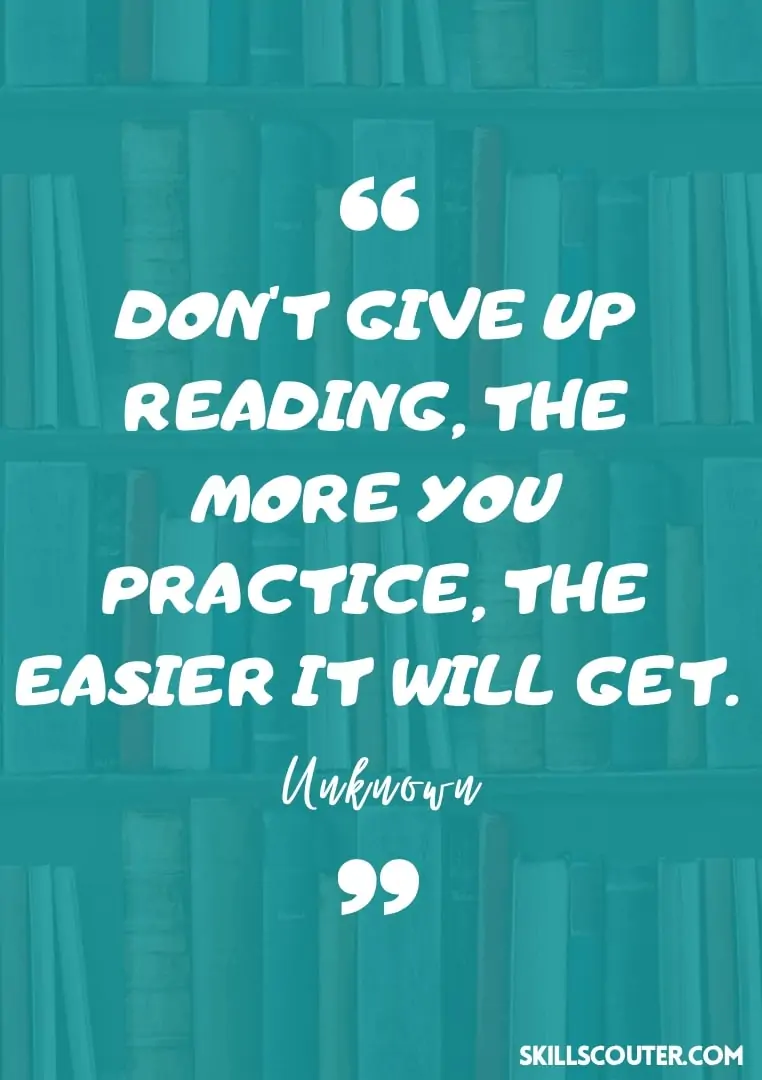 21. "If you want your children to be intelligent, read them fairy tales. If you want them to be more intelligent, read them more fairy tales." – Albert Einstein
22. "When I think of all the books still left for me to read, I am certain of further happiness." – Jules Renard
23. "If you open a book, you open your mind." – Unknown
24. "You can find magic wherever you look. Sit back and relax, all you need is a book." – Dr. Seuss
25. "There are many little ways to enlarge your child's world. Love of books is the best of all." – Jacqueline Onassis
26. "If you ever find yourself in the wrong story, leave." – Goldilocks and the Three Dinosaurs by Mo Willems
27. "Reading is dreaming with open eyes." – Unknown
28. "Reading should not be presented to children as a chore. IT should be offered as a gift." – Kate Dicamillo
29. "Reading gives us a place to go when we have to stay where we are." – Mason Cooley
30. "Children are made readers on the laps of their parents." – Emilie Buchwald
31. "You are never too old, too wacky, too wild, to pick up a book and read to a child." – Dr. Seuss
32. "Everyone is a reader, some just haven't found their favorite book yet." – Unknown
33. "I had a lot of dreams when I was a kid, and I think a great deal of that grew out of the fact that I had a chance to read a lot." – Bill Gates
34. "Never trust anyone who has not brought a book with them." – Lemony Snicket
35. "Tell me and I'll forget. Teach me and I'll remember. Involve me and I'll learn." – Benjamin Franklin
36. "To learn to read is to light a fire." – Victor Hugo
37. "Reading makes the world big." – Unknown
38. "Books hold a magical appeal for children that goes far beyond the stories they contain." – Dr. Marion Blank
39. "There's no such thing as a kid who hates reading. There are some kids who love reading, and kids who are reading the wrong books." – James Patterson
40. "Books are a uniquely portable magic." – Stephen King
41. "Reading is a way for me to expand my mind, open my eyes, and fill up my heart." – Oprah Winfrey
42. "Reading is an exercise in empathy. An exercise in walking in someone else's shoes for a while." – Malorie Blackman
43. "Once you learn to read, you will be free forever." – Frederick Douglass
44. "There's so much more to a book than just the reading." – Maurice Sendak
45. "Book are the quietest of friends. They are the most accessible and wisest of counselors, and the most patient of teachers." – Charles W. Eliot
46. "Between the pages of a book is a lovely place to be." Unknown
47. "If you are going to get anywhere in life you have to read a lot of books." – Roald Dahl
48. "A house that has a library in it has a soul." – Lewis Keegan
49. "Books are the bees which carry the quickening pollen from one to another mind." – James Lowell
50. "The books transported her into a new world and introduced her to amazing people who lived exciting lives." – Matilda by Roald Dahl
51. "The only important thing about a book is the meaning that it has for you." – Unknown
52. "No one cares how much you know, until they know how much you care" – Theodore Roosevelt
53. "Reading is to the mind what exercise is to the body." – Sir Richard Steele
54. "If you think you are too small to make a difference, try sleeping with a mosquito." – Dalai Lama
55. "A child who reads will be an adult who thinks." – Proverb
56. "The man who does not read has no advantage over the man who cannot read." – Mark Twain
57. "The journey of a lifetime starts with the turning of a page." – Rachel Anders
58. "You are never alone when you are lost in the magic of a book." – Marie Lu
59. "I think we dream so we don't have to be apart for so long. If we're in each other's dreams, we can be together all the time." – Winnie the Pooh by A.A. Milne
60. "You can't buy happiness, but you can buy books. And that's kind of the same thing." – Unknown
61. "There are no happy endings. Endings are the saddest part. So just give me a happy middle. And a very happy start. – Every Thing on It by Shel Silverstein
62. "The easiest way to open your mind to new ideas and concepts is to open a book and read." – Unknown
Conclusion Of The Best Reading Quotes For Kids
That's all folks! That wraps up my list of inspiration reading quotes for kids that will open minds, motivate kids to read more, become better students, and more empathetic to those around them.
If you want to learn more, you can also see my other posts on learning, teaching, student, and education quotes which are great for teachers, kids, or parents!
Also, if you have your own reading quote, feel free to comment below as I plan on updating this list.
 This post was proofread by Grammarly