How To Start Learning DSLR Photography With 11 Free Online Courses For Nikon + Canon Cameras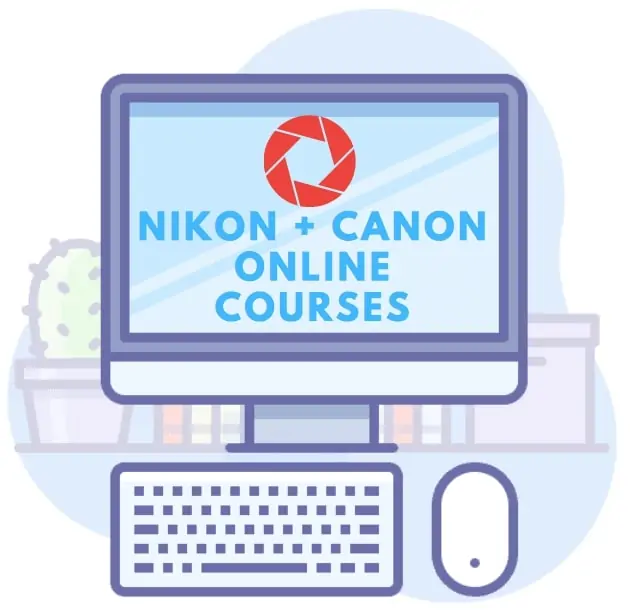 If you have just unboxed your new Canon or Nikon camera, you may need a free online course for Nikon instead of reading a 150+ booklet on how to use your new DSLR camera.
Because let's be honest, who actually reads those when they can learn from seasoned photographers.
So instead of wasting your time away, here are some great free online courses that will show you exactly how to use your Canon or Nikon camera.
Below, you will find courses that can be used as a template to learn your camera controls and also more specific class further below. Let's begin!
Learn DSLR Photography With 11 Free Online Courses Nikon & Canon Cameras 2023
---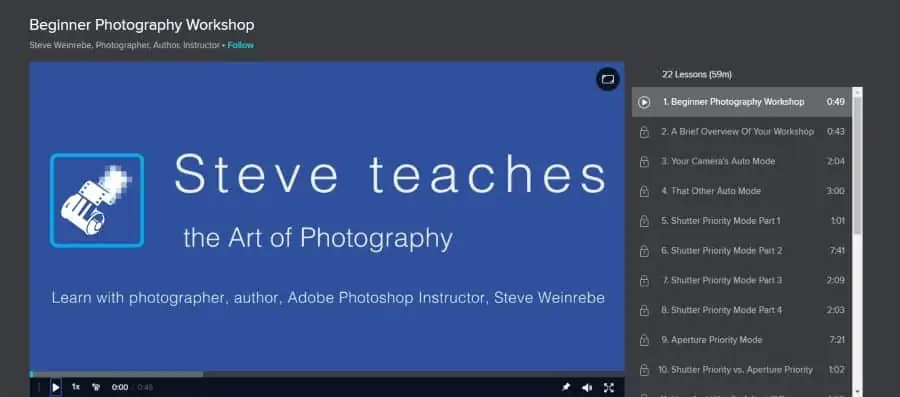 For this class, all you need to have is a camera that allows you to set those controls yourself. So, the brand could be Canon, Nikon, Pentax, Olympus, Panasonic, Fuji, or any other camera.
Even though each camera is different, the control icons are almost always the same, which makes to course great for both Canon and Nikon camera users.
In this 1 hour of on-demand video training, author and professional photographer Steve Weinrebe will show you how to take control of your camera. It's beginner level, but is also a nice refresher for anyone who has owned their camera for a while but still needs a little more guidance.
Some of the subjects you will learn are the basic rules of composition, using selective focus, deep depth of field, lightening up shadows, and all about ISO.
Steve will also go into different modes in Canon and Nikon cameras such as shutter priority modes, aperture priority mode, adjusting frame rate, shutter speeds, video mode, and heaps more! Overall, a great crash course on how to use your new camera!
Beginner level
1 hour on demand video
Useful for all brands
Taught by professional photographer
Class projects
Online community
Activate FREE Skillshare Trial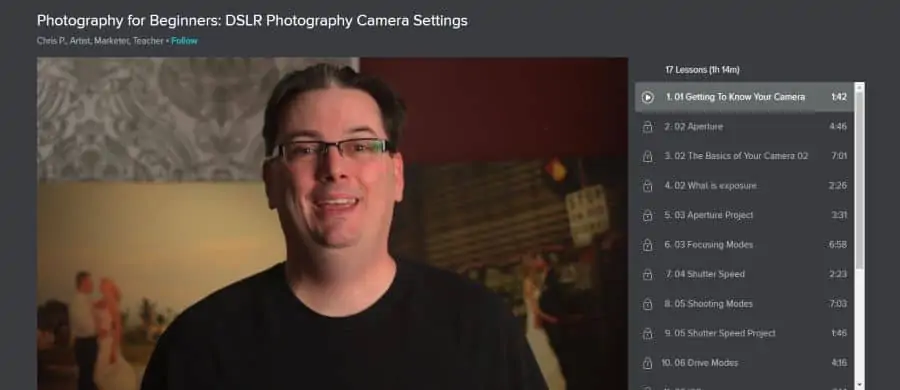 Also designed as a general photography course, this class taught by Chris Parker who is a professional photographer of 30 years. In this course, Chris will walk you through the core components of your Canon or Nikon camera so you can take the best photographs possible!
A little more than an hour of on demand video instruction, this class also has its own downloadable cheat sheet to help you follow along.
Lessons touch on basics of camera operation such as focusing, composing, and what files types to use, along with discussing white balance, the exposure modes, and when and how to take full manual control.
There are also multiple class projects to complete, giving you hands-on experience to supplement the course lectures. Like the above course, this one too can be taken by both Canon and Nikon users.
Beginner level
1 ¼ hour on demand video
Useful for all brands
Taught by professional photographer
Class projects
Downloadable resources
Activate FREE Skillshare Trial
With this course, you're not going to spend a lot of time on creative or artistic techniques. It is geared primarily as technical instruction for using Canon digital cameras, especially their DSLR line up.
It is a beginner level course, but also great for experienced photographers using Canon for the first time. A lot of time is spent on some of the controls that are specific to Canon DSLRs such as the focus modes, control wheels and buttons, and deep menu items.
In 3 hours 15 minutes of on demand video you also learn all about using video modes in Canon cameras along with the different audio capabilities.
Some other topics covered in this course are setting white balance, wi-fi, the smartphone apps, setting up color profiles, using an external flash, viewfinder controls and much more.
Beginner level
3 hours 15 minutes
Professional photographer instructor
Specific instruction for Canon DSLRs
Online resources
Class projects
Activate FREE Skillshare Trial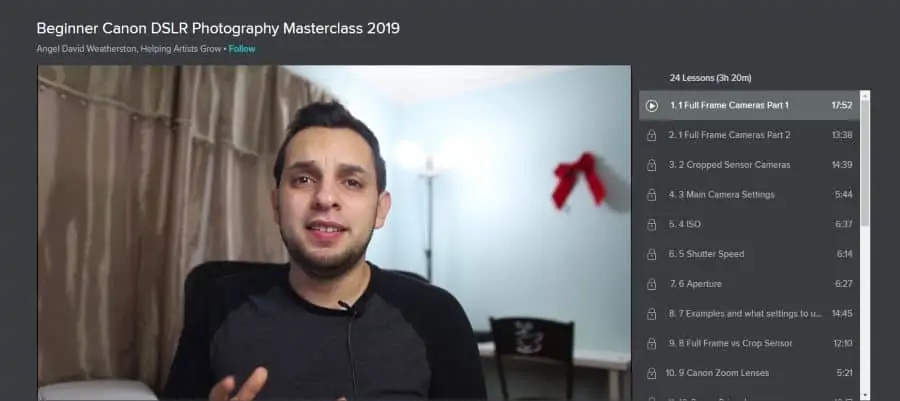 Even if you haven't purchased your new Canon DSLR yet, this is a great course to enable you to hit the ground running once you get your new camera. As an added bonus, this class is constantly updated so you will be receiving the most relevant and up to settings relating to Canon.
Your instructor is David Weatherston, a professional photographer and artist who has a wealth of experience to share in this 3.5 hour long course.
Some of the topics covered are adjusting ISO, shutter speeds, aperture, zoom exposure and the list goes on. David also dives into other areas of full-frame and APS-C sensor cameras such as speed lights, prime lenses, remote control option and more.
So for a full-fledged course that covers everything Canon in an easy to follow manner, this is a great course! To learn more, also check out my guide on the best Skillshare courses!
All levels
3 hours 20 minutes
For Canon cameras
Pro photographer instructor
Class project
Guidance for purchasing decisions
Activate FREE Skillshare Trial
Nikon fans, you get taught, too! Regardless of what Nikon DLSR you have, this course will help you get the most out of what it can do. From entry-level APS-C format cameras to full-frame models made for professionals and everything in between, Nikon camera controls are similar.
Follow along with videographer/photographer Richard Harrington, one of LinkedIn Learning's more popular instructors, as he guides from entry-level basic knowledge all the way through some of the most advanced camera features available in digital photography.
You will learn general camera controls, deep menu features, flash photography, lens choices, custom white balance, panoramas, video features, and focus points. You will even learn how to safely clean your camera sensor.
All levels
3 hours on demand video
Professional photographer and videographer as instructor
Nikon cameras
Includes video features
Certificate of completion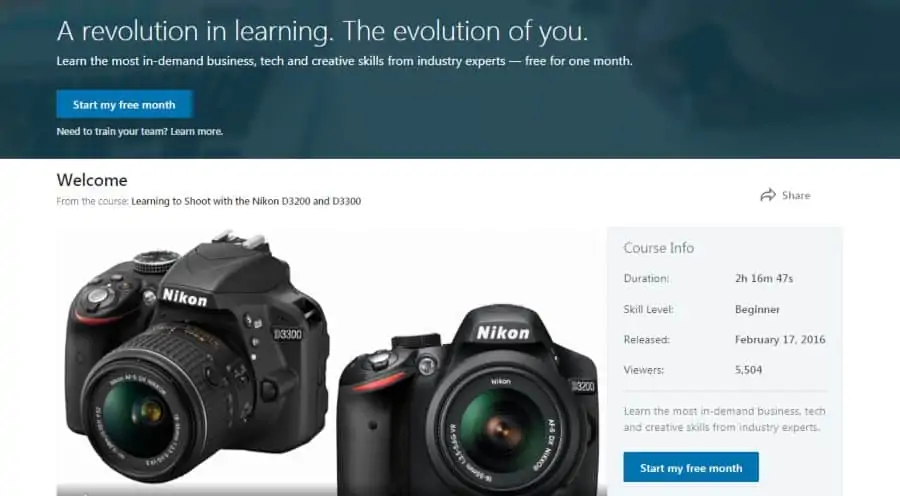 Nikon's entry level APS-C format DSLR cameras, the D3200 – D3500 series, are very full-featured for being so simple to use. Beginner users may not fully realize how much extra these modern digital cameras can do, regardless of brand.
LinkedIn Learning instructor Richard Harrington teaches this 2 ¼ hour beginner-level course for people who want to move beyond the full auto green dot setting and really take control. As a photographer himself, he will show that you don't have to an exposure wizard to do that. Modern digital cameras even make that type of control more accessible.
Subjects covered are the exposure mode options, how to control focusing, video functions, and more advanced features such as panoramas, white balance, and using flash.
You can access this course on hand held devices and it comes with a certificate of completion.
Beginner level
2 ¼ hours on demand video lessons
Nikon cameras
Professional photographer as trainer
Access on phones or tablets
Certificate of completion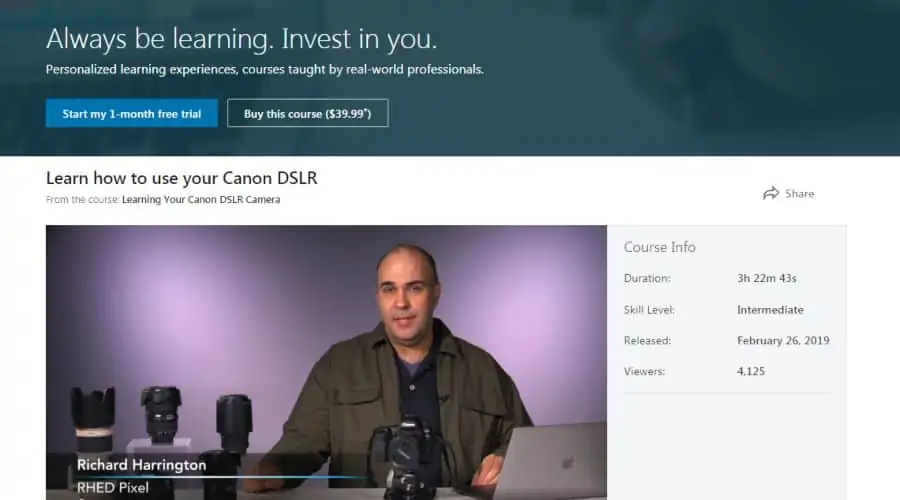 Professional photographer Richard Harrington is the LinkedIn Learning teacher for this intermediate level course covering Canon DLSR cameras. In 3 ½ hours of on demand video lessons, you will learn most of the features of your camera that aren't readily apparent.
Whether you are new to photography or just new to Canon, guidance will help you unlock the potential these cameras have. Features such as the smartphone apps for camera control, video recording in HD, exposure bracketing for HDR photography, and all of the different automatic and semi automatic modes.
A certificate of completion comes with this course and you can access it on portable devices like phones and tablets.
Intermediate level
3 hours 22 minutes
Canon cameras
Pro photographer instructor
Certificate of completion
Phone and tablet access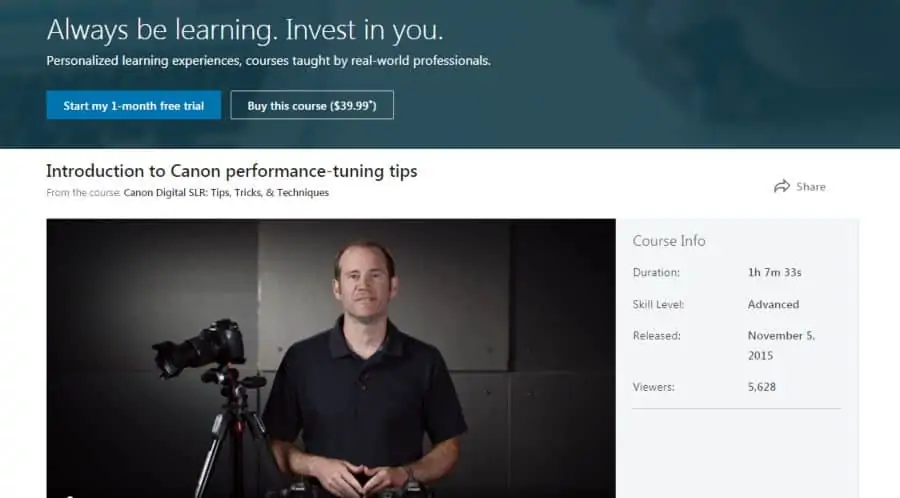 Sometimes, even experienced photographers can use a little extra information about their gear. Have you seen the PDF instruction manuals on the upper tier cameras? A little intimidating, to say the least. This course of tips and tricks for Canon DSLRs will get you past that feeling in a little over an hour of on demand video lessons.
Professional fine art photographer Justin Reznick will take you deep into your Canon DSLR features and functions to allow you to completely take advantage of what it can accomplish for you.
Some of the deep menu functions this course touches on are exposure bracketing controls, configuring the card slots in cameras with multiple slots, setting up your own customized menus, and how to maximize working from either the viewfinder or rear screen live view.
Advanced level
1 hour 7 minutes
Canon cameras
Pro photographer teacher
Access on tablet or phone
Certificate of completion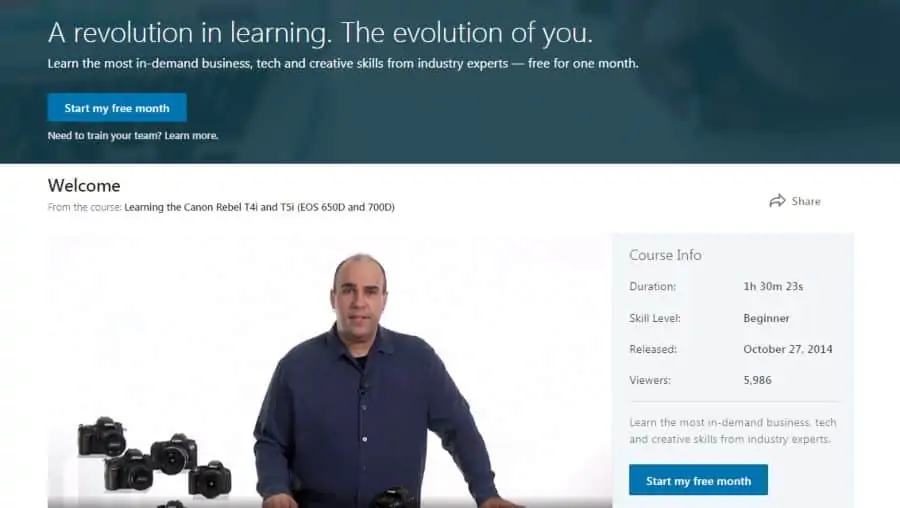 Canon Rebel DLSRs are their entry level APS-C format cameras, combining ease of use and budget friendly pricing. Just because they are entry level though, they aren't lacking in advanced features and capabilities. This 1 ½ hour course will help you learn more about these cameras.
It's beginner level, taught by professional photographer Richard Harrington, and covers the information in an easy to understand, comfortable manner.
Did you know that even when using your camera in programmed exposure automation mode that you still have control over exactly what settings the camera will use? Learn how to change between the different modes, how to use flash, and what video functions the camera has.
Beginner level
1 ½ hours
Canon cameras
Taught by an established pro
Covers flash and video
Has a Quick Start lesson
One of the more confusing aspects of photography for many people, even experienced users, is flash. It doesn't have to be that way, though. Modern speedlights are so advanced, it can pretty much do most of what you want it to do.
What menu options and which buttons, dials, and switches to change are cause the most problems for people. This course is 2 ½ hours of instruction to help you figure all that out.
The lessons are presented by professional photographer Levi Sim are intermediate in level and are full of useful information.
He discusses what camera and flash modes to set, how to use the speedlights off camera, what the different exposure options are, and some special functions built into Nikon speedlights.
Intermediate level
2 hours 39 minutes
Pro photographer instructor
Nikon Speedlights (flash units)
Lots of detail
Certificate of completion
Canon and Nikon flash units are not compatible with the other system. Just like with lens mounts. So, you will need information specific to Canon camera systems if that's your brand.
This is pretty much the same course as the one listed above, taught by Levi Sim, but specific to Canon. It is all really beneficial information
Intermediate level
2 hours 38 minutes
Pro photographer instructor
Canon Speedlights (flash units)
Lots of detail
Certificate of completion