Learn How To Sign With 2023's Top 7 Best Online BSL Courses & Classes!
If you are wanting to learn BSL (British Sign Language) in the comfort of your own home, you've come to the right place!
In this guide, I cover some of the best online BSL courses, classes, lessons, and training that are completely free!
Also, with many of these online classes, you will be able to learn the basics of BSL from letters, numbers, common phrases, greetings, and tons more! Let's get started!
Top 7 Best Free Online BSL Courses & Classes 2023
---
For the pure beginner looking to dip their toes into the world of British Sign Language, this short online course is the perfect introduction! In this short free class, you will learn the entire alphabet that will allow you to start conversing with BSL.
Hosted by passionate linguist Ethan Gray, this online class is led in a patient and clear way by the instructor. His work can also be found on www.linguisticsonline.net, which contains articles, videos, and other tips for BSL and other languages.
In 31 lessons that span close to 1-hour, you'll be introduced to every letter of the alphabet, as well as practicing with quick games and exercises throughout the course. You'll also get a chance to apply the BSL Alphabet that you've learned to real phrases, for practicing your skills instantly.
Currently, new users to Skillshare can sign up for their free 1-month trial and get access to this class for free, plus all the others mentioned on this list. Overall, this is one of the best online BSL courses for those looking for an easy introduction!
31 video lessons
46 minutes of content
Suited to beginners
Includes Alphabet Guide Booklet
Activate FREE Skillshare Trial
Next on my list is another great online BSL course for those who might want to learn more than just the alphabet and learn more practical BSL phrases and greetings.
For this online class, you will again be taught by Ethan Gray who patiently and passionately shares his knowledge in his fluent BSL skills. Each of his lessons are also easy to follow and extremely actionable for beginners.
Some of the many topics covered in this condensed courses include learning numbers from 1-100, basic greeting phrases, BSL manners, and some common questions and responses. There are also some game lessons throughout the course which makes learning quite fun!
Again, this online BSL course is hosted on Skillshare which allows users access to all lessons, class materials, downloadable resources, 29,000+ classes, and a 1-month free trial! Overall, a fantastic BSL class for beginners!
23 video lessons
51 minutes of content
Suited to beginners and
2-Month Free Trial
Activate FREE Skillshare Trial
Suited for complete beginners in BSL looking to understand the basics of this language, this course is a well-structured, easy-to-follow entry for anyone curious about BSL. It's also just under 1-hour in length and is jam-packed with valuable and actionable lessons!
Olly Richards is the host of this online BSL course who has helped 10,000s of students around the world learn various forms of sign language. His unique approach to teaching is also incredibly refreshing due to his engaging and interactive teaching style.
Over 4 modules and 26 video lessons, you'll learn the alphabet, basic fingerspelling, how to start conversations, expressing emotions, asking questions, and working on expanding your BSL vocabulary.
Hosted on the global online course platform Udemy, this course is one of over 150,000 skill-based tutorials available for more than 50 million students. With many BSL courses, this particular course is one of the best BSL online classes you can find on Udemy!
26 video lessons
56 minutes of content
Rated 4.5/5
664 students have taken the course
Includes 13 downloadable resources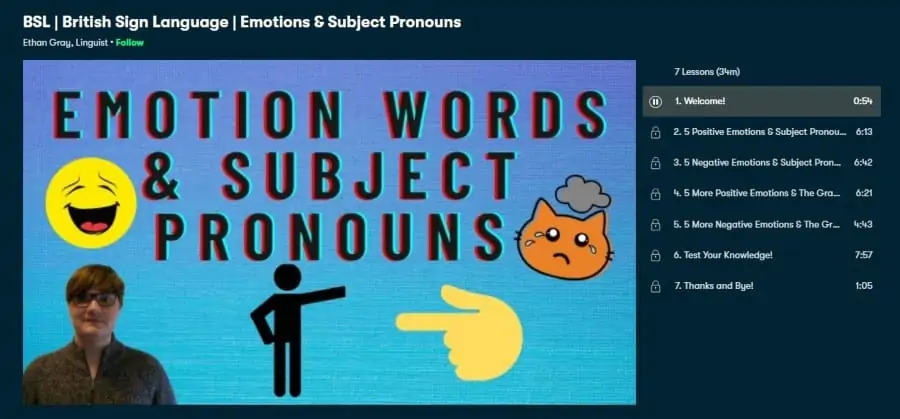 In this short online BSL class, you will learn how to express emotions and pronouns in just over 30 minutes. So if you are short on time but still want to get some quick learning in, this course is a great crash course!
This is the third online course on Skillshare taught by linguistic-expert Ethan Gray who is extremely passionate about sharing his British Sign Language knowledge in a clear and patient teaching style.
For this class, you will be taught 20 essential ways to express your emotion, including positive and negative feelings while also learning subject BSL pronouns to be able to put together phrases with these emotions.
Skillshare is a global online interactive learning platform that hosts over 2,000 free courses and over 27,000 paid-subscription based courses accessible to any student level. This is one of the free courses available through the platform.
7 video lessons
34 minutes of video content
Suited to beginners
2-Month Free Trial
Activate FREE Skillshare Trial
For anyone who wants to have a comprehensive deep dive into BSL, this course starts from the fundamental beginner tools and advances to level 2 lessons.
The course is led by the team at John Academy, which offers knowledge from a variety of linguistic experts who have compiled the learning materials in easy-to-follow ways.
Some of the course covers a wide range of BSL topics, from the basic alphabet and vocabulary to dialogue involving questions, greetings, names, age, directions, travel, work, and much more.
John Academy is a UK-based online learning platform that specializes in body accredited courses on a range of topics that allows students to use their certifications globally. Overall, one of the best online BSL classes on this list!
8 hours of video content
1-year enrollment
Receive level 1 and 2 qualification certificate
5362 students have taken this course
Rated 5/5
This beginner's BSL course is ideal for people interested in using BSL in school, in their workplace, or to revise their level 1 BSL technique. Students will have the chance to get fully accredited through their learning, and they can take as long as they need over a span of one year to complete the course.
The course has been compiled by a team of fluent BSL speakers and teachers, as part of the British-sign.co.uk platform.
Throughout 10 immersive lessons, learn the basics of fingerspelling from numbers, time, money, color, relationships, descriptions, food and drink, emotions, and other vocabularies. You'll be assessed throughout each lesson with the final assessment awarding a certificate of completion that is accredited by CPD
The British-sign.co.uk learning platform specializes in accredited BSL courses, primarily for beginners. The instant-access course is available for students for an entire year of study, allowing each person to go at their own pace.
10 comprehensive lessons
1-year access
'Pay What You Can' format
Group rates available
Suited to beginners and level 1 BSL revision
The certificate is CPD accredited
Like learning in your own unique way? For people who don't like to follow traditional ways of learning (via lectures), these courses are best suited to you. Your entry into learning BSL is easy when you can customize your experience and choose between tutored or independent courses for any level of BSL learner.
This platform offers interactive courses that also provide certifications in different areas of BSL, with assessments by industry experts.
There is also an option to take bespoke BSL courses that prepare students for IBSL's levels 3 and 6 Certificate qualifications, as well as Signature's NVQ Certificate qualification.
BSL Courses was created in 2010 and has been serving students from around the globe in learning how to advance in their BSL skills and use their qualifications in professional environments. If you are looking to learn more about sign language, you can also see my full guide on ASL here.
Globally accredited courses
Choose between tutored training or individual courses
12 courses available
Suited to novice to advanced students