Learn How To Create Digital Illustrations With 2023's Top 11 Best Online Procreate Courses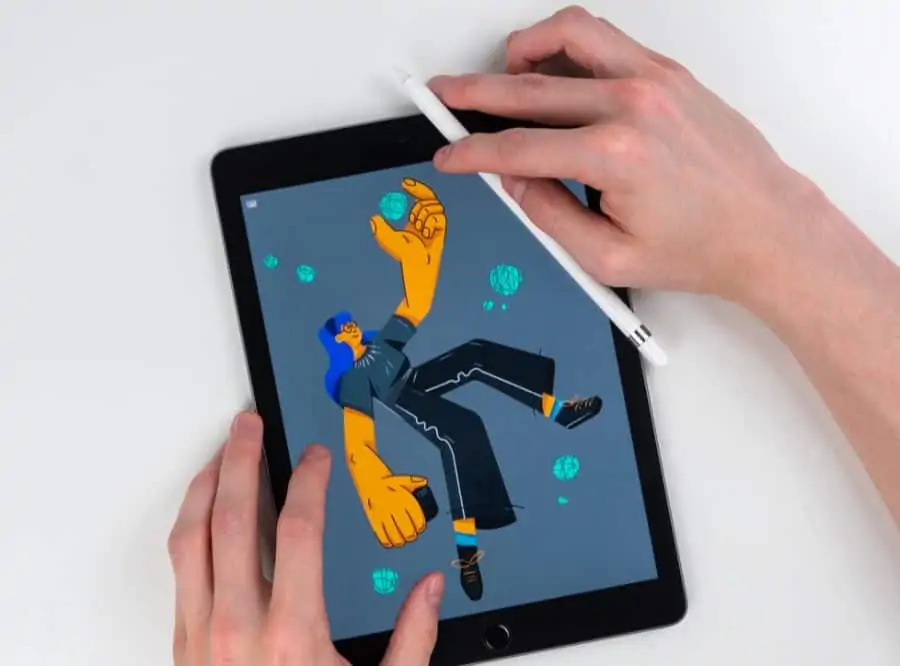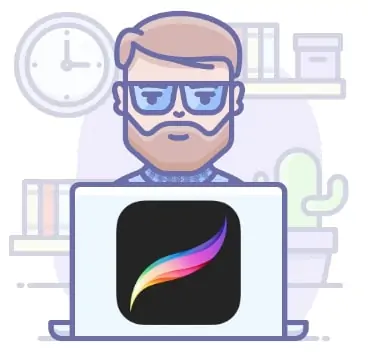 If you want to create stunning illustrations on your iPad, there really is no better tool than Procreate.
Because of this, I have found some of the best online Procreate courses in 2023 so you can start creating dream-like drawings in no time at all.
Below, you will find some amazing classes that are great for beginners and those who already have some experience under their belts. Let's begin!
Top 11 Best Free Online Procreate Courses, Certifications & Classes 2023
---
Up first on my list is a fantastic beginner Procreate course that will teach students the fundamentals of using this much-beloved iPad app, not to mention how to create stunning illustrations!
Some topics covered in this course are setting up a canvas, selecting the tools, using layers, shading, backgrounds, adding color and texture to your creations. You'll also learn tips, tricks, and shortcuts that will save you tons of time.
Your instructor for this course is Jarom Vogel who is a freelance professional illustrator. His clients include such companies as Apple, Procreate, Harmonix Music, and Harper Collins. He also has a BFA from BYU in Illustration, so you know you'll get leading industry-standard classes.
As this class is hosted on Skillshare, students can take this and dozens of other Procreate courses on their 1-month FREE trial that can be canceled anytime! Join 42,000 other satisfied students who have completed this course.
Beginner level
1 hour 7 minutes on-demand video
Professional illustrator as instructor
Downloadable tools provided
Class projects
A good refresher for experienced users
Activate FREE Skillshare Trial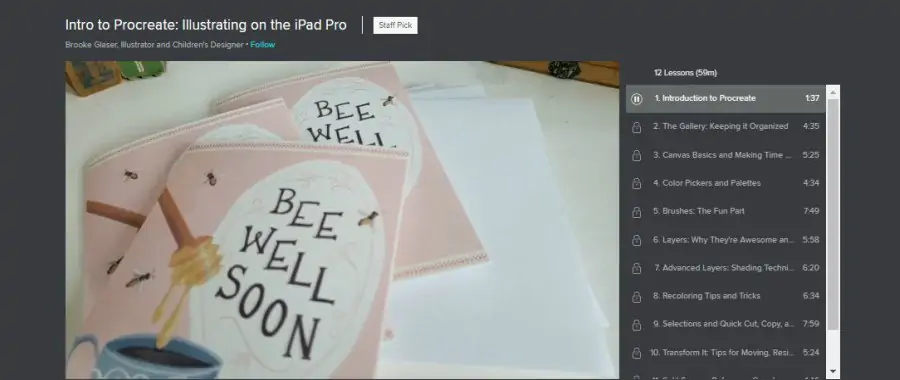 Up next on my list is a course that teaches all the basic Procreate tools plus many of the lesser-known ones that can transform your creations into true works of art. After this course, using Procreate will feel as natural as picking up a pencil and sketchbook.
Brooke Glaser is the trainer for this class who is a professional illustrator working in the fields of greeting cards and children's products and her class has over 22,000 students!
Some of the modules covered in this class are canvas basics, color palettes, brush selection, shading, advanced layers, short cuts, and TONS more! Once you have learned these skills, you can then share your work on the Skillshare community page and get feedback on your creation.
Being hosted on Skillshare, students can take this course plus 24,000+ others on the 1-month free trial! Can't go wrong!
Beginner level
Professional illustrator as instructor
1 hour of on-demand video
Extra resources available
Learn how to make a time-lapse of your work
Class project
Activate FREE Skillshare Trial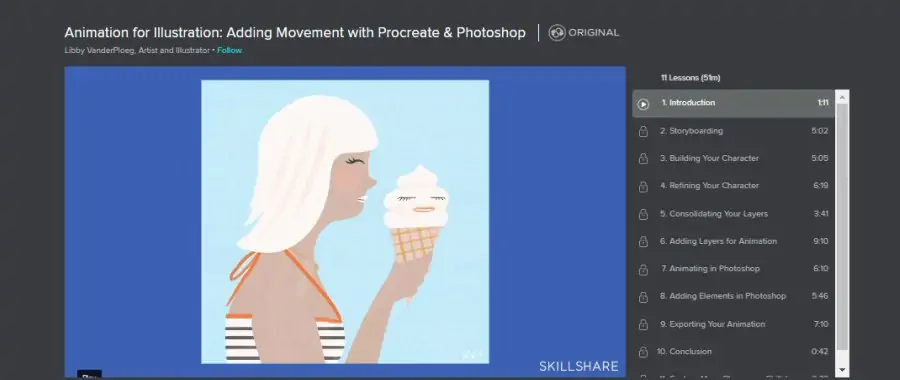 Next up is an intermediate-level course that combines Photoshop and Procreate to teach animation and other forms of movement for illustration. An hour of on-demand video is combined with class projects to help you bring your drawings to life.
Taught by professional designer and illustrator Libby VanderPloeg, she has worked for a diverse list of clients including Condé Nast Traveler, Netflix, The New York Times, Anthropologie, Chipotle, and TEDTalks.
Some of the modules that Libby covers in this course include storyboarding, planning sketches, building characters, consolidating layers, adding elements in Photoshop and the list goes on!
Join 8,000 other students who have taken this course on the 2-month free trial.
Intermediate level
Professional illustrator as teacher
1-hour on-demand video
Extra resources
Requires both Procreate and Photoshop
Shows how to make drawings move
Activate FREE Skillshare Trial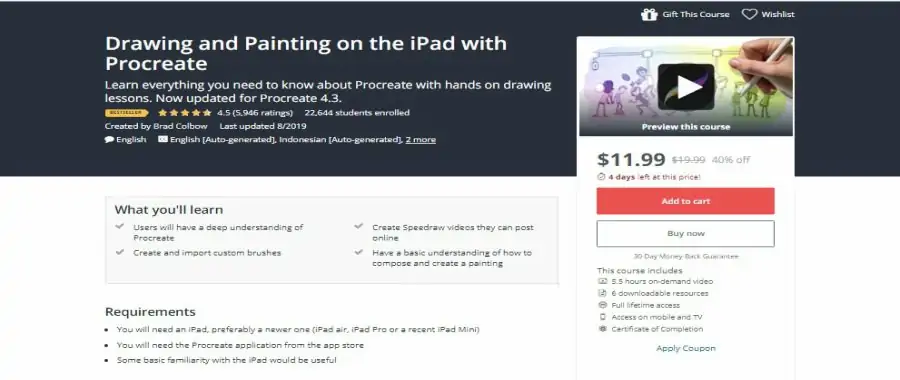 Here is a good course for users who are either new to Procreate or who have been trying to be self-taught but not getting too far past the basics. It is recommended that you make sure you are very familiar with using your iPad before taking this class, though you don't need any experience with Procreate.
Brad Colbow teaches this 5 ½ hour class with on-demand video so you can pace yourself through your own learning curve. Brad is an illustrator that publishes comics and runs a YouTube channel geared towards discussions of technology for illustrators.
You'll become familiar with all the tools in Procreate and, by the time you are finished with the instruction, you will be able to create Speedraw videos that can be posted online.
There are downloadable resources and it comes with a certificate of completion. 22,000 students have enrolled.
Beginner level• 5 ½ hours on-demand video
Online resources
Professional publisher as trainer
Teaches Speedraw video
Certificate of completion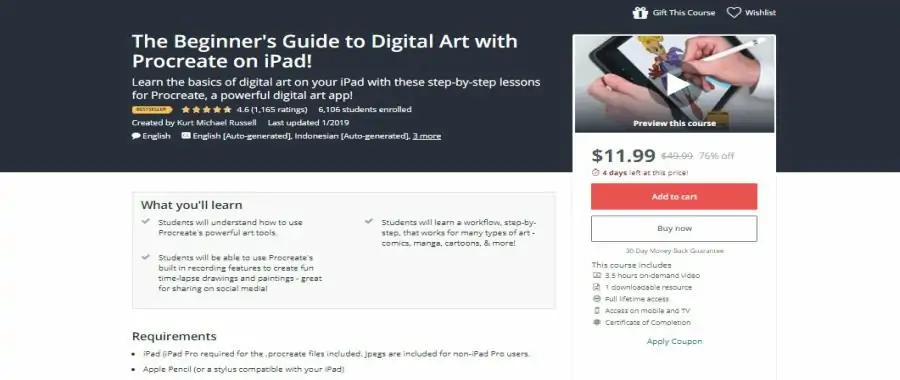 An in-depth, step by step consideration of how to use Procreate for creating digital art on an iPad. A 3 ½ hour course, this beginner-level instruction will give new users the knowledge necessary for many types of illustration.
You will learn how to use the basic tools, how to import specialty tools, what it takes to make colored illustrations, and even how to create your own unique style of drawing, including cartoons and comics.
Kurt Michael Russell is the instructor. He is a freelance professional colorist and illustrator for many publications, ad agencies, and other companies.
It has online resources, a certificate of completion, and 6,100 students have taken the course.
Beginner level
3 ½ hours
Professional colorist as instructor
Online resources
Lifetime access
Certificate of completion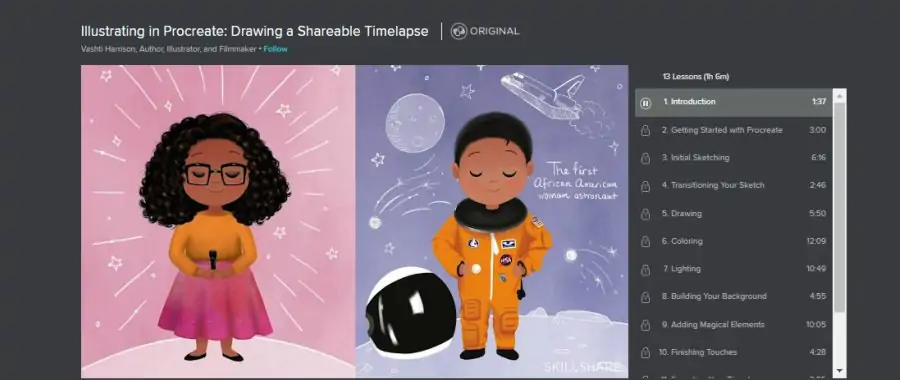 Timelapse animation is one of the most interesting things you can do with modern apps for illustration. Vashti Harrison, your instructor for this course, will take you through all the steps from start to finish.
Vashti Harrison is an artist, author, and filmmaker. After earning a degree in Studio Art, she then earned an MFA from CalArts in Film and Video where she learned animation from instructors working at Disney and DreamWorks.
A little over an hour of on-demand video, this self-paced course is an intermediate level. Lessons include planning the timelapse, creating charming characters, and putting them into various environments. Downloadable resources are included in this class taken by 6,481 students.
Intermediate level
Taught by professional filmmaker
Specifically designed for timelapse
Includes info on creating characters
1 hour on-demand video
Online resources
Activate FREE Skillshare Trial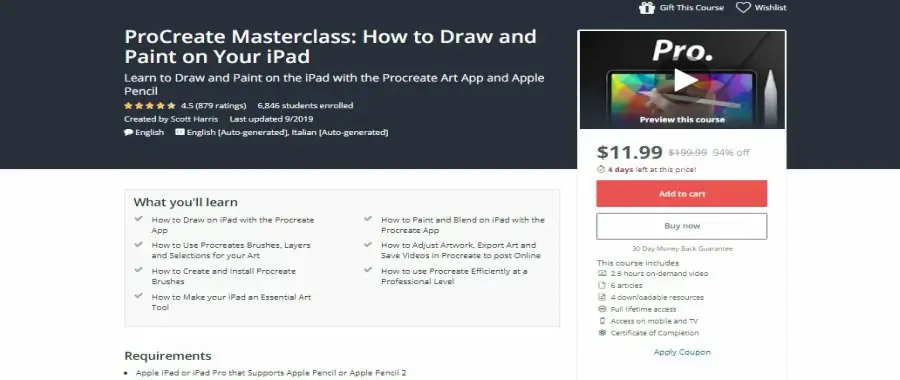 You get lifetime access to the resources included in this class, which is a good thing because the support materials get updated on a regular basis.
The course goes from beginner to intermediate level and is useful instruction for any level of illustrator of graphic artist. One category of artists (among many) that could benefit from this course is illustration for gaming.
Instruction is arranged into modules within the 2 ½ hours of on-demand video. Modules teach getting familiar with the tools and canvases, using pencils, brushes, and colors, constructing images with layers, the transformation feature, creating your own specialty brushes, and all the different export and save options.
It is taught by Scott Harris, the Art Director of DAS: School of Art and Design. He gives instruction online at Udemy and at DAS. Subjects he teaches include Film, Animation, Games and Entertainment Design, Concept Art and Animation, Commercial Illustration, and Painting.
Extra articles, resources, and a certificate of completion are included.
Beginner to intermediate level
2 ½ hours self-paced
Taught by Art Director of DAS
Separated into modules
Lifetime access
Certificate of completion
What is the Grayscale Method and how does it work in Procreate for Apple iPad? This intermediate-level class will answer these questions and provide you with the skills necessary to use this method. As a prerequisite, you might consider the beginner level form the same instructor, Kurt Michael Russell.
Kurt Michael Russell is a professional colorist and illustrator for books, comics, and publishers. His explanation of Grayscale comes from his own experience as a professional in the work field.
The 2 ¼ hours of on-demand video instruction is split up into 18 lessons covering making a sketch, defining and assigning color values to the greyscale image, adding the color, and making the finishing touches.
Extra articles and resources, a certificate of completion, and lifetime access to class materials are included in the course.
Intermediate level
2 hour 18 minutes
Concentrates on the Grayscale Method
Instructor is a professional colorist for publication
Lifetime access
Certificate of completion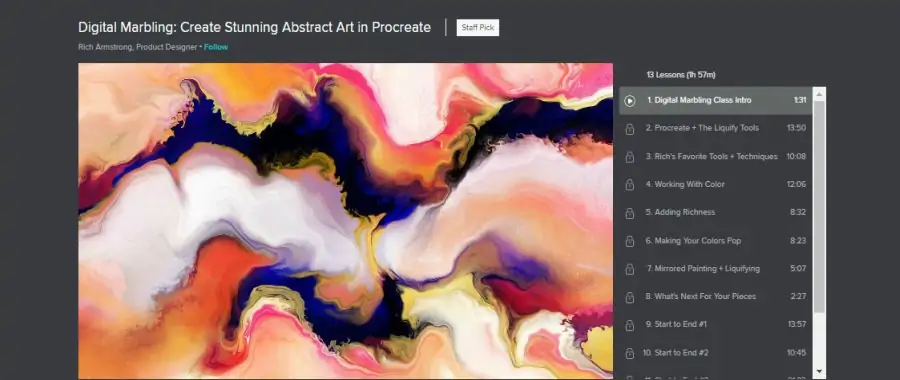 Same questions as above, but about Digital Marbling. What is it? How can you use it in Procreate? In this class, product designer Rich Armstrong will take you the fundamentals of this abstract art technique.
Digital Marbling resembles the real world art techniques of Paper Marbling, Suminagshi, Acrylic Fluid Pouring, Ebru, and Bottle Cap Pouring. It's a method that can be used by any Procreate user from absolute beginner to an advanced skills illustrator.
Subjects included in the 2 hours of on-demand self-paced instruction are using the liquify tools, mirrored painting, adding richness and texture, and several start to finish examples.
Class projects and multiple downloadable resources are included in this course.
All levels
Focused on the Digital Marbling technique
Expert designer as instructor
2 hours self-paced
Many extra resources
Participate in-class projects
Activate FREE Skillshare Trial
Specific guidance concerning how to bring your characters to life is what is in this 3 ½ hour class. All levels of artistic skill can find something useful with this course.
All you really need to have as a prerequisite is an iPad, Procreate, and some ability to draw, even if it's only stick figures. In 8 lessons, you'll learn basic figure drawing techniques, adding color and fleshing out your characters, and bringing your characters to life by means of adding personality with subtle drawing clues.
Brad Colbow, professional designer and illustrator, will lead you through the steps of character creation. Multiple resources are available to download and a certificate of completion is provided.
All levels
Taught by professional illustrator
3 ½ hours
Learn how to give characters personality and life
Lifetime access
Certificate of completion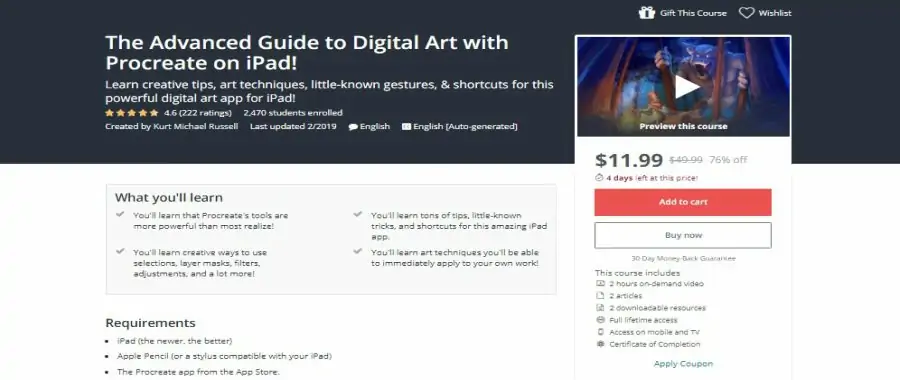 When the title of a course says advanced, you better believe you'll receive advanced level instruction. In this course, you definitely do.
Join Kurt Michael Russell, professional illustrator and colorist for print and video media, as he reveals many insider tricks and tips that will enhance your own artwork, regardless of what type of illustrative art you do.
The course takes you through advanced uses of the tools for selection, layering, masks, filters, and other actions. It's about 2 hours long and comes with a certificate of completion. Overall, this is one of the best online Procreate classes!
Advanced level
2 hours on-demand video
Taught by very experienced professional
Downloadable resources
Lifetime access
Certificate of completion
Final Thoughts
A lot of people these days use their tablets and smartphones as their computers. iPad capabilities and apps such as Procreate rival anything made for Mac or Windows platforms. The best online Procreate courses will teach you how to use this graphics app to its full potential.
Procreate for iOS is a graphics and painting program available for tablets. It is a very powerful and capable app for vector graphics and painting or drawing. Since its first release, it has become extremely popular.
You might consider Procreate as the iOS answer for Adobe Illustrator (even though Illustrator is available in iOS). The user interface is tailor-made for iPad use and it has an impressive array of tools. If you are a graphic artist, illustrator, or mixed media artist and you carry your iPad with you, you should look into Procreate.
If you are already a Procreate user and desire to learn it inside and out, then you will want to check out these best online Procreate courses. To learn more, you can also see my guide on the top online illustration courses!