Top 11+ Best Free Online Piano Lessons & Classes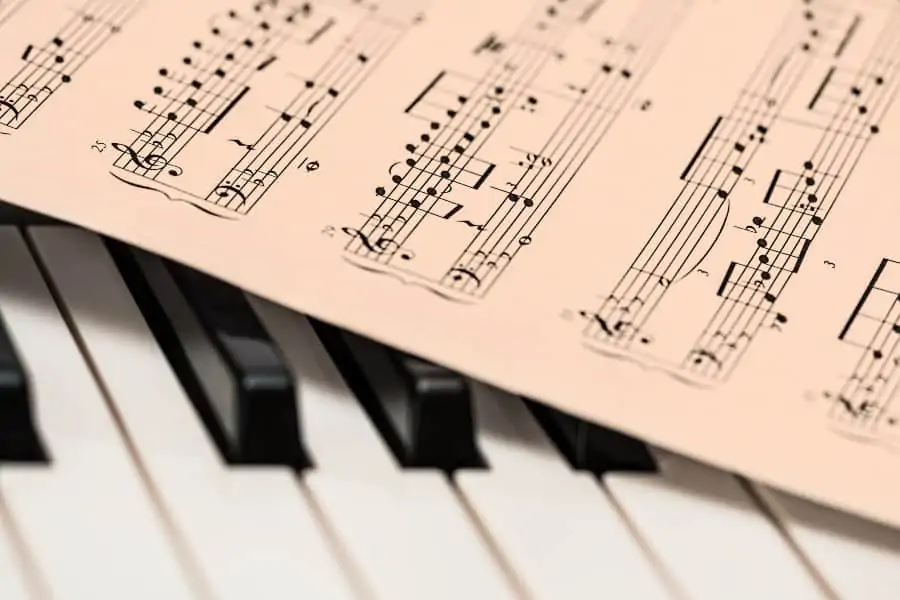 Learning how to play piano is a dream and a desire for many people. So if this is you, you're in the right place!
In this guide, I have found some of the best online piano lessons and classes in 2022 that will help you learn from high-quality piano teachers. These course formats can be an excellent fit for a range of learners. Each student can embrace piano playing and the tutorials at her own pace.
Also included with many of these piano lessons are extra material such as musical notations, audio recordings, class projects, and group discussions. Let's get started so that you can learn the fundamentals and look forward to playing your first song.
Top 11+ Best Free Online Piano Lessons & Classes 2023
---
For people who find themselves at a disadvantage in reading music, this course bypasses the musical scales method in favor of the easier shape-based instruction.
So for those that may feel overwhelmed by reading sheet music, this is a great alternative! You'll also be joining 11, 000 students who have completed this class with a 97% approval rating.
Your instructor for the course is Simon Glenister, who is a professional musician and music teacher. Simon also has over 20 years of experience teaching students with his easy-to-follow method for learning piano.
In total, there is 1 ½ hour of beginner lessons which cover a solid foundation of skills: what is a chord, the shapes that will help us learn chords, how to strengthen our left-hand ability, and then ends with several fun compositions to try out.
Included with this online class are additional downloadable resources, class projects, and available group discussions. There is also a 1-month free trial that new users can try! Overall, a great beginner piano class!
Beginner level
1 1/2 hours on-demand video
Taught by a professional musician
Alternative "shapes" method of learning chords
Class projects
Group discussions
Playing by ear, learning chords, composing your own music, and being equally comfortable with both hands are what this beginner piano lesson aims to teach you.
Your instructor for this online lesson is Mark de Heide, who is a musician and is extremely passionate about teaching piano. Over 15,000 students have benefited from his teachings and highly recommend Mark as an instructor.
Over 7 hours of beginner to intermediate video lessons, you will learn about white keys, black keys, special keys, piano scales, piano octaves, piano chords, progressions, left-hand patterns, combining hands, ear training, composing, song structure, sheet music, and time signatures to name a few.
With many Skillshare classes, there are extra resources, class projects, class discussions, downloadable files, and the ability to ask questions directly to the teacher.
Beginner to Intermediate levels
Over 7 hours of on-demand video
Taught by a professional musician
Over 15,000 students
Class projects
Class discussions
For beginners who desire to play the classical works of famous composers, this online piano course will show you how to do that while also providing basic beginner-level instruction on clefs, notes, chords, and scales. A great way to work on your piano skills.
Instructor Dan Hegelund will be your piano teacher for this course. Dan is an accomplished musician, producer, composer, and vocal coach. Dan has also toured around the world and you can download his commercially available recordings on Apple Music, Spotify, and Amazon.
When compared to other classes on this list, this one is spanned over 12 weeks with a time commitment of around 4-5 hours per week. Included in this comprehensive course are lessons on the foundations of piano such as notes, scales, clefs, and chords.
From there, you will then learn compositions from the greats like Allegro, Minuet in C, Für Elise, New World Symphony, and several others.
Along with the video instruction, this course includes several hours worth each of downloadable resources, available discussions, Q&A, and a certificate of completion.
Beginner level
12-week course, 4 hours per week
Taught by a professional musician
Concentrates on Classical music
Lots of downloadable resources
Available certificate of completion
Next on my list is a thorough online piano class that will teach you how to compose your own music, while also teaching you technique, musical theory, arrangement, harmony, strategy, chord, progression, and composition.
Jack Vaughn will be your piano teacher, who is a professional musician, music teacher, and creator of the Lean Musician website. So you will be in capable hands!
In total, there are 106 lessons over 7 hours of on-demand video that include modules on the chromatic scale, notes on the keyboard, ambient tracks, key gravity, transposing, wandering hands, and an analysis of famous compositions.
Again, being hosted on Skillshare, new students can enroll in this class for free when activating the 2-month free trial. Overall, this is a great class that may be best suited for intermediate piano players.
All levels
7 hours on-demand video
Taught by professional composer and musician
Facebook discussion page available
Downloadable resources
Class projects
If you have yet to start any sort of piano training or lessons, then this online course aimed at absolute beginners could be for you. Some of the topics covered include notes, keys, chords, and the ability to read sheet music.
Mantius Cazaubon is a talented musician with over 20 years of experience and has helped 100,000s of people become better piano players. As an instructor, Mantius has received 4.7 stars from more than 100,000 students for this class alone!
Some of the lessons taught in this class include the white keys, black keys, sharps/flats, half steps, whole steps, keyboard layout, notes, chord progressions, scales, and more.
There are free resources available for download, class projects, and discussions as well as a certificate of completion. Best of all is that this online piano class is completely free!
Beginner level
1 hour on-demand video
Professional musician instructor
Downloadable resources
Class projects
Certificate of completion available
Recommended by Yamaha keyboards, Flowkey is an innovative teaching method that uses the technology you already have to make it easy to learn your favorite songs in as little as one day. It gives you instant feedback and guides you into the correct finger positions almost automatically once you get used to it.
The team behind Flowkey is a mix of people skilled in web design, small electronics, app development, and music. Add it all together and you get an amazingly powerful app that will let you teach yourself with just a little extra guidance.
There are an initial 10 beginner level lessons that you can complete on your own time with ti topics including songs for the right hand, playing with the left hand, playing with both hands, reading sheet music, chords, and other helpful topics.
There are over a million people who have downloaded the accompanying app and the websites has lots of helpful tools.
Beginner level
Completely self-paced
Developed by a team of technicians and artists
Innovative feedback
Over a million downloads
Recommended by Yamaha keyboards
A web-based interactive piano teaching environment, suitable for absolute beginners and anyone else who wants to improve their piano learning.
Developed and manned by a team of technicians and musicians with a focus on getting you into playing your piano as quickly as possible while maintaining the fun and joy of the piano.
A suite of 25 beginner-level lessons is included in the free version and you can upgrade to a paid subscription model that gives you access to over 400 different lessons, with more being added all the time. Lessons include proper technique, hand positions, ear training, popular music pieces, classical music, and play along.
It's completely interactive with artificial intelligence (AI) being employed to customize your individual experience making it feel like one on one teaching. A unique learning experience.
Beginner level
25 lessons
Interactive programs
AI customizes to your individual needs
Access to over 400 lessons available
Continuously updated
Pianu makes learning to play the piano feel like a game. You collect the merit badges to open up more levels.
You don't even need a keyboard. Just use your computing device to access the training designed by web developers and musicians skilled in interactive immersive teaching.
Some of the levels to 'defeat' are right hand, left hand, both hands, treble clef, chords, scales, meter, arpeggios, and so on in the beginner level introductory training.
There is a lot of fun stuff to do and learn from. Extra levels and lessons are available.
Beginner level
Learn at your own pace
Developed by talented web designers and musicians
Plays like a video game
Quick learning method
Upgradeable for additional lessons
For the most in-depth traditional style piano training on web-based education sites, check out what this online course lets you do. You'll progress from absolute beginner to advanced improvisation by the end of the course.
Taught by musician and master instructor Mark de Heide, you'll benefit from his intense instruction that has made his YouTube channel one of the most-watched piano teaching channels.
Beginner to advanced levels is taught in over 24 hours of on-demand video instruction that covers chords, hand placement, finger exercises, time signatures, splitting chords, composing, and even Jazz!
Close to 6,000 students have enrolled in this course which includes extra resources, class projects, and class discussions.
Beginner through to Advanced levels
Over 24 hours on-demand video
Taught by a professional musician
Nearly 6,000 students
Class projects
Class discussions
Lots of instructive videos are provided on this online course that is geared towards beginners and those who have been away from the piano for a while but want to enjoy playing again.
Jordan Leibel & Lisa Witt are both accomplished musicians and excellent teachers and part of the team of music instructors at Pianote.com.
There are lessons and categories covering subjects such as chord inversions, time signatures, notes, scales, and dozens of fun and popular songs
A whole lot of content is on this site, some of the lessons include extra resources necessary for the class and the entire experience is easy and painless. A social media presence is accessible by students.
All Levels
Completely self-paced
Taught by professional musicians
Includes song to play along
Access to dozens of topics
Social media interaction
So you want to play the piano but need to know-how. That's what this course is designed to do for you. Go from looking wistfully at your keyboard to playing 4 different songs in just one week. These free lessons will guide you!
As a pianist, your instructor Michelle Huang has performed in various settings for many years and will give you the confidence to keep on going after completing this class.
The on-demand video content is about 1 hour but the class extras will keep you busy for a couple of hours each day that you engage in the course.
There are extra resources and a class project plus available class discussion and a certificate of completion.
Beginner level
7-day course
On-demand video plus practice sessions
Taught by a professional musician
Downloadable resources
Available certificate of completion
The Hanon finger exercises are essential for proper keyboard finger technique. This free course is an introduction to the entire catalog of over 30 finger exercises courses on Udemy.
Bob Chappell (aka Mister Musicarta) is the instructor for this course. He is a long time musician who loves to teach the fun part of learning music and instruments.
It's 22 minutes and the class modules include 5 different Hanon exercises. There are extra resources and a class project plus available class discussion and a certificate of completion. For more classes, you can also see my guide on guitar lessons.
Beginner level
22 minutes introductory course
On-demand video plus practice sessions
Taught by a professional musician
Downloadable resources
Available certificate of completion