Learn How To Give An Expert Mani-Pedi With 2023's Top 9 Best Online Nail Technician Courses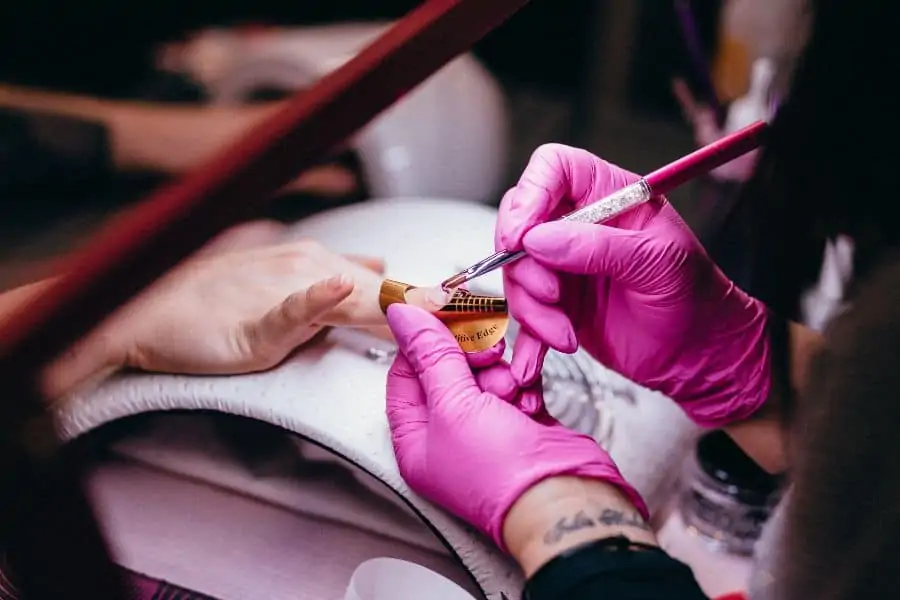 If you are looking for part-time employment at a salon, part-time work from home, entering the world of cosmetology, or if you want to become a small business owner, then becoming a nail technician will give you that freedom!
This collection of the best online nail school courses will not only set you on the path to employment or self-employment, but it will also teach you the artistic, business, and technical skills you will need to succeed.
A beautiful set of nails or a relaxing manicure in a spa-like salon can sometimes be the highlight of a person's day, week, or even month. Enrolling has never been easier, so if you want to be part of that experience, put your creativity to work, and get started!
TOP PICKS FOR FREE ONLINE NAIL TECHNICIAN COURSES

Recommended

Skillshare: Complete Nail Art Course With Gel Painting

Suitable for all levels
Very high 4.4-star rating
Instructor with 12-years of experience

Try This for Free →

Job Certification

International Open Academy: Nail Technician

Suitable for all levels
12,495 students have taken this course
Platform has a 4.5 star reivew on TrustPilot

Learn More →

Top Rated

Udemy: Expert Nail Technician Course – Become a Superstar Nail Tech

Very high 4.7-star rating
Popular! 881 students
Course completion certificate

Learn More →
Top 9 Best Online Nail Technician Courses, Certifications & Training 2023
---
First up on my list is an outstanding nail technician class that is currently available for FREE on Skillshare! This class is primarily aimed at beginners, but could also be suitable for the more experienced nail technician.
As for your instructor, you will be in safe hands with Gabriela Cismas, who is a professional nail technician with over 12 years of experience. Also during this time, Gabriela has acquired 15+ Diplomas is such areas as acrylic, gel systems, painting, and more. So for an in-depth course, this is the one for you!
Some of the standout modules in this Skillshare course are nail decorations, choosing color gels, types of brushes to use, filing techniques, creating simple designs, and methods for practicing your skills.
When it comes to the length of this class, it is 3.5 hours in length and can be taken at your own pace. All modules are in video format and are extremely easy to consume on PC or mobile.
To get started with this course, you can check out the 2-month free Skillshare trial link below with no strings attached! P.S. There are also tons of other nail technician classes you can take for free!
Suitable for all levels
Very high 4.4-star rating
Instructor with 12-years of experience as a nail technician
Other courses available from the same tutor
Free to undertake
Activate FREE Skillshare Trial
2. Nail Technician – (International Open Academy)
This next course is an accredited nail technical certificate program from International Open Academy. This is a perfect course to take if you're looking for an entry-level role in the multi-billion dollar beauty school business or opening your own salon. And given customers tend to return very frequently if they're happy with the service, you'll be busy with repeat customers in no time.
This can also be a great course for an individual to learn skills for their own use and cut down on expensive salon fees. You might even be inspired to start blogging about it.
In this course, you'll start by learning the basics of hand care and then advance to both manicure and pedicure techniques. From there you'll move into nail art as well as more advanced gel and shellac manicure styles. Given that this course can earn you an official accreditation, you will have to successfully pass quizzes as you go.
International Open Academy specializes in providing affordable access to accredited courses across a wide range of diverse disciples. You can choose to pay for an individual course, but if you're looking to take multiple classes – such as Extensions & Hair Styling, Eyelash Technician, or Makeup Artistry – then selecting their 1-year or lifetime all-access pass makes more sense.
Suitable for all levels
12,495 students have taken this course
Platform has a 4.5 star review on TrustPilot
Full accreditation from ICOES
14-Day money-back guarantee
Next up on my list is a fantastic course hosted on Udemy that is tailor-made for those looking to upskill in the nail technician industry. While this course is aimed at beginners, it also provides some gold nuggets for those with some experience under their belts.
Taught by three talented instructors, nail artist Liliya Saxon, technical advisor Alex Saxon, and marketing expert Vitali Fedarchuk. This course really does bring a wealth of real-world knowledge to the table.
Some of the standout classes included are the fundamentals of becoming a great nail technician, applying natural nails and gel manicures, gel nail sculpting, and gel nail designs, as well as design theory and advanced nail tools. Students will also get handy tips on how to avoid common mistakes like lifted nails.
In 6.5 hours, students will not only learn great nail art and manicure techniques but will also be coached in fundamental marketing strategies. Because, after all, a nail tech can't work if they don't have any customers!
Overall, one of the best online nail technician courses out there! Can't go wrong. P.S. there is also a certificate of completion included!
Suitable for all levels – Course sections are rated by difficulty
Very high 4.9-star rating
Popular! 930 students
Taught by three instructors and addresses the marketing aspect effectively
Course completion certificate
Up next on my list is an outstanding online class on mastering nail art, which is a must-have for any serious nail technician. Even if you've never done nail art before, don't worry – this course is designed for beginners with no previous experience!
Nail artists at any level will find a lot of value in this 2-hour-46-minute-long Udemy course which teaches how to do a basic manicure and work with GEL UV. Students will also get introduced to essential nail art techniques and get step-by-step coaching on different nail designs.
Ideally, students can follow along with the 18 video lessons and try the techniques for themselves while they watch. This means students will need some equipment and basic nail tools such as files, buffers, primers, acetone, nail clippers, etc. And, of course, some fun polishes in all of your favorite colors!
Overall, this is easily one of the best online nail technician courses for nail art! Can't be missed.
Popular! 1,177 students
Average rating of 4.6 stars
Taught by the Nail Art Academy
Focused on nail art and design
Lifetime access to course materials
Course completion certificate
Does the idea of working from home appeal to you? If so, this course will help you to imagine what a home nail business could look like for you. As an added bonus, this online course also teaches the essential skills a nail tech needs to succeed and is catered for all levels of experience.
Taught by beautician Michelle Donaldson, she has over 30 years of experience and is eager to share it with students in this compact 42-minute-long course. In 18 video lessons, she will cover topics like the manicure, hand massage, UV polish application, and removal.
Michelle also discusses the business side of things and gives students advice on how to set up their own salons. Once students are done with the training, they'll be feeling ready to unleash their creativity, paint some beautiful nails, and start building their own awesome nail salon!
Overall, a fantastic course that also has a certificate of completion for students!
Low time commitment
Lifetime access to course materials
Suitable for all levels
Course completion certificate
Moving on is another amazing course for the nail artists out there. Emphasis on the word artist – students will learn truly dazzling techniques that will impress any customer. And this course will teach users how to work with much more than just simple nail polish!
The first few of the 24 video tutorials will take students through baselines, simple patterns, and step-by-step gel polish decorations. Students will also learn the classic and timeless French manicure technique using gel polish. After that, students get to have some fun and work with exciting new materials!
The rest of the tutorials cover topics such as magnet gel polish, mirror powder, transfer foil, nail stamps, 3D sculpture gel, nail stickers, velvet powder, color change gel polish, and more. There are also some modules on how to do really cool effects like the sugar effect and the marble effect.
This course has been designed with professionals in mind as students will tackle some truly tricky techniques. However, anyone should feel free to challenge themselves and try it out. As it is a Udemy course, students will have lifetime course access to the course and a certificate of completion once done!
Low time commitment: 2h46m
Designed for professionals
High 4.2-star rating!
Lifetime access to course materials
Course completion certificate
This course will give you all the info you need on how to uphold salon standards as a nail tech. It's one of the best all-around nail tech courses because it will really help open your eyes to all of the behind-the-scenes knowledge that goes into making it as a nail tech.
Health and safety is a huge factor when working at a salon or home salon. Did you know that there are nail diseases and disorders that can potentially be passed from one client to the next? This course will help you prevent that by providing information on the best sanitation and hygiene practices.
You will also take a look at the anatomy and shape of the nail before diving into a bunch of amazing nail art techniques with a variety of materials. This course features topics such as applying extension tips; the quick dip system; the acrylic system (both liquid and powder); and the UV gel system.
Essentials like buffing and polishing, repairing a broken nail, how to remove artificial nails, and how to apply a UV gel top coat are also covered. It truly is one of the best online nail technician courses you can take!
Strengths:
Reasonably priced at $19.95 per week (with payment plan – $380 total)
30-day money-back guarantee if you aren't happy with the course
Comes with an e-book training manual that can be used for future reference
This is another awesome all-around course and a great option for those who want to work professionally as a nail tech. You will learn the ins and outs of the industry and establish all the skills you need to be a smart and savvy technician!
This course will teach you how to create a successful nail technician business. It covers important topics like nail anatomy, skin allergies, and nail and skin conditions. Then moves on to more glamorous topics like acrylic nails and infills, UV gel nails, shellac, nail art, and using colors.
But, don't forget, the salon experience also has to include some pampering! This course will teach you the art of the paraffin wax treatment as well as full manicure and pedicure procedures. Your customers won't fail to notice that you know your stuff!
Strengths:
Extensive course content: up to 150 hours
Self-paced
Course certificate awarded upon successful completion of the final assessment
One-on-one online help and support is available throughout the duration of the course
10 well-organized modules
Assessments at the end of each module
This is absolutely the best online nail technician course to take if you are seriously considering opening your own salon. You will gain valuable insight on how to interact with your clients, how to perform spa procedures, and how to deliver a spectacular set of nails for your customers.
The course covers topics like client consultation and communication; preparing your client; and customer relationship management. You will also learn how to properly prepare your work area so that you can work efficiently and quickly.
Following that are modules that teach you how to perform a manicure/pedicure; how to apply artificial nails and other nail products; basic nail art; and nail maintenance. This course seriously has it all because you will also get coached in spa procedures like hand/arm massage and on how to maintain salon health and hygiene.
Maybe most importantly, this course will give you an introduction to salon management, some salon decoration tips; an outline of how to market your salon successfully; and how to manage salon financials and employees.
After taking this course you'll have everything you need to be an outstanding nail tech and nail care expert, so you can have your own business in the beauty industry!
Strengths:
Extensive content: 25 lessons, 20h
Course Certificate awarded upon successful completion
Self-paced: learn when it's convenient for you
Compatible with all modern devices and browsers
Final Thoughts
Hopefully, this guide has shed some light on online nail technician courses and what one is right for you. To learn more about online courses, you can check this page out!