Top 11 Best Online Watercolor Classes & Courses [Free Guide]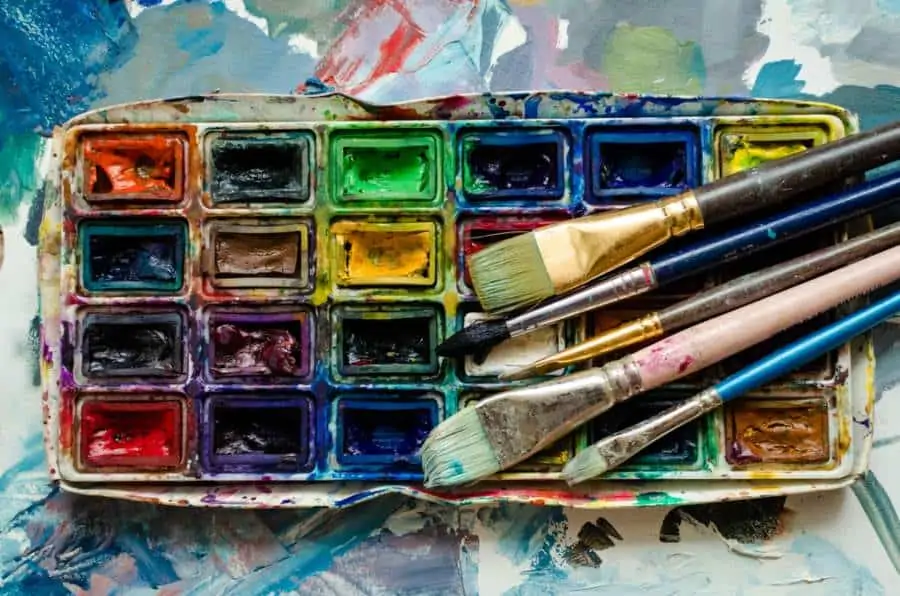 Watercoloring is an extremely rewarding art form that has been inspiring artists for centuries.
If you also want to learn Watercolor painting, you're in the right place! Many online watercolor courses will walk you step-by-step through basic techniques to become an artist. You can learn at your own pace and capitalize on free courses to improve your watercolor skills.
After spending many hours researching across the web, I have found some of the best online watercolor classes in 2022 that you can take right now!
As an added bonus, many of the below classes offer a free trial, so you can essentially learn for free. Grab your paintbrush and sketchbook and let's get started!
Top 11 Best Online Watercolor Classes & Courses Of 2023!
---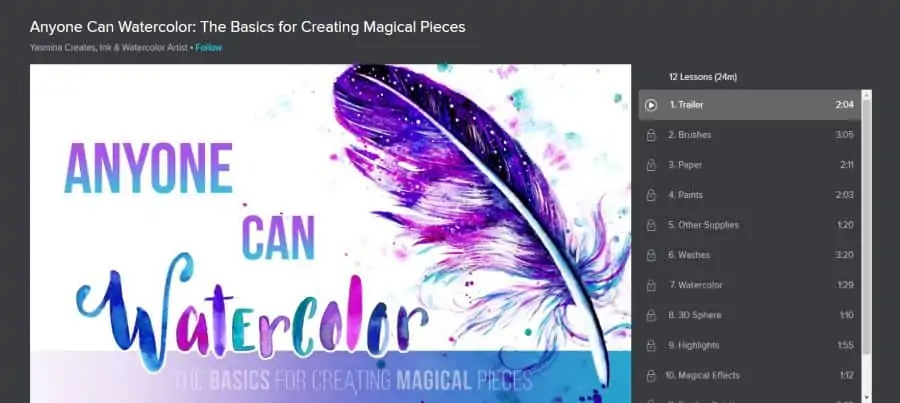 "Magical" is definitely the right word for watercolor. It almost seems like magic how the paint spreads across the page and takes on a life of its own. This course will teach you how to master basic techniques that will give you control over the painting process while allowing for "happy accidents"!
There are 12 lessons in this 24-minute watercolor workshop that will take you no time to work through, but you'll learn some useful tips and tricks quickly. Lessons covered are on the following topics: how to use brushes, paper, paints, other supplies, washes, watercolor, 3D sphere, and highlights.
This course is perfect for beginners as it teaches watercolor fundamentals but doesn't overload you with information. By the end of the course, you will be able to harness the magic of watercolor to create a beautiful painting!
Strengths:
Great for beginners but can be helpful to experienced painters as well!
Very popular! 18,912 students
Taught by "Top Teacher" on Skillshare, Yasmina Creates
Over 100 student projects to view on the course page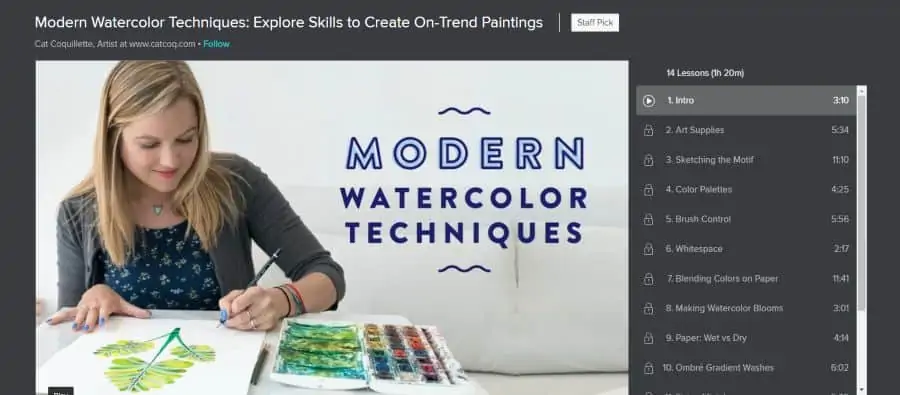 This Skillshare course taught by Cat Coquillette is special because it focuses on the things that you can do with watercolor that you can't do with other paint mediums. Watercolor can allow you to achieve some truly interesting and modern effects, and this course will teach you how to do just that!
In total, there are 14 lessons in this course that cover the following topics: picking art supplies, sketching a motif, color palettes, brush control, blending colors on paper, making watercolor blooms, wet vs dry paper, ombré gradient washes, how to fix mistakes, and tons more!
In a nod to more advanced techniques, there is also a really cool lesson that teaches you how to add metallic accents to your painting. Metallic accents can make your painting just that extra bit special, but it's possible to overdo it. This lesson teaches you how to get it just right so that your painting shines in all the right ways!
Strengths:
This course is a "Staff Pick" on Skillshare and instructor Cat Coquillette is a "Top Teacher"
Low time commitment: 14 lessons, 1h20m
Very popular: 15,488 students
Course includes bonus material
290 class projects have been uploaded to the course page – tons of inspiration!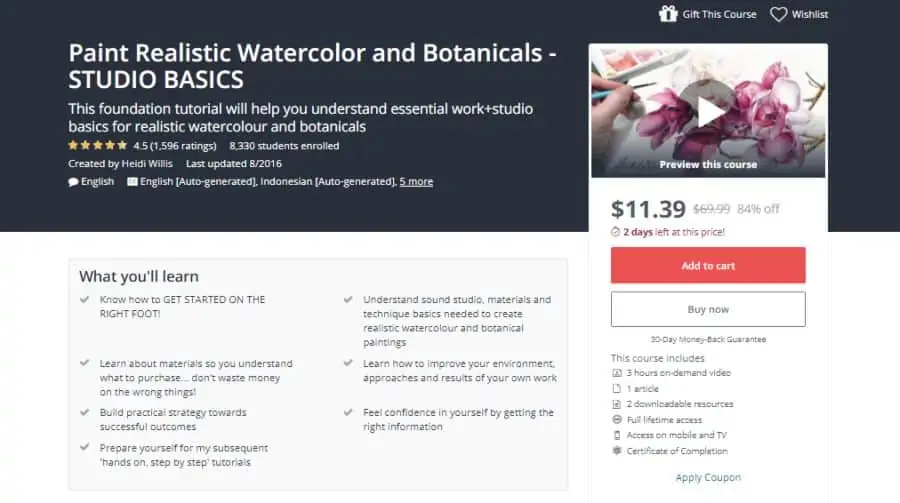 This is a highly foundational course that is perfect for those who are completely new to the watercolor medium. There is a lot you actually need to do to prepare for painting and this course teaches you all the important stuff that needs to happen before your brush even touches the paper.
You'll learn how to set up your supplies and workplace in a way that is conducive to painting. Instructor Heidi Willis knows how important it is to create an environment that allows you to be both productive and creative. This includes having supplies like brushes and paper that are going to work well for you.
Hands-on lessons in the course's workspace and materials section teach you how to choose the right brush, paper, palette, paint, and even the right water jar! You'll also learn a ton of valuable information about palette layout, layering, color families, and how to choose which colors you'll use.
Strengths:
High rating: 4.4 stars
Popular! 15,005 students
This course can be worked through in less than one day: 20 lectures, 3h8m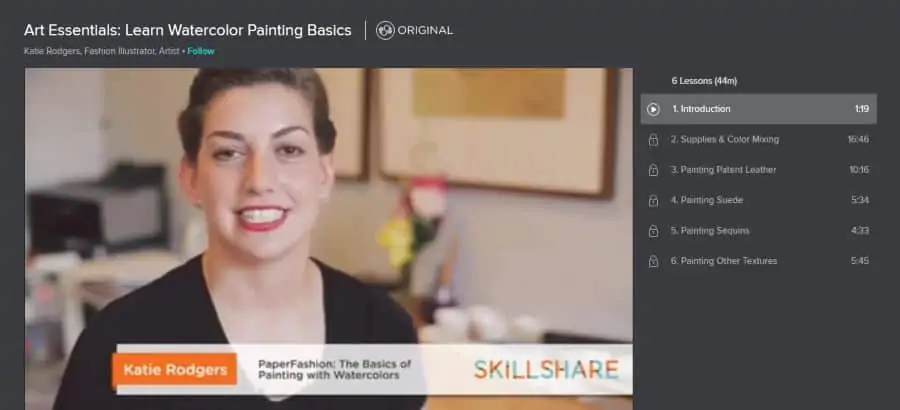 This quick and easy course will deliver a ton of value! You'll learn how to paint things with watercolor that you didn't even know were possible – and you'll pick up many useful techniques you can use every time you paint!
There are only 6 lessons in this course, the first of which will teach you which supplies you need for watercolor painting and give you an overview of how to mix colors effectively. The rest of the lessons in the course teach you how to paint a specific effect, texture, or fabric.
You'll learn how to paint patent leather, suede, sequins, as well as other cool textures. The class project will allow you to apply what you've learned as your objective will be to illustrate your favorite pair of shoes with watercolors. I hope they're sparkly!
Strengths:
Highly popular: 13,499 students
Beginner-friendly
Low time commitment: 6 lessons, 42 minutes
Class comes with downloadable resources
There are over 180 class projects on the course page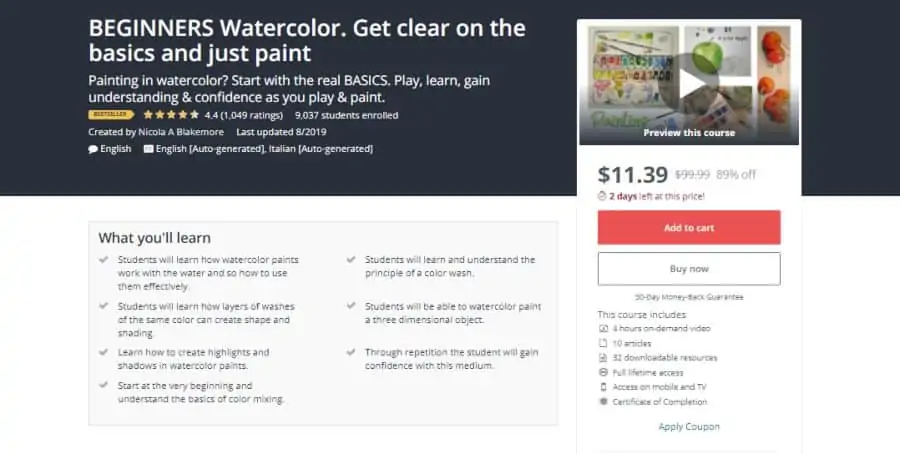 This course is designed for beginners but doesn't skimp on the content! You will get over 4 hours of course material and 55 video lessons that teach you all about the basics of watercolor. This course is a bestseller on Udemy and has received consistently great student reviews!
It is definitely one of the best online watercolor classes for beginners as you'll learn everything you need to know about how watercolor paints work and how to use them effectively. The first section of the course teaches you how to get comfortable with the medium, mixing paint, etc.
Instructor and professional artist, Nicola Blakemore, will coach you through the process of mixing green paint and painting an apple, including adding depth of color and shadow. After you tackle the apple, you will try painting cherries and lemons using the same techniques.
Then you'll put it all together and paint a whole bowl of fruit! An awesome feature of this course is that there is also a section on painting your own Christmas cards. Won't it be nice to share your creativity and new skill set with your family and friends?
Strengths:
Popular: 22,116 students
High 4.7 star rating
Extensive content: 55 lectures, 4h6m
Very beginner friendly!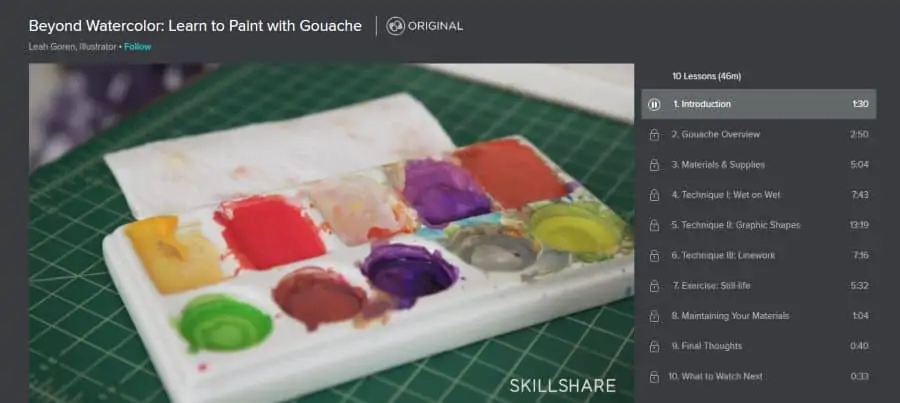 Gouache is a special type of watercolor paint that will allow you to create a variety of different and striking effects. In this course, you'll get an introduction to gouache and gain an understanding of how you can use this medium to create beautiful works of art!
There are only 10 lessons in this course, and it will take you less than an hour to work through them! Instructor and illustrator Leah Goren will start by giving you an overview of gouache and teach you how to pick out the best gouache paint and about what other supplies you'll need.
She'll then go on to teach you three invaluable painting techniques! The techniques are wet on wet, graphic shapes, and linework. Once you've learned the techniques, it will be time to try out the class project, which is to paint a still-life with gouache.
Leah will also leave you with some great advice for maintaining the health of your brushes and paint so that you can continue to use them to create many more beautiful paintings!
Strengths:
Specific focus: gouache
Low time commitment: 10 lessons, 46m
Suitable for people who are completely new to gouache
Popular: 6,777 students
Here is another course that focuses on working with gouache paints to create beautiful watercolor paintings. This Creative Live course is perfect for beginners with little to no watercolor medium experience. You'll learn the essentials and gain the confidence to start exploring the medium!
There are nearly 3 hours of content in this course, so you're guaranteed to come away from it with a lot of knowledge on how to paint effectively. Instructor and award-winning illustrator Mary Jane Begin will start by teaching you the best materials and supplies for painting with gouache.
You'll learn how to pick out the right brushes, paper, and paints. Then you need to learn how to use them! And that's exactly what you'll do throughout the rest of the lessons in this course. You'll start with a lesson on the opacity and transparency of color and get a demo from Mary herself.
Other topics covered in the course lessons include: soaking and stretching watercolor paper; creating a gradient with gouache paints (demo); gouache illustration board; gouache and watercolor ball and cube; really helpful watercolor tools and supplies Q&A; and more!
To learn more, check out my full review of CreativeLive here!
Strengths:
Popular: 8.5k students
100% recommended by students
Specific focus: using gouache paint for watercolor
Professional artist and fine arts educator, Jill Poyerd, is here to share a wealth of information about watercolor with you. By the end of this comprehensive course, you will know the ins and outs of the medium and with practice, you will be able to use your watercolors to paint any scene imaginable!
Jill offers an in-depth examination of all of the aspects of watercolor painting. She'll invite you to consider the question "what is watercolor?" and explains the science behind how paint actually works. She'll also give a very useful demonstration regarding the transparency of water media paints.
Jill also introduces you to other characteristics of paint like lifting, reworkability, and flow. The next three sections of the course cover (in great detail) the properties of pigments, the properties of water, and the properties of painting surfaces.
In the course's final section, Jill is generous enough to give you a virtual walkthrough of her working studio. It's a great way to get ideas for which materials you should acquire for your own art studio or workspace!
Strengths:
Very high 4.7 star rating!
Popular: 4,273 students
Comprehensive: 37 lectures, 3h19m
This online course series by Rebecca Rhodes is the best online watercolor class for learning how to create amazingly realistic animal portraits with watercolor. In real-time video tutorials, Rebecca shares all of her secrets and shows you how to achieve the same incredible level of detail that she does.
Rebecca will teach you a variety of watercolor techniques and skills that will allow you to create a series of different animal portraits. For example, you can take a class on painting eyes, such as "How to Paint a Black Dog's Eyes in Watercolor" or "How to Paint Tabby Cat Eyes in Watercolor."
Other classes will focus on the whole animal rather than a specific aspect of the animal. There are classes on how to paint a horse, a chihuahua, a laughing Pomeranian, a tiger, a golden retriever, a pug, a cardinal, a baby duck, a parrot, and more!
For the business-minded individual, there is also a class that teaches you how to make a business from painting pet portraits. Once you master the techniques Rebecca teaches you, you'll have the skills you need to be able to paint any animal you want!
Strengths:
There is a tutorial, "How to Paint a Dog's Eye," that you can try for free to see if you like the teacher and the way the material is presented
You can buy individual classes, a monthly or yearly subscription. If you buy an individual class, you have lifetime access to the class. If you have a subscription, you have access to the class(es) for as long as your subscription lasts
Specific focus: animal portraits
Visit Rebeccarhodes.teachable.com
This is one of the best online watercolor classes if you are looking for a great all-around introduction to the medium as well as useful drawing and painting techniques. Molly Murrah, an experienced watercolor enthusiast and accomplished watercolor artist, will lead this comprehensive and informative Creative Live course.
Molly will start with a basic introduction to the medium, and then she'll discuss the properties of watercolor paint and teach you about color. You'll learn how to use the color wheel to identify hues, mix colors effectively, and other important color terms.
There are also lessons that cover watercolor paper, paper characteristics, and watercolor brushes. You'll also learn about basic brush techniques that you can use for watercolor painting. Molly will then teach you how to draw out your painting before you start, making notes of perspective and composition.
Strengths:
Very popular: 15.7k students
Extensive course content: 28 lessons, 10h3m
Great all-around course and great for beginners
Self-taught and internationally successful watercolor artist, Anna Mason, offers this great program that will teach you how to create amazingly realistic watercolor paintings. In 20 hours, you will be able to apply the skills and brush strokes Anna has taught you and paint a series of lifelike paintings based on her examples.
If you don't believe that you'll be able to create an amazing painting after just 20 hours of training, you can check out the gallery of student projects on the course webpage. They are all almost as good as Anna's own sample project! That's because she provides a clear and systematic approach to painting to help bring your skills to the next level.
All you have to do is follow the steps exactly as she presents them, and before you know it, your painting will look just like hers. Of course, you might not nail it on your first try, which is why one of Anna's principles is structured practice. With a bit of time and effort, you will gain both confidence and mastery!
Strengths:
All plans come with a 7-day money-back guarantee – you can try it for free for a week to see if you like it
Specific focus: realistic watercolor paintings
A huge amount of student projects can be viewed online – great inspiration!
Beginner-friendly
Comes with PDF list of recommended materials