Learn How To Defend Yourself With 2023's Top 10 Best Online Martial Arts Training Courses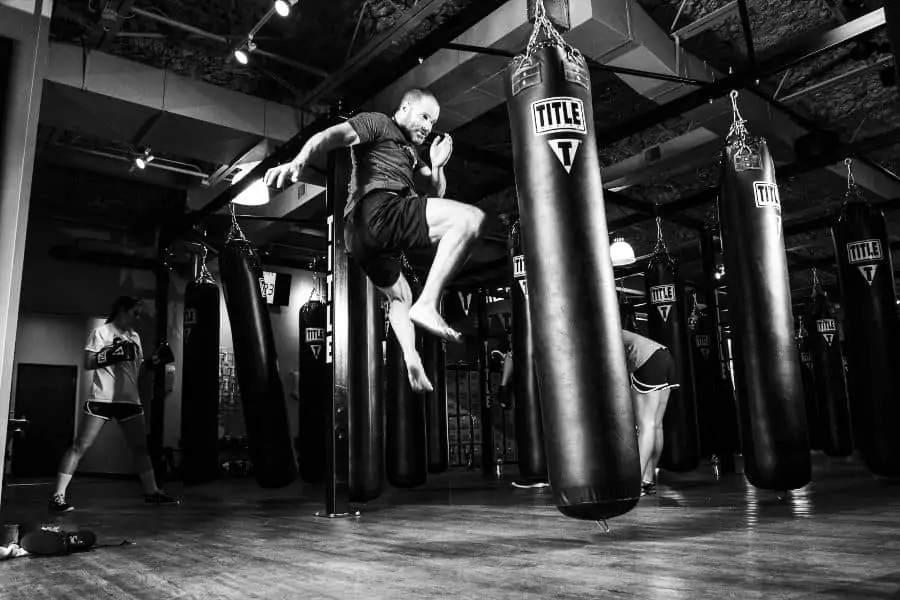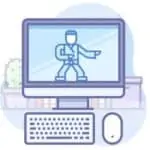 If you are seeking the best online martial arts training and courses in 2023, this is the guide for you!
After much research, I have rounded up a wide range of courses for many martial arts disciplines that will teach you the fundamentals of this rewarding sport.
Who knows? You might just become the next Jackie Chan, Jean-Claude Van Damme, or Mr. Miyagi. Even if you don't, you will still have fun and you'll gain a new level of fitness! Let's get started!
Top 10 Best Online Martial Arts Training & Courses 2023
---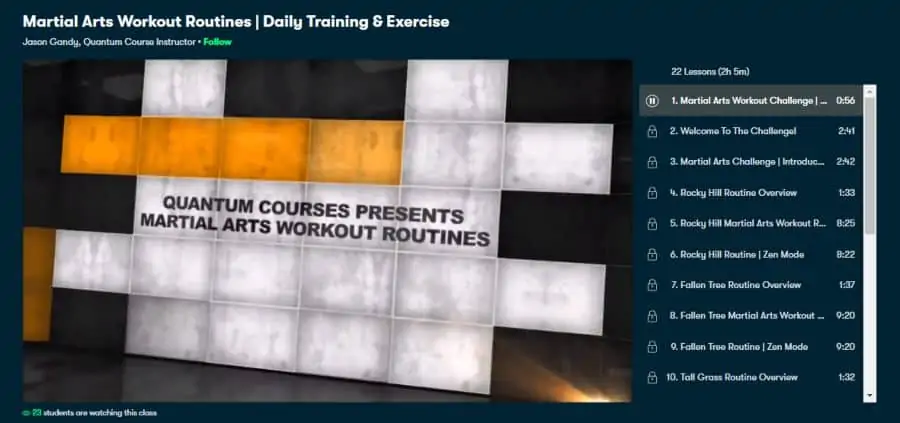 First on my list is a high energy full-body workout/martial art routine that will only take up 10 minutes per day. This is also a great course that can provide an increase in fitness along with enhanced martial arts skills.
As for your instructor, you will be led by Jason Gundy, who is a Quantum Course coach and teaches several martial arts and self-defense techniques. His methods also help improve stamina, flexibility, and overall health.
Some of the lessons covered in this 2-hour training cover several routines such as the Rocky Hill routine, Fallen Tree routine, Tall Grass routine, Flower Patch routine, Hidden Lake routine, Juniper Bushes routine, and tone more! There are also daily exercises as a class project and several workout routines.
As this training is hosted on Skillshare, new users can take this class, plus 27,000+ courses when activating the 2-month free trial. Overall, this is a great martial arts/workout class for beginners!
All levels
2 hours on-demand video
Taught by martial arts expert
Covers several popular styles and routines
Class project daily workouts
Extra deliverables included
Activate FREE Skillshare Trial
For those that are looking to learn Muay Thai and enhance their kickboxing abilities, while also receiving a great workout. Then this kickboxing training masterclass is a great place to start.
Champion kickboxer, Michael Triana, is the instructor for this course, who will guide you through a very intense workout that will increase your fitness and stamina. During his teaching, Michael will also teach you how to increase your odds of winning Muay Thai competitions you may be participating in.
In total, there are 9 lessons that span over 3 hours of on-demand videos that cover the fundamentals of Muay Thai by means of repetition, motions, kicks, techniques, posture, breathing, striking, and more!
Also included in the course is a continued mentoring by the instructor, class projects, and an invitation to the instructor's social media pages. There is also a 2-month free trial to take advantage of!
All levels
Almost 3 hours of repeatable workouts
Champion Muay Thai competitor as the instructor
Covers fundamentals by repetition method
Social media invitation
Continued mentoring available
Activate FREE Skillshare Trial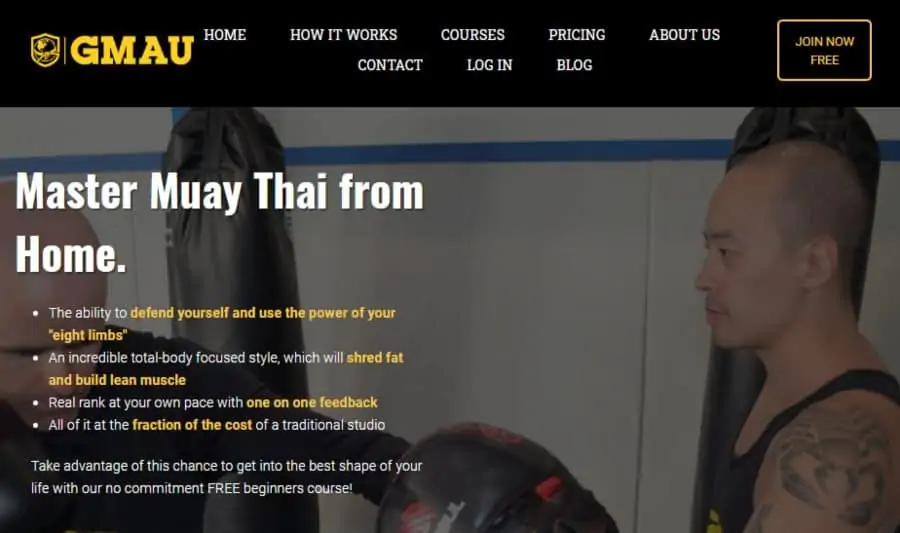 Muay Thai, which is a type of kickboxing, will enable you to burn fat, build muscle, and teach you the basics of self-defense. So if you are looking for a platform that offers an in-depth guide into Muay Thai, from beginner to advanced, this is an invaluable resource.
For your instructor, you will be taught by Nick Vasallo, who is a professional martial artist who has fought around the world. Nick also adds new routines on a regular basis to challenge his students and also give feedback.
The course itself is completely self-paced and consists of warm-ups, technique training, drills, conditioning, and stretching in a follow-along setting filmed in HD inside their Muay Thai training center.
Currently, this course is run by Global Martial Arts University which is a highly rated platform that also provide other classes on Karata, Taekwondo, Krav Manga, Ultimate Bo, and more!
All levels
Completely self-paced
Professional Muay Thai instructor
Routines filmed in HD
Achieve actual rank
Instructor feedback
Visit Globalmartialarts.university
Designed for beginners, this course will teach you the fundamentals of martial arts acrobatics, which will guide students on how to execute gravity defying flips and kicks. You will also be joining 5,800 other students who have completed this course and have given it a 4.5-star rating.
Thomas Inauen is the instructor for this class, who has qualifications as a personal and fitness trainer. Tom is also the founder of the martial arts acrobatics training center Tomtricks, which is based out of Switzerland and has over 6,000 satisfied students!
Included in this beginner-level 2 hour course are modules on warming up, outside crescent kick, inside crescent kick, rising kick, cartwheel, tornado kick, butterfly kick, kip-up, front headspring, side to side aerial, and more.
Udemy is the host of this course, so there are extra downloadable resources, lifetime access, ability to view offline, and a certificate of completion of those that finish!
Beginner level
2 hours on-demand video
Professional athlete as the instructor
Downloadable resources
Lifetime access
Certificate of completion
Taekwondo is an excellent method of self-defense and has the side benefit of also being a great workout. Not to mention it will enable you to develop lightning-quick reflexes and increase your energy level as you get more fit.
For this course, you will be taught by Adam Gerrald, who is one of the leading instructors at the Global Martial Arts University, which is a worldwide education center for various martial arts.
As this training is taught online, it is completely self-paced learning and is just like being in the dojo with your instructor. Some of the course modules include blocks, kicks, stances, terminology, poomse (forms), self-defense, and sparring methods to name a few.
Much like a real martial arts studio, students can also progress through the ranks, going from the beginner level white belt all the way to third level blackbelt.
Beginner to Advanced level
Home-based and self-paced video instruction
Taught by expert Taekwondo instructor
Self-defense discipline
High energy workouts
Progress through real ranks all the way to 3rd level black belt
Visit Globalmartialarts.university
This course offers a clear explanation of Dim Mak points, the most vulnerable and weak anatomical locations on the human body, and also acupuncture points which enable you to reach maximum effect with only a minimum effort from you.
Paul Brecher is the instructor for this course, he is the principal of the College of Chinese Medicine and also the founder and chief instructor of the College of Chinese Martial Arts with a very high instructor rating from former students on the Udemy online learning platform.
It's a beginner to intermediate level training and the 2 hours of on-demand video are divided up into 64 lectures and demonstrations covering such points as the history of Dim Mak, Dim Mak myths, hand shapes, the keys to martial power, and the actual Dim Mak points of eyes, ears, back of the head, kidneys, shoulders, and numerous other points on the body.
In addition to the video online course modules, you also receive downloadable resources, full lifetime access, and a certificate of completion.
Beginner to intermediate level
2 hours of on-demand video
Extremely qualified instructor
Downloadable resources
Lifetime access
Certificate of completion
The Chinese martial art discipline of Tai Chi, short for T'ai chi ch'üan or Tàijí quán, is a method that combines self-defense training, meditation, and the balance of Yin and Yang for a holistic body and mind workout. This course teaches a simple method of learning Tai Chi with a building block system of education.
It's taught by Master Jon Hodge, a long time practitioner of Tai Chi, and an instructor who values the student experience so that they gain the most benefit based on what they want out of the martial art of Tai Chi.
The complete beginner course is 6 ½ hours of on-demand video with modules instructing on the fundamentals of Tai Chi, breathing methods and exercises, the 5 power principles, and the 5 technical flowing elements.
Included in the course is a home study manual with chapters covering the background of Tai Chi, training concepts, meditation techniques, nutritional tips, and the spiritual guidance behind the art. You can access the course by streaming or as a download.
Beginner level
6 ½ hours on-demand video
Taught by Tai Chi Master
Includes home-study manual
Access by streaming or download
Uses a building block method of teaching
Developed by the Israeli Defense Ministry, Krav Maga is a combination of techniques borrowed from Aikido, Boxing, Wrestling, Judo, and Karate. It is one of the most efficient forms of self-defense imaginable and is also an excellent workout for core strength and agility.
This course is taught by practitioners of Krav Maga from the GMAU martial arts online learning platform, one of the most complete and capable online martial arts training centers available.
Over 30 hours of training lessons, you will learn awareness, stances, combative, self-defense techniques, ground fighting, knife, gun, blunt weapons, takedown, control maneuvers, and the principles of fighting.
You can earn real ranks all the way up to the black belt and the course includes downloadable extra resources.
All Levels
Over 30 hours of course material
Expert instructors
Home-based
Self-paced
Earn real ranks all the way up to black belt
Visit Globalmartialarts.university
Whatever martial art is your favorite, you can use the principles of Jishu Geiko to make the instruction work better for you as you focus on the pure energy and power of the mind and body in your chosen martial art.
Business consultant and motivational speaker Adam Mitchell is also a martial arts expert and he is your instructor in this course.
This intermediate-level instruction is 7 hours in over 100 separate lessons that cover safety reminders, Junan Taisō, core training, Okinawan Kiko, Makiwara, and Meisō.
Included in the course are extra downloadable resources, lifetime access, and a certificate of completion. To get Udemy courses on sale all year round, you can see my guide here on how to do that.
Advanced level
7 hours on-demand video
Expert martial artist as an instructor
Downloadable resources
Certificate of completion
Taught in ancient Okinawa and resurrected with a modern flair, Kobudo is weapons training for mastering kama, sai, sword, and tonfa. You also gain enhanced coordination, body control, and grace. It's a workout for the body and discipline for the mind.
Taught by Sensei Michael Hodge, an expert in various forms of martial arts and a highly rated instructor. He shows you step-by-step what is needed to master the various weapons in the modern competition form of this ancient and revered art of weaponry.
Modules include sai, tonfa, kama, and sword weapon handling, the 7 elite competition forms, and other basic techniques. The traditional forms of combat are modified to fit in with the structured competition.
The course includes downloadable resources and you have access available to dozens of more advanced levels of instruction after completing this basic course. It's part of a series of courses that are among the best online martial arts training and courses.
Beginner level
Home-based
Completely self-paced
Taught by martial arts master
Downloadable resources
An introduction to dozens of advanced courses