Learn How To Become A Spreadsheet Expert With 2023's Top 7 Best Online Google Sheets Courses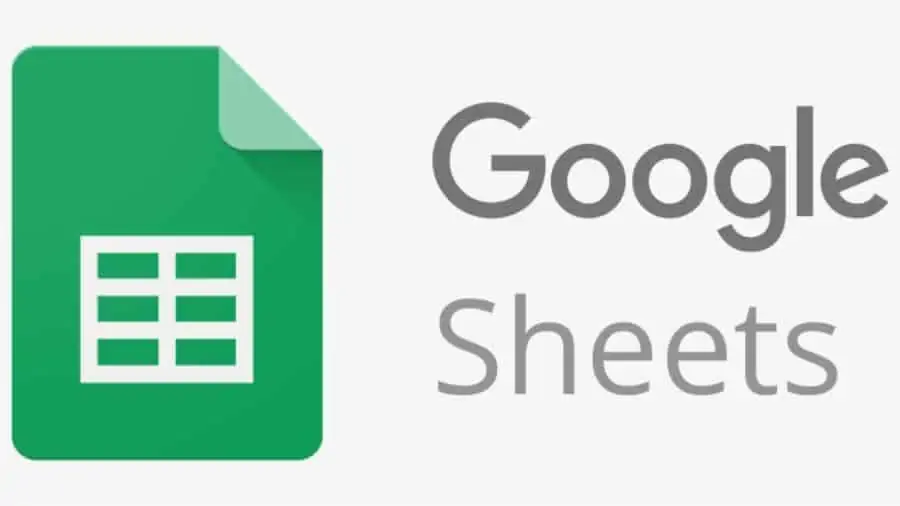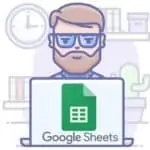 If you want to learn the most used and in-demand spreadsheet software program for ease of use and collaboration, you can't go past Google Sheets!
Because lets face it, Microsoft Excel is so last decade.
Below, you will some of the best online Google Sheets courses in 2023 that will take you from beginner to pro in no time. Best of all is that all of these training classes are completely free!
While many of the below online courses cover the basics of Google Sheets from cells, entering data, and formatting. There are also lessons for those who are interested in data visualization, pivot tables, and more. Let's begin!
Top 7+ Free Best Online Google Sheets Courses & Training 2023
---
If you are a novice looking to learn the fundamentals of Google Sheets at a manageable pace, this beginner level Google Sheets MasterClass is a great starting point. Not only will you learn the basic features, but also other tips and tricks to improve your workflow.
For this online course, you will be led by Andrew from Flow Speeches, who is a highly rated and engaging teacher who also teaches courses on web development and foreign languages. His teaching style is also very easy to understand and actionable.
Some of the lessons covered in this 3-hour class include an introduction to Google Sheets itself, how to get set up, basic vocabulary, toolbars, application menus, entering data into cells, selecting rows/columns, how to delete, and much more value-packed lessons.
For those looking to learn more advanced tactics, there are also modules on merging cells, formatting data, inserting checkboxes, and creating data visualizations!
Currently, this class can be taken for free on Skillshare when taking advantage of the -month trial. Overall, this is a phenomenal course that takes beginners step-by-step through Google Sheets and turns them into power users!
• Beginner level
• 3 hours
• Engaging teacher
• Over 600 students
• 1-month free trial available
Activate FREE Skillshare Trial
For those who have already dabbled with Google Sheets, but want to know how to use it at its full potential, this course is for you! The instructor also wastes no time in getting straight to the juicy tips and tricks so you can fast track your learning.
Your instructor for this online class is Tahir Yaqub, an experienced mechanical engineer who teaches a wide variety of technical courses ranging from Excel, Facebook chatbots, and Google Sheets.
Tahir kicks off with a quick overview of the Google Sheets user interface, and then dives in to some useful date formatting tips, named ranges, data validation, logical operators, ranking data, and creating filter views. Finally, he covers more advanced material such as conditional summing, pivot tables, and the QUERY function.
This class is currently one of the highest-rated Google Sheets courses on Skillshare, and the platform also offers a 1-month free trial. Overall, this is one of the best online Google Sheets courses for those who may already know the basics of Google Sheets.
Intermediate level
3.5 hours
Google Sheets exercise files
150 students
21-month free trial
Experienced instructor
Activate FREE Skillshare Trial
Google Sheets Essential Training serves as a very gentle introduction to the program and its capabilities. If you are just looking to learn how to create and share basic spreadsheets, this easy to follow training can't be missed.
In this online course, you will be led by Sally Norred, who is a former public school teacher who has an impressive track record of producing educational content for corporate clients. So for easy to follow and well-explained lessons, this is well worth the time.
Some of the lessons covered in this 3-hour course include how to create and save a spreadsheet in Google Sheets, importing spreadsheets, basic operations, editing cells, inserting rows, formatting, formulas, and sharing spreadsheets.
Over 40,000 people have taken this training so far on LinkedIn Learning which comes highly rated from past students. There is also a 1-month free trial to take advantage of! Overall, this is a great online class for beginners who are looking to get acquainted with Google Sheets and master the basics
Beginner level
3 hours
Certificate of completion
Experienced instructor
Over 40,000 students
1-month free trial available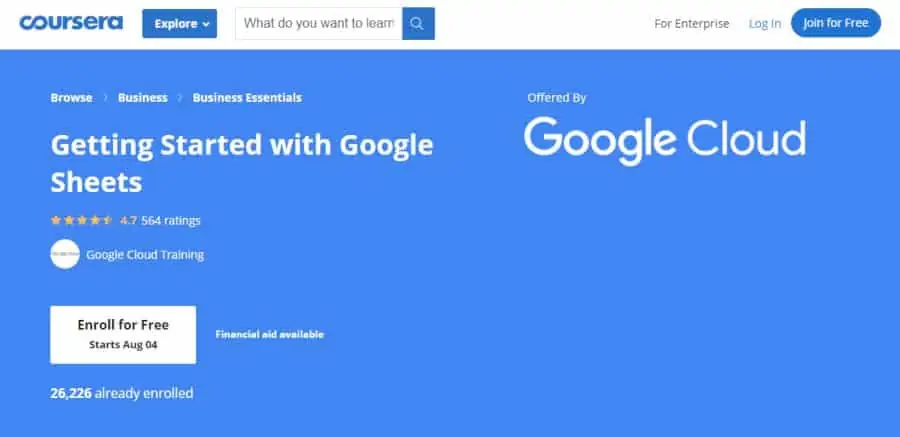 If you're going to learn how to use Google Sheets, why not learn from Google themselves, right? So if you are looking for a job in data entry or just want to brush up on your skills, this online class by Google can't be missed!
Your instructor for this online course will be Malia, a Los Angeles based tech worker who uses Google Sheets every day and is up to date with the latest features and trends of Google Sheets.
Malia kicks off with some spreadsheet essentials, followed by learning to merge cells, align text, and perform conditional formatting. Afterward, she guides you through some advanced features, including using Google Translate in your spreadsheet and connecting to BigQuery to name a few.
Currently, Getting Started with Google Sheets is a free course available on Coursera, where it has been taken by 24,000 students. Overall, this online Google Sheets course is suited for tech-savvy beginners who want to quickly get up to speed on everything Google Sheets offers.
Beginner level
5 hours
Certificate of completion available
Fast pace
Covers cutting edge features
Offered by Google Cloud
If you are already familiar with Google Sheets but are specifically looking to learn how to aggregate your data in pivot tables to generate insights, this course should be great for you.
Your instructor for this online class is Brian Moore, a former Google Analytical Lead and expert in data analytics who is very well received by his students on Udemy.
The instructor introduces the idea of a pivot table and then takes you through the process of creating one. Next, he takes you through a real-world example of generating insights using a pivot table, before having you go through 2 exercises to consolidate what you learned.
Google Sheets: Pivot Tables + Data Insights For Beginners is available completely for free on Udemy, so you can master pivot tables today without spending anything. Overall, this is one of the best online Google Sheets courses for users who are looking to become a pivot table pro!
Beginner level
3 hours
Ex-Google instructor
Free course
Over 16,000 students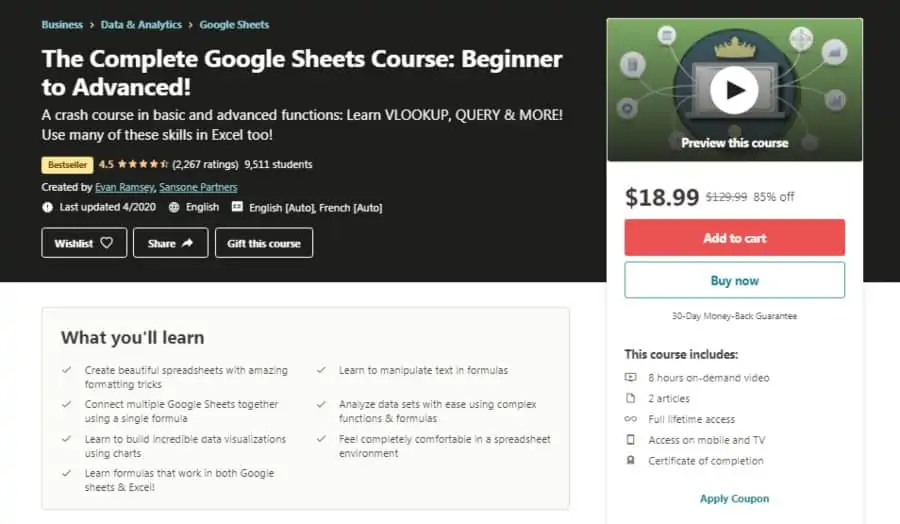 With 8 hours of on-demand video, this online Google Sheets course is the big daddy when it comes to learning Google Sheets. If you were looking for a comprehensive guide to Google Sheets, it's right here. By the end of the course, you will have learned over 50 Google Sheets functions!
Your instructor will be Evan Ramsey, an accomplished tech professional, and self-described 'spreadsheet nerd'. His Udemy course is a bestseller and very highly rated, with more than 9000 students.
Evan takes you through basic arithmetic functions, useful shortcuts, formatting tips, pivot tables, filtering data, conditional functions, data visualizations, and finally an SQL crash course. I recommend this course to anybody who really wants to master Google Sheets and would like an extensive reference to come back to in the future.
This Udemy course has a certificate of completion available, along with a 30-day money-back guarantee if it's not for you. Overall, this is one of the best online Google Sheets classes for complete beginners!
Beginner level
8 hours
Highly comprehensive
Over 50 functions covered
Over 9,000 students
Certificate of completion available
This is a highly specialized online course focusing on using Google Sheets to perform advanced mathematical, statistical, and financial calculations. For those looking to use Google Sheets to do data analytics or analyze financial data in particular, this is the one for you.
Your instructor for this online training is Curtis Frye, who is the author of the wildly popular Microsoft Excel Step by Step series and has created over 50 courses for LinkedIn learning on the topic of Microsoft Excel and VBA.
The course kicks off with the basics of constructing functions, before introducing a few arithmetic functions. He then covers a few statistical techniques like ranking data and working with the normal distribution, followed by going through a few common financial calculations. He finishes with advanced techniques like linear regression.
Curtis's course is available on LinkedIn Learning. A certificate of completion is available, along with a dedicated learning group providing ongoing support. For those looking to do heavy-duty number crunching in Google Sheets, this online course should prove to be very helpful.
3 hours
Certificate of completion
Highly experienced instructor
Covers advanced topics
1-month free trial available