Learn How To Understand Geometry With 2023's Top 9+ Best Online Geometry Courses & Classes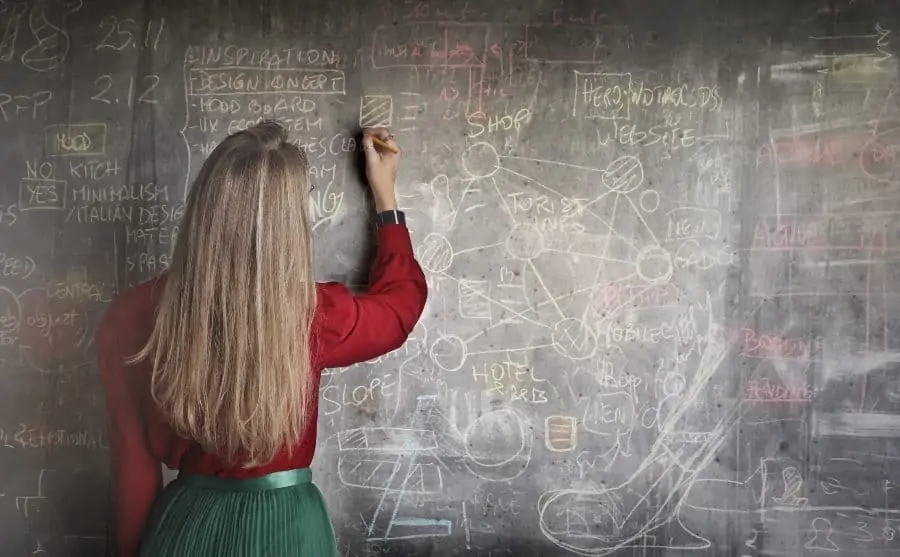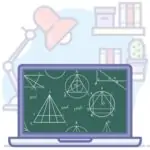 If you are seeking the best online geometry courses in 2023, you're in the right place!
Below, you will find a wide range of geometry classes for primary, high school, or even college students. Also, if you are generally curious about geometry, you may also benefit from these courses!
Many of the below beginner classes cover aspects of Geometry from perimeter and area of shapes, transformations of figures, interior and exterior angles, three-dimensional geometry, and more!
If none of those words mean anything to you (including myself), don't worry, these lessons will help you understand them in no time! Let's get started!
Top 9 Best Online Geometry Courses & Classes 2023
---
Let's start with a geometry fundamentals course from Brilliant.org. If you haven't heard of Brilliant, they teach high school and college-level math, science, and coding through highly visual online courses and daily puzzles on trending topics.
This course will introduce you to angle axioms, perimeter and area calculation strategies, coordinate geometry, 3D geometry, and more. If you're just getting started with learning geometry, this is the right course to start with. And you'll want to make sure you have a bit of basic algebra under your belt, otherwise, you'll want to brush up before diving in.
Once you're into the course, you'll start from the basics and become a proficient problem solver in everything from angles and lengths to area and volume. You'll even get into the Pythagorean theorem and coordinate geometry. And to make it interesting, Brilliant.org presents its information through creative animations to ensure you move past rote memorization by truly mastering the underlying concepts.
Beyond this fundamentals course, Brilliant has an entire geometry track including:
Brilliant.org is a subscription program giving you access to their full 60+ subject catalog. You can push the monthly price down by selecting their annual or lifetime subscriptions options. And while not widely advertised, they also have a 7-day free trial if you want to sample some of the courses before you enroll.
PLUS, OUR READERS GET 20% OFF BRILLIANT PREMIUM THIS MONTH
22 interactive lessons
Almost 150+ exercises
Perfect for high school students
Interactive App for both IOS & Android
includes access to in-depth Wiki
Next up is an interesting concept I found in researching this article from test prep experts at Princeton Review. They're not offering yet another online course. Instead, they have on-demand tutors that you can connect with whenever you have trouble with your stumped-on a problem or cramming for a test.
I included this because many times it's not that you need a course to learn, but rather need help to ace the course you're already taking. And these top-notch instructors are available to help 24/7, which is good because we know that high school students sometimes have demanding schedules which can lead to off-study times. And to make it extra convenient, there's no appointment needed, meaning you get the help exactly when you realize you need it.
You might not have known that Princeton Review offered academic support online since they're better known for the PSAT, SAT, and ACT testing prep courses. But they bring the same quality of instruction to help you get higher grades as they do to get higher test scores. And right now, they have a free trial to try out their geometry tutors with no risk.
Next on my list is a great beginner-level online course that will guide you through the very basics of geometry, from start to finish. You will also be joining 14,000 other students who have completed this course, with an average rating of 4.6 stars.
Your instructor for this course is Krista King, a math expert, and geometry enthusiast who has over 114,000 students on Udemy and has an average instructor rating of 4.6 stars from 28,000 reviews.
In this 8 hours class, you will learn how to work with 2D and 3D shapes to find areas, volumes, angles, how to apply various transformations to figures, how to construct logical proofs for properties of shapes, what the Pythagorean Theorem is, and much more!
Being hosted on Udemy, all students get access to resources, all on-demand video lessons, downloadable classes, and a certificate of completion. Overall, this is hands down one of the best online geometry courses in 2023!
Beginner level
8 hours long
Highly rated math tutor
Full lifetime access
Limited-time discount of 94%
Certificate of completion
If you are looking for a short and interesting online geometry course that will bring you up to speed with all the basics of geometry without getting too advanced. This beginner-level Udemy class with an average rating of 4.7 stars is a great starting point!
For this course, you will be led by LetsTute, which is an education company that has been providing quality tutoring for the last 7 years. LetsTute also vets its lessons through intense reviews by subject experts to ensure the highest standards.
During this 6-hour long beginner class, you will become acquainted with all the basics of geometry and master topics such as circles, triangles, quadrilaterals, lines and angles, mensuration, coordinate geometry, and much more!
Students can also take advantage of a number of quizzes and problems that will help reinforce their learning, and even earn a verified certificate of completion at the end!
Beginner level
6 hours long
Taught by a group of subject experts
Full lifetime access
Certificate of completion
15 downloadable resources
If you are wanting to learn the absolute basics of geometry, or even a refresher, this Khan Academy "Basic geometry" class is a great starting point.
In this online geometry course, you will be taught by experienced instructors who are carefully vetted by the team behind Khan Academy, who are on a mission to make world-class education accessible to anyone, no matter where you are on the planet.
In this introductory class, you will learn the basics of geometry including lines, angles, shapes, coordinate planes, area and perimeter, volume and surface area, the Pythagorean Theorem, transformations, congruence/similarity, and much more.
With all Khan Academy lessons, they are free of cost and can be taken at your own pace. For those who want a challenge, there are also some challenges at the end to consolidate your learning! Overall, this is a great online beginner geometry class that may be best suited for primary school students.
Beginner level
8 sections
Taught by hand-vetted experts
Free of cost access
Learn at your own pace
Work on challenges
Moving on to my next pick is a course for high school students who want to get ahead of their class in geometry, or revise the entire curriculum before their next geometry exam. With more than 60,000 students enrolled already, this beginner-level edX course offers you the freedom to learn and skip over the material as you want.
SchoolYourself will be providing your instructors for this online course, which is an education company founded in 2012 by MIT and Harvard graduates with the aim to revolutionize online education and bring the 1-on-1 style of learning into their teaching.
As for the lessons of this class, it will go through the entire high school geometry curriculum that includes measuring angles and understanding rules, proving properties of shapes, calculating areas of complex shapes, applying the Pythagorean Theorem, working with 3D solids, and much more. In total, this course is 14 weeks in length with a 6 hour time commitment every week.
Students can access the contents of this course for free, complete it at their own pace, and even earn a verified certificate of completion at the end for a small fee!
Beginner level
14 weeks of effort with 6 hours per week
Taught in 1-on-1 learning style
Developed by experts from SchoolYourself
Free access to course contents
A verified certificate of completion for a small fee
For more experienced professionals who are looking to expand their careers in computer graphics, computer-aided design, robotics, or even geographic information systems, this intermediate-level course on computational geometry is a great value-added deal.
Your instructors for this course will be three faculty members from the Saint Petersburg State University: Alexander S. Kulikov, Visiting Professor in the Department of Computer Science and Engineering; Aliaksei Tolstsikau, Senior Lecturer in the Faculty of Applied Mathematics and Computer Science; and Kira Vyatkina, Leading Researcher at the Center for Algorithmic Biotechnology of the Institute of Translational Biomedicine.
In this 19 hours long course, you will go through a number of core computational geometry topics such as testing the inclusion of points in polygons, intersecting line segments, computing the convex hull of a point set, triangulating a polygon, processing orthogonal range queries, and much more.
You can also earn a shareable certificate of completion and obtain financial aid if you are unable to pay the full fee for this course! Overall, this is one of the best online geometry courses taught by a world-renowned university!
Intermediate level
19 hours long
Offered by Saint Petersburg State University
Certificate of completion
Financial aid available
This free online geometry course put up by Khan Academy is perfect for high school students who want to cover all the topics in their school curriculum all while learning at their own pace. If you're worried about your grades and exams are creeping up fast, you should definitely start working through this amazing offering.
As for your teachers, they will be subject-matter experts who are chosen carefully by the world-class Khan Academy team, so you can put all doubts to bed regarding the quality of tutoring and content that will be presented to you.
In this course that spans 8 sections, you will go into the depths of topics such as Euclidean geometry, transformations, congruence, similarity, right triangles and trigonometry, solid geometry, analytic geometry, circles, and much more.
You can even benefit from the upcoming Common Core standards upgrade that this course will receive, along with fun and challenging exercises at the end to really test your knowledge!
Beginner level
8 sections
Aligned with the high school curriculum
Free of cost
World-class teachers
Upcoming Common Core standards upgrade
9. Honors Geometry (Johns Hopkins Center for Talented Youth)
If you want to complete a full-year honors geometry course within 6 months with the help of a personal instructor who will cater to all your needs and questions, then this course offered by the Johns Hopkins Center for Talented Youth (CTY) is the perfect choice for you.
In this online geometry course, you will be taught by expert faculty from the Johns Hopkins CTY who have been teaching young talented students since 1979. You will be assigned a personal instructor who will have revision and problem-solving sessions with you on a weekly basis.
In this 6-month long course, you will go through topics including deductive and inductive reasoning, direct and indirect proof, parallel lines and planes, congruence and similarity, coordinate geometry, transformations and symmetry, and much more.
You will also get the chance to work on projects and learn to use a dynamic software tool called GeoGebra to help you solve your geometry problems! Overall, one of the best online geometry courses for those wanting a deep dive into the subject.
Beginner level
6 months long course
Taught by expert faculty from Johns Hopkins CTY
Personal instructor assigned from start
Work on geometry projects
Learn GeoGebra
Continuing Education In Math
For more information, you can see my other post on the best math courses.
Or take your new math skills and apply them in the lucrative field of full stack software development.