Learn How To Understand The Economy With 2023's Top 10 Best Online Economics Courses
If you are seeking the best online economics courses in 2023, you're in the right place!
In this guide, I will reveal some of the top economics classes that will shed light on supply and demand, consumption, projections, indicators, and more.
As an added bonus, many of these courses can also be taken for free, so you can learn for essentially nothing! Let's begin!
Top 10+ FREE Best Online Economics Courses, Classes & Certificates 2023
---
If you want to become familiar with economic indicators among other economic principles, then this 3.5-hour class might be for you!
In this course, students will be guided by Jason Schenker, who is the chairman of The Futurist Institute, and a leading economist and author.
Some of the many lessons covered in this course include consumer price indexes, interest rates, housing, unemployment, and many others. It also discusses how these reports impact your personal and commercial finances and how knowing them can help you plan better into the future.
Being hosted on LinkedIn Learning, new students can take advantage of their 1-month FREE trial that can be canceled at any time. Once completed, students will also receive a certificate of completion and join 82,000 other students who have completed this training!
Intermediate level
3 ½ hours self-paced on-demand video
Taught by a leading economist
Discusses economic indicators in detail
Includes many online resources
Updated regularly
Certificate of completion
As the name suggests, this course aims to teach the fundamentals of economics in bite-sized lessons that are easy to absorb and consume. In total, this course includes 17 ½ hours of video lessons, so if you are after something more compact, this might not be for you.
Your instructor for this class is Chris Bankes Sivewright, who is a best-selling author of multiple economics books and has also taught at numerous colleges around the world.
Some of the many topics covered in this course include supply and demand, politics in economics, aggregate supply and demand, macroeconomics, and a look at the current state of affairs in regard to global economics.
Over 4,000 students have enjoyed this course, which also comes with 30 downloadable resources, lifetime access to lessons, and a certificate of completion once done!
Beginner to intermediate level
One of 8 courses linked together
Taught by an economics educator and best-selling author on business and economics
17 ½ hours
30 available resources
Certificate of completion
Up next on my list is an intermediate-level economics course that would benefit students who want a basic grasp of economic theory and are competent at simple math.
Taught by Jef Jacobs, an economist with a Master's degree in economics, the course content is in-depth and value-packed. All up, there are 9 ½ hours of on-demand videos, and also a certificate of completion is provided!
Key modules covered in this online class include foundation economic concepts and definitions, economic growth and investment, anticipating market outcomes, and analyzing current trends.
Overall, this is a great course for anyone considering diving deeper into the complexities of economics.
Intermediate level
9 ½ hours
Includes many charts and animations
Taught by a master economist
Prerequisite: Basic economic theory
Certificate of completion
Moving on to my next pick is a free economics course run by the University of Illinois, which is currently hosted on the Coursera platform and is taught by leading economics professors.
Unlike other courses on this list, this specialization is part of the Master's of Economics degree program and takes about 7 months to complete online. While there is no denying this is an in-depth course, it is still very attractive to beginners as it eases slowly into each topic.
Some of the many lessons covered in this course include an overview of macroeconomics, assessing global and local markets, applying economic theory, making informed business decisions, and developing business plans for large or small companies.
Since this class is hosted on Coursera, students can enroll for free and access all class materials. However, a fee will have to be paid to get a certificate of completion.
Beginner to intermediate level
7-month course
Flexible schedule
Taught by university professors
The same course as what is in the degree program
Certificate of completion
9,500 students have enrolled.
Managers need to know economic theory to successfully complete projects necessary for their company to succeed and make a profit. This LinkedIn Learning course will help managers see all the variables clearly.
Professor of Economics and market consultant Stefan Michel is the instructor as he leads students through this intermediate-level course in a way that makes it feel entry-level.
This 1 ½ hour class teaches managers the theories behind demand, production, cost, competition, and price. Viewed by over 100,000 people, this is a fantastic online course for those seeking a managerial position.
Being hosted on LinkedIn Learning, students can also take advantage of the 1-month FREE trial and included free certificates of completion! To learn more, check out my post on the top LinkedIn Learning courses in 2023
Intermediate level
1 ½ hour on-demand video
Taught by a master economist and consultant
Part of LinkedIn Learning
Certificate of completion
Teaches both theory and practice
Helps managers be real leaders in the workplace
This online economics course is hosted by Columbia University. Almost 60,000 people have enrolled in this class which is taught by university professor Perry G Mehrling.
Being a 44-hour long course, it takes about 13 weeks to complete at 5 hours a week, with scheduling available to accommodate working professionals.
Some of the lessons covered in this Intermediate level course include banking, markets, consumers, and what links them all together. This course also touches on international banking and real-world money handling.
Overall, this is a great economics course that introduces students to the topics of money and banking in the economic sector.
Intermediate level
13-week course
Class material provided by Columbia University
Taught by a university professor
Downloadable resources
Certificate of completion
This economics class is part of the larger diploma program from Alison in microeconomics which is a total of 5 hours of on-demand video content.
Some of the modules included are what makes one business succeed and another fail? And why does a restaurant need better customer service to stay in business as opposed to a utility company? This microeconomics explains the answers to these and similar questions.
Overall, this is a fantastic entry-level course with 3,300 students who have already taken advantage of the knowledge provided.
Beginner level
Taught by pros in the field of economics
About 5 hours of on-demand self-paced instruction
Assessments provided within course
Part of a complete program
Certificate of completion
Data is what drives all the theories and models of economics. But how do you get the data? And what do you do with all the data to make it work for you? That's what this course provides.
Barton Poulson, a data scientist and economics professor, is the instructor for this online economics course. This intermediate-level class will teach you how data science influences stock market performance, loan approvals, and local business models. You'll also learn what roles social media and ethics play in deciphering and interpreting data.
Fraud is also discussed in relation to global and local financial markets. It's about 1 ½ hour of on-demand video instruction. Over 40,000 students have seen this instruction.
Intermediate level
1 ½ hour
Covers local and global models
Strong emphasis on ethics and fraud prevention
The instructor is a professor and data scientist
Downloadable resources
Influencing consumer trends and individual buying decisions is an important part of economics which this intermediate-level course delves into the science of neuromarketing and influencing behavior.
Taught by instructors from ICAN Consultancies, a pioneer in behavioral science and how it applies in economics. It's a 1-hour course that comes with several articles and other downloadable resources.
Learn what goes into controlling buying decisions by using sight, scent, sound, patterns, and decoys. Beneficial information for entrepreneurs running short-term ads or for business executives wanting to better understand their company's marketing strategy.
Intermediate level
1-hour course
Instructed by ICAN Consultancies
Downloadable resources
Explains neuromarketing
Certificate of completion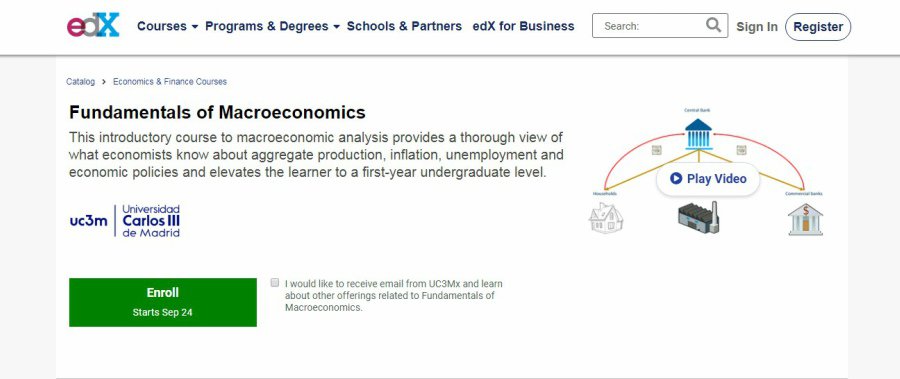 A complete overview of macroeconomics in theory and in practice. edX puts together over 20 million students with online versions of courses from various major colleges and universities. This beginner-level class has been taken by thousands of students.
The instructors come from the University of Madrid. It is a 6-week course and includes many resources available for downloading and reviewing later. As a prerequisite for this course, a firm grasp of the basics of algebra is helpful.
In this class, you'll learn about the GDP, central banks, monetary policies, inflation, international trade, capital flows, and exchange rates. In addition to articles, graphs, and charts, you'll be able to obtain a certificate of completion, too. Overall, this is a well-rounded economics course that is ideal for beginners.
Beginner level
Taught by professors from the University of Madrid
6-week course
Requires basic algebra
Online resources
Certificate of completion
Final Thoughts
Hopefully, this guide on the best online economics courses helps you to upskill and land a job that pays weekly!
If you want to learn more about related topics, you can also see my guide on the best data analytics courses and also my best online excel classes!
Or, if you prefer to pair your new macro insights with acute business acumen, try out an online management course.