Learn How To Groove With 2023s' Top 13 Free Best Online Dance Classes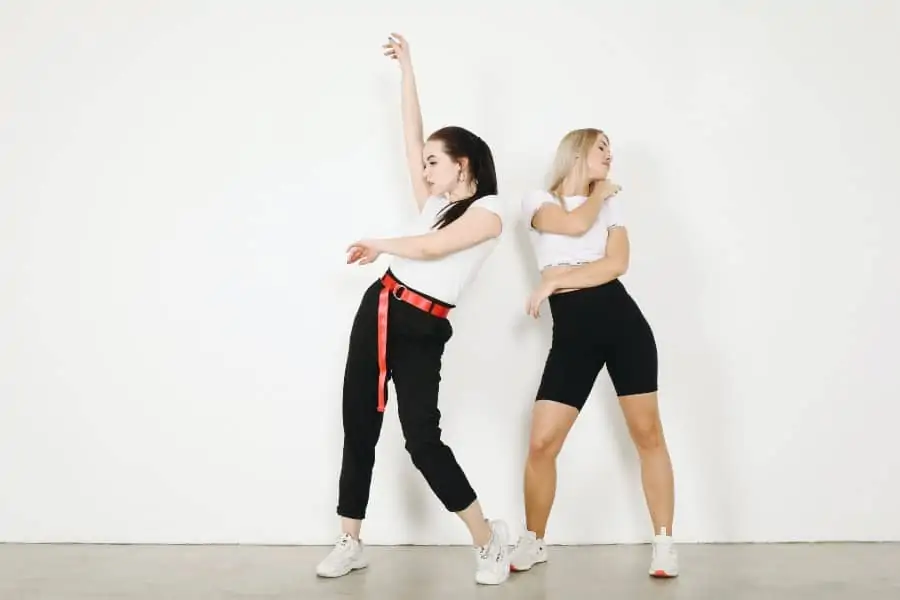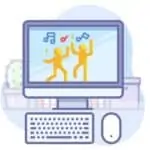 If you want to learn how to dance to hip hop, pop, techno, or even learn the salsa (and look good at the same time), you're in the right place!
In this guide, I have found some of the best free online dance classes and lessons in 2023 that are great for complete beginners, and even awkward dancers (like myself).
Below, you will find a wide range of dance lessons for hip hop, salsa, break dancing, shuffling, contemporary, and many more. Let's begin!
TOP PICKS FOR FREE ONLINE DANCE CLASSES

Recommended

Skillshare: A Beginners Guide to Hip Hop Dance Moves

29 video lessons
2 hours and 7 minutes of guided content
Any level of student

Try This for Free →

For Beginners

International Open Academy: World of Dance

13 modules with 10 different dance styles
Practice tasks and full sequences for each style
5252 students have taken the course

Learn More →

Top Instructor

MasterClass: Misty Copland Teach Ballet Technique And Artistry

1 hour and 45 minutes of content
17 video lessons
Offline viewing available for iOS

Try This for Free →

Top Rated

Udemy: Learn Salsa in 5 Hours and Dance Your Way to Fun & Excitement!

Rated 4.8/5 from past participants
4,393 students have taken the course
Great for anyone wanting to learn Salsa

Learn More →
Top 13 Best Online Dance Classes & Lessons 2023
---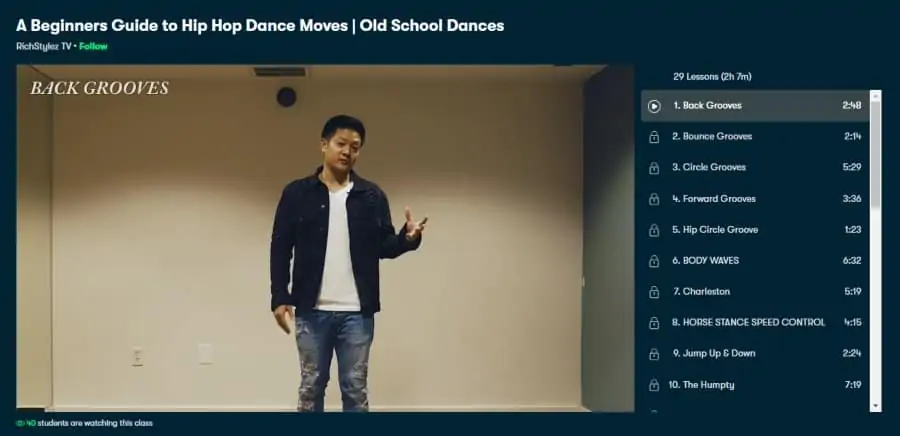 In this 2-hour beginner dance masterclass, you'll learn the foundational hip hop grooves that will allow you to dance confidently. These same moves will also allow you to stand out at your next event, whether that's at a wedding, a party, or a nightclub.
Your instructor for this course is Richstylez, who has been dancing for over 13 years and has toured around the world for various bands, and has performed in TV shows and movies. So if you want to learn from one of the best, this is the place to start.
Some of the specific techniques taught in this hip hop dance class include back, bounce, circle, and forward groove dance moves, as well as body waves, hip circles, the Charleston, back tap, ball change, heel twist, isolations, and many more.
Currently, this course can be found on Skillshare which users can try for free when activating their 2-month trial. This same trial will also give you access to dozens of other dance lessons! Overall, this is a great introductory hip hop dance class aimed at complete beginners.
29 video lessons
2 hours and 7 minutes of guided content
393 students have taken the course
Any level of student (though perfect for beginner hip-hop dancers)
Activate FREE Skillshare Trial
2. World of Dance (International Open Academy)

Next, we have a world of dance masterclass from the International Open Academy. Lessons in this online dance class span across 10 dance steps to help beginners get started with exposure to a wide range of dance styles.
Tap Dance
The Waltz
Line Dance
Jazz Dance
Flamenco
Ballet
Bollywood Dance
The Argentine Tango
Belly Dance
Burlesque
With expert instructors for each style, you learn fast and easily from the comfort of your own home. And in addition to impressing your family at the next wedding, there are other health benefits to dance as well: lower stress, improved emotional health, better posture, and more. If that's not enough, learning to dance is just plain and simple fun.
International Open Academy is a TrustPilot rated 4.5-star learning platform. They focus on making accredited courses inclusive by keeping costs low. Courses can be purchase one at a time, or you can enroll in their annual or lifetime subscription options to access their full catalog of 1500+ courses. The subscription route is best if you also wanted to take the Pop Dance Bootcamp for example.
GET 20% OFF THE CREATOR PASS WITH CODE CREATIVELIVE20 THRU 10/31!
13 modules with 10 different dance styles
Practice tasks and full sequences for each style
5252 students have taken the course
Broad introduction to a range of styles
Accredited by the ICOES
Even people who are not fans of the ballet have heard of Misty Copeland. Not only is she one of the most sought-after dancers today, but she was also the first female African American principal dancer at the prestigious American Ballet Theatre.
In this online dance class, she will guide you through a variety of barre techniques including pliés and tendus, temps lié, and ronds de jambe. She will then move on to discussing a range of well-known performances, give you a behind-the-scenes look at what it takes to work with demanding choreographers, and how she thrives in the pressure cooker world of professional ballet.
Here's a sample from the course:
17 video lessons
1 hour and 45 minutes of content
MasterClass is available for offline viewing on iOS
Downloadable instructor guides for every class
Susbcription gets you access to more than 100 courses
Next on my list is another great beginner class that will teach you to dance confidently in social situations. It will also show you step-by-step tutorials on how to dance to any genre of music so you won't look silly and get embarrassed.
As for your instructor, you will be taught by Brian B who is a professional dance teacher that has helped 45,000 people to become better dancers. Brian also runs the YouTube channel How To Dance – For Men that has over 70,000 subscribers.
In this course, you will find lessons that are specifically geared towards foundational moves so you can groove to any music in a casual way. Some of the genres covered include rock, pop, blues, hip hop, and house music to name a few. So by the end of this course, you should feel confident dancing to almost any piece of music.
This course is also hosted on the Skillshare learning platform, along with the 30,000 other courses that new users can try when taking advantage of the 2-month free trial. Overall, a great all-around class.
34 video lessons
1 hour and 49 minutes of content
168 students have taken the course
Perfect for the pure beginner of any dance style
Activate FREE Skillshare Trial
If you want to learn salsa in the comfort of your own home, then this course is for you!
Your instructor for this class is professional performer and choreographer, Seaon Stylist-Bristol, who has 15 years of salsa experience and has worked around the world as part of the salsa scene.
Some of the salsa techniques covered in this 5-hour video course include basic steps, open shines, male and female drills, partnering techniques, turning, stylizing, body rolls, hip circles, and arm styling to name a few.
Being hosted on Udemy, all students get lifetime access to this course, 14 downloadable resources, certification of completion, and the option to watch across multiple devices.
Rated 4.8/5 from past participants
4,393 students have taken the course
19 video lectures
5 hours and 7 minutes of content
Great for anyone wanting to learn Salsa
In this comprehensive 10-hour course, you will learn how to perform hip hop choreography with confidence, as you master the basics of hip hop movement and footwork through 12 different dances.
Your teacher for this class is Emeroy Bernardo, who has 20 years of experience and has performed for a number of international dance companies. During this time, Emeroy has also helped 45,000 dancers across his 8 online courses.
Some of the hip hop skills that are taught in this class include footwork, grooves, understanding 8 basic counts, and how to dance without a boring facial expression. Once you have learned these skills, Emerory will teach you how to dance to such hip hop artists as Usher, Drake, Cardi B, The Black Eyed Peas, and Duke Dumont.
Udemy is the host of this dance course, which is also the biggest name in online learning that currently has more than 150,000 courses and has helped 50 million students from around the globe.
11,227 students have taken the course
Best suited to absolute beginners
In-depth course at 10 hours and 52 minutes long
156 video lectures
Breaking dancing looks very hard, but actually, when you learn the core fundamentals, you can start looking like a pro in no time which this class will help you do.
As for your teacher, you will be led by Emeroy Bernardo, who is a professional dance instructor for hip-hop and breakdancing. So if you are looking to learn from one of the best in the industry, this is the class for you.
Course lessons include a history of b-boying, grooves, steps to build upon, basic top rock routines, and moves like the six-step, coffee grind, pilot freeze, and more. All lessons are in video format so you can learn at your own pace.
Overall, this is a great introductory breakdancing class that is simple, yet challenging at the same time. New students can also take this course for free with the 2-month free trial.
17 video lessons
1 hour and 43 minutes of content
440 students have taken the course
For beginner and intermediate b-boying dancers.
Activate FREE Skillshare Trial
Learn how to dance hip-hop in social settings with rhythm and confidence as you combine movements to create a groove on the spot to any hip-hop music.
Your teacher, Quilan Arnold, is a dance performer and teacher who has taught and performed around America, as well as internationally.
As an overview of what you'll learn, the techniques included in the course include down and up grooves, as well as bounce and drop grooves, along with bonus materials and combos to build upon your skills.
Find the course on Udemy, an online learning platform founded 10 years ago that has more than 50 million students taking courses each and every day on a variety of topics.
1,541 students have enrolled in the course
4.5/5 rating from past participants
32 video lessons
4 hours and 28 minutes of content
Any level of student welcome
If you've ever found yourself looking at someone from the sidelines as they're shuffling impressively and wished you could too, here's your chance. Learn the foundation shuffle dance movements working your way up to a 20-second dance routine.
Brian Bee is your dance instructor for this course. With 15 courses on Udemy, he's an expert teacher, taking almost 14,200 students through the techniques of different dance forms.
You'll go through many dance lessons that share the step-by-step method of stringing movements together to eventually create the shuffle rhythm. Additionally, learn a full 20-second routine that you can perform in public – maybe your dance festival – right away!
Udemy is the go-to place for online learning. The platform has over 150,000 courses instructed in more than 64 languages on its site. This course is one of the many dance classes found on Udemy. If you want to learn more about performance, you can also see my guide on online acting classes.
4.6/5 rating from past participants
4,728 students enrolled in the course
49 video lessons
2 hours and 4 minutes of content
Great for anyone who can count a beat – beginners welcome
As one of the rare longer-form dance courses online, this 13-hour tutorial will have you dancing as a confident poi spinner by the end.
Nick Woolsey is your teacher for the course, which is one of 3 online courses that he hosts. He has taught thousands of people through workshops, retreats, and online videos. He's a well-known performer and teacher in the global poi-dance community scene.
You cover poi techniques such as windmills, weaves, butterfly patterns, fountains, buzzsaws, and additional moves to create more complex choreography with turns, mini-sequences, and smooth transitions.
Udemy is one of the biggest names in online learning. Where any expert can upload a course on their skillset, this platform offers courses from people around the world to take part in skill-enhancing tutorials for business, technology, art, and more.
2,893 students have taken the course
Rated 4.9/5 and is a best-seller on Udemy
187 video lessons
13 hours and 7 minutes of content
Great for any level of dance experience
This is a short class that teaches you a contemporary dance choreography sequence which is a deep feeling, emotive piece.
Gina Starbuck is your teacher for this class. Gina has worked with celebrities such as Niki Minaj, Prince, Adam Lambert, and more. She teaches at multiple dance studios in LA and has led dance courses, workshops, and mini-classes all over the world.
This class is for intermediate-level dancers, looking to learn a new routine, and possibly some new dance skills along the way.
DancePlug is a platform for online dance classes from some of the world's most famous choreographers and performers. With a subscription to the platform, you can. Access hundreds of classes across many different dance genres, from hip-hop and ballet to Bollywood and contemporary dance (plus many more).
Easy to follow
Suited to intermediate dancers
Learn an entire contemporary dance routine
Taught by famous choreographer Gina Starbuck
In this guided tap dance tutorial, you polish your skills as a tapper, while learning a unique move from the talented tapper Glyn Gray.
Your instructor for this short class has taught throughout the United States, New Zealand, Australia, and Europe in performing arts institutions. He's also the co-creator of a tap syllabus and director and choreographer to the show 'BPM beats per minute', which sold out 3 seasons at the Australian Sydney Opera House.
The class teaches you how to move side-to-side while dancing a 3-beat flap, shiggy bop, and what Glyn Gray calls the 'tripflap'.
Enjoy a variety of dance classes and learn choreography from star performers and choreographers on DancePlug. When you subscribe to a class plan, you'll have access to more than 600 different warmups, sequences, and combinations for any dance skill and style.
Suited to advanced tap students
Learn a unique tap dance move
Taught by expert tapper Glyn Gray
Dance with the most sought-after choreographers and performers in many styles of dance with these mini-tutorial classes. From urban dance, popping, house, hip hop, and breaking, to jazz and heels style dance (plus more) there are many classes to choose from to enhance your skills as you learn a new routine.
Some of the famous choreographers include popper Boogie Frantick, Hip-hop battler Jade Soul, Krump world champion Sherwin Salonga, choreographer to the stars David Lee, and more amazing teachers.
The platform offers unlimited classes online through different subscriptions, often for the same price as one in-person dance class. Choose from more than 600 tutorials.
The beauty of learning on this dance-optimized platform is also that you can loop the moves as you learn, control the video speed, see yourself as you dance, and learn and switch views to suit your most ideal learning style for every tutorial. You can get to make it your own and go through the lessons in your time.
Free 7 day trial
Taught by well-known choreographers
Choose any style you want
Unlimited class package for the price of one in-person class