Learn How To Land The Job With 2023's 25 Best Interview Tips For Internships
Just because an internship is not a paid job that you're applying for, doesn't mean that it isn't an important moment in your career. Internships are your entry into your industry, and often a doorway into the company that you want to work for.
This means that taking your interview seriously is vital to enhance your chance of success in reaching your career goals.
Our interview tips for internships take into account the necessary prep work you need to do before the interview, not only during it.
It's important to know which key areas you should focus on in your preparations, as internship interviews are different from regular job interviews. Read on for expert tips to ace your interview and land the internship of your dreams!
Land The Job With 25+ Interview Tips For Internships 2023
Key interview tips for internships
Below is a brief summary of key points, though you'll benefit from reading through the details of the article to get specific, actionable advice for your interview experience.
1. Do your research of the industry, company, and role that you would most likely wish to hold during your career. Come in prepared to have plenty of relevant talking points.
2. Arrive early, dress professionally and keep a positive attitude (smile!)
3. Prepare questions to ask the interviewer and also prepare answers to commonly asked interview questions (examples detailed below).
4. Follow up after the interview to create a lasting impression.
Before the interview tips for internships
As soon as your interview is scheduled, it's time to start your prep-work for the interview. The following before the interview tips for internships are where you should start in this process.
5. Research!
Even if you already have a good understanding of the company, there will always be more you can learn. Check out their website, the history of the company, information about how it has evolved over the years, and any recent news that it may be featured in.
This can give you key talking points in your interview and show that you care about the business by doing your homework.
6. Bring samples
If it's applicable to the role, bring samples of past work you have done. If it's a creative industry, you may have assignments and creations from your studies that you can bring (whether pictures or the documents themselves).
Also, bring along any research papers or other files that convey that this is an industry that you have studied with expertise and have a passion for. (Note: don't bring samples of work that didn't receive a high grade!)
7. Prepare answers and questions
We've included some sample questions and answers for the most commonly discussed areas that internship interviews go into, so read all the way to the end to see those examples.
Also, think about what questions you want to ask the interviewer. This could be about the company, about their own career journey, or about the future of the industry. Use this opportunity to show that you are thoughtful and engaged in the subject matter.
8. Choose professional attire
The general rule for any interview is to dress smart – in business attire. Even if it is a more casual industry, you are showing your professional side in the interview and how you are taking this opportunity seriously. Cover tattoos and take out piercings where possible.
9. Practice!
If you have a willing friend, family member, colleague or teacher that'll sit down with you and run through a 'mock' interview, this 'dress rehearsal' can really help to quell any pre-interview nerves. It'll also give you feedback on your energy and expression before you go for the real thing.
During the interview tips for internships
First impressions are lasting impressions, meaning that if you are not aware of how you show up in the interview, you won't be remembered as a key candidate. It'll be more difficult to stand out from the crowd of other applicants if you don't put in the extra work. So, be mindful of the following tips to make sure you're creating a positive lasting impression.
10. Arrive early
Which is actually 'on time.' Arriving at least 15 minutes before the set time is actually the time you should always arrive at an interview. If you arrive later than this, or at the exact scheduled time, then in the professional world, it's considered 'late.'
11. Detail examples
It's very important to not only answer questions in the most simple way but to build upon it by providing real-work examples of your past experience and accomplishments. It's not enough to just say, 'I was promoted in my high school job'.
You'll need to explain why you were promoted, what that shifted in how you worked, and as you explain it, point to key qualities that you have that would be valuable for the role you're applying for. So remember during the interview this key tip: answer through examples.
12. Take your time
With nerves comes the tendency to talk too much or rush through answers. As much as you can (this is where the mock interview comes in handy), slow down and think through answers. Breathe in between sentences. Know that it's ok to take some silence to consider your answer, and be patient with yourself. Patience expresses confidence.
13. Communicate with the interviewer
This is more than answering the questions, but actually checking in with them if that was all the info they needed. Simply saying at the end of your answer 'does this answer your question? Or, would you like me to elaborate?' is a great way to do this.
14. Smile
Simple, but powerful. Ultimately, happy people are more attractive in every sense of the word. No one wants to hire a dull, passive or heavy-feeling person. So remember to smile and keep a positive attitude in how you express what you share.
After the interview tips for internships
Following up after your interview will be beneficial to keep yourself on the interviewer's radar. It could mean the difference between being remembered and considered for the role, and being forgotten over the sea of applicants, if there were others who also had a good interview. The following tips will be valuable for your follow-up process after the interview.
15. Be patient!
Wait 24 hours before you write a follow-up email. Don't bombard the interviewer with an email straight after the interview.
16. Say thank you
Your follow-up email should ideally be an expression of gratitude for the opportunity, not demanding their decision. 
17. Wait a week
If you receive no response in one week, then send a second follow-up email, where you can politely enquire about their decision.
18. Give additional info
Add to your follow-up emails the offering to give extra references or answer additional questions that they may have, to show that you are very much still interested in the role.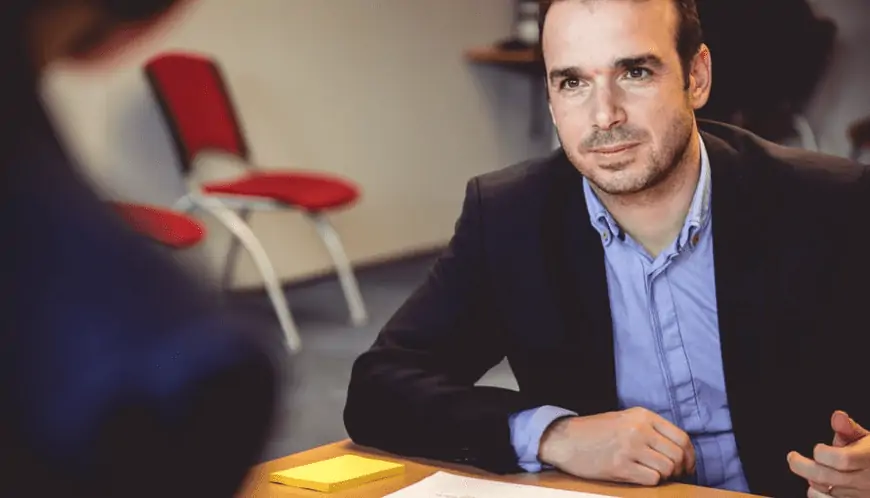 Interview tips for internships: Common questions and answers
As promised, here are some common interview questions that could very likely come up in your internship application interview. We've included sample answers so that you have an idea of how to answer these questions best.
19. Question: 'How do you deal with stressful situations?'
Answer: 'I've always been a calm person naturally, but of course I understand stressful situations arise. I think my capacity to look at the bigger picture allows me to not get swept up in stress. I tend to take a step back, see the situation from different sides, and find a more objective way to problem solve.'
20. Question: 'How do you work within a team?'
Answer: 'I love working in team environments because not only is it gratifying to share the load and have specifically allocated tasks to work on, but I find that I learn a lot in the process of teamwork from others in how they do things and how they think about certain situations. I find team-based work environments great to advance my own skills and capacities.'
21. Question: 'What has been a substantial challenge in your life, and how did you overcome it?'
Answer: 'In my personal life, I have had to support myself financially from a young age, when I was still in school. At first, it was difficult to manage to study with work, but over the years I've developed a great balance at being able to feel independent and secure. I think my resilience and propensity to not give up when things are hard is how I overcame this.'
22. Question: 'What is an accomplishment you are most proud of?'
Answer: 'In school, I was awarded various accolades over the years in my English work. I am most proud of these awards, as English was always my favorite subject and one that I am passionate about even now. Literature, writing, and content creation give me joy, so to know that I'm producing high-quality material and that I've developed expertise in this area makes me proud.'
23. Question: 'Where do you see yourself in your career in 5 years' time?'
Answer: 'I see myself having worked in this industry for that entire time, ideally in a management/leadership position.'
24. Question: 'Why have you applied to intern at this company?'
Answer: 'Since learning about the work that [company name] has done over the years, I knew that this was the type of company that I could find a sense of belonging in sharing the same core mission of [insert the company's values]. I believe in the work that you do, and I want to use my talents to continue to evolve the industry through my work with [company name].
25. Question: 'Do you have experience leading others?'
Answer: 'I do, not only in informal settings with always taking the lead role in a group setting but also in my leadership roles in [insert extracurricular activities or after school jobs, where relevant].'
If you are looking for more guides, check out my post on the best free online time management courses where you can learn to be more time effective in your new internship!
References