Learn How To Draw With 2023's Top 17 Best Free Online Drawing Courses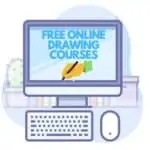 If you are seeking to learn how to draw or further develop your existing skills, then you're in the right place!
In this guide, I have rounded up some of the best free online drawing courses in 2023 so you can become a better illustrator.
Below, you will find a wide range of courses that touch on how to draw people, pets, characters, perspectives, comics, objects, and many more.
As an added bonus, all of these online drawing classes can be taken by beginners and are absolutely free. Let's begin!
Top 17 Best Free Online Drawing Courses, Classes & Training 2023
---
First on my list is a fantastic beginner drawing course that walks students through step-by-step on where, and how to start drawing.
As for your instructor, you will be taught by artist Gabrielle Brickey, who is a professional portrait artist who has helped over 100,000 students to become better drawers. So you are in good hands!
Course modules include drawing shapes, seeing angles, negative space, drawing upside down, forms, shading, drawing from photos, drawing from real life, and drawing from your imagination.
Another benefit of this course is that all modules are in video format and can be taken at your own pace. There are even class projects, downloadable resources, and a class discussion to get feedback from other students.
Being hosted on Skillshare, this drawing course can be taken for free when taking advantage of their 1-month free trial. Overall, this is a great introductory course that lays a good foundation for upcoming drawers.
Beginner level
1 ½ hour on-demand video
Taught by a successful artist
Class projects
Class discussion
Downloadable resources
Activate FREE Skillshare Trial
If you want to learn how to draw comics, graphic novels, animation, or even anthropomorphized characters, then this drawing course is just for you! You'll also be joining 50,000+ other students who have completed this course!
This 60-minute beginner/ intermediate level class is taught by graphic artist Gabriele Picolo, who has illustrated many of his own graphic novels and has also done work for DC Comics.
In this class, Gabriele teaches the concept of how a stylized character illustration can convey ideas and emotions beyond the printed or spoken word. He also breaks this down into actionable steps which covers posing a character, female vs male faces, core expressions, extreme expressions, clothing and style, and adding color.
While this class does cover more intermediate lessons, it could also be a great fit for beginners who are looking for a challenge. Overall, a great course!
Intermediate level
1 hour
Taught by comics illustrator
Links included
Class project
Over 50,000 students
Activate FREE Skillshare Trial
Professional illustrator and instructor at New York City's School of Visual Arts, Yuko Shimizu, teaches this 1 ½ hour beginner-level course which focuses on the specifics of drawing with ink as opposed to pencil, paint, or computers.
Course modules include ink and paper, brushes and nibs, illustrating textures, sketching, watercolor, calligraphy, setting up your materials, and many other tips and techniques.
With all Skillshare classes, students can take these modules at their own place on either desktop or mobile phones. There are also downloadable resources, a community of other drawers, a 1-month free trial, and a class project.
Overall, this is a great course for those interested in using ink drawing techniques that has also been taken by 40,000 other students.
Beginner level
1 ½ hours
Taught by NYC SVA instructor
Specific to ink drawing
Downloadable resources
Class project
Activate FREE Skillshare Trial
Instructor Will Kemp is an award-winning artist who teachers this beginner level 2 ½ hour course that is hosted on the LinkedIn Learning platform.
This class teaches the idea that success in drawing comes down to three basics: shape, light, and structure. It also shows you how to put this into action by covering lines, value and tone, negative space, drawing theory, and perspective.
In total, 65,000 students have taken the course and it comes with downloadable resources, class projects, and a certificate of completion!
For those new to LinkedIn Learning, they also have a 1-month free trial available for new users.
Beginner level
2 ½ hours
Taught by an art school founder
Downloadable resources
Class projects
Certificate of completion
In order to bring the human form to life on paper, there are several skills artists learn to accomplish this. These include drawing proportionately, adding volume with shadows, common body landmarks, and capturing motion. Which is exactly what is covered in this 2 ½ hour beginner course!
Your instructor for this class is Amy Wynne, a nationally exhibited painter and fine arts professor at Clark University who will walk you through step-by-step.
Course topics cover drawing a quick sketch, weight and balance, simple structural landmarks, understanding proportion, and 3D modeling.
Over 72,000 students have enrolled in this course which comes with class projects, downloadable resources, and a certificate of completion. Overall, a great course for drawing human figures.
Beginner level
2 ½ hours
Taught by art school professor
Downloadable resources
Class projects
Certificate of completion
If you have never drawn beyond doodling, this beginner level video course will help you free your creativity and develop and hone your drawing skills.
Your tutor for this course is professional illustrator Von Glitschka, who has created logos and illustrations for some of the biggest companies in the world and is also the creative director of Pacific NW. So if you are looking to learn from one of the best, this is a great place to start.
Unlike other courses on this list, you are assigned 21 different drawing projects, which you should try and complete every day. Lessons include lines, light sources, cubism, monsters, metaphors, storytelling, drawing a cat, and even a dinosaur.
Overall, a great beginner level class that is taught in a unique way.
Beginner level
2 hours
Taught by professional illustrator
Class projects
Downloadable files
Certificate of completion
Take your stick figures and turn them into 3D characters is the tagline for this 1 ½ hour beginner-level course on the Udemy online learning platform.
The course curriculum is drawing tools, drawing fundamentals, one-point perspective, and meet Tommy Toon. Within those course modules, you will learn geometrical shapes, adding bend, movement, and center of gravity, and converting geometrical forms into organic forms.
The class is taught by illustrator Kevin Gardin and filmmaker Mitchell Bouchard, both of whom have extensive experience in the field of art and drawing.
There are course materials to download, available instructor Q&A, and a certificate of completion. Over 14,000 have taken this course.
Beginner level
1 ½ hour on-demand video
Taught by two professional artists
Downloadable course materials
Q&A available
Certificate of completion
This is centered on anime style drawing. Course modules include how to get started getting paid, Photoshop tools, big eyes, hair, anime body, drawing clothes, and visual intelligence.
It's taught by a group of instructors at 2D Animation 101 Courses, an online animation school for aspiring or developing anime artists. 40,000 students have enrolled in this class.
Udemy courses have options available such as instructor messaging and Q&A, as well as a certificate of completion. Course materials are available to download.
This is beginner level, 4 ½ hours of on-demand video, and is designed to help absolute beginners to develop and enhance drawing skills specific to anime and manga.
Beginner level
4 ½ hours on-demand video
Specific to anime and manga-style drawing
Taught by an animation school
Available instructor interaction
Certificate of completion
John Kline is a professional artist specializing in oil painting and trained in several different art disciplines including drawing. John and his wife Christine have been teaching in-person and online for several years and have a very well received curriculum.
The instruction is applicable to painting, charcoals, pastels, printmaking, and drawing. It is suitable for beginners as well as other established artists.
Some of the video modules include drawing a face, drawing characters, charcoal drawing, and specific themes.
All Levels
21 video modules
Taught by professional artists
Music lessons available, too
On-demand video
Highlights drawing as a core skill for other art mediums
A beginner-level course consisting of about 40 minutes of on-demand video, this class teaches three very simple steps anyone can use to start drawing.
It's taught by Yasmina Creates, who is an ink and watercolor artist with a large following and many satisfied clients. Her teaching style is easy to follow and enjoyable.
The course modules include practice exercises, live drawing, using shapes and lines, adding detail, stylization, and drawing faces. It's on-demand video so you can come back to any part of it when you need to repeat anything.
Class projects and downloadable resources are included in this short and very fun course taken by over 33,000 people.
Beginner level
40 minutes
Taught by a professional artist
Downloadable resources
Class projects
33,000 students enrolled
Activate FREE Skillshare Trial
An intermediate-level online course with artist and art school professor Will Kemp, this course focuses on the interplay of light and shadow and how you can add that to your drawings.
Professor Kemp highlights how leading artists use light and shadow to make their illustrations more realistic, to draw focus, and to create a mood. He covers the basic concept of chiaroscuro, the classic technique for creating contrasts and using them effectively.
Course modules include principles of chiaroscuro, basics of lighting, value, and form, compositional patterns using light and dark, and using tonal paper.
The 2-hour class is hosted on LinkedIn Learning and includes downloadable resources and a class project for you to work on.
Intermediate level
2 hours on-demand video
Taught by art school professor
Covers the important concept of chiaroscuro
Downloadable files
Class projects
Jerry's Artarama offers free video instruction from a wide variety of established professionals and art instructors who use Jerry's as their source for art supplies. The amount of different instruction available and the quality and usefulness of the instruction is very high.
Subjects in drawing available as instruction courses include drawing with shapes, speech bubbles, drawing hair, using 3 point perspective, linear perspective, portraiture, proportions, line weights, blending and cross-hatching, human body ratios, figure drawings, colored pencils, various inking methods, and how pencil hardness affects drawing, plus much more.
The entire experience reminded me of art and craft fairs and seminars hosted at local supplies stores and school fairs. Some of the instruction was over my head, and all of it was just there for the taking. The same type of situation here. Enjoyable, informative, and all-inclusive. Overall, this is one of the best free online drawing courses in 2023.
Every level
Multiple course titles
Taught by professionals and educators
Wide range of lengths of classes
Many extra resources
Hosted by an art supply store
One of the cornerstone teachings of drawing is perspective. It can be 1 point, 2 point, or 3 point, even abstract and arbitrary, but perspective is a core discipline. This online drawing course concentrates on 2 point perspective which can be utilized for 3D style drawings.
Taught by working artist and Clark University fine arts professor Amy Wynne, it's a beginner level 1 ¼ hour course seen by about 15,000 students.
There are exercise files available to download and course modules cover perspective basics, 3D cubes in 2 point perspective, create a street scene, create an interior scene, and drawing from observation.
Beginner level
1 ¼ hours
Taught by art school university professor
Downloadable files
Class exercise
Concentrates on the 2 point perspective discipline
Six short lessons in about 30 minutes of on demand video will show you the importance of keeping a sketchbook for drawing.
Professional illustrator Leah Goren teaches the beginner class and helps you overcome creative blocks by using drawing exercises. Over 28,000 have benefitted from this course.
The exercises are the course modules. They are drawing patterns, drawing from life, drawing your space. Within the exercises, she covers color, perspective, shape, and patterns. A class project is included.
Beginner level
30 minutes on demand video
Professional illustrator as an instructor
Class project
Helps overcome creative block
28,000 students
Activate FREE Skillshare Trial
Donelli J. DiMaria teaches this 2 ½ hour beginner level online course covering the Frank Reilly Technique of figure drawing. Mr. DiMaria is a professional artist and instructor who also writes about art for several magazines.
The Reilly Technique is also called the Gesture Method and can be learned by anyone capable of drawing simple stick figures. The method will allow you to convert those stick figures into 2D and 3D drawings that have a real life.
Course modules cover action lines, action shapes, negative space, light and dark, perspective, foreshortening, line and edge weight, details of hands and feet, and faces.
Over 90,000 students have enrolled in this class hosted on the Udemy online learning platform. It includes on demand video content, certificate of completion, and instructor Q&A is available.
Beginner level
2 ½ hours
Taught by a professional artist
Covers Reilly Technique and Gesture Method
Instructor Q&A available
Certificate of completion
Drawing Coach is the brainchild of professional illustrator and video game designer Mitch who offers free instruction on a variety of art subjects.
Included on the website are links to free drawing software and to discounted high quality art supplies.
The well illustrated instruction courses cover cartoon animals, cartoon people, portraits, caricatures, figure drawing, tatoos, perspective, and tips and techniques. Each course is separated into numerous sub topics, each of them packed full of helpful information, theory, practice exercises, and hints.
You could spend a lot of time to take it all in or you can cover one small subtopic at a time. It's all right there in an easy to access form, all you need is a device to get you on the internet and something to use for drawing, electronic or pen and paper.
All levels
Multiple subjects
Learn at your own pace
Lots of extra resources
Taught by a professional illustrator
Links to other helpful websites
This website is another all inclusive course for learning how to draw from the very beginning. The illustrations and instructions are superb quality and easily accessible by an absolute beginner or by an experienced and established artist.
Hosted on her own website Rapid Fire Art, this course is put together by artist and illustrator Darlene Nguyen. She has broken the steps down into easy to learn segments and subtopics
Course modules include how to sketch, learn to see, 2D and 3D, accurate proportions, how to fix common errors, 1 point and 2 point perspective, line quality, and shading techniques.
There are also step by step tutorials, links to YouTube videos illustrating the techniques, an ongoing blog, and links to reviews of products usable for various art projects. It's a very full featured website and the artist is easy to follow as she explains basic and more advanced concepts.
If you want to learn how to draw at your own pace, this is another great place to consider for some of the best free online drawing courses. To learn more, you can also see my other course guides on Procreate, logo design, and watercolor!
All level
Huge variety of subjects available
Hosted and taught by a professional artist
Lot of extra resources
Links to YouTube videos illustrating points
Includes tips, tricks, and product reviews