Learn How To Defend Yourself With 2023's Top 7 Best Online Self Defense Classes
If you would like to be able to teach self defense or simply want to know techniques to protect yourself, take a look at this list of the top 7 best online self defense classes.
Self defense is the ability to protect your well being from the harm of another. It is an essential life skill for men, women and kids alike.
For some people or a great way to gain confidence and feel more self-assured. Some just include it in their focus on personal development. Or you may be an instructor looking for inspiration to turn your practice into an online course or local business.
These top-rated online self defense courses give you a lot of practical information for you and your family to feel more confident, protected, and secure. They also include useful exercises to practice your technique plus many excellent extras such as materials to download, class discussions, and a certificate of completion.
Let's get started!
Top 7 Best Online Self Defense Classes In 2023
---
Without hours of classes or years of physical training, you can learn this beginner-level training to protect yourself and your family with techniques culled from military and law enforcement training. This training has already benefited roughly 29,000 students.
Captain Chris Pizzo is your trainer, an expert martial artist, and award-winning educator with thousands of satisfied students and constantly high reviews.
The 2 ½ hours of on-demand video modules cover close combat basic training, black ops, street samurai, and gutter fighting. It includes downloadable resources, class projects, and a certificate of completion.
You can find this course on Udemy which hosts thousands of excellent courses on many different subjects. Also, dive in with the confidence of a 30-day money-back guarantee.
Beginner level
2 ½ hours on-demand video
Expert martial artist as a trainer
Class projects
Downloadable resources
Certificate of completion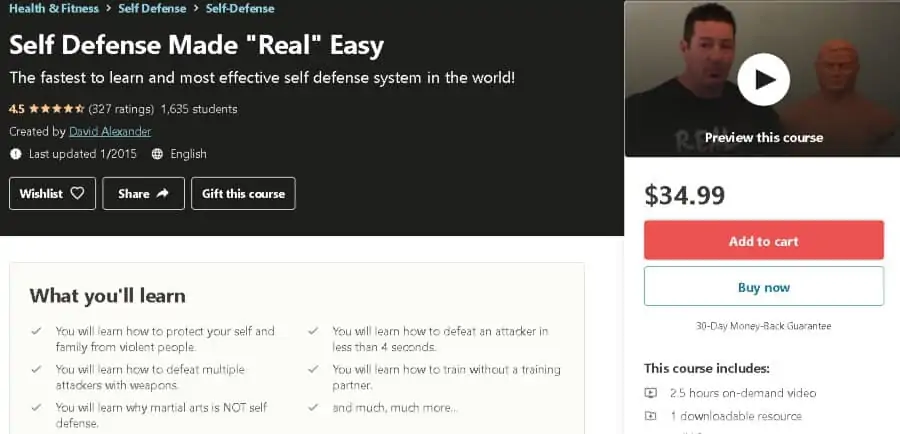 Learn and apply these lessons on the very first day and make yourself completely equipped to protect yourself right away with this beginner-level instruction that has been accessed by over 1,600 students.
MMA fighter, CrossFit trainer, and dietician coach David Alexander leads this online course teaching you aspects of self-defense from all his areas of expertise.
Online course modules in this 2 ½ hours of on-demand video include the subject's empty hand, weapons, and stepping inside a private lesson. You will also receive downloadable resources, class exercises, class discussions, and a certificate of completion.
Udemy is an online continuing education platform with expert instructors and many valuable extras with each class. Take advantage of their weekly promotions and discount coupons for low-priced learning.
Beginner level
2 ½ hours on demand video
Taught by MMA fighter
Class projects
Downloadable resources
Certificate of completion
SEPS introduces a beginner-level program that introduces women to various personal safety subjects from attacks and assaults to potentially abusive partners. It's been used by over 41,000 people.
Founder Gershon Ben Karen is a defense expert, having worked with military, law enforcement, and security teams. His 25 years plus of experience is the basis for this excellent course.
You will work on 9 weeks of course modules covering subjects including abusive relations, stalkers, date rape, car security, and predators. Included in the nodules are extra resources to download and practice sessions.
SEPS is free to access and you can also sign up for their newsletter and seminars.
Beginner level
9 weeks self paced study
Taught by security expert
Downloadable resources
Newsletter
Seminars
Visit Womensselfdefense-seps.com
This Udemy course breaks down a range of potentially dangerous situations and gives step-by-step advice on how to protect yourself. For instance, the important skill of learning how to position yourself to execute an effective chokehold when an attacker approaches you. The instructor, details foot positioning, movement, and grip in an easy to mimick way.
Modules include pre-emptive moves for when you are confronted, how to respond to a "flurry" of punches, defense against grabs, defense against specific scenarios involving a knife, or glass, and ways to block kicks to your groin or legs.
In summary, this online course is very efficient and covers key self-defense techniques in only one hour.
This course is led by Stewart McGill.
McGill offers expert instruction backed by his long career in Krav-Maga. He is a senior instructor with the British Combat Association. He has also been a 3rd Dan in Goju Ryu Karate and a Civilian instructor with the IKMF.
As with all Udemy courses, there is a 30-day money-back guarantee.
All levels
Efficient: One-hour training
Expert instructor
Practical self-defense techniques for everyday situations.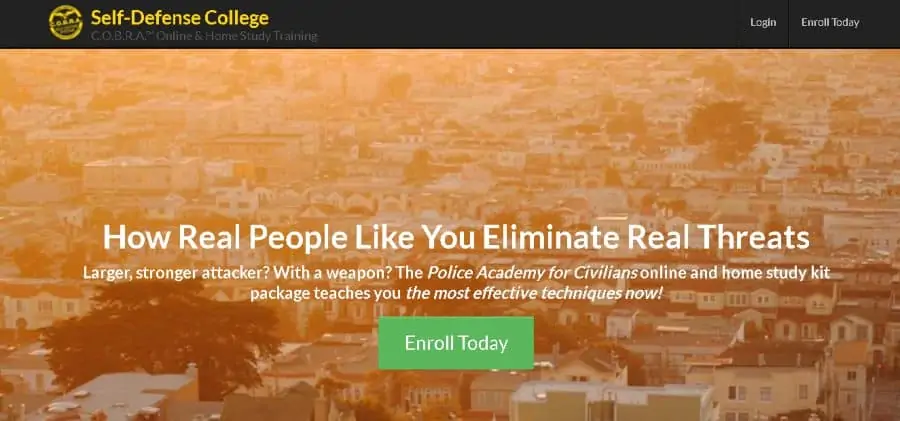 Basically, a police academy for civilians, this self-defense system was created from real-world experience in the military, law enforcement, and security teams. It is suitable for all levels and works for men and women alike.
Your instructors are Chris Sutton, John Graden, and Nat Guy, all of them experts in various aspects of self defense from weapons, to martial arts, to security planning.
You will receive a home study kit with 100s of on-demand videos, online seminars, and a COBRA certificate. A lot of bonus materials are included.
Self-defense College teaches you physically and mentally and is available for low cost payable by credit card or PayPal.
All levels
Complete home study course
Expert instructors
Downloadable resources
Seminars
Certificate of completion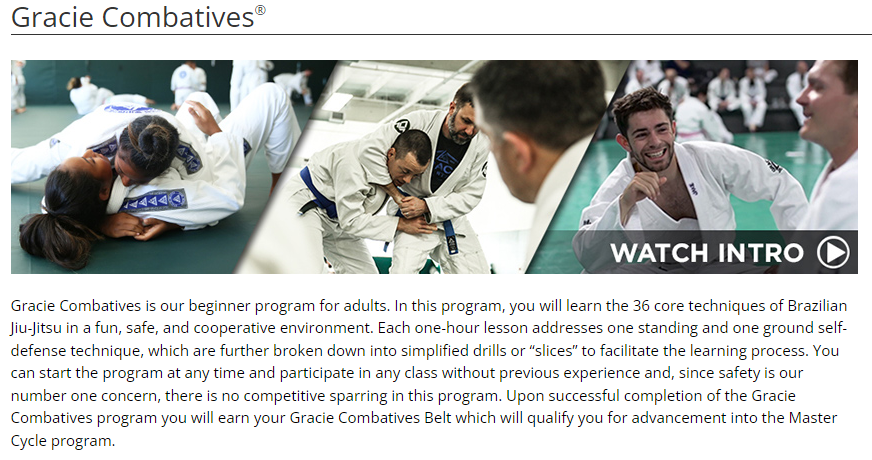 Gracie Combatives was originally developed for the U.S Army. This jiu-jitsu program is focused on the mastery of 36 specific techniques. This approach to self-defense training was developed to be a reliable real-world method to handle larger attackers.
The price for the course is a bit more expensive than others at $189. Great news, a 5-day free trial is offered. Before committing to this self-defense program, make the most of your trial.
While the financial investment is a bit higher, there is a rich amount of material as the course includes 36 lessons. There is an incentive to stay on track as students who successfully complete the course can earn a Gracie Combatives Belt.
To earn the belt, students will upload videos for their instructor's review. A passing grade earns the Combative Belt. Notably, if your score is exceptionally high, you can qualify for their instructor certification course. A great example of a hobby potential evolving into an opportunity to teach self-defense techniques to many others.
The course provides great downloadable resources to help you stay motivated and on track, including a 108-day training schedule.
Gracie also offers a specific Women Empowered course track.
All skill levels
Certification: earn a belt!
5-day free trial
Downloadable materials/training schedule
The potential first step to becoming an instructor
Perhaps you have heard about different methods of self-defense and would love an opportunity to try Krav Maga (promoted as real-life self-defense) or Muay Thai Kickboxing. The Academy of Self Defense offers a great online course opportunity to get started.
We love the opportunity to try this content with a 14-day free trial. There is no better way to see if this self-defense program is right for you.
There is a massive amount of content here to help you build self-defense skills and improve your fitness.
Membership opens the door to 100+ online Classes and 5,000+ videos creating an easy way to learn at your own pace and try a number of classes during your free trial. With such. range of training programs out there, this is a great chance to see what is best for you.
Bonus — there is content for the entire family, including online courses for kids.
Following the free trial, the cost is roughly $39 per month.
All skill levels
Massive catalog of online courses
Expert instructors
14-day free trial
Online Gym model -workouts for the entire family
New Online Self Defense Classes To Consider
The catalog of online learning is growing every day. The best online self-defense training space is no exception. Whether it's Krav Maga, Muay Thai, or Wing Chun Kung Fu, the range of emerging self-defense classes is rapidly expanding.
While we haven't yet had the chance to dig into these, here are some popular training courses you may also want to consider.