Learn How To Find Your Audience With The 2023's Top 11 Best Online Podcasting Courses
If you are inspired by podcasts like Joe Rogan, Tim Ferris, or Serial, and wish to make your own, you're in the right place!
In this guide, I cover some of the best free online podcasting courses in 2023 that will show you how to launch a successful podcast, step-by-step.
Below, you will find a wide range of podcast classes that cover every aspect of making a podcast, from hosting, marketing, audio equipment, the structure of a podcast, and uploading it to different platforms like Apple Podcasts and Spotify.
Let's get started!
Top 11 Free Best Online Podcasting Courses, Classes & Training 2023
---
If you are looking to launch your first ever podcast and have no experience, this is the class for you! In this training, you will get to go behind the scenes and see the step-by-step process of how to make a successful and engaging podcast.
Your instructor for this course is John Lagomarsino, an audio and video producer at Anchor Productions, who has years of experience creating audio content for 10,000's of listeners.
In 1 hour of on-demand video, you will see how to plan your episodes, record the audio in high-quality formats, interview tips, launch your podcast (Apple Podcasts, Sticher etc), and how to promote your podcast to gain a large audience. There are also some great modules on what type of equipment you will need depending on your budget and experience level.
Overall, this is a fantastic crash course into podcasting that covers all the bases for beginners and those on a budget. Being hosted on Skillshare, users can take advantage of their 1-month free trial which gives access to all 29,000+ courses! ????
Beginner level
Professional podcaster instructor
1 hour on demand video
Downloadable resources
Class project
Discusses everything needed to start podcasting
Activate FREE Skillshare Trial
Next on my list is another great class that will teach you how to create your very own podcast from scratch. There are also some great modules that cover how to earn money from a podcast, the best hosting/ microphones, and tons more!
In total, this course is 1 hour and 20 minutes of on-demand video combined with extra resources and class projects to follow along with. So for those looking for a quick introduction, this is a great starting point.
As for your teacher, you'll be led by Neil Patel, who is the host of the Indian Startup Show and has helped 1,000s of students launch their podcast from this very course.
Some of the lessons covered in this class include how to make short trailers and longer interviews, how to do research for subjects, deciding what type of microphones to use, what software options there are, how to find guests and an audience, monetizing your podcast, and tons more! Overall, an outstanding course!
Beginner level
1 hour 20 minutes
Taught by successful podcaster
Extra resources
Start to finish instruction
Class project
Activate FREE Skillshare Trial
Moving onto my next pick is a standout class that centers on the successful production of podcasts, whether for yourself or others. In total, there is 1 hour 45 minutes of on-demand video and downloadable extra resources.
Your instructor for this course is Danny Ozment, a marketing consultant, and producer that will show you how to work on your podcasts from the initial planning stage all the way to finding a market for your podcast.
Other subjects taught in this course are how to identify your target audience, choosing the length and format of the podcast, what equipment to buy and how to use it, the basics of recording and editing, distribution and publishing, promoting your podcasts, and accurately measuring your audience.
While this is a beginner course, I would say this is ideally for someone who is focusing more on the production and marketing side of creating a podcast. Also being hosted on LinkedIn Learning, new students can take this course for free on their 1-month free trial!
Beginner level
1 hour 45 minutes
Taught by marketing consultant and podcast publisher
Extra resources to download
Focuses on successful promotion
Certificate of completion
Up next on my list is a fantastic beginner-level course that dives deep into both podcasting and the digital marketing techniques for marketing your show.
In this class, you will be taught by Phil Ebiner and Ravinder Deol who are hosts of the Video School YouTube channel that has over 130,000 subscribers. They have also helped 230,000 students through their various online classes.
Some of the many lessons in this 5.5-hour masterclass include how to start your podcast from scratch, equipment needed, how to record interviews over Skype, add ID3 tags/ metadata, how to record high-quality audio, how to finally launch your podcast, and improve the rankings for your podcast.
There's also a segment on how to host your podcast and submit it to the Apple Podcasts Apple, Spotify, Stitcher, SoundCloud, and Overcast. So if you are looking for a truly in-depth online podcasting course, this is an outstanding resource!
Beginner level
5 ½ hours on demand video instruction
Professional instructors
11 articles and other extra resources
Class assignments
Certificate of completion
If you are specifically looking to launch a podcast on iTunes/ Apple Podcasts, this 1 hour 10-minute course is for you!
Your instructor for this course is Todd Nevins, who has successfully started several online companies and is a top-end digital strategist for podcasters. So you'll be in capable hands.
Some of the lessons taught in this course include choosing your topic, structuring a show template, recording, editing, and publishing the episode to Apple Podcasts. There are also some additional lessons on recording with Skype, editing with Audacity, publishing to Libsyn, and choosing a podcast host.
Besing hosted on Skillshare, new users take this class, plus all the others mentioned in this list on their 1-month free trial! Overall, a great compact podcasting course for those in a rush!
Beginner level
Professional business person instructor
1 hour 10 minutes
Concentrates on Apple iTunes podcasting
Discusses monetization
Downloadable resources
Activate FREE Skillshare Trial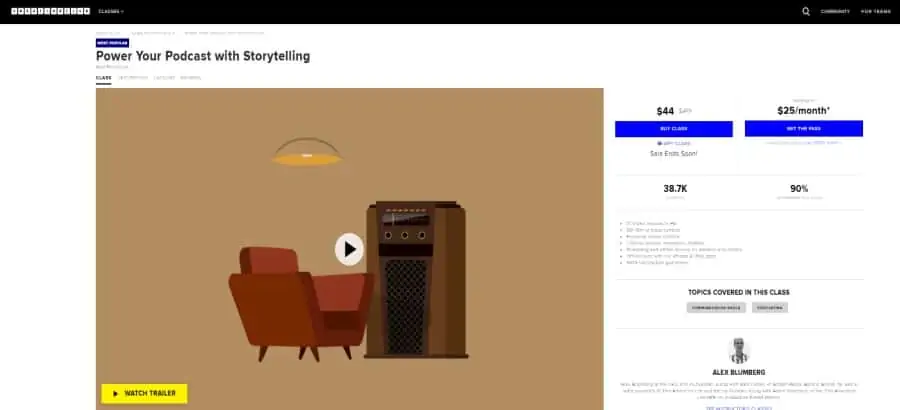 CreativeLive brings you this 10 ½ hour course concentrating on the storytelling aspects of podcasts. It's not enough to know all the technical things to do, you need to be able to the stories well in order to hold people's attention and then bring them back to your next podcast.
Alex Blumberg is the instructor for this captivating class, who is the CEO and co-founder of Gimlet Media and also a successful radio journalist with years of experience.
In the class, you will learn how to prepare for an outstanding interview with good questions that will lead to interesting answers. In addition, storytelling techniques and methods are discussed in full.
It is separated into 21 lessons and includes loads of extra content as well as class assignments. 38,000 students have benefitted from this instruction. Easily one of the best online podcasting courses available!
Beginner to intermediate level
10 ½ hours
Bonus content added
Taught by media specialist
Concentrates on storytelling
Lifetime access
Taught by internet business consultant Amanda McLoughlin, this class is very short, under a half-hour, and filled with useful information about podcast marketing.
If you are already making podcasts, you will appreciate the instruction on how to make money from your podcasts and how to get a bigger audience with each episode. It discusses which data points matter when measuring the success of your podcasting as well as what type of marketing approach will work for your own podcast growth.
It may be only ½ hour in length, but it comes with links to 11 different online resources to continue the education about marketing and growing your podcast audience.
All levels
½ hour on demand video
11 different links to extra instruction
Taught by an online business consultant
Focused on how to make money from your podcasting
Class projects
Activate FREE Skillshare Trial
Next on my list is a full course on podcasting from what subjects you might cover to how to market your episodes and create a larger audience for your episodes.
Taught by Scott Patton and Scott Alex, producers, and managers with years of business experience. They are also top-rated instructors for the Udemy platform of online classes.
In this class, you will learn how to publish your podcast in just about 15 minutes (not including recording and editing), how to choose the right microphone, how to conduct interviews, and how to rank your podcast so you can get thousands of downloads.
The course is 9 hours of on-demand video, combined with many online resources and other extras. Taken by 28,000 people, it comes with a certificate of completion. Hands down one of the best online podcasting classes for beginners!
Beginner level
9 hours on demand video
Downloadable resources
Lifetime course access
Professional podcast producers instructors
Certificate of completion
GarageBand is a digital audio workstation developed for Apple computers and digital devices that lets you create and record and music and podcasts. The program has instruments built in that you can use for making original songs or for adding background music to your podcasts.
Garrick Chow is the instructor, university professor, and multimedia specialist. He has also been a featured presenter at Macworld conferences.
The class is 2 hours 15 minutes and includes extra resources. LinkedIn Learning gives you access to all of your devices, tablets, phones, or computers.
Besides the music creation, this course teaches the skills of mixing and editing, outlining and scripting, and then publishing your creation. To learn more, check out my guide on the best LinkedIn Learning courses.
Beginner level
2 hours 15 minutes
University professor as instructor
Deals specifically with the GarageBand program
Shows how to add music to any podcast episode
Certificate of completion
A beginner level course with 2 hours of on demand video instruction and extra resources available for download. It answers all the questions involved in making a podcast. Everything from start to finish is covered in the class.
11,000 students have benefitted from the information discussed. After this class, you can create and record your own podcast, add music to it, make artwork for the podcast profile, and publish it on platforms such as LinkedIn and FaceBook.
Adam Ashton is the instructor for this beginner-level course. He is a best selling author and a podcast producer with experience in all aspects of digital production.
Beginner level
Podcast producer as teacher
2 hours on demand video instruction
Downloadable resources
Lifetime access
Certificate of completion
Lewis Hughes is an author with writing credits in Entrepreneur, Yahoo.com, The New York Times, Forbes, and Men's Health. He is also an entrepreneur and business coach. His course is hosted on Creative Live and has been taken by 16,000 students.
The class is just under 5 hours of on-demand video and includes various downloadable resources. The course covers choosing the right format, getting the necessary gear and learning how to best use it, and promoting your podcast and monetizing it.
You get lifetime access to course material and your satisfaction with the course is guaranteed.
Beginner level
Professional instructor
5 hours of on demand video
Bonus resources
Lifetime access
Class projects
More Digital Marketing Resources For Podcasters
We've got course reviews to help you go bigger than just a podcast.
Perhaps you're interested in building a blog and ensuring its picked up by Google with great SEO practices?
Or perhaps you need to build find your audience on social media? Why not start on Instagram?
What about ensuring you're message is clear with great copywriting and your photos look professional?