Learn How To Manage Teams With 2023's Top 13 Best Online Management Courses [Free + Paid]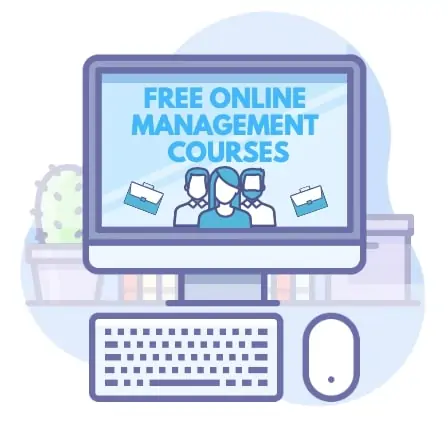 Whether you work in a large company or are starting to hire employees in your own business, knowing how to manage people can be a make-or-break skill set.
Because of this, I have rounded up some of the best free online management courses in 2023 so you can be a true leader and inspire those around you.
Below, you will find a wide array of courses that are great for first-time managers, veteran managers, and those looking to further their skills. Let's get started!
Top 13 Best Online Management Courses, Classes & Certifications 2023 [Free + Paid]
---
Why do more than 60% of managers fail? Because the skills and abilities that got them promoted turn into weaknesses when they're leading others. And most companies do little to help people make this transition.
That's where Dave & Marsden Kline come in. They've built an 8-module cohort-based course that brings together 40 leaders from top companies around the world to build the foundational management systems needed to thrive in today's competitive market.
The course takes a systems-based view of management but pairs it with a deep understanding of individuals and how to get the most from them. You'll practice setting clear expectations, giving direct feedback, breaking down goals into OKRs, refining your working cadence, and more.
As a bonus, they offer 1:1 coaching to every participant with a promise to "break through and unlock their biggest management challenge." That must be why despite the higher price tag, they consistently get ratings above 9/10, and students say it was worth 23x what they paid.
Rating: 9.2/10
Intermediate level
12 hours of live classes
Individual coaching included in the price
81% of leaders get reimbursed by their company
Instructors led teams at Bridgewater, Moodys, Google & Goldman Sachs
What drives modern management more than almost anything else is communication. Ideas, instructions, issues, commendations, critique are all given and received by communicating with others, which this course will teach you.
Your instructor for this condensed video course is Claire Lew, CEO of Know Your Team, which is an online management/ software company. Claire brings her years of experience to the table and shares her most valuable takeaways of managing her very own team.
In the course, she explains why a feedback loop is important, ways to get feedback from the most introverted workers and managers, and how to give corrective feedback in a manner that won't alienate your co-workers.
Being hosted on Skillshare, new students can enroll in this class, plus 23,000+ others when taking advantage of their 1-month free trial. Overall, this is a great course for those looking to become a successful manager.
Beginner level
½ hour on-demand video
Professional manager as teacher
Extra resources included
Class project
Available via the smartphone app
Activate FREE Skillshare Trial
Managers are often put right in the middle of disputes and employee conflicts. So being able to resolve these issues and find a clear way forward is an essential skill to master as a manager in 2023.
Author and trainer Kevin Eikenberry is your instructor for this class who has twice been named the Top 100 Leadership and Management Experts in the World by Inc.com.
Some of the lessons Kevin teaches in this concise management course are compliance vs commitment, delegating effectively, how to efficiently communicate, managing performance problems, building relationships, and many more.
By the end of this course, students should feel confident heading into turbulent situations and how to manage them successfully.
With this LinkedIn Learning course, there are CPE credits available for continuing education and a certificate of completion, not to mention a 1-month free trial that can be canceled at any time!
Beginner level
Taught by world-renown business trainer
1 hour
Extra resources included
CPE credit
Certificate of completion
CEO and entrepreneur Chris Bolman instructs this 2-hour class on the Skillshare platform that teaches students how to create and implement strategies in the workplace.
Some of the modules discussed in this on-demand video course are military strategy and how it applies in business situations, how to use game theory as a manager, where scientific strategy applies, and other lessons.
While this course does cover management concepts, it does seem more suited for those that are starting their entrepreneur journey and are looking at how to manage large teams. Overall, a great course that views business management in a different light.
Beginner level
2 hour on-demand video
CEO and entrepreneur as teacher
Extra resources included
Class project
Available via a smartphone app
Activate FREE Skillshare Trial
Next on my list is a comprehensive 7 ½ intermediate level management course used by Amazon®, Unilever®, Walmart®, Nissan®, and Citibank® for internal training. In total, there have been over 22,000 students who have completed this course!
Your instructor for this class is Davis Jones, who is a chief learning officer for Eazl which is a business school used by Tesla, Harvard, Lyft, and the World Bank. So if you are looking to learn from an industry-leading expert of management in 2023, this is a great place to start.
Included in the instruction of this course are the subjects of negotiation, productivity, digital communications, and how to see the big picture (the company) as well as the details of individual employees.
Unfortunately, there is a small price tag attached to this course of $10-$15, but for what one receives, it may as well be free! If the price of this course is inflated (it usually is $140), you can see my guide here on how to get 90% off Udemy courses.
Intermediate level
7 ½ hours
Used by international corporations
Taught by a leading educator in managerial skills
Assignments and resources
Certificate of completion
A primary duty of managers is to turn conflict back into cooperation which this course focuses on. Negotiation and leadership coach Lisa Gates will show you how to accomplish these skills in this 1-hour beginner-level course.
In this class, you will learn effective conflict resolution that is easy to understand and how to apply these techniques that work in virtually all business situations.
In addition to learning resolution techniques, you will also learn how to identify different types of conflict styles, contentious tactics, how to define and define the cycle of "Name, Blame, Claim," and when to implement the ideas and strategies presented by others.
As this course is hosted on LinkedIn Learning, it is NASBA accredited with a certificate of completion available. There is also a 1-month free trial to take advantage of!
To learn more, check out my post on the best LinkedIn Learning courses that are some of the most popular classes on the platform.
Beginner level
Taught by professional leadership coach
1 hour
Extra resources included
CPE credit
Certificate of completion
Project management is an essential method for managing in certain industries. A project can be the entire reason a business exists or projects can be part of the ongoing process of running the business. It can also be a great profession for a digital nomad.
Included in the 1-hour beginner level class is a discussion of the psychology of people management, traditional project management methods, essential skills for being a project manager, and goes beyond the basics to explore other ideas and methods used by modern businesses.
It's taught by Brett Harned, the director of education of the business management company TeamGantt. His insights are beneficial for several types of companies and styles of management.
Each lesson includes a discussion of strategy, pro tips, and a demonstration to help us understand how the lesson applies in real life.
Beginner level
1-hour on-demand video
Director of education as a teacher
Extra resources included
Demos in each section
Available via a smartphone app
Activate FREE Skillshare Trial
A 2 ½ hour beginner-level course, this class is hosted on the Udemy online platform. Udemy is an excellent source of instruction and guidance for various fields and skills including the Arts, Technology, and Business.
Being a leader is much more than merely people what to do. A leader motivates, a leader inspires, a leader gets things done. So, how does a manager live up to those types of expectations?
This class will discuss academic theories concerning leadership as well as real-life scenarios you may encounter in the workplace. It also covers how to delegate to underlings and what styles of delegation may work in your situation.
Another thing that managers need to consider is the proper work/life balance. Not just for their employees but for themselves as well. The instructor Chris Cross, a leading management trainer, gives good guidance in this matter.
Several downloadable resources are included as is a certificate of completion.
Beginner level
2 ½ hours
Downloadable resources
Top management trainer as the instructor
Lifetime access
Certificate of completion
The 2nd of 4 classes in the larger Conflict Management Specialization course, this intermediate level class is best handled in the suggested3-week time frame of a few hours per week, about 7 hours total, not including extra study.
It will add to what you already know as a manager that conflict is inevitable in the workplace, but how you as a manager handle it can either make it worse or improve things.
One of the more important skills discussed is how to communicate well. For those involved in conflicts, an important factor for resolution is that they feel they were truly heard. The best way to do this will vary from situation to situation which is what this class helps you to decipher.
The class is taught by the University of California, Irvine professor Najla DeBow.
Intermediate level
7 hours over 3 weeks
Taught by university professor
Downloadable resources
Quizzes
Certificate of completion
Much of the job of a manager involves communication. Without good communication, work won't go smoothly. Communicating with employees or upper management that lacks good communication skills presents a real challenge for managers.
In order to communicate effectively with more in your company, basic social skills can be leveraged to your advantage. This course teaches how to interact comfortably with all sorts of different people, whether in or outside of your workplace.
It's a 2 hour, beginner-level course. There are class projects and a certificate of completion. Taught by an expert in communication, you may end up using these skills in social settings, too. Overall, this is one of the best online management courses in 2023.
Beginner level
2 hours of class projects
Usable for developing social skills outside of work
Taught by an expert in communication
Certificate of completion
Activate FREE Skillshare Trial
A beginner-level course only 30 minutes long, this class will teach the importance of goals and how to implement goal setting strategies at your job.
You will learn how to set structured goals, develop a way to measure performance and goal outcome, develop plans with incremental milestones, and how to manage multiple goals.
Richard Feenstra, Ph.D. is an educational psychologist who teaches the art and science of decision-making. His instruction has its basis in educational psychology.
A SMART goal workbook is available as a download with this class. Keep it and refer to it after you complete the course.
Beginner level
½ hour
Taught by an educational psychologist
Downloadable workbook
Q&A available
Certificate of completion
Designed with women in mind, this is a 4-week course on effective communication, it's beginner level and meant to be accessed in increments of a couple of hours each week, so 8 hours total. The instruction can also be useful for men in the workforce.
The class will teach effective methods of communication that work across different situations. Usable strategies for work life and private life. It will help you foster an air of open and transparent communication with anyone at any level in your company.
The instructors are from Catalyst, a company that has a goal of enabling and empowering women in the workplace.
Beginner level
8 hours
Designed to help women in the workforce
Taught by instructors from Catalyst
Downloadable resources
Certificate of completion
Beginner level instruction, this class is ½ hour of very useful instruction in slogging through the real-world issues of politics in the workplace.
Taught by Karlyn Borysenko, Ph.D., the class will ease your way into "playing politics" yourself. A key is a soft approach, which is the main theme of this instruction.
Beginner level
½ hour
Taught by PhD
Downloadable resources
Extra projects
Certificate of completion
Activate FREE Skillshare Trial
Need More Free Management Resources?
Perhaps the above courses are a little too much, too fast. A great way to stay in the flow and get regular inspiration is free newsletters.
Here are three that we love:
MGMT Playbook – If you're not ready for Dave Kline's MGMT Accelerator, try his MGMT Playbook. Every Wednesday, he drops tips, tools, and tactics to help you lead high-performing teams.
Project Leaders – Running projects have little to do with Gantt Charts and everything to do with people. Jasper takes a practical approach to leading big initiatives that's deeply human.
One Thing Better – The better way to lead is to improve ourselves daily. Jason Feifer, the editor of Entrepreneur Magazine, helps you do that in ways that are endearing and enduring.