Top 10+ FREE Best Online Bookkeeping Courses & Training!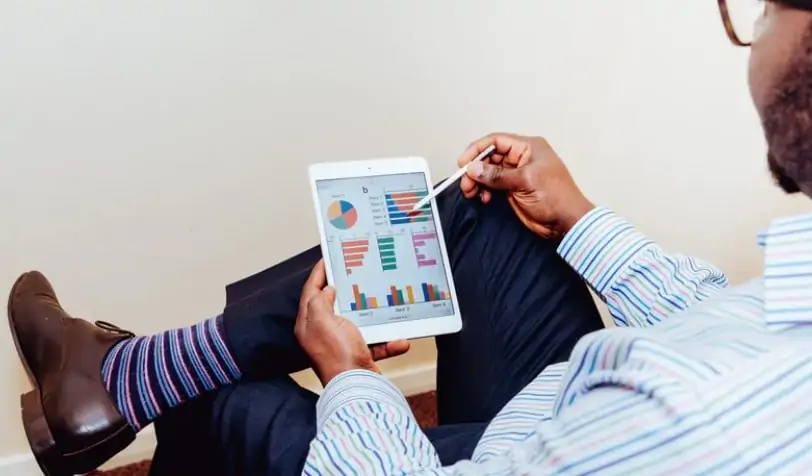 If you are after some of the best online bookkeeping courses and training in 2022, you're in the right place!
Bookkeeping is a key skill for every business to remain organized and professional. These same skills translate to helping you organize your own personal finances.
Perhaps you have experience with basic accounting or talent at reading financial statements, or you naturally organize your personal budget in Microsoft excel. A bookkeeping career might be a great fit for you.
Bookkeeping is critical for all businesses. Because of this, I have rounded up the top bookkeeping classes to help you land a new job, or to better organize the finances for your own household or new small business. You don't need an advanced degree in financial accounting to become an entry-level bookkeeper.
You may be looking for a few tips to improve your skills or to earn a bookkeeping certificate. Below, you will find my top picks. Some of these courses are available for free. Let's begin!
Top 10 Best Online Bookkeeping Courses, Training & Certifications 2023
---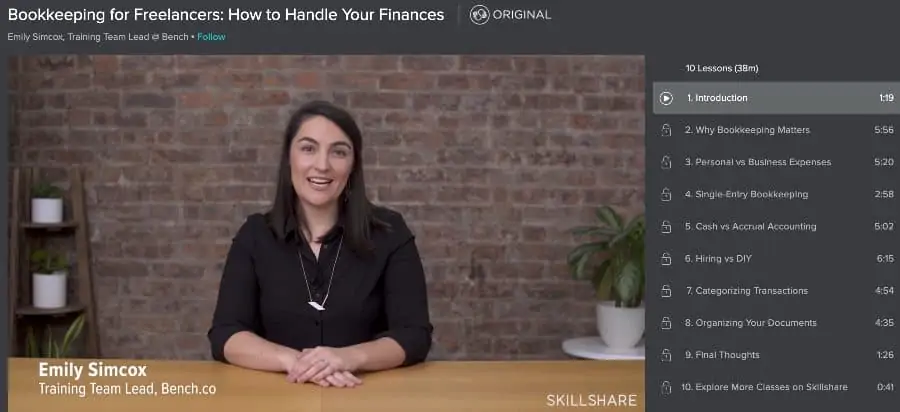 If you want to get a strong handle on bookkeeping skills, then this might be the course for you! While the classes are primarily aimed at freelancers, I have found this course to also pair well with those looking to upskill in their careers.
What I also really admire about this course is that students of any skill level can absorb the course material. Some stand-out modules included are personal Vs business expenses, single-entry bookkeeping, accrual accounting, categorizing transactions, and TONS more!
As for the delivery of this course, it's hosted on Skillshare which enables users to learn at their own pace. The instructor of this course is Emily Simcox, a trainer for the bookkeeping company Bench. Emily has years of practical work experience which definitely comes through in the quality of the teaching.
Overall, this is hands down one of the best online bookkeeping courses available anywhere on the web! There are 3,800 students to also back this claim up. Skillshare also offers a 1-month FREE trial so users can enroll now and take this course for free! Highly recommended!
Beginner level
38 minutes on-demand video
Includes 16 exercises
Taught by a professional bookkeeper
Strong focus on organizational skills
Optimized for freelancing
Free trial
Activate FREE Skillshare Trial
Also from SkillShare, this is part of a group of separate courses collectively known as Bookkeeping Boot Camp. This is the first of five courses and consists of 40 minutes of on-demand video instruction with multiple subject points.
As for the instructor, the course is taught by Michelle Cornish, a professional teacher, and author who has years of experience as a CPA. This experience was invaluable as Michelle walks students through real-world situations to help accounting concepts come to life.
Some aspects covered in this course include identifying business expenses/ income and knowing how to treat them properly in your ledgers. It also covers the differences in income, assets, liabilities, equity, and expenses. This bookkeeping training will help you to analyze your financial records and categorize your accounts payable and receivable correctly.
Overall, I would say this course is great for those who want to dive deep into the topic of bookkeeping. Users can also try this course for FREE with a 1-month trial!
Beginner level
40 minutes self-paced
1 of 5 courses
1,793 students so far
Includes class project
Covers business expenses and how they relate to other aspects of bookkeeping
Taught by an experienced CPA
Part of a larger suite of bookkeeping instruction
Activate FREE Skillshare Trial
Up next on my list is another fantastic bookkeeping program that is hosted on the widely popular platform Udemy.
In this course, instructors from LetsTute deliver in-depth content that covers the fundamentals of learning Bookkeeping. All up, there are just over 2 hours of on-demand video content that students can take at their own pace.
Geared toward beginners, classes include accounting fundamentals, classifications in the types of financial transactions and how they relate to each other, and the rules of debit and credit. Classes are also split into 15 bite-sized video modules and include 5 documents to download.
An optional final quiz is included and students also receive a certificate of completion once done. Join over 2,300 students who have also completed this course with an average 4.8-star rating! Can't go wrong!
2 hours of on-demand video
Includes downloadable documents
Taught by instructors from LetsTute
Covers important principles of accounting
Certificate of completion
Moving on to my next pick is a premier course hosted on LinkedIn Learning (previously Lynda) which has had 150,073 people complete this course.
As for the experience teaching accounting courses and bookkeeping knowledge of the instructors, it doesn't get much better…
James Stice, PhD, is the Distinguished Teaching Professor of Accounting in the School of Accountancy at Brigham Young University. He also holds Bachelor's and Master's degrees in accountancy.
Earl K. Stice, PhD, is the PricewaterhouseCoopers Professor of Accounting at the BYU Marriott School of Management. The combined experience of these professors provides years of insight on accounting principles and real-world examples
Some of the modules taught in this online course are analyzing transactions, recording and summarizing the effects, and then preparing financial reports. They also discuss revenue, expenses, and step by step view of the accounting cycle.
This course allows students to earn continuing education credit from the National Association of State Boards of Accountancy (NASBA)
Being hosted on LinkedIn Learning, students get access to this course and 14,000+ other when they sign up for a 1-month free trial. There's also a certificate of completion waiting for those who finish the classes!
Beginner level
Taught by accounting professors
1 hour 39 minutes of modules
Certificate of completion
Electronic notes linked to on-demand video
Self-paced video
Step by step view of the accounting cycle
If you are ready to learn how to best use QuickBooks online this course could be an excellent fit for you. Mastering accounting software can take your skills to the next level.
This is one of Udemy's more popular online classes for bookkeeping skills. The coursework focuses on the use of Quickbooks Online to record expenses, generate profit and loss statements as well as other reports.
The course is taught by Calvin K. Lee, MBA, CPA, CA, CPA. With a passion for teaching, his courses have been taken by more than 77,000 students. He has consulted for several fortune 500 companies and is a professor at the Schulich School of Business at York University, one of Canada's Top MBA programs.
Students applaud his ability to explain accounting concepts in a clear and straightforward manner.
30-day money-back guarantee
4.5 hours of on-demand video
Self-paced
Certificate of completion
Downloadable resources
Founded by Harvard and MIT, edX is an online educational center with many fields of study available for short-term and longer-term studies.
Self-paced, this bookkeeping course takes students an average of 4 to 6 weeks to complete. So for those wanting to start a career in bookkeeping, this class is a fantastic choice to start with!
More in-depth than shorter studies, the classes from this course cover banking systems, business transactions, reconciliation methods, and payroll in a very in-depth way. As an added bonus of this bookkeeping course, it also helps to prepare students for the FA1 exam.
As for the instructors, it is taught by ACCA (Association of Chartered Certified Accountants), which was founded in 1904 to provide financial education.
While this course is labeled as an introductory class, which would make it suitable for beginners, it is also useful for experienced bookkeepers. Overall, this is one of the best online bookkeeping courses for those looking for accreditation from the ACCA.
ACCA instructors
90,000 students have taken this course
4 to 6 weeks long
Beginner to Intermediate level
Self-paced
Site created by Harvard and MIT
Can be part of a larger curriculum
Up next on my list is another standout bookkeeping course hosted on Udemy. Taught by Ron Trucks, a college instructor in Business Management, this course covers the basics of bookkeeping and beyond.
Split into about 50 different on-demand videos, the course also comes with various charts, graphs, and other printed material to keep. The entire course runs for about 4 ½ hours and is self-paced for users' own needs.
Some of the interesting parts of the instruction are common catchphrases that let others know exactly what you mean when discussing the specifics of your transactions with them.
Other modules included are the 5 Ws of bookkeeping, how to properly invoice others and keep track of your expenditures, and how to avoid some of the most common mistakes business owners and freelancers make in regard to their finances.
Taking this class will also enable you to have more discussions with your own accounts or bookkeepers if you hire outside help.
Beginner to intermediate level
Designed for business owners
4 ½ hours on-demand video
Various printable resources
Highly qualified professional instructor
National Association of State Boards of Accountancy (NASBA) CPE credit
Over 17,000 students enrolled
OpenLearn has hundreds of classes and courses in all sorts of business, art, and science subjects. OpenLearn is even available on certain TV channels through streaming services.
Their Introduction to Bookkeeping and Accounting is about 8 hours total in length. Being on-demand video, you can set your own speed for taking the class. It is taught by working professionals and other highly qualified instructors.
It is an introductory class, so it counts as a beginner-level course. It goes further than basic information and adds some more detailed instruction. Starting with basic numerical skills, it also teaches ledger entry, profit and loss, and how to create a balance sheet.
You can download your entire course to a Kindle or other device and a certificate of completion is provided.
Beginner level
8 hours of instruction
Downloadable to Kindle or other E-readers
High-quality instructors
Self-paced
Certificate of completion
Part of this instruction includes dealing with VAT for the European Union business people. Other topics are basic ledger entry, sales books, daily reports, year-end reports, and other education needed for a proper accounting of profit and loss.
Taught by Jafar Iqbal, a chartered accountant with many years of experience. His knowledge includes what is necessary for doing business in the EU and the UK.
There are 10 downloadable resources and students get a certificate of completion. A newly added class it already has about a thousand students.
Beginner level
30 day money back guarantee
6 hours on-demand video
Taught by a chartered accountant
Lots of VAT information for doing business in EU and UK
Downloadable resources
Certificate of completion
If your goal is to be a certified bookkeeper, this course might be the perfect first step. No prior experience is required (although strong math and organizational skills are recommended). This course will prepare students to take the Intuit Certified Bookkeeping Professional exam.
Importantly, students with this certification will be qualified to apply for a position as a bookkeeper at Intuit QuickBooks Live or anywhere in this field.
To help ensure that you can apply all that you have learned, students will review and reconcile data for a variety of different types of businesses.
This certificate program is a great opportunity to grow from being a beginner to earning a certificate of completion, passing an exam, and being well-positioned for a job in the accounting world. And, all of this work can be completed at your own pace.
Beginner level
Taught by Intuit
Self-paced
Suggested time commitment: 4 hours/ week over 4 months
Preparation for the Intuit Certified Bookkeper Professional Exam
Certificate of completion
There are 34 different topics of study, each of which has 10 to 20 parts, downloadable resources, quizzes to gauge progress, and high-quality information to help you understand accounting and bookkeeping. Pick and choose just exactly what you want to learn.
It goes from entry-level for beginners up to more advanced topics. There is a 50 question prequalifying test to show you what topics and courses on which you should concentrate your studies. A certificate of completion is also available.
To learn more, you can also see my other posts on Quickbooks classes, math courses, and bookkeeping interview questions.
Beginner to advanced levels
34 complete courses
Downloadable resources
Certificate of completion
Self-paced
Prequalifying test to decide what courses to take