2023's Top 11 Best Online 3D Printing Courses [Free + Paid]
If you are after the best online 3D printing courses in 2023, you're in the right place!
Below, you will find a wide range of online 3D printing classes that will show you how to print 3D models, whether they are your own designs, or downloaded online.
Many of these courses will also include the CAD stage for designing and prototyping your very own designs. Let's get started!
Top 11 Best Online 3D Printing Courses, Classes & Certifications 2023
---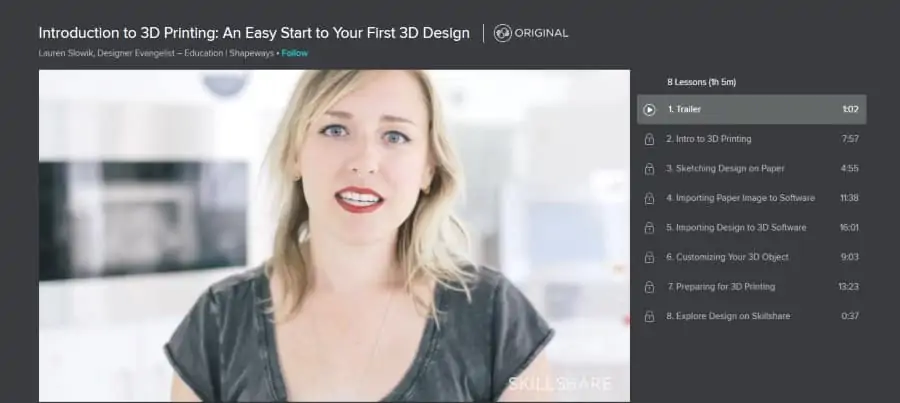 First on my list is a great introductory Skillshare course that is a perfect introduction to the exciting world of 3D printing! Even if you've never used 3D printing such as 3D Slash/ ThinkerCAD before, you will have no trouble following along with this beginner-level course taught by 3D printing and design expert, Lauren Slowik.
Some of the topics covered in this course are an introduction to 3D printing, sketching a design on paper, importing a paper image to software, importing design to 3D software, customizing your 3D object, and preparing for 3D printing.
What makes this one of the top classes is that the class project consists of modeling your own 3D design for a hand-held object. That means by the end of the course you will have come up with your own amazing design that is ready to be sent to the printer!
Being hosted on Skillshare, this online class includes all video lessons, class projects, student discussions, and a 1-month free trial! Overall, this is one of the best online 3D printing courses for those who want a thorough introduction to the topic.
Strengths:
Popular! 12,109 students
Beginner level – great introductory course
Low time commitment: 8 lessons, 1h5m
1-month free trial
On-demand video lessons
Activate FREE Skillshare Trial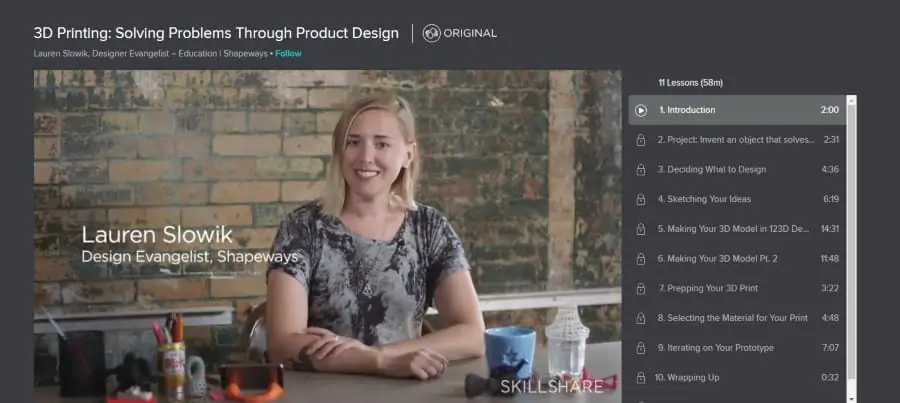 Next on my list is another standout Skillshare class that shows you how to conceptualize, prototype, and create your design in real life. So for those looking to print their very own designs, and learn the process behind it, this class can't be missed!
Again, you'll have Lauren Slowik, Design+Technology faculty member at Parsons the New School for Design, as your instructor. She approaches the topic with a positive attitude and the mindset that design is "all about trial and error."
Some of the topics covered in this condensed 1-hour class include deciding what to design, sketching your ideas, making your 3D model in 123D design, making your 3D model, prepping your 3D print, selecting the material for your print, and iterating on your prototype.
Again, being hosted on Skillshare, new users get access to this class, plus 29,000+ others that are available on the platform!
Strengths:
Beginner friendly
Low time commitment: 11 lessons, 58m
Popular course: 1,607 students
1-month free trial
Industry leading designer
Activate FREE Skillshare Trial
Up next on my list is a great introductory course that will guide you through the 3D printing process while also learning about the different types of printers available. So for those seeking a more hands-on 3D printing class, this can't be missed!
Some of the many lessons taught in this online course include how to create a design with solid modeling, mesh modeling, creating a design with 3D scanning, introducing file repositories, designing for reality, repairing a 3D design, how to use Netfabb Studio, and how to export files.
This online 3D printing class is currently hosted on LinkedIn Learning which includes all class content/videos, downloadable resources, ability to view on the go, and a certificate of completion!
Strengths:
You can access this course for free with a 1-month free trial
Beginner friendly!
Popular course: almost 17k viewers
Low time commitment: 1h16m
Certificate of completion
Moving on to my next pick is an excellent course to take if you are looking to compare 3D printing to other methods or if you just want a well-rounded understanding of current rapid prototyping technologies.
Some of the lessons covered in this online 3D printing class are how to use 3D printing software and an FDM-style 3D printer, printing with a PolyJet printer, working with stereolithographic (SLA) parts, and working with powder-printed parts.
For those who are interested in more advanced techniques, there are also modules on rapid prototyping, machining, resin casting, injection molding, and 2D prototypes.
Being hosted on LinkedIn Learning, the class content is extremely value-packed and well produced. Not to mention students get access to 1,000's of other online classes and a certificate of completion!
Strengths:
Low time commitment: 1h38m
An intermediate level course for those who aren't completely new to 3D printing
Very popular: 20,432 viewers
Certificate of completion
1-month free trial
This course will teach you how to use the Blender software to design and 3D model your own design products. You will also learn how to export your designs to a 3D print service. This is one of the best online 3D printing courses if you are new to the field and don't yet want to invest in expensive software!
Blender is completely free, which seems crazy because you can do so many cool things with it. But it's true, and the first thing the course will teach you is how to download Blender on your computer and set it up properly, including setting the unit of measurement (which is quite important).
This course covers a lot of material – there are 52 lectures that will take almost 4 hours to work through. There are also some quizzes that will help test yhttps://skillscouter.com/online-autocad-courses/our understanding. The course uses a phone stand design as a model, and you can copy the step-by-step instructions as you work through the course.
Some of the topics covered in this course are Blender basics; the properties editor; mesh selection methods; shortcut keys; adding some modifiers; making a model manifold; using loop tools in Blender; Shapeways; pre-export checks; exporting; and much, much more!
Strengths:
Good reviews. The course has a 4.3 star rating!
Full lifetime access to all course material
The course was recently updated: 9/2019
Popular course: 2,425 students
Certificate of completion
This is a really nice introductory course that won't feel daunting at all – even to people who are completely unfamiliar with 3D printing. There are only 9 lessons in this course, and it will take just 44 minutes to work through all of the course material.
This Udemy course will teach you how to make product prototypes or even create objects that have a functional use in your daily life! If you fancy yourself a bit of an inventor, then this course will help you make your ideas come to life.
Instructor Justin Mitchel, coding entrepreneur and teacher, starts off by teaching you how to download the OpenSCAD software to your computer. This is the program you will use to create your 3D printing design. The next 5 lessons in the course will expand on the OpenSCAD Basics.
The other topics covered include basic shapes, hull, translation, union & difference, and rotate & mirror. Don't worry if that doesn't make sense to you yet. Once you work through this course, you will be able to speak a new language – the language of OpenSCAD and 3D printing!
Strengths:
Good rating: 4.2 stars
Popular course! 18,559 students
Full lifetime access to all course materials
Certificate of completion
The focus of this course is to familiarize students with the Autodesk Fusion 360 software. It's another free software that can be used to create 3D printing designs. This is actually the first class in a series of 11 classes that will each teach you how to design a different item.
Since this is the first course in series it is completely suitable for beginners. Instructor and 3D printing expert, Vladimir Mariano, will walk you through the process of downloading Autodesk Fusion 360 to your computer. He will then explain the Fusion 369 Environment and how to navigate the program.
Once you have an idea of how the software works you will get to try making your first 3D shape. The last module will teach you how to finish up "the Thingamabob," and voila! You have just created your first 3D printing design! Overall, this is one of the best online 3D printing courses for beginners!
Strengths:
Very low time commitment: 6 lessons, 14 minutes
Suitable for beginners
First course in a series of courses – if you like this instructor you can continue learning from him
Popular: 1,903 students
Activate FREE Skillshare Trial
This is a great course for those of you who have an entrepreneurial mind and are already wondering about ways that you can use 3D printing to generate income. Instructor Jeffrey Ito is an engineer and entrepreneur and he imagines a future where anyone can share and sell their 3D designs.
The 3D design software used in this course is TinkerCAD. So you will become familiar with that as well as other design programs like 3D Hubs, Shapeways, and Thingiverse. This is the best online 3D printing course if you want to stay up to date with 3D printing technologies and trends.
Some of the topics Jeffrey will cover are getting to know your 3D printer; where to get a 3D printer; 3D printer manufacturers; 3D printing stocks; customization with 3D printing; and creating your first 3D print using TinkerCAD.
With everything you learn in this course you just might find yourself considering starting a 3D printing business of your own!
Strengths:
For the budding entrepreneur – you'll even learn about which 3D printing stocks you should invest in
Good reviews – 4.1 stars
Popular: 1,477 students
Low time commitment: 21 lectures, 2h4m
Certificate of completion
This might be the most helpful course on this list and the best online 3D printing class you can take if you want to avoid a lot of frustration. This LinkedIn course will give you a review of common 3D print problems that you might come across during the printing process – and teach you how to solve them!
The first section of the course will teach you about diagnosing common 3D print problems. The lessons show you how to troubleshoot the following problems: 3D print does not stick; printer over- or under-extruding; pimples, dimples, and stringing, part dimensions incorrect; and several more.
Other sections in the course will cover filament effects on a print; part geometry considerations; and identifying software-related print issues. You might be able to save yourself a whole lot of stress, time, and effort by spending the 1h43m it will take to work through this course!
Strengths:
This is an intermediate level course that is meant for people who regularly work with 3D printers
Low time commitment – less than 2 hours
The only course on this list that focuses exclusively on troubleshooting common 3D printing problems
Certificate of completion
This is the most comprehensive online course on this list and you'll be amazed by how much is covered in the 42 lessons that make up this course. Instructional designer, Kevin Volo, will give you a great overview of the 3D printing process and teach you how to get your file ready to print.
After that, he moves on to more advanced topics and an important section of this course focuses on the actual process of printing your design. He'll teach lessons on leveling your 3D printer bed; bed adhesion for your 3D printer; changing filament mid-print, and removing your completed print.
This course also teaches you about the all-important slicer settings in terms of layer height, rafts, skirts, and brims, infill density, supports structures, perimeter/shell thickness, retraction, and print speed. You'll learn a ton of valuable information and your time commitment will surely pay off!
Strengths:
Extensive learning material: 42 lectures, 3h57m
Good 4.0-star rating
Lifetime access to all course materials!
Certificate of completion
Last on my list of online 3D printing courses is a well-rounded class for those who are looking to take their skills to the next level. This is the best online 3D printing course if you want to learn how to troubleshoot common problems as well as learn more complicated processes.
This course focuses on printers that use a filament and will teach you how to overcome some common problems that can occur when printing. You'll learn how to adjust your settings in order to decrease the number of mistakes and to ensure the best possible outcome for your printing.
The topics covered in this course include slicers and hosts; perimeters and infill; layers and surface finish; platform adhesion; retraction settings; filament, nozzle and extrusion; speeds, temperature, and cooling; start and end G-codes; multiple extruders; auto-leveling; and more!
Strengths:
Low time commitment: 1h24m
Intermediate level
Popular course! 15,749 viewers
Certificate of completion