71 + Of The Best Bartender Resume Skills For Your CV Tested & Proven To Get Your Next Interview!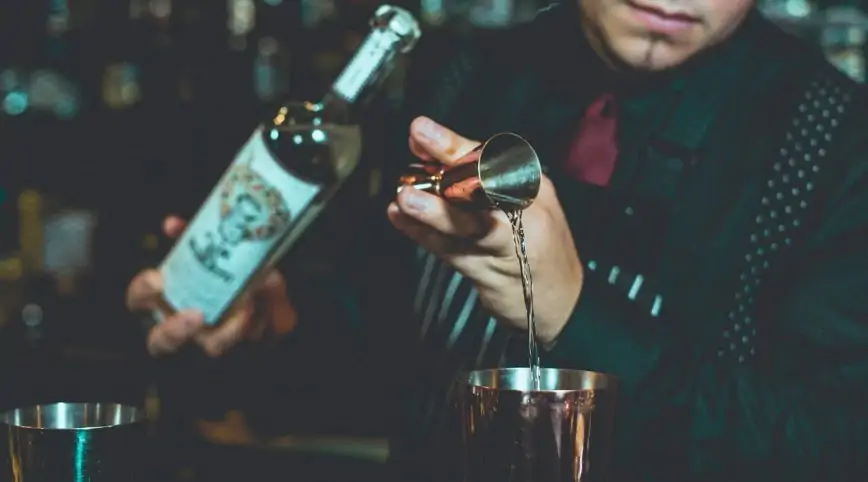 Being a bartender is more than just smiling and pouring drinks. There is a lot involved, which means there are many different skills employers are looking to see on a bartender resume skills list on a CV.
Below is a helpful resource for bartenders looking to update their resume, be sure to include a range of different skill-sets, as outlined below.
71 + Bartender Resume Skills For Your CV
#1: Bartender Technical Skills
There are specific skills that bartenders need to be effective employees behind the bar. The list below gives some good examples for you to put on your bartender resume skills list.
Fast and accurate service of drinks to high-volume facility
Mixing and serving complex drinks (cocktails)
Experience in serving multiple customers at one time
Ability to assess, anticipate and meet guest needs in strong memory and interpersonal skills
Hands-on experience in safety and sanitization of bar area while serving and in cleaning
Cash handling and register skills, including handling floats and reconciling drawers
Card processing skills
Fluent in POS systems of different kinds
Waiter and waitress skills away from the bar
Free pouring with accuracy
#2: Bartender Memory Skills
Remembering regular customers and drink orders is a must for any bartender. Read below for more bartender memory skills.
Ability to remember names and details of regular customers
Strong short-term memory for new customers to reference their name during service
Can recall drink orders from new customers
Long-term memory to correctly identify orders from regular customers who have not visited for some time
Memory for cocktail recipes to accurately mix drinks without referring to a manual
Recalling stock amounts and analyzing during service the effect of the usage (e.g. Anticipating when a beer keg might run out)
Fast learner in picking up new skills
Monitoring alcohol consumption of guests in remembering the frequency of their individual service
Memorizing full menu of drinks and food where necessary to share to customers
Multi-tasking ability to serve multiple customers at a time and remember their unique orders.
#3: Problem Solving Skills
Encountering a problem will be inevitable, so ensure that you express on your bartender resume skills list how you can avert problems, or create solutions when they arise.
Ability to handle customer orders, whilst being aware of impending problems and planning correct actions
Patience with difficult customers and dealing with issues
Professional manner when handling conflicts to find a resolution
Ability to think and act fast if an urgent situation with a customer, or behind the bar, arises
Experienced a range of issues in the past in the equipment of bars, and learned how to solve for future potential issues
Adaptability to changing circumstances and needs when an issue with the bar interrupts regular service
Works well with others to find solutions to issues – open to listening to ideas
Assertiveness to deal with difficult customers (cutting people off from alcoholic drinks)
Emotional maturity to not take issues and difficult people personally
Ability to assist others with issues of taps not working, equipment breaking, etc.
#4: Bartender Communication Skills
Working with people and for people means that you need to know how to be an effective communicator. Your bartender resume skills list should demonstrate this ability.
Can speak loudly and clearly, and maintain a pleasant tone with customers
Listens carefully to customers orders and any specific requests
Attentive to the needs of customers and communicating how they can be met while staying in line with the establishment's procedures and rules
Listening while making orders, to ensure efficiency while socializing
Ability to recommend food and drinks based on what the customer shares
Upselling without conveying a hard-marketing energy, staying comfortable and friendly in tone
Strengthening customer rapport with the whole establishment, not just individually
Staying welcoming and friendly, despite rude or difficult customers
Sharing expert knowledge on beverages, whilst being understood clearly by the public
Team player, interacting with other staff and communicating openly.
#5: Bartender Organization Skills
To keep organized as you work, as well as before and after shifts shows that you're an employee with integrity. Your bartender resume skills list should reflect these attributes.
Cleaning Bar equipment during service to prevent accumulating mess
Handling glassware and storing glass wear safely and effectively
Inventory management for beverages and ingredients
Ability to multitask whilst staying on-track with all jobs
Opening and closing bar experience according to procedures of establishment
Maintaining cleanliness of guest environment (tables etc.)
Well-versed in proper cleaning, drying, and polishing of different glassware
Effective sweeping, mopping and additional cleaning of inside and outside bar space
Adheres to health inspection laws
Experience in ordering equipment, ingredients, etc.
#6: Attention to Detail
Being meticulous in your work, whilst also attentive to people means that any bartender needs a strong sense of attention to detail.
Checking identification, with a keen eye for potential fake IDs
Constant spot-checking of the bar area for ice, trash, and floor cleanliness
Arranging glassware that is on display in a tidy manner throughout service
Well versed in emergency procedures and all details of the establishment's plan
Sensitive to food allergies and intolerances with detailed communication to guests
Counting and processing multiple drink orders at the same time
Memorizing customer names, drinks, and more detailed information about unique customers
Ability to capture information of customers for upsetting, membership or other reasons
Noticing small details of potential issues with equipment
A keen eye for small spillages on the bar top, wiping constantly to maintain cleanliness.
#7: Friendly and Welcoming Demeanor
A bartender is personable, friendly, and a welcoming face to talk too. Ensure that you express your personality in the following bartender resume skills on your CV.
Greets all customers with a smile
Acknowledges a customer that can't be served right away
Ability to read people, determine the most effective communication style
Energetic and engaging personality
Building rapport by making conversation with guests
Sense of humor, whilst remaining respectful
Well-versed in upsetting and other sales, without being pushy
Calmly responds to agitated and difficult guests
Sensitive to ensure guests feel that they are taken care of and valued
Adapting to diverse clientele (social, economic, cultural, age differences).
Finally, if you need to brush up on your bartending skills or make sure you're current on the latest trends (milk clarification anyone?) you'll want to check out our bartending and mixology course reviews.
References